Donna on the Side: - Part 1 the Honolulu Scene - Part 2 Warming Up - Part 3 Race Day
Complete Results - you will need Adobe Reader, a free download
action reports and pix by Rich Gonzalez and John Dye:
Boys Eisenhower boys stake claim for higher ranking.
Girls Sultana CA girls answer gut check
Victah Sailer's Iolani - spectacular photos: the race scene - boys - girls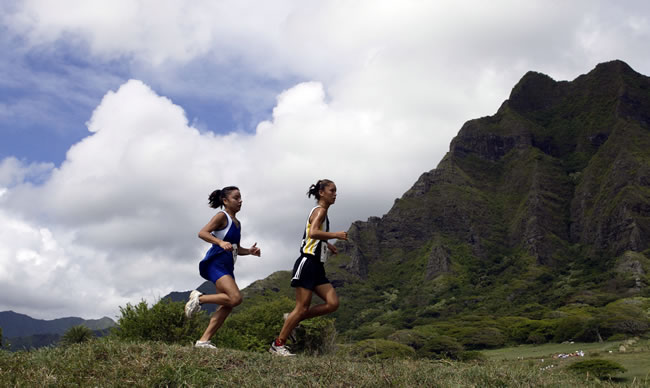 Runners climb toward the clouds and mountain peaks - photo by Victah Sailer, PhotoRun
| | | |
| --- | --- | --- |
| | TEAM | INDIVIDUAL |
| | Eisenhower WA 19 | Robbie Barany and Charles Cummings, Eisenhower 16:40 |
| | Sultana CA 48 | Shelby Leland, Ukiah CA 19:00 |
| Boys JV 5k | Snohomish WA 27 | Cale McCulloch, Snohomish WA 18:22 |
| Girls Open 2m | Snohomish WA 45 | Juana Corona, Lanier TX 12:05 |
| Boys Inter. 2m | Arcadia CA 39 | Andrew Pilavgian, Arcadia |
| Girls Inter. 2m | Kamehameha HI 43 | Chelsea Oda, Punahou 13:12 |
| Preview | Entries | Schedule | Prior Years | the meet's own web site | Meet Information |

the scene at Kualoa Ranch - photos by Victah Sailer, PhotoRun

huge banner started out blank and ended up with everyone's signature and messages

Race winners Robbie Barany and Shelby Leland

were crowned king and queeen
Meet Information
Note from meet director Greg Char
The 5th annual Iolani Cross Country Invitational in Hawaii is slated for September 20, 2003. Once again, the meet will be held at beautiful Kualoa Ranch on the windward side of the island of Oahu. As always there are no entry fees, an abundance of awards, and a hosted pasta feed on Friday night on the Iolani School campus. Nike continues to be a sponsor along with Outrigger Hotels in Hawaii. The 2003 meet schedule has been tightened and tweaked to allow for a 12:00 pm conclusion to the event. Sixteen mainlands schools competed in the 2002 meet and we are expecting more than 25 this year. For more information please contact Jim Rubasch (boys) or Greg Char (girls).
Meet Headquarters is the Ohana Reef Towers Hotel (left), from September 18-September 21, 2003, in the heart of Waikiki's world class entertainment and shopping district and one block from the ocean beach overlooking Diamond Head.
Practice runs on Waikiki Beach
Race eve Pasta Feed at Iolani School -- mingle with local runners and experience "Hawaiian Style" hospitality and entertainment
University of Hawaii "Big Wave" Invitational for colleges (separate venue)
NFHS-sanctioned Iolani Invitational for high schools - no entry fee - open, varsity, intermediate divisions.
Individual and team awards
Prizes courtesy of NIKE and The Running Room
Meet T-shirts designed and made by NIKE
Cool off after the race with a dip in the ocean
Looking toward the ocean from a hillside

overlooking a string of runners in the 2003 race.

Kualoa Ranch from the air
Prior Years
2002 - Carl Moe WA and Ruth Graham CA win individual honors, and team titles go to Eisenhower WA and Montgomery Santa Rosa CA.
2001 - Amber Trotter launched her spectacular season with a romp that was echoed at every race that season, including the Foot Locker nationals.
Schedule
All races will be run in the morning to avoid the afternoon heat in case of a hot day like last year.
Thursday September 18
Check-in, Ohana Reef Towers Hotel

Friday September 19th
"Free" day... enjoy Waikiki's 85 Degree weather;
5:00-8:00 Hosted Pasta Feed Dinner at Iolani School
6:30-7:00 Coaches Meeting at Iolani School
Saturday September 20th
9:00 am Boys Junior Varsity (5K)
9:30 am Girls Varsity (5K)
10:00 am Boys Varsity (5K)
10:30 am Girls Open 2-mile (JV)
10:35 am Open Race (2 miles. For coaches, parents, alumni, etc.)
11:00 am Girls Intermediate (2 Miles)
11:05 am Boys Intermediate (2 Miles)
11:45 am Awards Ceremony