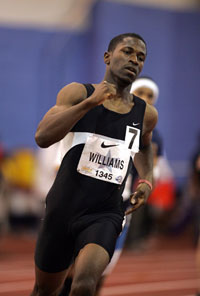 Along with the boys pole vaulters and Francena McCorory, New Bern NC sr. Karjuan Williams (left, photo by PhotoRun) was expected to jack up the "wow" factor on Sunday afternoon here. But some doubt was cast the day before when he appeared to be huffing, puffing and sweating his way through the 1:54 anchor for his school's sprint medley victory.
Well, it turned out that it was a low grade fever that was causing the sweat and a bit of doubt was cast how it would go for him Sunday. Meanwhile, a potentially worthy foe had emerged in Fork Union Military Academy VA jr. Axel Mostrag. A 1:54 runner in just one 800 race indoors, he had been given the stick in the 1600 leg of the DMR (4:20 PR) Saturday and almost mowed down Kinetic/Saratoga anchor Steve Murdock for the win. With a scorching 27 last circuit, he ran an eye-popping 4:13-low. Suddenly, the competitive level of the 800 was looking a whole lot more interesting.
But Axel doesn't have the front-running moxie of Karjuan. Now history's 3rd-fastest indoor prep half-miler, Williams decided to try and wear down his foes early, despite the fact that he was worn down himself. It worked. He led through laps of 26, about 54 and 1:24, with no real challengers and Mostrag sitting back in fifth, not yet with the confidence level to go out with a hard-driving 1:50 performer.
Mostrag did get up on his toes for another great kick in the final 100 meters, passing Somers NY sr. Andy Bean and Lakota East OH sr. William Johnson, and gaining ground on the leader. But Williams prevailed by a relatively secure 1:52.56 to 1:53.32.
"I felt like a had a fever yesterday," said the winner. "I still do, but it's a little better. I had to get out and get it over with. I wanted to come back and be the champion one more time."
Mostrag didn't seem too disappointed. He admitted he kind of made the same mistake as the previous day, letting the leader get too far ahead and not expecting it to go out so quick. Still, he said getting second was an "amazing feeling."
Johnson also broke 1:54, at 1:53.95, and Bean was in at 1:54.50.
Girls 800 - Katie Doswell tops shoeless Emily Infeld
The girls 800 started without any clear favorites or story lines, but Chester PA soph Shaniel Chambers made sure the pace was honest, sprinting out in 29.0. But Cleveland Heights Beaumont OH soph Emily Infeld has been on a fast improvement curve and was ready to make a bid. There was one big problem, though; her foot got stepped on and her shoe pulled off in first lap.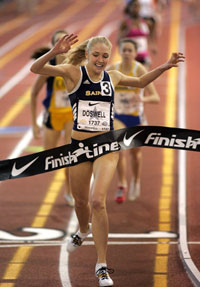 No matter. She grabbed the lead at about 300 meters and led through splits of 1:02 and 1:36. But in this race the title was going to the runner who made the last move, not the first. Richmond VA (St. Catherine's) Katie Doswell (right), who has struggled with injury and a recent recovery from an auto accident, was primed for a strong finish. Despite everyone's slowdown in the last half of the race, the talented senior found another gear in the last 150 and drove through the finish line in 2:10.55.
Just under a second later, Infeld leaned in past Cody WY sr. Stacy Slight. Almost no one anywhere near the finish had noticed the shoe incident, so everyone was surprised when she was handed the missing slipper and began to express her frustration. Despite an outstanding PR 2:11.476 (thousandths of a second were required to separate her and Slight's 2:11.477), she knew what might have been.
What made her push daringly into the lead even though she was running with just one shoe? "I just felt good and wanted to see what I could do," she said. "It felt weird, though."
Meanwhile, Doswell felt awfully good. Her 2005 outdoor campaign was unable to fulfill the promise of an indoor 2:47 1000 that year and her performances in the mile and 2-mile during 2006 were not indicative of such a return to form. In fact, she hadn't even run an 800 so far this year (not that not running an event is a deterrent to winning a national title; just as Michael Coe!).
"My coach told me to come through in 32," she began in describing her race. "We were a little faster than that, but I went with the flow. I was in position in the last turn, so I took the lead and said let's see what I have left."
Mile - Jackie Areson and Ayalew Taye kick for gold medals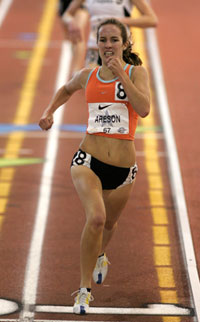 The fast sections of the Mile races at Nike Indoor Nationals Sunday had distinctly different looks. Both featured hard, but ultimately unsuccessful front-running, but the girls race was like that from the get-go, while the boys only took that form after a pedestrian start. Ultimately, however, the races were won by fabulous kicks from Delray Atlantic FL sr. Jackie Areson (left) and Cushing Academy MA jr. Ayalew Taye.
When Nicole Blood made the decision to go for the 2-mile, that left Chaska MN (Holy Family Catholic) sr. Bria Wetsch as the fastest 2006 runner in the race. Indeed, she took it out like a favorite who had every expectation of winning. Seeded with an indoor mark of 4:49.9, she jetted out to the lead and put down 400 splits of 69.8 and 2:21.8. For a while it looked like no one had a prayer of catching her.
But the laps started getting slightly slower, and in 3rd (mostly, behind West Yarmouth MA jr. Colleen Wetherbee) lurked Areson, who was using her experiences with strong finishes as a means by which not to lose hope with the big deficit. After the 3rd 400 went in 75.4, she waited another lap. When she put it in gear with 200 to go, there was obviously a real race on unless Wetsch could shift gears.
She couldn't. Sprinting to the tune of a 32 last lap, Areson swept by with 150 to go and won in 4:50.13. Weatherbee had wisely taken the same path and also passed Wetsch to take second in 4:51.22. Wetsch still ran a very solid 4:52.77, more than four seconds ahead of 4th.
"I was a little concerned at the beginning," Areson said afterward, "but I know when other people go out hard, I have a chance if I stay back. The last lap I felt so strong.
"I've been waiting so long for this race," she added. "I've been looking forward to it the past six weeks."
Despite getting reeled in, Wetsch didn't seem too crestfallen about her race. "I was hoping to run at least 4:50. I didn't necessarily want to lead, but I wanted to make it a real race. It's still my second best time."
For two laps of the boys elite section, it looked as if next-to-last section winner Brad Siragusa of Chantilly VA (4:17.06) might have a shot at stealing one. A tight pack led by Liverpool NY sr. Ben White, Ayalew Taye (right), and Wharton FL sr. Ryan Courtoy trotted through the first quarter in 65.3, taking away any chance of a real fast race.
Then White, who had turned a sweet 3:04 1200 leg of his team's DMR the day before, took it upon himself to make it an honest race. He blew through the next 400 in 62, with the rest of the field giving no help at all. Unfortunately for White, he couldn't truly break the others, and after 1200 (3:12), Flagler Palm Coast FL sr. Justin Harbor led the effort to take him down.
Cruising just behind Harbor was the older Taye, part of the Ethiopian brother combo that first made waves in Maine last year. They kept a low profile during most of last fall, but emerged with outstanding races at Foot Locker Northeast. But the fact that they didn't run well in San Diego, and lacked any other major wins, left them with something to prove.
Well, both Tayes, Ayalew particularly, had rung up some impressive times in NE races this winter. Ayalew was a very solid 4:11.44 in the Boston mile, but really showed some wheels in a US#1 2:27.26 1000 at Harvard. It was those wheels that he wisely showed on the last lap Sunday, relegating a fairly impressive finish by Harbor, who had passed White first, to runner-up status. Final times: Taye 4:14.31, Harbor 4:15.66, White 4:16.96. Siragusa held 4th as the 2nd section winner.
As far as having the confidence to come from behind, Taye said, "I knew he was going to come back. Always that happens (with early leaders)."
He added that it was his biggest win to date, though he really hasn't peaked for the indoor season.
Harbor wasn't concerned about being able to regain the lead late, either. "I was able to do what I wanted to do," he said. However, his disposition clearly reflected his disappointment. He simply didn't have the 100-meter speed to go with Ayalew. Still, it was a fine showing, Harbor's best in a national championship event, shutting up the naysayers left over from the cross-country season. "The Tayes are great runners," he said. "And Ayalew ran a good one."
Said White, "I was hoping to sit back. But I had to take what I could get and go for time. It's what I had to do."