by Steve Underwood, DyeStat senior editor
51.31. The crazy, unbelievable, but unofficial time flashed on the screen as Francena McCorory drove herself past the finish line in the girls 400 meters. The only reason the collective sound of thousands of jaws hitting the ground and eyes popping out couldn't be heard was because of noise of the stunned crowd's cheering overwhelmed it.
But it was a slightly tentative cheering because the time wasn't official and the unofficial scoreboard times had been off all day. The fans at the Prince George's Sports and Learning Center had heard the announcement of the Bethel VA senior's 24-plus 200-meter split, and had seen Francena rocket away from a field of top-notch quarter-milers that included US#1 and defending champ Sa'de Williams. Surely, the most savvy of them must have thought, a fantastic time well into the 53s was possible, even the high 52s. But 51.31?!? Could it really be true?
Thankfully, that suspense was short-lived. As the official clocking of 51.93 was announced, the full appreciation of Francena's incredible performance at Nike Indoor Nationals Sunday was delivered. Sanya Richard's HSR of 52.10 had been destroyed on a flat track. The facility exploded and everywhere the reactions were heard.
"Oh, no!"
"Oh, YES!"
"Oh my God!"
"Wooo-Hooooooooo!"
"Oh no she didn't!"
Oh yes. She did.
Yours truly practically leapt into the air yelling and screaming. If you ever read how famous horseracing writer William Nack threw decorum to the wind in celebration during the great Secretariat's victories, it was like that, and I know I wasn't alone. When a truly special athlete does something like this, exceeding even the high expectations of them, you can't help but go nuts for them. Everyone feels like his or her special coach. Everyone wants to be part of a moment that makes history, which transcends the sport into that realm of a great human being achieving what was thought to be impossible.
NSSF Chairman Emeritus Mike Byrnes later acknowledged her to the crowd, saying "This was the greatest high school performance I have ever seen." He has seen a lot of them, trust me. And that was the thing, you had to see it. You had to feel it. You had to be there and if you were not, well, that's a bummer, because finding words to describe it is very difficult.
As the cheering continued, those who were free and able rushed to Francena, wanting to celebrate with her, to talk with her, to lift her, at least figuratively, on their collective shoulders to honor her. But in the tight space in the middle of everyone, this Queen of our sport was flat on her back, Coach Eddie Williams working her leg muscles and taking off the spikes that must have been frying her soles of her flying feet. It was there in that tiny circle, in the quick words that passed between coach and athlete that the poignant, noble truth of what had transpired was realized.
When Francena got to her feet, she took Coach Williams' face gently in her hands and spoke to him. When asked moments later if he could say what it was she said, he shared what was behind the historic performance. Eddie Williams is a strong, confident man, not given to surprise by even this once-in-a-lifetime coach's dream of an athlete. However, visibly shaken and stirred, he said this: "I've never asked Francena for anything she couldn't do … Right before the race I put a little pressure on her. I told her I wanted a national record. Just now, she told me, "you asked for it, coach; I gave it to you.'"
No wonder Williams was shaken. How much purer can a coach-athlete relationship be? He had made a direct request of an athlete for the supreme sacrifice, to do the unimaginable where no one thought it could be done. "We trained for this race on this track," he would say later. But did he really think she could do 51.93, to break the 52.10 of the wondrous Sanya Richards from a blazing banked track?
Nevertheless, Francena McCorory hurtled herself into that dark tunnel of pain that is a 400-meter race run all out – and came out the other side. She gave Coach Williams the greatest gift. Later, in a more recovered state after Mr. Byrnes spontaneous ceremony, she said, "Yeah, he told me he wanted a record. I told him I'd give it to him. He's been a great coach. It was the least I could do."
Of course, it was obvious that the gift went much further than that. It went to her teammates, to everyone who witnessed it, to the world of track and field. Joy Kimani of the NSSF got it. With a powerful smile, she simply said, "Thank you," to Francena.
And we should all thank her. Francena's a wonderful, wonderful athlete, and to watch her achieve is priceless. I mean, I love watching track, all events and all levels, and many more sports passionately. And I can't think of anyone else I would want to watch any more than her, and if you were there today you probably agree.
But as is the rare case in the best of situations, Francena's an even better person than she is an athlete. I'm sure those fortunate enough to know her well will agree; however her personal qualities are just as plain to see when she gives thanks to God in front of the crowd as she did today, or speaks with you in an interview. As a person, she is as hard to describe as her performances are. She's big, strong, and powerful – there's really no better way to say it – and more than once after a race I've heard her described (in a "positive" way) as a "beast." But when a young woman's 1000-megawatt smile lights up the world, and her spirit, joy and personal qualities are as blindingly plain as the sun in the sky, how can you call her a "beast?"
I can't. All I can say is, thank you, Francena. And I hope some day you do make the Olympics, as you stated as one of your dreams to the crowd today. I can't think of anyone I'd rather see represent our country.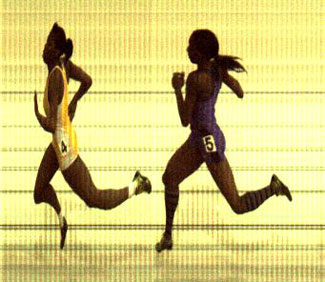 Record finish recorded on the Lynx Systems camera by Cleon Fowler / CFPI Timing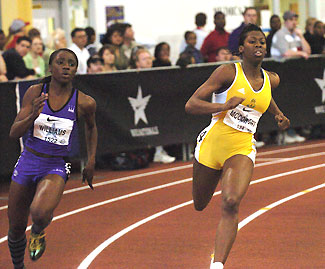 Lap 1 - turning into the stretch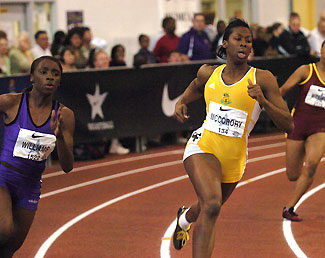 Lap 1 - breaking for inside lane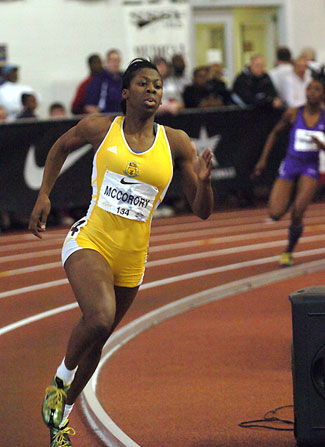 Lap 2 - top of stretch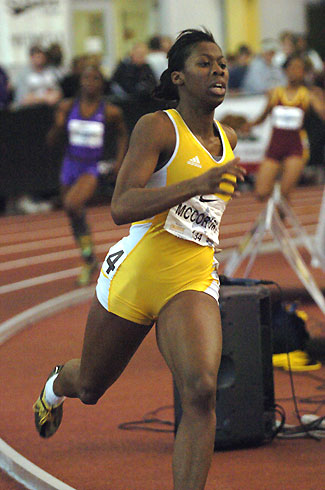 Lap 2 - in the home stretch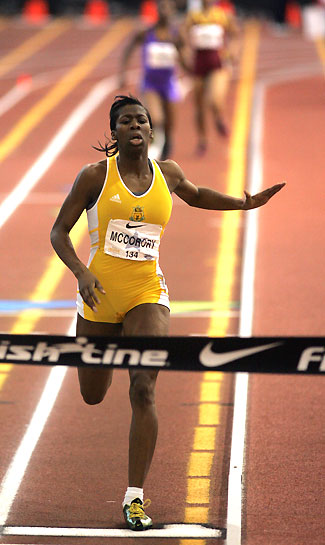 Finish - photo by Vic Sailer/PhotoRun