NIN Girls Preview by Elliott Denman
Meet records are threatened across the board
By ELLIOTT DENMAN
Special to National Scholastic Sports Foundation
Their names are glittering. They're big-time achievers. They've put their special talents on display in competitions all over the nation, and many have excelled in international action, too. Wherever they've wandered, however, they all nurture fond memories of past journeys to the Prince George's County Sportsplex in Landover, Maryland, annual site of the Nike Indoor Nationals the second weekend of each March. They came to Landover, they saw, they conquered, and they returned home with a lot more than gold medals. They ran up a string of superb performances that opened more doors than they might ever have imagined. A quick check of the girls' side of the roster includes such notable names as Perdita Felicien (60-meter hurdles), Leshinda Demus (400 meters), Katelyn Kaltenbach (mile), Mary Saxer (pole vault), Erica McLain (triple jump) and Michelle Carter (shot put.)

All are Nike Indoor Nationals meet record-holders - and targets of another superb crop of youngsters descending on Landover, March 11-12, 2006. Records are always made to be broken. Do not be surprised if the Nike Indoor Nationals meet-record list undergoes some wholesale shuffling by the time this weekend is over.

Take the girls 800 meters, for instance. Arkansas/Russian ace Katya Kostetetskaya set the NIN 800 record of 2:09.52 in 2003. Don't count on it being in the books past Sunday. Danielle Bradley, a senior at King's Academy, Florida, has already run under NIN
meet-record figures with a 2:09.51 performance. And three others are breathing down her back on the seeds chart: hometown Marylander Tameka Jameson (2:10.00), Wyoming's Stacy Slight (2:10.65) and Houston's Nichole Jones (2:10.75.)

Take the girls, 200, too. Hampton, Va.'s Francena McCorory has already zipped the one-lap distance in a sensational 23.22, just a hair's breadth off the national record of 23.14 set by Californian Allyson Felix in 2003. And Felix, of course, is now the World outdoor 200 champion. It's no wonder, then, that the NIN record of 23.78, set by Florida's Erica Whipple
in 2001, now stands on the shakiest of ground. If McCorory even falters, though, watch out for Californian Sa'de Williams,
who checks in at 23.93.

Attention, NIN fans: Look for yet another McCorory-Williams duel-to-the-wire in the 400. While an erasure of the NIN 400 standard of 53.85 set in 2000 by Californian Demus (who in 2005 took the silver medal in the 400 hurdles at the World Outdoor Championships) may be a stretch, it's not totally out of reach, either. McCorory comes to Landover with a 54.24, Williams with a 54.35.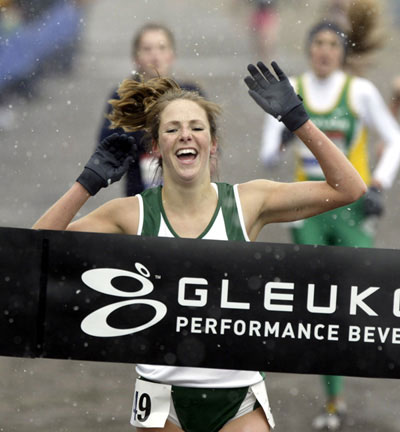 Likewise endangered is Coloradan Kaltenbach's NIN mile standard of 4:45.32 set in 2004. If Nicole Blood can make all her travel connections, this one's on the ropes, too. Blood has already punched in at 4:42.00 this winter. Then of Saratoga Springs, N.Y., she has shifted coasts and now - after her dad's transcontinental job shift - calls Simi Valley, California home. Her longest jet excursion of all, though, looms less than three weeks away. A stirring triumph - over a field packed with top collegians in the USATF Junior Women's 4K Cross Country Championship, Feb. 18 at New York's Van Cortlandt Park (left) - will send her off to Fukuoka, Japan, as the nation's number one hope in the IAAF World Junior XC title race.

While Blood gains top seed in the NIN mile, the field also includes such bright young ones as Florida's Jackie Areson (4:46.67), Houston's doubling-up Nichole Jones (4:49.00) and Minnesota's Bria Wetsch (4:49.09.)

If Blood's also up to doubling, the NIN two-mile mark of 10:23.69, set by Canada's Carol Henry in 2000, is on the endangered list, as well. Blood comes in with a 10:10.0 seeding, and three others have dipped under 10:23, too. They're New Jersey's Brittany Sedbery (10:19.30), Saratoga, NY's Lindsey Ferguson (10:22.00) and Florida's Kelly Parrish (10:22.74.)

The shortest races always produce some of NIN's hottest action, and the 60-meter dash and hurdles races again figure to be dynamite. No less than six runners are credited with sub-7 seedings (over the 55-meter distance) in the dash: Colorado's Ashley Cruder (6.75) and (2005 champion) Sarah Matthews (6.92), Pennsylvania's Breehana Jacobs (6.85), Arizona's Kenyanna Wilson (6.92) and Carolina's Kya Brookins (6.94.) Matthews defends the 2005 crown she won in 2005.

The 60 hurdles field will be blazing out of the blocks, too. Sub-8 (55-meter) performers include Texan April Williams (7.89), Philadelphian Nia Ali (7.94), PA's Ryann Krais (7.95) and Baltimore's Theresa Lewis (7.98.)

A serious threat to the NIN pole vault record - Saxer's 14-2, a big feature of last year's meet - will be Fort Wayne. Indiana's Katie Veith, who soars in with a 2006 best of 14 feet even. Texan Brittany Parker has flown 13-6 1/4 and Californian Allison Stokke13-5 3/4.

A threesome - at least - is poised to threaten the NIN long jump mark of 20 feet, 6 1/4, held by Texan Marshevet Hooker since 2003. The three-pronged attack comes from Neidra Covington (who has spanned 20 feet, 1 1/4), Colorado's Sarah Matthews (19-11) and Virginia's Brittni Finch (19-10.) Matthews won the 2005 NIN at 19-6 1/4.

Covington aims for the triple jump title, as well, and is credited with a 41-10 performance - which happens to be an inch and a half past the NIN standard of 41-8 1/2 set by Texan McLain in 2003.

Texan Carter's NIN meet shot put mark of 54-9 1/2 was set in 2003 and figures to go unscathed. Then again, North Carolina's Kamorean Hayes, the defending champion, has worlds of speed, strengh and talent, to go along with a 2006 best of 51-1.

Rhode Islander Kristen Michalski's NIN record of 60-8 3/4 in the weight throw has been in the books since 2002. Chief challenger to this one appears to be Georgia's Emily Bernhradt, who has powered the implement out to 56-7 1/4 this winter.

No NIN entrant's been within three inches of Pennsylvanian Sheena Gordon's meet high jump record of six feet event established in 2002, but that doesn't putit totally out of reach, either. Virginia's Ashley Gatling has cleared 5-9 and
four others are bracketed at 5-8.

Racewalking's steadily gaining in populairity in the girls ranks and a solid 19-athlete field has signed up for the one-miler. Two sub-8:00 performers - Maine's Lauren Forgues (7:45.62) and Ohio's Christina Peters (7:49.42) figure to lead the gold rush.

Few other opportunities exist for indoor pentathletes - so look for some eager youngsters to have it out in NIN's five-event challenge, where Dominique McCoy and Ryann Krais share top seeding.