Boys Preview: Reaching For The Heavens
Virtually every event here will be great, as it should be at a national meet. But there is great, greater, and then there is "Greatest of All Time." And the boys pole vault in 2006 has a very strong chance to earn that honor.
By Steve Underwood, DyeStat senior editor
If you're a bit overwhelmed by the vast array of talent assembled at Nike Indoor Nationals in Landover MD this weekend, and not sure what to focus your greatest attention on, here's a clue: Look to the heavens – or at least toward the ceiling of the Prince George Sports and Learning Complex – at about 4 p.m. Saturday afternoon.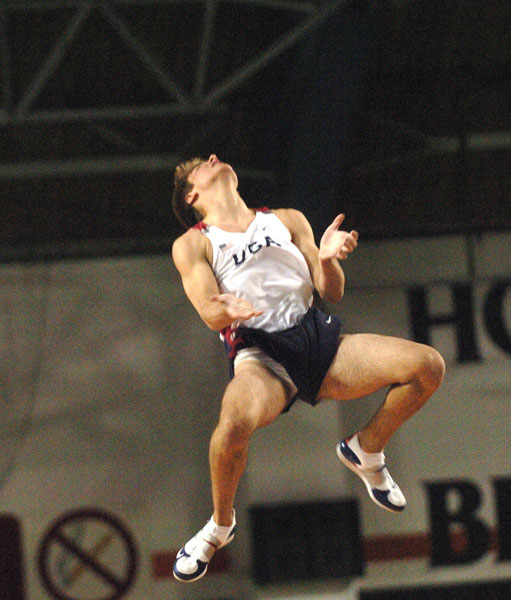 Granite Bay CA sr Scott Roth reaching for the heavens at Simplot. - photo by John Dye
Then adjust your sights to a space between 17 and 18 feet off the ground, and prepare for an undercover aerial show the likes of which has never been seen.
Virtually every event here will be great, as it should be at a national meet. But there is great, greater, and then there is "Greatest of All Time." And the boys pole vault in 2006 has a very strong chance to earn that honor.
Before this year, there were 21 17-foot vaulters in the history of prep indoor track. That list has been increased by two young men so far this year, with Bryant AR jr. Spencer McCorkel 17-3.5 in Arkansas and Chesapeake VA (Great Bridge HS) sr. Michael Morrison. But adding to the drama is the fact that two more of those knocking at the door, Granite Bay CA sr. Scott Roth and Watkinsville GA (Oconee Co. HS) sr. Jordan Scott, have hit 17-0 in their early outdoor meets the past two weeks, as well as during the 2005 outdoor campaign.
Four 17 footers in one meet. It's never happened before, according to statistician/historian and High School Track publisher Jack Shepard … but that's just the peak of the mountain of talent and achievement here. Competing will be a total of nine vaulters who've cleared 16-4 or better. In all, the field will have 11 16-footers in one event, one place, one day. The boys pole vault has without question the most amazing field at Nike Indoor Nationals.
But talk about scratching the surface; nearly every event here is full of the year's best performers, with many of them oozing with potential and intrigue. How will powerful Foot Locker runner-up Michael Coe, who stunned us with his 4:07 mile several weeks ago at Boston Indoor, respond at an event where he – surprise – has never tested himself in a major meet? What will happen when a stupendous collection of boys 60-meter hurdlers from around the country finally meet for the first time?
And will Michael Granville and Leif Arrenhius still find their names at the top of the all-time 800 and weight throw lists by the end of this weekend, or will New Bern NC sr. superman Karjuan Williams and barrier-busting St Anthony's NY jr. Walter Henning relegate them to Number Two?
And which of the head-shakingly deep New York distance crews – representing two top teams from the Nike Team Nationals cross-country meet – will give the long-standing national 4x1-mile relay mark the best shot?
The answers will be at the finish line, in the pits, and at the end of the measuring tapes this weekend.
Field Events
Buoyed perhaps by specialty camps, clubs, and web sites, and fueled by the rising popularity of the event on the girls side, the vault may be ready to reach new heights, so to speak, this year and in the near future. It started this winter when Irvington NY sr. Casey DiCesare cleared 16 and 16-5 very early in the winter, hit full steam when McCorkel got his PR, and has continued ever since.
"In our event, success really breeds success," said Ft. Wayne Vault Club and FW Northrup HS coach Bob Shank. "The pole vault community is really a fraternity. With web sites like polevaultpower.com and DyeStat, if someone has a great performance, it seems like people on the message board know about it in 10 or 15 minutes.
"Support is really needed in this event, with the kind of time and effort you have to put into it," he continued. "And I'm really impressed with the personal qualities of the kids who are jumping high right now. They're very open. My son, Cory, looks up to those kids. He wants to be where those guys are at."
Shank should know; he's smack in the middle of this. Cory Shank will be at NTN, fresh off his national freshman record of 15-6.25. Coach Shank will also have Homestead HS jr. Hunter Hall (16-6) here trying to break through to the ultra-elite, and the new queen of the girls event, Homestead jr. Katie Veith, going for Mary Saxer's year-old USR.
Who is the favorite among the Big Four boys?
With the depth of achievement for the Big Four boys, there's hardly a clear-cut favorite. McCorkel, who hit 17 as a sophomore last year, underachieved at outdoor nationals and then again at the Reno PV Summit this winter. But at Simplot, he brushed those memories aside to win with 17-3.
"In previous national meets, I had put a lot of pressure on myself, and the pressure just broke me down," said McCorkel on the eve of NIN. "At Simplot, I decided it just wasn't worth it. At most of the national meets, I'd only made the first bar. But when I made the second bar at Simplot (16-9), it took all of the pressure off.
As for Scott Roth? He won Nike Outdoor with 17-2.5, was 2nd at the Summitt, and 2nd at Simplot. Michael Morrison? A solid 2nd at both NON and NIN in 2005. Jordan Scott? A 4th and 3rd in those meets, but a win at the Summit.
And the wildcard? Lesser-known Cody WY sr. Ben Peterson, who stunned with his 16-9 at Simplot for 3rd place.
It could be anyone's ballgame. But whoever wins, it will likely not diminish the camaraderie in for these guys. "The pole vault is not like any other sport," explained McCorkel. "You're more in competition with yourself … and everybody usually roots for everybody."
The excitement in the pole vault overshadows the fact that it's otherwise been a modest year in the field events. There was just one 7-foot high jumper nationally until last weekend, which also gave us the year's first 50-foot triple jumper. There have been no 65-foot shot putters or 25-foot long jumpers.
There has been Walter Henning, however, who provided many of the early winter headlines by twice setting junior-class records in the 25-pound weight throw. The South Huntington (St. Anthony's HS) NY 11th-grader, 4th here as a soph last year, has been mostly throwing the shot in recent weeks. But he should give the 82-10 Leif Arrenhius USR at least a good scare, maybe more.
This isn't to say the other field events will be weak or non-competitive. While the country's top horizontal jumpers have are basically split between here and the National Scholastic meet, NIN picked up the lion's share of the top HJers and SPers. See more below.
Event Capsules
Pole Vault
The Top Seeds: McCorkel, Roth, Scott, Morrison, Peterson, DiCesare, Logan Lynch MI (16-5) *Hunter Hall is listed as 16-1, but reportedly cleared 16-6 in a summer meet.
The Buzz: I think we've covered that.
The Breakdown: McCorkel owns the nation-leading mark and proved he can excel in heavy competition at Simplot. But can you really go wrong in picking any of the top four? I like Scott's consistency, strength, and level-headedness and Morrison seems to be peaking at the right time. And again, watch out for Peterson, who showed McCorkel and Roth something in Idaho.
The Record Threat: Profound. We have every expectation of seeing multiple shots at a USR 17-7. Chances are that one (or more) of them will earn a place above Manson in the record book.
The Medalists: 1. Scott, 2. Morrison, 3. McCorkel.
| | | |
| --- | --- | --- |
| Jordan Scott | Spencer McCorkel | Ben Peterson |
25-pound Weight
The Top Seeds: Henning, David Schiedt GA (74-7), Eric Flores SD (70-7), Craig Pearce RI (70-1.25), Trevor Kraychir CA (68-1, but has reported thrown 72-9.75), Danny Paladino NY (67-3.75).
The Buzz: Henning brought this event to the top of the headlines more than once this winter. He's reportedly ready to throw long and could do it again here.
The Breakdown: A victory by anyone else would be a huge upset, but there are additional members in the 70-foot club, including Marietta (Lassiter HS) GA's David Schiedt (74-7).
The Record Threat: Arrhenius should be keeping close tabs to see if his likely successor can add the necessary 22 inches to his PR.
The Medalists: 1. Henning, 2. Schiedt, 3. Kraychir
High Jump
The Top Seeds: Justin Frick NJ (6-10), Tyler Boswell AL (6-10), Michael Healey TX (6-9.75, but cleared 7-0 outdoors), Aaron Johnson MD (6-9), 5 at 6-8.
The Buzz: The buzz factor for this event increased about 10-fold the past weekend as the 2006 7-foot club (in and out) quadrupled. Justin Walker TX (7-0) was joined by Eric Thompson IL (7-2), Jake Dalessandro OH (7-0), and Healey went 7-0 outdoors. Just one of those four will be in MD, but a lot of the (number) 6-10 and 6-8 guys have to be thinking more positively now, don't they?
The Breakdown: Healey had to be the favorite now after leapfrogging his contemporaries. Tough to pick among the rest. Frick's PR is from 2005 (just 6-6 reported this year).
The Record Threat: None. Healey's not yet ready to think about his former Cinco Ranch teammate's record – Scott Sellers' atmospheric 7-5.25 in 2004 – and neither are his competitors.
The Medalists: 1. Healey, 2. Boswell, 3. Elmira (Notre Dame HS) NY sr. Jon Buice (6-8 seed).
Triple Jump
The Top Seeds: Gary Jones NY (49-1.25, but 50-1 last week), Jason Gross MD 47-7, Antonio Miller VA (47-4), David McFadgen NY (46-9), Scott Pierce SC (46-8), Josh Fowler (46-6).
The Buzz: By riding a crest of steady improvement to a state title and nation-leading mark at New York state last weekend, Webster Schroeder sr. Jones has put himself in the right place at the right time. The field, and the event in general, is not extraordinary this year, though.
The Breakdown: With more than a 2-foot edge on the field, Jones is another "has-to-be-the-favorite" choice. McDonough MD sr. Jason Gross has been among the nation's leaders all winter and Midlothian VA soph Antonio Miller may be the future of the event.
The Record Threat: Keith Holley's 52-7.5 from 18 years ago should be safe another winter, but if Jones keeps his upward curve the 6-year-old meet mark of 50-10 (Allan Sims, Eleanor Roosevelt, MD) is not out of reach. Miller's got almost 2.5 feet to go for a class mark.
The Medalists: 1. Jones, 2. Gross, 3. Miller.
Long Jump
The Top Seeds: Terry Prentice CA (24-0.75), Corey Vinston VA (23-6.5), Brandon Banks NC (23-5), Matt Meyer VA (23-5), Wayne Ferguson VA (23-4, 23-0 this winter), Toriano Moody (23-4).
The Buzz: Diamond Ranch CA jr. Terry Prentice, US#2, brings the star power. However, his toughest competitors nationally – Will Coppage LA and Ryan Manning NJ – are at NSIC.
The Breakdown: Prentice won the biggest competition of the year at Simplot. There's no reason to think he won't dominate. Banks and the VA jumpers will battle for 2nd.
The Record Threat: Dion Bentley's 26-6.5 has rarely been approached in its 17-year reign. The 24-7.75 meet mark that Dennis Boone VA set last year could be a nice target for Prentice.
The Medalists: 1. Prentice, 2. Banks, 3. Vinston.
Shot Put
The Top Seeds: Eric Flores SD (63-11.5), Trey Jordan TX (62-8), Jimmie Pacifico OH (60-9.5), Ben Stephen IN (60-7), Adam Chambers OH (58-9), Aaron Studt WI (58-5).
The Buzz: It's been a solid year for putters in the Midwest/Heartland area, but not really a big year nationally. The 60-footers have come to Maryland, though.
The Breakdown: Jordan is the best returnee from NON last year, his PR from that meet. But despite no indoor marks, he hit a 60 last weekend outside. The Ohio putters have faced the best consistent high-level comp, but Stephen beat a few of them at Kentucky Select. Flores, the Custer SD sr., won the biggest meet of the year at Simplot and is twice at 62-8 or better.
The Record Threat: The ancient 71-11 from Jesse Stuart KY (1970) will live on. The 66-11.25 from Jon Reeves TX 2001 is a definite long shot.
The Medalists: 1. Flores, 2. Stephen, 3. Jordan.
Pentathlon
The Top Seeds: David Klech CA (3600), Terry Prentice CA (3580), Dominique Johnson TX (3572), Martin Ross TN (3560), Wesley Bray TX (3550), Alex Holcombe PA (3550), Nick Crosta NJ (3550).
The Buzz: This event usually doesn't get much attention, though it does when the likes of Donavan Kilmartin come along, as he did in 2002-2003. David Klech's seed of 3600, for what that's worth, is far off the USR, but this guy and Prentice, at least, deserve watching.
The Breakdown: Klech has said he doesn't plan on being a decathlete, but he's giving the shorter event a go here. He only has to do one throw and no pole vault, and can use his crazy jump (7' HJ/24-7 LJ) and hurdle (13.94 110s) talents. He's really a long hurdler, so his endurance for the 1000 is good, too.
The Record Threat: Who knows? If Klech has a great day, maybe Kilmartin's 4303 isn't past him. The MR of 3908 is more reasonable for him or Prentice.
The Medalists: 1. Klech, 2. Prentice, 2. Johnson.
Distance Events
The boys distance events are always good at Nike Indoor, usually with fast times, dramatic finishes, occasional upsets, and intriguing matchups between those who've raced indoor all winter and those who are basically debuting for the season. Who will forget Alan Webb's 8:45 deuce from 2001? Or those vintage Bobby Curtis finishes in the mile?
The biggest stud and runner with the best record chance in the five individual distance races is definitely Karjuan Williams. Those who've seen him won't likely forget his smooth, powerful style. Those who saw him blaze 1:50.74 at Simplot will never forget what they saw.
With two sub-1:51s, narrow misses at Michael Granville's USR 1:50.55, one would think that it will finally fall here. But Simplot's a banked track and the 1:50.68 came on the oversized Notre Dame track with plenty of competition. Although the schedule has no doubt been carefully planned this winter, the fact is that Karjuan's raced pretty often and pretty hard. Does he have a USR in the tank for this facility?. The answer comes Sunday.
For intrigue, the 2-mile ranks highest and the mile's not bad either. No one really knew what Webb would do when he stepped on the track for the 16-lapper five years ago and, likewise, the potential of Lompoc (Cabrillo HS) CA sr. Michael Coe is nearly as exciting. Even those who were ready for the FL runner-up to pop a good one at Boston had to be pleasantly surprised by the 4:07.
So why is Coe running the deuce, which he says he has NEVER run during a career that was heavily impacted by major injury? "That's a good question," he laughed. "I was debating back and forth, but the competition really built up in the two-mile and I decided I wanted to do it. I've been training higher mileage this winter and, with that, I think I can run a good one. Overall, though, my focus is still on the mile."
But the rest of the cast boggles the mind:
The consistent and fast-finishing NTN champ Kenny Klotz (Central Catholic OR)
Colts Neck NJ jr. Craig Forys, who has enticed with his 4:05 relay leg and 4:09 open
Greenwood KY sr. Michael Eaton, the king of the Mideast who turned Foot Locker disappointment into a Team USA world CC berth
Georgetown Prep MD sr. Steven Duplinsky, who rocked the VA Tech meet with his 9:08 3200, but doesn't have a mark since
Saratoga jr. and 2005 runner-up as a soph, the daring front-runner Steve Murdock.
And the list goes on with consistent Crater OR sr. Issac Stoutenburgh, second in the Lindgren 5k; Murdock's teammate Greg Kelsey, FL finalist jr. Matt Tebo, NM, etc., etc.
Expect something around 4:26-4:28 for the first mile, little if any letup for the second, and a strong and stunning finish. More on these events and the mile below.
2-Mile
The Top Seeds: Kenny Klotz OR (9:03.05), Michael Coe CA (9:05.00), Craig Forys NJ (9:07.38), Issac Stoutenburgh OR (9:10.74), Michael Eaton KY (9:11.01), Steve Murdock NY (9:12.00).
The Buzz: It's not like it would be if there was a 8:50-type guy in the field, but there is more than enough talent, intrigue, and story lines to not only satisfy any distance geek, but to make this one of the meet's top events.
The Breakdown: You could make a strong case for at least six guys. Forys has probably generated the most excitement and Eaton made a huge statement at Vanny. But what I like even better is the competitive records of Klotz and Coe. These guys don't get beat by running dumb races and both have great kicks. Beyond that, the experience factor leads me to the NTN champ.
The Record Threat: Great as these guys are, there are no replacements for Gerry Lindgren (8:40) or Alan Webb (8:45) on the immediate horizon.
The Medalists: 1. Klotz, 2. Coe, 3. Eaton.
800 Meters
The Top Seeds: Karjuan Williams NC (1:50.74), Alex Bean NY (1:53.00), William Johnson OH (1:54.00), Axel Mostrag VA (1:54.40), Aaron Kauffman PA (1:55.34), Phil Robson Windsor, Ontario (1:55.82).
The Buzz: If it seems like it's been all Karjuan, all the time, this winter … well, what's wrong with that? Most of the guys who probably had the best chance at giving him a race, however, won't be here.
The Breakdown: Unless the defending champ slips on the ice warming up outside – oh, wait, it's going to be 70 this weekend in Landover. OK, so the race is for 2nd. Fork Union VA jr. Mostrag, the meet's top sophomore in 2005, has had some dominant performances this winter; Somers NY sr. Bean has been mostly good at longer distances; Lakota East OH sr. Johnson has range from 200-800, at least.
The Record Threat: I loved watching Marc Sylvester win in 2001, but his 1:52.75 meet record is toast. And, Michael Granville, you might want to be dialed in here about 1:45 EST Sunday afternoon, because your 1995 USR 1:50.55 might be on life support.
The Medalists: 1. Williams, 2. Mostrag, 3. Bean.
Mile
The Top Seeds: Ayalew Taye MA (4:11.44), Ben White NY (4:11.88), Justin Harbor FL (4:12.68), Sintayehu Taye MA (4:12.89), Brian Rhodes-Devey NY (4:13.19), Greg Kiley NY (4:14.81).
The Buzz: They've run quite well at places like FL Northeast, Boston Indoor Games, and, well, who can forget those historic races in Maine last spring? But it's time for Cushing Academy MA jr. Ayalew Taye and/or soph brother Sintayehu Taye to make that ultimate national statement. The thing is, they'll be in a race with several others who share that same distinction.
Last weekend's 3:49 1500 showed that Flagler Palm Coast FL sr. Justin Harbor is ready for battle, too, but he has also had issues on the national stage. Liverpool NY sr. Ben White is fast, but inconsistent. Guilderland sr. Brian Rhodes-Devey was hot early, but has battled illness as of late.
The Breakdown: The winner of this race will either have a big monkey off his back or will be known as one of the big breakout performers of the year. It probably won't go to the person who makes the big move, but who responds best to it. Will the pace be conservative? It's likely, and that would probably benefit the Tayes. But if someone lays down the gauntlet, anything can happen. Look for someone not seeded in the top six to make the top three.
The Record Threat: No sub-4 threats here, but the meet/junior class (Webb 4:07.87), and sophomore (4:09.82) records are not out of reach – if someone really breaks out.
The Medalists: 1. A Taye, 2. Nashua North NH sr. John Schroeder, 3. Harbor.
Mile Walk
The Top Seeds: Roberto Vergara TX (6:51.00), Ricardo Vergara TX (6:53.00), Abraham Villarreal TX (7:41.00), Alejandro Chavez (7:42.00), Taylor Burns (7:52.00), Aaron Carroll (7:54.83).
The Buzz: The event used to be dominated by sub-7 walkers from the Northeast. This year no one from that region has broken 7:45 and a group from Texas is carrying the sport. But they are yet far away from the marks that dipped under 6:30 in the last decade.
The Breakdown: The Vergaras of Edinburg TX, sophomore twins, are by far the national leaders. They were 2nd and 4th here last year. With teammate Abe Villareal, they should take 1-2-3.
The Record Threat: Paul Tavares USR of 6:11 and Zach Pollinger's 6:17.96 MR appear far out of reach. But give these kids a few years …
The Medalists: 1. Ro. Vergara, 2. Ri. Vergara, 3. Villarreal.
Freshman Mile
The Top Seeds: Bill Matthews AL (4:22.02), Craig Weiss NY (4:23.00), Justin Dermit TX (4:25.00), Thomas Porter UT (4:25.08), Connor Revord FL (4:25.08), Nathan Mathabane OR (4:30.56).
The Buzz: Mountain Brook's Matthews got people talking about him with his great double at his state meet on a slow track. He didn't improve at Kentucky, where fast times were plentiful, but may be ready to take another stab here.
The Breakdown: Matthews, however, is listed for two stints of relay duty, as is Revord. That could open the door for Weiss, Dermit, or Porter, in what is really a pretty evenly matched field between kids from deep, strong programs.
The Record Threat: If Matthews is on, and recovered, he could break Watertown WI's Andrew Perkin's 4:21.20 . The meet mark (Jeff See OH 4:22.62) or even national mark is attainable by the rest of the top five.
The Medalists: 1. Weiss, 2. Dermit, 3. Matthews.
Sprints/Hurdles
While the fastest sprinters and sprint times often come from the NSIC meet and the sizzling Armory track, the fields are still solid here, and particularly strong in the straightaway sprints.
The excitement will likely be very high when the final for the 60-meter hurdles sets up. It should truly be a national final with stars from Pennsylvania to North Carolina, and New Jersey to Colorado and Texas. Adding to the intrigue is the fact that most of the principals have not met, at least indoors, and some have raced at 55m and others at 60m. National 55 leader and Clayton NC jr. Johnny Dutch, for example, does not even have a mark at the longer distance, but is generally considered the favorite.
In the flat 60, there's a very tightly bunched and experienced group led by Flint MI sr. Ahmad Rashad and West Charlotte NC jr. Trenton Guy Jr. The 200 will feature nine sprinters at 22.00 or better (including six juniors), while the 400 has 11 sub 49.
Event Capsules:
60 Meter Hurdles
The Top Seeds: (55H times, actual or converted) Johnny Dutch NC (7.13), Darius Reed CO (7.25), Will Brown NJ (7.29), Carrington Queen PA (7.29), Cordera Jenkins TX (7.31), Terry Prentice CA (7.34).
The Buzz: Electric. Could be the best speed event in the meet. A very deep, strong (if not spectacular) year in the event, and just about all the horses are here.
The Breakdown: Dutch has ruled his neck of the woods, but hasn't been pushed. Can he adjust to the slightly longer race with no problem? He has before, but … Reed has been racing mostly college/open comp at altitude. Queen and Brown are peaked at the right time.
The Record Threat: The meet/national record logjam at 7.62 (three athletes) is reachable, but it will be tough. Dutch set the soph mark last year and has a good shot at the 7.74 junior mark.
The Medalists: 1. Dutch, 2. Brown, 3. Queen.
60 Meters
The Top Seeds: (55 times, actual or converted) Ahmad Rashad MI (6.25), Trenton Guy Jr. NC (6.28), Charles Clark VA (6.32), Brandon Banks NC (6.32), A.J. Bunton NJ (6.34), Terrius McMillan NY (6.35).
The Buzz: No superstars this year, but a fast, tight field that could collectively lift it to greatness.
The Breakdown: There's been a little confusion in the outside world about Guy, a junior who amazingly had an unrelated namesake (first and last) who previously sprinted at his school. He's sharpened his skills in some college/open meets, but neither he or Rashad has faced a lot of tough comp this year. Clark and Banks, on the other hand, have really been through the wars.
The Record Threat: Casey Combest's 6.57 has survived longer than many would have thought, and likely will again, maybe just barely. Guy has a shot at the 6.67 junior mark.
The Medalists: 1. Banks, 2. Clark, 3. Guy.
200 Meters
The Top Seeds: Chris Ward FL (21.87), Charles Clark VA (21.91), J'Abneb Provitt OH (21.91), Antonio Sales NC (21.93), A.J. Bunton NJ (21.94), Trenton Guy Jr. NC (21.95), LaDarius Woods AL (21.95).
The Buzz: A tight, solid group, but probably not quite at the level of the 60 field.
The Breakdown: Ward's time is from last year, as is Clark's, with Provitt the leader among the entrants on the 2006 list. Not a lot to go on to pick a winner, but Guy, the Simplot champ, may best have what it takes. Clark was 4th here last year.
The Record Threat: The X-Man's 20.69 won't fall here and J-Mee's great 21.22 from last year looks pretty safe, too.
The Medalists: 1. Guy, 2. Provitt, 3. Clark.
400 Meters
The Top Seeds: Chris Ward FL (47.97), John Hewitt TN (47.99), Reggie Carter PA (48.36), Kendall Gregory OH (48.62), Handy Dawes NC (48.78), Chris Harrison VA (48.79).
The Buzz: Many of the elites will be racing the banked boards of NSIC.
The Breakdown: Of those who are traveling here, Carter and Gregory (a soph) in particular have fashioned outstanding seasons so far. Most of the others are carrying over 2005 PRs.
The Record Threat: Elzie Coleman's 45.92 will not be threatened. It would take a huge PR for someone to get Kelly Willie's MR of 47.49, but it's possible. As strong as Gregory is, the 10th-grade record is the mind-boggling 46.84 that William Reed did 20 years ago.
The Medalists: 1. Carter, 2. Gregory, 3. Hewitt.
Relays
Distance Relay records and Saratoga Springs NY (or Kinetic RC) are almost synonymous. But in most people's minds, it's a girls thing. Well, while the girls still have powerful DMR and 4xMile crews, it's the boys who are making the nation take notice this year.
Steve Murdock began building a real national rep last year, under Coach Art Kranick, when as a soph his achievements included 2nd in the NIN deuce. He had a mostly outstanding CC season this past fall, but it was when the "Gregs" (Kelsey and Kiley) stepped up that we really took notice. They were the force behind Kinetic winning the whole thing in Portland in December.
The juggernaut has picked up right where it left off this indoor season. At Yale, they boggled minds by not only putting together a 10:09 DMR, but individually running 4:17 (Murdock) and 4:14 (both Gregs) in the open mile. For most of the rest of the winter, they've continued to perform at that level or better.
Throw those miles together at NIN Saturday, and they need about a 4:36 to get the record. If either Demetri Goutos or Andrew Bangert can do it, Shen's 17:25 record will go down.
There will be more excitement with the competition the Fayetteville-Manlius team (NTN runner-up) is expected to provide, both there and in the DMR – which by coming after the 4xMile may not provide quite the fireworks. For more about these relays and the sprint relays, read on.
Event Capsules:
4x1 Mile
The Top Seeds: Kinetic RC/Saratoga Springs NY (17:30.00), Fayetteville Track NY (17:39.00), Rock Springs WY (17:46.07), Chaminade HS/Mineola NY (17:48.50), Shaker T&F NY (17:50.00), Red Gremlin/Niskayuna NY (17:50).
The Buzz: Not the same buzz as with the pole vault and boys 2M, but a strong, under-the-radar current. This WILL be a great event, both on the clock and competitively. The Toga boys don't quite have the rep like some of the great 4x1 teams in the past have, but they've got the talent and balance.
The Breakdown: Fayetteville, with Owen Kimple and Thomas Greuenwald, should be able to match Toga for at least two legs, but they don't have three sub-4:18 runners. There should be a good battle for third … and why not Cinco Ranch TX, which actually ran its seed time last week.
The Record Threat: Toga basically needs three 4:15s and a 4:40 to beat Shen's 17:25.98 USR. It won't be easy, but it's doable if everyone's on. The meet record 17:46 by Rockford is history.
The Medalists: 1. Kinetic/Toga, 2. Fayetteville, 3. Cinco Ranch.
Distance Medley
The Top Seeds: Kinetic RC/Saratoga Springs NY (10:09.00), Mountain Brook AL (10:11.05), Fayetteville NY (10:14.00), Syracuse Chargers/Liverpool NY (10:17.00), Chaminade HS/Mineola NY (10:22.10), Hillsborough NJ (10:25.00).
The Buzz: Four hours after the 4xMile, much of the same cast returns for the DMR. There probably isn't a record shot in the balance, but there's a few interesting twists here …
The Breakdown: In the Toga-FM duel, it's going to come down to who has the better 800 and 400 guys, in all likelihood. Toga will probably have a small edge. Seeded just 10th but with probably the best runner in the field is Stark Street/Portland, aka Central Catholic OR. If fresh anchor Kenny Klotz is within 7-8 seconds when he gets the stick, it will be very, very interesting.
The Record Threat: Atlantic Del Ray's 10:03.70 from 2001 is probably safe and that 9:59.94 stunner Gloucester did the year before is, too.
The Medalists: 1. Kinetic/Toga, 2. Stark Street/Portland, 3. Fayetteville.
4x800 Meters
The Top Seeds: Shaker NY (7:52.61), Morris Estate/Pleasantville NJ (7:52.77), Mountain Brook AL (7:53.72), Chaminade HS/Mineola NY (7:59.93), Somers NY (8:01.50), Kellenberg Mem. NY (8:02.04).
The Buzz: Big things are now expected when Shaker steps on the track, though this race doesn't have quite the depth and star power that others do.
The Breakdown: Pleasantville, likely to be fresher than Shaker, will be tough to beat. They were a pleasant surprise themselves with their 7:52 a few weeks back. Mountain Brook will also be wrapping up a long weekend, but with no other team within six seconds of them, could hang on.
The Record Threat: Don't be surprised if West Springfield VA's MR of 7:50.25 goes down, but the USR of 7:42.22 (Synosset NY) is safe.
The Medalists: 1. Shaker, 2. Pleasantville, 3. Mountain Brook.
4x400 Meters
The Top Seeds: Trotwood OH (3:19.13), JW North/Riverside CA (3:20.00), Archbishop Carroll DC (3:20.23), Harrisburg/Mechanicsburg PA (3:20.92), Huguenot VA (3:21.87), Bensalem PA (3:22.05).
The Buzz: Depth, depth, depth. The kingpins of the 4x4, DeMatha, are in NY, but there are four squads seeded under 3:21 and 18 at 3:25 or better.
The Breakdown: The Trotwood OH team that scared DeMatha at Kentucky (though DeMatha was without Jamule Sykes) will look to make a big impression here. Archbishop's best time also came behind DeMatha, but at Virginia Tech. JW North, seeded at 3:20, ran 3:18.17 outdoors March 4. They will give Trotwood a real run for their money.
The Record Threat: Camden NJ's MR of 3:17.26 is approachable. John Muir's 3:13.34 USR from 1996 is not.
The Medalists: 1. Trotwood, 2. JW North, 3. Archbishop Carroll.
4x200 Meters
The Top Seeds: JW North/Riverside CA (1:28.09), Trotwood OH (1:30.00), West Charlotte NC (1:30.02), Deep Creek VA (1:30.07), Panther Cats/Camden NJ (1:30.08), New Bern NC (1:30.46).
The Buzz: Depth, depth, depth – Part II. NSIC got the year's top 5-6 teams, but with more than 20 sub-1:32s on the list, the field has quantity where it lacks quality.
The Breakdown: JW North's mark is not from this year, but there's nothing to suggest they aren't worth that kind of seed. Trotwood's listing is not this year's, either. Camden's mark is actually the best on the list. Watch for West Charlotte, with Trenton Guy on their roster, and New Bern with Karjuan Williams at the short end of his broad range.
The Record Threat: Glenville OH's MR 1:28.90 should at least get a scare. Long Beach CA Poly's 1:26.09 will not.
The Medalists: 1. JW North, 2. West Charlotte, 3. Camden.
4x55 Meter Shuttle Hurdle
The Top Seeds: Wayne OH (30.56), Morris Hills NJ (31.31), Trenton Central NJ (31.34), Bridgeton NJ (31.55), Fordham Prep NY (31.64), Seneca TC/Tabernacle NJ (31.78).
The Buzz: The season's best squads will be here in this somewhat obscure event.
The Breakdown: Jersey's Grp. II champ and No. 2 on the US list, Morris Hills, leads performers from this year, but the Wayne OH team is seeded at 30.56 based on their win last year, from which they return two athletes. Otherwise, it's kind of a Jersey state meet with a few others in the mix.
The Record Threat: It doesn't appear that the MR of Westside SC 29.45 will be threatened. Amazingly, the USR from Metuchen NJ of 29.00 is 34 years old.
The Medalists: 1. Morris Hills, 2. Wayne, 3. Trenton Central.
1600 Meters Sprint Medley
The Top Seeds: Motor City/Det. Mumford MI (3:29.00), Blazin Raiders/ERS MD (3:32.00, New Bern NC (3:33.00), St. John's/West Islip NY (3:34.00), Archbishop Carroll DC (3:34.04), Hugenot VA (3:34.87).
The Buzz: This race doesn't have some of the list leaders, and hasn't been hyped, but it should be pretty darn good. The top seeds haven't really raced this event, but have some great groups.
The Breakdown: Any time you throw some Detroit Mumford kids and Eleanor Roosevelt kids together in a relay that combines speed and middle-distance stamina, you should get good results. And – oh yeah – Karjuan Williams is anchoring New Bern. The 800 leg should be one great chase.
The Record Threat: Vineland NJ's 3-year old MR of 3:29.46 should be in grave danger, but John Muir CA's USR of 3:24.69 is way out there.
The Medalists: 1. New Bern, 2. Motor City, 3. Blazin Raiders.