Girls Preview: a Farewell to Queens
Two electrifying seniors, Nicole Blood and Francena McCorory, with 10 NIN appearances, make their final visit to Landover
By Steve Underwood, DyeStat senior editor
They may seem about as different as athletes can be, but this weekend two electrifying senior girls, with 10 Nike Indoor Nationals appearances between them, will make their final appearances this weekend in Landover. It seems like Royal CA sr. Nicole Blood and Bethel VA sr. Francena McCorory have been with us forever, even if it's just been four years.
Wait, it's been SIX years for Nicole Blood, who debuted in the 2-mile as a 7th-grader in 2001. From being a preteen star to a senior star headed for the Oregon Ducks, from Saratoga Springs to Fast Lane to Royal CA, from all she has had to endure as both a youth prodigy and the centerpiece of the heavily scrutinized Toga program, Blood has landed here: She's the top seed and favorite in both the mile and two mile, and the freshly crowned USATF Junior XC champ and Team USA member. It's been a long, LONG interesting ride for Blood, but the triumphant smile on her face when she crossed the line at Vanny (left) said it all. She seems to be running, and feeling, as good or better than ever.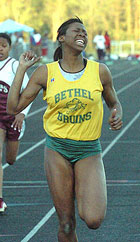 McCorory (left) hasn't been in the spotlight nearly as long, but look at the results – she's been at NIN since her freshman year. And she has the aura of a reigning queen with her friendly, gracious manner and her championship attitude. And it can be strongly argued that her eye-popping 36.96 300 at Virginia Tech, destroying the previous USR, has been THE moment of the 2006 indoor season.
Both Blood and McCorory are top seeds in two individual events; the former in the mile and 2-mile and the latter in the 200 and 400. Neither, however, plans an individual event double. Francena plans to focus on a monster 400 and helping her teammates mine metal in the 4x200 and 4x400. Nicole will decide which race she will contest after she arrives in Landover. Neither will be without stiff competition in her event(s). But both have every reason to be supremely confident.
Those who have seen the video, or were there on a VERY cold, snowy morning at Vanny, will not forget the smooth surge to the finish line and the look of utter delight on Nicole's face when she crossed the line a few weeks ago at USATF XC, making Team USA and bound for Japan in April. Since a disappointing outcome at FL Nationals, she's rebounded with a fabulous winter that finds her leading the indoor 3k and mile lists.
"It was a big race for me," she said of her final New York racing before moving West. "I love cross country and to have the season extended to February, and now to April … it was very exciting for me."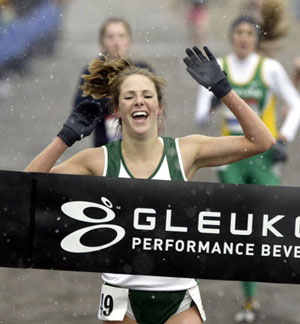 Blood (right, winning the Junior National cross country in New York ) said the blend of workouts she's had with Coach Bob Lane has given her what she's needed for both the mile and cross-country. "The thing is that I've kept my mileage up to 45-50, but also mixed in some 400 and 800 repeat workouts." She said that she will continue to train with Coach Lane's workouts, in consultation with her new coach at Royal, Jay Sramek. She will definitely be racing for the Highlanders this spring.
When she races at the Prince George's Sports and Learning Complex this weekend, Blood said, there will be lots of good memories. After all, take a look at the results:
2005 – 2nd mile 4:49.94, 1st Saratoga 4x8, 1st Saratoga 4xMile (USR)
2004 – 2nd mile 4:46.13, 1st Saratoga 4xMile (USR), 1st Saratoga DMR
2003 – 1st 2M 10:27.61, 1st Saratoga 4xMile
2002 – 5th 2M 10:59.86, 2nd Saratoga 4x8
2001 – 6th 2M 11:08.56
"I've always liked coming here and I feel like I've always run well here," she said. "It was my first national race as a 7th-grader. There's always a great crowd and it's a nice facility.
"It didn't really hit me until the (prep) cross season was over that it was my last one and I'll miss coming here, too, after this weekend." Nicole added, with a laugh, that it would be nice to be able to focus on one race here instead of the two or three she's always done. The competition, will have to wait to see which race she picks.
McCorory and her coach, Eddie Williams, have made their choices. Now the fans can just wait for the fireworks to begin. "She's very excited," said Coach Williams. "This is real special. It's her last year, her farewell year … and she has never really had the chance here to run the 400. She's only done the 60 and the relays."
Considering the unbanked track at George Mason for her state meet, her performances were as impressive as anything she's done: 6.99 55m, 1:13.33 500m, and then the 37.67. The latter two marks probably would have been record-level on a banked track like Virginia Tech.
"Her region and state meets were tough," said Coach Williams. "This will almost be like a vacation for her. She feels real good and is real sharp. She's really looking forward to putting on a show."
The veteran mentor, even working as close as he does with her, realizes that a chance to coach someone like Francena doesn't come around that often. "When I watch her, it's still amazing," he said. "I just had chills watching her run the 36.96, even though I thought she could do it. As long as I'm here, I'll always have that memory."
Of course, there's much more star power here this weekend besides Blood and McCorory. Read on below:
Distances
The matchups potentially involving Blood in each of the long races definitely add luster to the interest generated by the new Royal star herself.
Ocean City NJ sr. Brittany Sedberry's comeback from an injury/illness-plagued fall has thrilled her fans in the northeast, highlighted by the fabulous state group championship 3200 she won and the 10:19 deuce she fashioned at The Armory. She's a great story by herself.
Blood's former Toga teammate, Lindsey Ferguson, has taken leadership during her senior year and had some outstanding performances this winter, though she is coming off a down race at NY State. Overall, at least 10 runners are capable of sub-10:40 in the deuce, including defending champ Kate Niehaus, who clocked 10:31 last year. The seven top eligible athletes from the 2005 race all return.
The mile should be just as intriguing. Chaska (Holy Family Catholic) MN sr. Bria Wetsch, another future Oregon Duck, has survived the passage from youth prodigy to senior standout as well as Blood. Delray FL (Atlantic HS) sr. Jackie Areson was a 4:46 runner outdoors and has a 4:52 indoors this winter.
Event Capsules
2-Mile
The Top Seeds: Nicole Blood CA (10:10.00; best of 9:36 3k this winter), Brittany Sedberry NJ (10:19.30), Lindsey Ferguson NY (10:22.00), Kelly Parrish FL (10:22.74), Kate Niehaus SC (10:30.00), Nichole Jones TX (10:32.67).
The Buzz: Blood-Sedberry-Ferguson and plenty of others have the buzz level plenty high.
The Breakdown: If Blood runs this race, her battle with Sedberry could be legendary. If the pace is sub-10:20, the field will really string out. With Blood just doing one event, the freshness factor will not be there, except possibly for Ferguson if she doubles or triples. Jones has had a good start outdoors and could be game for a fast pace. If it comes to a kick, Blood should be golden.
For a silver or bronze, don't count out Roanoke VA (Northside HS) jr. Catherine White, who has been running fast without major comp in VA, or Detroit Lakes MN sr. Hanna Grinaker, who so impressed last fall.
The Record Threats: With all the talent that has come through here over the years, the meet record is, incredibly, just 10:23.63. Definitely ripe for the taking. But who knows if or when Melody Fairchild's 9:55 will ever be touched.
The Medalists: 1. Blood, 2. Sedberry, 3. White (Niehaus for 3rd if Blood doesn't run).
1 Mile
The Top Seeds: Nicole Blood CA (4:42.00), Jackie Areson FL (4:46.67), Bria Wetsch MN (4:49.09), Lindsey Ferguson NY (4:52.68), Colleen Weatherbee MA (4:52.78), Sarah Morrison PA (4:54.05).
The Buzz: Plenty of good competition and plenty of buzz, especially if Blood runs. Neither Areson or Wetsch have raced much this winter, but each has had one very strong race.
The Breakdown: It will be interesting to see whether everyone keys off Blood, or if someone takes out a fast pace. Whoever does the early work will likely not be the winner in a race like this. Wetsch may be the most aggressive late in the race in trying to take it from the favorite. And will Ferguson bounce back from last week? Look out for Weatherbee and Morrison, who have each had good seasons with breakthroughs, and could be poised for more.
The Record Threats: Deb Heald's 32 (!) year-old national record 4:38.5 is unlikely to be touched, but Katelyn Kaltenbach's MR 4:45.32 is in great peril.
The Medalists: 1. Blood, 2. Wetsch, 3. Areson. (Morrison 3rd if Blood doesn't run).
800 Meters
The Top Seeds: 1. Danielle Bradley (2:09.51), 2. Tameka Jameson MD (2:10.00), Stacy Slight WY (2:10.65), Nichole Jones TX (2:10.75), Katie Doswell VA (2:12.00), Emily Infeld OH (2:13.12).
The Buzz: Most of this winter's top guns – Latavia Thomas and Chanell Price from PA, Brittany Hall GA, Amelia Bannister MI – are at NSIC or not running this weekend. Still, there are a ton of girls with seeds between 2:10 and 2:16.
The Breakdown: This will really be one of the most unpredictable races on the schedule. Jameson and Doswell, to some extent, have had a variety of competition this indoor season, but Slight and Infeld have mostly just raced in their respective states. Bradley has not raced at all undercover. Jones is also entered in the 3200, for the same interesting double she did last year. But she is the top returnee at 3rd last year. The experience of Jameson and Doswell will probably make the difference, though the former may be busy with the relay stick, too.
The Record Threats: Mary Decker's 32-year-old USR of 2:01.80 will not be threatened. But if this field runs its best, someone could get the MR 2:09.52 of Katya Kostetskaya.
The Medalists: 1. Jameson, 2. Jones, 3. Doswell.
Mile Walk
The Top Seeds: Kate Cannon NY (7:45.00), Lauren Forgues ME (7:45.62), Christina Peters OH (7:49.42), Amanda Johnson KY (8:07.89), Devin Philson SC (8:14.00), Molly Woodford WI (8:17.00).
The Buzz: Not a big year in the event, with no one within 45 seconds of the national record.
The Breakdown: Cannon, Forgues, and Peters all appear to have a big gap on the rest of the field. They finished 4-3-2, respectively, last year here. A repeat could be in the cards, despite the seeding.
The Record Threats: The national and meet records, both just under 7:01 from Katy Hayes and Lisa Kutzing, are safe.
The Medalists: 1. Peters, 2. Forgues, 3. Cannon.
Freshman Mile
The Top Seeds: 1. Andrea Oaxaca VA (5:07.06), 2. Teshika Rivers MD (5:10.00), Jeannie Sauter NY (5:13.00), Kristen Malloy MD (5:15.00), Lia DiValentin VA (5:15.85), Ashley Seymour DC (5:16.00).
The Buzz: This event is decidedly different than the boys version as with the former you often have runners shooting for class records and breaking into the national spotlight. The best 9th-grade girls, often with a different development curve, will end up in the main, fast sections of distance events at meets like this. Thus, their freshman mile is more a developmental race for the 5:10-5:20 girl who's trying to get to 5:00-5:10.
The Breakdown: A three-second edge as top seed is usually tough to beat, but this race is hard to predict and you can never count an Eleanor Roosevelt girl (Rivers) out of the winners circle.
The Record Threats: There will never be a performance in the freshman mile to approach the class record of 4:40.1 by Mary Decker. Chantelle Dron, a talent that would more often be in the second main section as a freshman, set a fairly high standard as the meet record – 5:00.22. It could be beaten by an exceptional effort from one of this year's top two.
The Medalists: 1. Oaxaca, 2. Rivers, 3. Sauter.
Sprints
400 Meters
The Top Seeds: Francena McCorory VA (54.24), Sa'de Williams CA (54.35), DeAngela McDougald KS (54.71), Nicole Sanders VA (55.20), Shelise Williams CA (55.55), Andria Smallwood DC (55.74).
The Buzz: The late intel is that McCorory will forego the 200, to just concentrate on the 400, 4x2, and 4x4. So expect something really special.
The Breakdown: While defending champ Sa'de Williams is the national leader, it's hard to bet against Francena. McDougald has had a very good campaign traveling from Kansas and should be at least a solid third.
The Record Threats: As great as these girls are, a 52.10 (Sanya Richards on the New York Armory's super swift banked track) is a tall, tall order. But if McCorory or anyone else can get Lashinda Demus's 53.85, they should be well-pleased.
The Medalists: 1. McCorory, 2. Williams, 3. McDougald.
200 Meters
The Top Seeds: 1. Francena McCorory VA (23.22), Sa'de Williams CA (23.93), Lynne Layne NY (24.01), DeAngela McDougald KS (24.33), Shelise Williams CA (24.44), Charelise Davis PA (24.53)
The Buzz: Without McCorory, the race certainly takes on a different complexion, making it a nice matchup between three other doublers (if they all double) – Layne from the 60 meters and 2005 runner-up Sa'de Williams and McDougald from the 400.
The Breakdown: Athletes will start getting tired at this point, and Layne will be fresh off her long jump. Williams may be out to prove something if she's coming off a loss to McCorory.
The Record Threats: Erica Whipple's MR 23.78 is well within reach of the top three or so. Allyson Felix's 23.14 is probably not.
The Medalists: 1. Sa'de Williams, 2. McDougald, 3. Layne.
60 Meters
The Top Seeds: Ashley Cruder CO (6.75), Breehana Jacobs PA (6.85), Lynne Layne NY (6.91), Sarah Griffen Matthew CO (6.92), Kya Brookins SC (6.94), Shamika Kentish VA (7.04).
The Buzz: The meet will be a intriguing convergence of East and West, with Cruder and Matthews coming from CO to meet Layne NY and Jacobs PA. National leader Bianca Knight is in NY, but at least half of the other leaders will be here.
The Breakdown: The CO girls have been mostly running 60s; for seeding purposes, Cruder's time is a solid tenth on everyone else. As the defending champ, Matthew might be one to look for beating her seeding. But Cruder has improved and Layne wasn't here last year.
The Record Threats: Alexis Joyce's MR of 7.29 will require a big PR, even by Cruder. Ashley Owens' 7.19 is out of reach.
The Medalists: 1. Cruder, 2. Layne, 3. Matthew.
60 Hurdles
The Top Seeds: April Williams TX (7.89), Nia Ali PA (7.94), Ryann Krais PA (7.95), Theresa Lewis MD (7.98), Deandra Doyley FL (8.01), Valerie Flournoy FL (8.01).
The Buzz: Again, NIN got about half of the nation's leaders, and guess what? It's a deep year and there are at least six very good hurdlers here. Better yet, the national record is within reach for Williams, at least.
The Breakdown: Skyline TX jr. Williams has had a very good year, without a ton of races, as her 8.43 rates No. 2 in the country. She will be very hard to beat, so look for Ali, Krais, and Lewis to battle for 2nd. Lewis was 2nd last year, but the field is tougher this time around. Don't be surprised if Flournoy gets in for a medal.
The Record Threats: Williams has a great shot at Nicole Denby's USR of 8.33 or Perdita Felician's MR of 8.36.
The Medalists: 1. Williams, 2. Krais, 3. Ali.
Field Events
Pole Vault
The Top Seeds: Katie Veith IN (14-0), Britany Parker TX (13-6.25), Allison Stokke CA (13-5.75), Tori Pena CA (13-2), Caitlin Hewitt PA (12-7), Ashley Early PA (12-7).
The Buzz: The field isn't quite as deep as the men's, but the record chance is just as great. Definitely one of the meet's top events and the best are here.
The Breakdown: Veith's 14-0 came at Reno. She hasn't had a big mark since, but is said to be ready (she had a minor injury at Kentucky). Parker reportedly cleared 14 feet at an early outdoor meet, but the standards had been moved and the official steps weren't taken for record purposes. Rounding into shape after a 2005 injury, Stokke's best is from early last year; she's done 12-6 so far this year. She took third here in 2005.
The Record Threats: Mary Saxer probably deserves to hold the record (14-2) more than a year, but that's the nature of a relatively new event – the standards improve quickly and constantly. Look for it to go down.
The Medalists: 1. Veith, 2. Parker, 3. Stokke.
High Jump
The Top Seeds: Ashley Gatling VA 5-9, Carin Knight NY 5-8, Patience Coleman NC 5-8, Erin Hannon PA 5-8, Dina Emde FL 5-8, Saniel Atkinson MD 5-7.
The Buzz: The six-foot-plus ceilings of past years have been out of range for this year's group so far, but get ready for an ultra-competitive event with 18 jumpers between 5-6 and 5-9. Well over half of those who've done 5-7 or better are here. Maybe someone will be pushed to 5-10 or 11.
The Breakdown: Gatling's been jumping high for three years and, with the only two 5-9s of the year, will be tough to beat. Hannon's athleticism and competitiveness should push her high in the medals.
The Record Threats: Lisa Bernhagen's 6-3 USR will safely turn 22 and Sheena Gordon's MR 6-0 should stand as well.
The Medalists: 1. Gatling, 2. Hannon, 3. Knight.
Long Jump
The Top Seeds: Neidra Covington FL 20-1.25, Sarah Griffin Matthew CO 19-11, Brittni Finch VA 19-10, Lynne Layne NY 19-7, Tiffani Long MD 19-4, Ryann Krais PA 19-3.75.
The Buzz: Despite the absence of US leader Arantxa King, this is one good and deep field. Seven 19 footers lead the field and a total of 12 have hit 18-9 or better.
The Breakdown: Understandably, Boca Ciega FL sr. Covington hasn't jumped much undercover, but she did win Simplot over Matthew at 19-5.25. She is the field's only 20-footer, though. Something tells me after this meet, that number will have tripled and we'll have a new leader … the defending champ from CO.
The Record Threats: Carol Lewis doesn't get much respect as an announcer, but that 21-7.5 will remain as one of the great USRs. But Marshevet "The Corvette" Hooker could see her 20-6.25 get a good test.
The Medalists: 1. Matthew, 2. Finch, 3. Covington.
Triple Jump
The Top Seeds: Neidra Covington FL 41-10, Queen Harrison VA 39-11.75, Angela Jenkins VA 39-8, Nakeisha Wineglass VA 39-6, Whitney Ford NY 39-2.5, Alyssa Gaeto TN 38-9.
The Buzz: This event will have a very Virginia feel to it, with three of that state's best in the top four. But Covington is the one who probably has the best shot at a MR if she's in top form.
The Breakdown: Covington was third at Simplot, at just 39-6, but her conquerors aren't here. Still she'll need another six inches, at least, to work her way past the Virginia group. If her training's got her back well over 40, she'll win. Harrison, Wineglass and Jenkins went 2-3-4 last year.
The Record Threats: Again, Erica McClain's MR is in danger if Covington's in her old form. Julianna Yendork's USR 43-11.5 will reach 15 years old, however.
The Medalists: 1. Covington, 2. Harrison, 3. Jenkins.
Shot Put
The Top Seeds: Kamorean Hayes NC 51-1, Allyn Laughlin PA 47-9, Tynisha McMillan CT 46-11.75, Karen Shump PA 46-7, Samantha Fetter PA 45-3.25, Amanda Rollin WY 45-2.
The Buzz: There may not be any Michelle Carters or Laura Gerraughtys out there this year, but those who watch this event will see some great competition as NIN snagged almost all the top girls, including the PA trio of Laughlin, Shump, and Fetter that has spiked the event there.
The Breakdown: Charlotte NC jr. Hayes, last year's soph record-setter and defending champ, the US#1 at 49-1, and two feet longer in 2005 outdoors, is the event's clear leader. She should win decisively with a good day. The battle between McMillian and the others should be terrific, though.
The Record Threats: As good as Hayes is, the USR/MR of Carter's, 54-9.5, is way out there. Even the jr. class record is a tough 17 inches beyond her PR. Shump is 26 inches shy of Hayes' soph record.
The Medalists: 1. Hayes, 2. Laughlin, 3. Shump.
Weight Throw
The Top Seeds: Emily Bernhardt GA (56-7.25), Kim Williams GA (56-1), Allison Horner GA (50-2), Jennifer Mack SD (49-1), Robin Callen NY (44-8), Lindsay Pehmoeller NY (43-4).
The Buzz: Four of the nation's top seven are here, including Marietta (Lassiter) sr. Bernhardt, who is now up to 57-8.5. Georgia is dominating the event with the nation's top five throwers.
The Breakdown: Bernhardt has been dominant all year and just upped her PR. Williams threw 56 last year, but is at just 52 in 2006.
The Record Threats: Maureen Griffin's USR of 60-10.5 is 9 years old, but Bernhardt needs three more feet to get it. The MR is Kristen Michalski's 60-8.75.
The Medalists: 1. Bernhardt, 2. Williams, 3. Horner.
Pentathlon
The Top Seeds: 1. Doninique McCoy VA (3600), Ryann Krais PA (3600), Erin Hannon PA (3550), Alyce Harrell MD (3500), Alexandra Coppadge DE (3475), Gabrielle Gioia TN (3450).
The Buzz: Hannon got the buzz going with her 3372 win over college athletes at the Bison meet.
The Breakdown: McCoy is also an exceptional all-around athlete and Krais excels in the sprints, hurdles, and jumps. But Hannon may be the strongest.
The Record Threats: An unpredictable event for athletes who rarely do it, but the marks to shoot for are Shana Woods' USR 3846 and Gayle Hunter's MR 3709.
The Medalists: 1. Hannon, 2. McCoy, 3. Krais.
Relays
4 x 1 Mile
The Top Seeds: Kinetic RC/Saratoga NY (19:59.00), Mountain Brook AL (20:39.00), Brentsville VA (20:55.00), Midlothian VA (21:00.00), Beall TC/Pittsburgh PA (21:10.00), Lenape NJ (21:10.04).
The Buzz: Saratoga and everyone else, but not a record year.
The Breakdown: Despite the seed time of 19:59, this is no longer a truly great, deep Toga team. But if Lindsay Ferguson (4:52), Hannah Davidson (4:56) and Kipling Hill (5:05) all run really well, something in the 20:05-10 range might be possible. The rest of the field has little experience in this event, but the seeds from PRs indicate Mountain Brook is a solid 2nd and Brentsville having the edge in the race for 3rd.
The Record Threats: The Toga girls of 2005 will probably retain their mark.
The Medalists: 1. Kinetic/Toga, 2. Mountain Brook, 3. Brentsville.
Distance Medley
The Top Seeds: Kinetic RC/Saratoga (11:59.99), Westfield VA (12:02.00), Four-Pointers/Sioux Falls SD (12:05.00), Hammer TC/Manahawkin NJ (12:05.00), Oakton VA (12:10.00), Blazin Raiders/ERS MD (12:10.00).
The Buzz: This has the potential to be a fascinating, competitive race. Though the field lacks US#1 Suffern NY, there's plenty of star power. Toga's top seed time is current and they should be good for it. There is not one, not two, but three X-factors in this race: The team from Sioux Falls Roosevelt SD making its debut here with the outstanding Eckert sisters, and an Eleanor Roosevelt squad that has been tearing up the relays but hasn't really taken a DMR seriously this year. Meanwhile, Westfield VA hasn't run this event, but they're no strangers to sub-9:30 4x8 clockings. If things come together, there could be 3-4 sub-12 teams. Then there's the Hammer TC team from Southern Regional in Jersey, which sports none other than Millrose mile champ Danielle Tauro as its anchor. Good times.
The Breakdown: If Toga doesn't expend too much in the 4xMile and its stars are up to form, they should win. ERS needs to use its speed to get a lead on the first three legs. The Sioux Falls bid will depend on how Brittany Thune and Caitlyn Crowley can run between the Eckerts. And all of them need to make sure they have at least five seconds on Tauro before she starts or all bets are off; she knows how to come from behind.
The Record Threats: Mountain View's stunning 11:35.43 from two years ago won't be touched. But any or all of the contenders could take down Rockford's 11:56.87.
The Medalists:
Sprint Medley
The Top Seeds: Blazing Raiders/ERS MD (4:02.05), Bethel VA (4;05.24), Ocean CityNJ (4:06.06), Kecoughtan VA (4:08.64), Mighty Mustangs/Ft. Meade MD (4:11.00), The Woodlands TX (4:11.69).
The Buzz: Beginning here, we'll see if the Blazin' Raiders of Eleanor Roosevelt can achieve total relay domination – at least in the sprint events. Takesha Jameson isn't part of this particular equation and this isn't an event they frequently do. Still, they've calculated a 4:02.05 seed and Tasha Stanley will be running. US#1 Westerly RI is in NY.
The Breakdown: ERS should win, though three other sub-4:10 seeds could give them a battle. Bethel will not have Queen Francena, but this is a deep squad.
The Record Threats: LB Wilson's USR 3:53.17 is almost certainly out of reach. With its best crew and effort, ERS might have/might be game for LBW's 3:59.62 MR.
The Medalists: 1. Raiders, 2. Bethel, 3. Ocean City.
4 x 800 Relay
The Top Seeds: Four-Pointers/Sioux Falls SD (9;08.00), Blazing Raiders/ERS MD (9:11.53), The Woodlands TX (9:20.17), Midlothian VA (9:20.86), Irish Rd. TC/West Chester PA (9:24.34), Westfield VA (9:27.68).
The Buzz: Though the fine US#1 crew from Suffern NY isn't here, this should be a dynamite race. Again, the Sioux Falls crew has great creds and its top three could avg. under a 9:00 pace. ERS should be fully loaded her with the Tameka Jameson, Stanley, and distance stars Marika Walker and/or Dominique Lockhart.
The Breakdown: While ERS is developing great distance running traditions, it will still be seen as a matchup of speed vs. endurance. The Eckerts and ERS' top two are probably almost a dead heat, so it will come down to the 3-4 girls to make the difference. The Woodlands and West Chester each have distance stars in Cheryl Spring and Liz Costello, respectively.
The Record Threats: Boys and Girls MR of 9:11.82 should absolutely be toast. Their USR of 8:53.67 is much, much better, but could be reachable on a great day.
The Medalists: 1. ERS, 2. Sioux Falls, 3. The Woodlands.
4 x 200 Relay
The Top Seeds: Blazin Raiders/ERS MD (1:39.57), Bethel VA 1:40.33, Woodrow Wilson NJ (1:41.14), Salem VA (1:41.87), McDonough MD (1:42.43), Penn Hills PA (1:43.11).
The Buzz: Francena McCorory and Co. vs. ERS – What more could anyone want?
The Breakdown: By seed, ERS has about ¾ of a second. Who is dealing with fatigue best and how well the crews work together and pass the stick will make the difference.
The Record Threats: James Logan's MR of 1:39.87 could go down. Long Beach Poly's USR 1:35.86 lives on.
The Medalists: 1. ERS, 2. Bethel, 3. Woodrow Wilson.
4 x 400 Relay
The Top Seeds: Blazin Raiders/ERS MD (3:48.04), Menchville VA (3:51.19), Woodrow Wilson NJ (3:52.55), Kecoughton VA (3:53.07), Bethel VA (3:54.61), Osbourn Park/Manassas VA (3:57.97).
The Buzz: ERS is the indoor season's top team and everyone will be gunning for them. Should be good times.
The Breakdown: With their top crew, even tired after a long meet, ERS should be able to hold off the army. McCorory will be going all out in her final race here, but will it be enough for the top three?
The Record Threats: LB Wilson's MR of 3:45.35 is a tough one. Poly's 3:38.91 is out of reach.
The Medalists: 1. ERS, 2. Woodrow Wilson, 3. Bethel.
4 x 55 Shuttle Hurdle Relay
The Top Seeds: Woodrow Wilson NJ (32.01), Jackson Memorial NJ (32.84), Columbia NJ (32.89), RJ Reynolds NC (33.41), New Rochelle NY (33.55), Flying Doves/Baltimore MD (33.64).
The Buzz: As of this writing, new Co-National Record Holder Woodrow Wilson has already completed the first half of its hoped-for NSIC/NIN double, winning Friday in NY in 33.10, over New Rochelle (33.61). A smattering of schools and individuals are attempting both meets in various events.
The Breakdown: The field may be a little tougher here, as New Rochelle is seeded just 5th. WW may have to return to their Group Champs form (where they set the record) to hold off the other sub-33 teams racing.
The Record Threats: The record WW tied in January was from Palm Beach Lakes FL in 1999.
The Medalists: 1. Woodrow Wilson, 2. Jackson Memorial, 3. Columbia.