DyeStat
Camp Directory
"If your goal is to reach high school runners, there is no better place to advertise than DyeStat.com. Advertising with DyeStat.com not only gave us a broader audience, it noticeably boosted our camp attendance."
Drew Ryun, director
Jim Ryun Running Camps

DyeStat Camp Directory

NOTE: Hamdheld times will not be considered for US#1 at 400 meters and below. Marks missing wind readings may also be ignored.
BOYS
100 - J-Mee Samuels NC 10.25
200 - Xavier Carter FL 20.49
400 - Lashawn Merritt VA 45.25
800 - Jacob Hernandez TX 1:48.48
1500 - Victor Gras MA 3:45.19
1600 - Mike Booth PA 4:07.77
Mile - Galen Rupp OR 4:01.8
3000 - Galen Rupp OR 8:03.67 USR
3200 - Brian Sullivan TX 8:52.92
2 Mile - Shadrack Kiptoo NM 8:45.44
110H - Jason Richardson TX 13.38
300H - Kevin Craddock CA 35.93
400H - Jason Richardson TX 49.79
HJ - Scott Sellers TX 7-5
LJ - Rashaad Nunnaly CA 24-11.5
TJ - Kenny Hall LA 51-8.75
PV - Adam Sarafian NJ 17-4.5
SP - Zach Lloyd NV 66-7.25
DT - Zach Lloyd NV 211-5
JT - Chad Brown LA 218-6
HT - Nate Rolfe WA 237-1
4x100 - Lancaster TX 40.28
4x200 - Glenville OH 1:23.78
4x400 - Dorsey CA 3:11.45
4x800 - Saline MI 7:40.68
SMR - Iowa City IA 3:27.18
DMR - Saline MI 10:03.15

GIRLS
100 - Ashley Owens CO 11.20
200 - Jasmin Baldwin CA 22.86
400 - Natasha Hastings NY 52.04
800 - Sarah Bowman VA 2:04.94
1500 - Sarah Bowman VA 4:23.36
1600 - Elizabeth Yetzer MN 4:46.14
Mile - Nicole Blood NY 4:42.40
3000 - Nicole Blood NY 9:24.03
3200 - Caitlin Chock CA 9:58.51
2 Mile - Nicole Blood NY 10:10.73
100H - Shantia Moss FL 13.39
300H - Ebony Collins CA 40.81
400H - Katya Kostetskaya AR 56.49.
HJ - Viktoria Andonova FL 6-1
LJ - Brittany Daniels CA, Gayle Hunter CA and Shana Woods CA 20-7.75
TJ - Brittany Daniels CA 44-11.75 USR
PV - Tiffany Maskulinski NY 13-5
SP - Sarah Stevens CO 50-4.5
DT - Missy Faubus CA 170-1.
JT - Rachel Yurkovich OR 161-11.
HT - Erin Donnelly RI 165-7
4x100 - Poly Long Beach CA 44.50 USR
4x200 - Poly Long Beach CA 1:33.87 USR
4x400 - Poly Long Beach CA 3:35.49 USR
4x800 - Bay Shore NY 8:57.48
SMR - West Catholic PA 3:52.22 USR
DMR - Bay Shore NY 11:33.42 USR
Russell Blunt East Coast Invitational
Age group athletes from the Eastern seaboard compete at Greensboro NC. Mt. Tabor NC senior to be J-Mee Samuels, who is US#1 this year at 100m after his 10.25 mark at the AAU Region 3 Junior Olympics meet July 11, is the top ranked athlete on hand. Some other top athletes are: jumpers Ryan McCoy NC, Andre Tillman NC, Camelia Morman NC, Brandon Cathcart NC and Mark Sturgis NC; hurdlers Reuben McCoy NJ, Dwayne Joseph NJ, and Krystal Cantey NJ; 800m Chris Thomas FL; 400m Krystal Cantey NJ, Sade Nero FL and Faraign Giles VA; sprinters Edino Steele NY, Reuben McCoy NJ, Travis Padgett NC, Tiaerra McLaurin SC, Kharya Brown VA, and Erica Montgomery NC.. Performance List
Ritz turns pro
Dathan Ritzenhein, two time Foot Locker cross country national champion at Rockford MI, is turning pro, giving up his final 2 years of eligibility at the University of Colorado. Ritz, who came back from an injury red shirt year to win the NCAA cross championship last fall, is nursing a stress fracture again, but is on the US Olympic team and hopes to run the 10000 meters at Athens. He owns the US college 10k record at 27:38.50.
"I wouldn't be able to do this without my three years at Colorado," Ritzenhein said from Boulder. "Coach Wetmore and the athletic department have prepared me well and I couldn't do what I'm doing without everything that I've learned here. I'm sure that I could have stayed for another year or two, but this is where I'll be happiest. I'm confident in this decision…it's one that I've had to deal with before and have thought about for weeks. But this time around is different. I feel like this is the best move to make to make me the best runner that I can be."
Vic's Pix
PhotoRun album of closing day of US Olympic Trials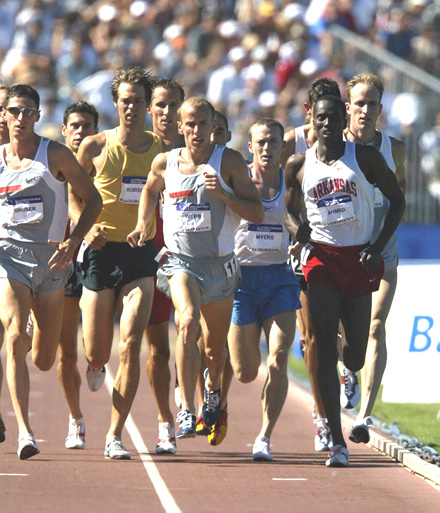 Sacramento

Grosseto

US Olympic Trials
High School record holders Alan Webb and Allyson Felix win the 1500m and 200m, justifying decisions to turn pro early. They join a bunch of other recent high school stars on US Olympic team -- Lashinda Demus, Sheena Johnson, Laura Gerraughty , Shalane Flanagan, Chaunte Howard, Jeremy Wariner, Jonathan Johnson, Lauryn Williams and Sanya Richards.

World Junior Championships
High school athletes are prominent as Team USA ends with a flourish, sweeping all four relays with three world records. Two Merritts (unrelated) star -- Lashawn Merritt is on both men's relay winners, and Aries Merritt wins the 110m hurdles. Galen Rupp and Josh McDougal hit US all time top 10 in 5000 meters. Sharon Day wins bronze.

Alan Webb


Lashawn Merritt


Allyson Felix


Aries Merritt


photos by PhotoRun

INDEX - Live Results - Completed Results Men - Completed Results Women
Highlights and Pix: Day 1 - Day 2 - Day 3 - Day 4 - Day 5 - Day 6
analysis by Jim Spier, photos by Joy Kamani and PhotoRun
Day 6 Sunday July 18
analysis by Jim Spier on every event - pix by Joy Kamani and PhotoRun
World Records


M-4x400 3:01.09
W-4x400 3:27.60
M-4x100 38.66

More US gold
W-4x100 43.49
110H Aries Merritt 13.56

Also great




M-5000 Galen Rupp

13:52.85 9th US#4 all time, plus Josh McDougal 14:07.55 US#10 all time.
W-HJ Sharon Day 6-3.25 PR
IAAF story - Three World Junior records set in the space of 90 minutes. Three brilliant World record relay performances by United States' athletes were the highlight of the closing day of the World Junior Championships in Grosseto.

USATF story

-

World Junior records tumbled, crumbled and fell

as Team USA's relay teams swept the 4x100m and 4x400m relays along with Aries Merritt who grabbed gold in the 110m hurdles to conclude the 10th IAAF World Junior Track & Field Championships. It marked the first time that Team USA has swept the relays at the Championships.
M-4x400 final - USA 3:01.09 WJR (Brandon Johnson, Lashawn Merritt, Jason Craig, Kerron Clement) is a new world junior record (breaking one of the oldest WJRs, 3:01.90 by USA in Athens in 1986) and completes a USA sweep of the four relays. Jim Spier's splits: Johnson 45.3 Merritt 44.8 Craig 46.1 Clement 44.9. Three continent records were broken by the next three finishers: South Africa 3:04.50, Japan 3:05.33 and Brazil 3:05.33.

M-5000 - Re

cent Central Catholic Portland OR grad Galen Rupp 13:52.85 (9th) is US#4 all time high school mark (Gerry Lindgren 13:44.0 in 1964, Dathan Ritzenhein 13:44.70 in 2001 and Steve Prefontaine 13:52.8 in 1969). Josh McDougal NY 14:07.55 12th claimed US#10 all time. Rupp was with the leaders until 1000 meters to go and split 4:22.5 and 8:45.1 en route. It was the fastest time ever by an American in the ten World Juniors and Rupp was only the second American ever in the top 10 (Eric Mastalir 9th in 1986).
W-4x400 final -

USA 3:27.60 WJR

(Alexandria Anderson, Ashlee Kidd, Stephanie Smith, Natasha Hastings) in a spectacular solo effort that erased the 1988 drug-suspected world junior record of East Germany 3:28.39. Russia 3:30.03, with a great 51.5 anchor by Katya Kostetskaya, caught Jamaica 3:30.37, and those two teams claimed #5 and #6 on the all time world junior list.
M-4x100 final -

USA 38.66 WJR

(Trell Kimmons, Demi Omole, Ivory Williams, Lashawn Merritt). Flawless exchanges give swift US team a world junior record, breaking USA's own record of 38.92 set at Kingston 2 years ago.

Jamaica 39.27

went to #8 on the all time list and Japan 39.43 #10.
W-4x100 final -

USA 43.49

wins (Ashley Owens, Juanita Broaddus, Jasmine Baldwin, Shalonda Solomon), with Jamaica 43.63 and France 43.68 also under 44 seconds. Solomon broke open a three-way "pick-em" struggle on the anchor leg, just as she did so many times for Poly Long Beach CA's national high school record setters.

M-100H

Aries Merritt 13.56 -0.6

wins gold

for US. High school senior to be Kevin Craddock CA 13.77 is third on photo finish call to Dayron Robles of Cuba, who had the same time. Merritt ran high school in Georgia and is now at the University of Tennesse.
the beach at Grosseto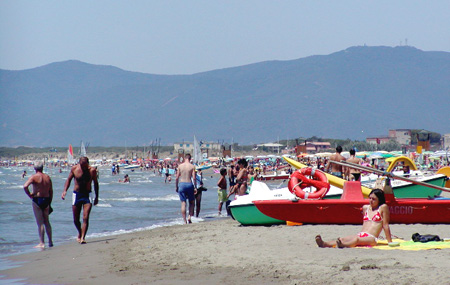 Highlights of "DyeStat Graduates"
High School record holders Alan Webb and Allyson Felix win the 1500m and 200m, justifying decisions to turn pro early
M 1500m final - High School mile national record holder Alan Webb, whose career is in the ascendant again after being obscured for a couple of years after breaking Jim Ryun's "unbreakable" record, ran away from the field the last two laps to win easily in 3:36.13. He broke the field with a 55.23 third lap. Chris Lukezic WA 3:44.14 (2002 WA WA and Golden West mile champ, 2002 US Junior National 1500m champ) 3:40.05 was fourth, Donald Sage IL 3:44.23 (2000 IL and Golden West mile champ) 3:41.26 was 7th, and Said Ahmed MA 3:44.34 (2001 MA 800m champ, 2nd Golden West, 5th AOC Nationals) 3:42.77 was 8th.
M-200 final - Bernard Williams, former Carver HS, Baltimore MD, star, made the Olympic team with a third place finish in 20.30 -0.7.
W-200m final - Allyson Felix CA, HS national record holder (22.11A), who turned pro at age 17 a year ago to train for the Olympics, made the decision look good by closing for the win in 22.28 -1.2, second fastest in the world this year. LSU multi-champion Muna Lee MO (2000 MO and FLO Raleigh champ) 22.36 was second in world #4 time, and Lashauntea Moore OH (2001 OH and Golden West champ) 22.64 was fourth.
M-HJ final - High school record holder Andra Manson TX (2002 World Junior champ) 7-4.25 tied with Jesse Williams NC for 8th place. Best former HS star showing was Keith Moffat VA 7-5.25 for fourth, just missing the Olympic team in the tie breaker on total misses with Tora Harris. Teak Wilburn CA cleared 7-4.25 for 10th place.
W-100H - Sheena Johnson VA (2000 Virginia multiple champ), already on the US Olympic team by winning the 400 meter hurdles, was in the semifinal, but did not advance to the finals.
M-110H: Former Georgia HS star Josh Walker 13.59 +1.6 was in the semifinal but did not advance to the final.
W PV - Defending Olymic champ Stacy Dragila 15-7 won with ease and attempted a new world record of 4.89 meters (16-0.5). Chelsea Johnson CA, US#4 on the all time high school list, was fourth at 14-9. Amy Linnen NY, former HS indoor national record holder, and Kira Sims, who blossomed after high school in Virginia, tied for 11th at 13-9.25.
Decathlon - Brian Clay, a 1998 graduate of Castle HS in Hawaii, upset defending national champion Tom Pappas. Clay was a standout in track and field and cross country, running in the Iolani Invitational..
Vic's Pix


76 great action shots by Victah Sailer and his PhotoRun crew
Day 1 and 2 Men - 100m quarters, 400H semi, 800m semi, 10000, PV, SP
Day 1 and 2 Women - 100 final, 400H semi, 800, 5000 pre, DT, Hep, JT
Day 3 - Men 100, Men 400H, Women 400H, Men PV, Women TJ.
Day 4 - Men 400 semi, W 400 pre, W LJ, W 5000
Day 5 and 6 - Alan Webb, Sanya Richards, Allyson Felix, Said Ahmed, Laura Gerraughty, Chelsea Johnson, Jeremy Wariner, Muna Lee, women's long jump team.
J-Mee Samuels 10.25 US#1
Mount Tabor NC senior to be J-Mee Samuels blitzed the AAU Region 3 meet in Knoxville last weekend (7/11) with a sparkling double: 10.25 +1.5 100m US#1 and 20.87 +1.4 200m US#7. Robert Martin NC chased Samuels in both races, with times of 10.53 and 21.57.
Katya Kostetskaya to Texas State
Russian phenom Katya Kostetskaya, who ran as an exchange student at Jonesboro AR, has completed her high school studies in Russia and will attend Texas State (formerly Southwest Texas State) at San Marcos TX in the fall. Katya is competing in the World Junior Championships for Russia in the 400m hurdles. She was US#1 this year in that event (56.49) and US#1 last year at 800 meters (2:05.95 winning AOC Raleigh). [Jim Spier]
1,097 College Choices by Class of 2004
The NCAA national letter of intent signing period for this year's seniors runs from April 14 to August 1. DyeStat has received 1,097 college choices by the class of 2004 as of May 13. Send choices to John Dye, giving your name and how you know the information is correct. We will update the lists this week.
Post Season Top Marks
Hundreds of DyeStat Elite performances are being posted in the summer championship meets. AOC Raleigh had 435 marks, best of the entire outdoor season; USA Junior Nationals 124, Golden West 159, Great Southwest 89, USA Youth Championships 55 and Golden South 36.
National Rankings
ShopDyeStat


unique items
for the HS athlete
--Camp Directory
--Parents Guide

--Training G
uide
--Training Profiles
--Pace Calculator
--the Harrier
--HS Track 2004
DyeStat Sponsors
and Advertisers
Use them - they keep DyeStat going.
The Harrier
by Marc Bloom
XC Pre-season issue in August. Free Yearbook to new subscribers

DyeStat uses Hy-Tek
for meet results