Daily Highlights
Day 1 - Day 2 -
Day 3 - Day 4 -
Day 5 - Day 6

Results
Men - Women
Start lists
and live results
by date
by event

Stories
by IAAF

World Rankings Schedule
Pre-world meet

the meet's own web sites
IAAF
Local committee
USATF


Team USA ends with brilliant flourish
Closing Day - High school athletes are prominent as Team USA ends with a flourish, sweeping all four relays with three world records. Two Merritts (unrelated) star -- Lashawn Merritt is on both men's relay winners, and Aries Merritt wins the 110m hurdles. Galen Rupp and Josh McDougal hit US all time top 10. Sharon Day wins bronze.

World Records


M-4x400 3:01.09
W-4x400 3:27.60
M-4x100 38.66
More US gold
W-4x100 43.49
110H Aries Merritt 13.56

Also great




M-5000 Galen Rupp

13:52.85 9th US#4 all time, plus Josh McDougal 14:07.55 US#10 all time.
W-HJ Sharon Day 6-3.25 PR for bronze.

the beach at Grosseto


Daily Highlights and Pix
Day 6 July 18
High school athletes are prominent as Team USA ends with a flourish, sweeping all four relays with three world records. Two Merritts (unrelated) star -- Lashawn Merritt is on both men's relay winners, and Aries Merritt wins the 110m hurdles. Galen Rupp and Josh McDougal hit US all time top 10. Sharon Day wins bronze.
Day 5 July 17
USA Relays fastest in all four semi finals. Michelle Carter wins shot put on last throw with a 2-foot PR of 57-7! Gayle Hunter's 5411 hep is #2 all time in US. Aries Merritt 13.65 and Kevin Craddock 13.74 (US HS record for 42-inch hurdles) are two fastest in 100H semi. Michelle Carter's mighty throw
Day 4 July 16
Afternoon - Shalonda Solomon wins 200m gold in 22.82 US#4 HS all time. Ronetta Alexander wins 100H semi. Another USA 1-2 sweep in 400H by Kerron Clement 48.51 and Brandon Johnson 48.62. Ronetta Alexander wins 100H.
Morning - Kevin Craddock and Aries Merritt win 110H prelim heats. Amy Menlove and Michelle Sanford make LJ finals. Jessica Eldridge, Sarah Bowman are last in 1500m prelim.
Day 3 July 15
Afternoon - USA sweeps 400m finals with Lashawn Merritt 45.25 and Natasha Hastings 52.04. Katya Kostetskaya 55.55 400H with Nicole Leach 57.56 PR fourth. Shalonda Solomon 23.13 is fastest in 200m semis. Kerron Clement 49.01 wins battle of top 4 junior hurdlers in the world.
Morning - Shalonda Solomon 23.14 is fastest in 200m prelims. Ronetta Alexander and Shantia Moss advance in 100H, but 2003 World Youth champ Sally McLellan of Australia is fastest at 13.30. Corey Lacour and Marcus Pugh advance in men's 200 prelims. Chip Heuser qualifies for PV final.
Day 2 July 14
Morning -- Jenny Green makes PV finals on borrowed poles. Kerron Clement 50.10 and Brandon Johnson 50.11 breeze in 400H prelims; defending champ Louis Van Zyl RSA 51.30 is caught by Lismet Yasser CUB 51.27.
Afternoon -- US is 1-2 in both 100m finals with Ashley Owens 11.13, Jasmine Baldwin 11.34, Ivory Williams 10.29 and Demi Omole 10.31. Owens ties for US#2 all time high school mark. Lashawn Merritt passes a test, 45.84 to 45.99.
Day 2 pix by Joy Kamani -
Day 1 July 13
Morning -- Natasha Hastings, Ashlee Kidd, Lashawn Merritt, Ashley Owens, Erica McLain, Demi Omole, Ivory Williams breeze through prelims. Saudi Arabian Yahya Al-Gahes surprises in 10.42.
Afternoon -- Caitlin Chock 15:52.88 USR in 5k. Jasmine Baldwin 11.46, Ashley Owens 11.35 win 100m semis with two fastest times. Latavia Thomas 2:07.17 advances. Ivory Williams 10.30 wins semi heat, but Demi Omole 10.19 is edged in photo by Daniel Bailey 10.19 (Antigua national record).
Day 1 pix by Joy Kamani - PhotoRun pix page of opening ceremonies and Day 1
World Junior Rankings show three US men and three women are #1 in the world. They are Demi Omole 10.15 100m, Lashawn Merritt 45.38 400m, Kerron Clement 48.77 400H, Ashley Owens 11.20 100m, Ronetta Alexander 13.29 100H, and Sharon Day 6-3.25 HJ. Three relays also have the fastest times reported to date: men's 4x400 3:06.79, women's 4x100 44.09 and women's 4x400 3:36.55.
A pre-world warmup meet was held July 8 at Grosseto with athletes from USA, Australia, New Zealand, Italy, Puerto Rico, Switzerland, Saudi Arabia, and Australia competing. US athletes did well, especially some hot relay squads experimenting with lineups.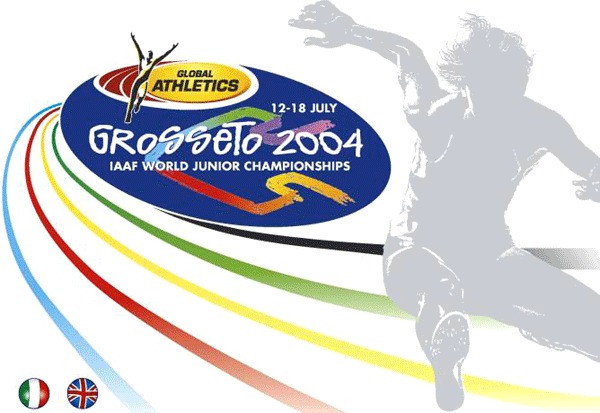 Prior World Junior Championships
2002 Kingston Jamaica - coverage on DyeStat - on IAAF -
World junior records set by Lashinda Demus, USA (54.70 400H), Men's 4x100, USA (38.92 Ashton Collins, Wes Felix, Ivory Williams and Willie Hordge), Carolina Kluft, Sweden (heptathlon 6470), Louis Van Zyl, South Africa (48.89 400H)
In 2002 meet at Kingston Jamaica, Lashinda Demus, a US Olympian this year, added the world junior record of 54.70 in the 400m hurdles to her US national high school record of 39.98 300H. Lashinda watched on the giant stadium screen as they replayed the race in the awards ceremony.

photo by Joy Kamani
2000 Santiago de Chile - on IAAF
1998 Annecy France - on IAAF