DyeStat Elite performances
performances qualifying for DyeStat Elite top 100 national ranking
Boys
B-100 10.5 p +0.2 Johnson, Chris, 2004, Olympia , FL 6/5/2004, Golden South FL, # 1
B-200 21.55 +0.3 Johnson, Chris, 2004, Olympia , FL 6/5/2004, Golden South FL, # 1
B-400 47.14 Beckwith, Eddie, 2004, West Orange , FL 6/5/2004, Golden South FL, # 1
B-400 48.06 Suber, Stanley, 2005, East Bay , FL 6/5/2004, Golden South FL, # 2
B-800 1:52.74 Patrick, Chris, 2004, Smiths Station , AL 6/5/2004, Golden South FL, # 1
B-HJ 6' 8 Newell, Raymond, 2004, Pearl , MS 6/5/2004, Golden South FL, # 1
B-LJ 24' 2 +0.2 Brown, Brandon, 2004, Westside , Anderson SC 6/5/2004, Golden South FL, # 1
B-PV 15' 6 Dickens, Ben, 2004, Stoneman Douglas , FL 6/5/2004, Golden South FL, # 1
B-PV 15' 0 Scott, Jordan, 2006, Oconee Co , Watkinsville GA 6/5/2004, Golden South FL, # 4
B-PV 15' 0 McGinn, Casey, 2004, Lake Highland , FL 6/5/2004, Golden South FL, # 3
B-PV 15' 0 Frith, Matt, , Bolles , FL 6/5/2004, Golden South FL, # 2
B-SP 58' 10 Burroughs, Beau, 2004, Tampa , FL 6/5/2004, Golden South FL, # 1
B-4x100 41.61 Boys Relay, , Evans , Orlando FL 6/5/2004, Golden South FL, # 1
B-4x100 41.68 Boys Relay, , Gainesville , FL 6/5/2004, Golden South FL, # 2
B-4x100 41.7 Boys Relay, , Olympia , FL 6/5/2004, Golden South FL, # 3
Girls

G-100 11.61 -0.2 Hastings, Natasha, 2004, A.P. Randolph , NY 6/5/2004, Golden South FL, # 1
G-100 11.7 Austin, Lauren, 2004, Oak Ridge , Orlando FL 6/5/2004, Golden South FL, # 2
G-100 11.82 Knight, Bianca, 2007, Ridgeland , MS 6/5/2004, Golden South FL, # 3
G-200 24.25 +0.5 Austin, Lauren, 2004, Oak Ridge , Orlando FL 6/5/2004, Golden South FL, # 1
G-200 24.29 +0.5 Iloka, Galyn, 2006, Rockledge , FL 6/5/2004, Golden South FL, # 2
G-400 52.43 Hastings, Natasha, 2004, A.P. Randolph , NY 6/5/2004, Golden South FL, # 1
G-400 54.71 p Knight, Bianca, 2007, Ridgeland , MS 6/5/2004, Golden South FL, # 2
G-800 2:10.37 Thomas, Latavia, 2006, W. Catholic Phila , PA 6/5/2004, Golden South FL, # 1
G-800 2:11.9 Morris, Lavera, 2004, Oak Ridge , Orlando FL 6/5/2004, Golden South FL, # 2
G-3000 10:02.27 MR Barringer, Jennifer, 2005, Oviedo , Oviedo FL 6/5/2004, Golden South FL, # 1
G-100H 14.18 Clark, Simone, 2004, Rickards , FL 6/5/2004, Golden South FL, # 1
G-100H 14.39 Hardy, Polly, 2004, Westside , SC 6/5/2004, Golden South FL, # 2
G-400H 59.37 Leach, Nicole, 2005, W. Catholic Phil , PA 6/5/2004, Golden South FL, # 1
G-400H 1:01.27 Williams, Chanel, , Plymouth-Whitemarsh , PA 6/5/2004, Golden South FL, # 2
G-400H 1:01.48 Smith, Loreal, 2004, Rickards , FL 6/5/2004, Golden South FL, # 3
G-PV 11' 6 Bowen, Lori, 2005, Maclay Tallahassee , FL 6/5/2004, Golden South FL, # 1
G-SP 43' 2 Barber, Misti, 2004, Carol City , Miami FL 6/5/2004, Golden South FL, # 1
G-DT 141' 11 Barber, Misti, 2004, Carol City , Miami FL 6/5/2004, Golden South FL, # 1
G-4x100 46.45 Girls Relay, , Oak Ridge , Orlando FL 6/5/2004, Golden South FL, # 1
G-4x100 47.37 Girls Relay, , Rickards , FL 6/5/2004, Golden South FL, # 2
G-4x400 3:53.78 Girls Relay, , Oak Ridge , Orlando FL 6/5/2004, Golden South FL, # 1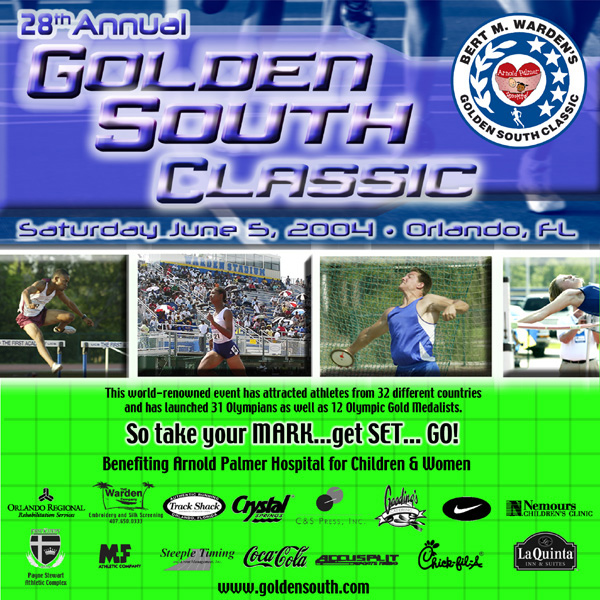 Previews by Ricky Quintana
Last year's Golden South had a smattering of top performances. This year's should be no different as some of the best in the nation gather on the speedy Payne Stewart Complex's MONDO track in Orlando, FL.
Girls - Fierce 100-800m races expected with Bianca Knight, Lauren Austin, Natasha Hastings, Devon Williams, Latavia Thomas. Nicole Leach (400H), Misty Barber (throws) and Jenny Barringer (3000) are heavy favorites.
Boys - Harris-Patrick could match last year's torrid Vazquez-Cross battle in 800.

When

June 5, 2004

Where

The First Acadamy at The Payne Stewart Athletic Complex in the Warden Stadium, Orlando, FL


Official Hotel

La Quinta Inn, Jamaican Ct. (International Drive Area)


Tickets

Available to the general public at the gate for $5 per person

Awards

- Nike bag. Awarded to first-place finishers
- Official Meet T-shirt. Given to all six placers in running and field events
- Medals. Awarded through sixth place in all events

Benefiting

Arnold Palmer Hospital for Children & Women , Orlando, FL
2003 Golden South

Stephanie Smith (right) streaks around 400 meters in 52.14, breaking the 26-year-old Golden South meet record (52.77) held by Olympian Robin Campbell. Xavier Carter is upset by Travis Padgett in 100, but wins the 200. Khadija Talley and Wes Stockbarger double in throws.
Contact Information
Name:

Andy Warden

Address:

940 South Orange Avenue, Suite 101
Orlando, FL 32806

Phone:

(407) 872-7066

Fax:

(407) 650-9984

Email:

Golden South Classic
1405 South Orange Avenue, Suite 300
Orlando, FL 32806

Event Director,
Cheryl Collins

| | |
| --- | --- |
| Phone: | (321) 841-1484 |
| Fax: | (407) 425-8545 |
| Email: | |

Event Manager,
Melissa Anthony

| | |
| --- | --- |
| Phone: | (321) 841-8022 |
| Fax: | (407) 425-8545 |
| Email: | |

La Quinta Inn, International Drive
8300 Jamaican Court
Orlando, FL 32819
Phone: (407) 351-1660
Web Site: Click Here