Solinsky, Grayson are Wisconsin Athletes of the Year
Stevens Point sr Chris Solinsky and Catholic Memorial sr Brittany Grayson were named 2003 Wisconsin athletes of the year by wisconsintrackandfield.com. Solinsky was the Foot Locker cross country national champion and US#1 at 3200 meters. Grayson was Wisconsin Div 1 hurdle champion at 100 and 300 meters.
Meet Previews - 2003 Cross Country
Allyson Felix wins bronze medal in 200 meters.
1. Roxana Diaz, Cuba, 22.69; 2. Cydonie Mothersille, Cayman Islands, 22.86; 3. Allison Felix, USA (Santa Clarita, Calif.), 22.93
Kostetskaya is European junior champion
Russian Yekaterina (Katya) Kostetskaya, who runs for Jonesboro AR in the school year, won the 400 meter hurdles at the European junior championships last week (7/27) at Tampere Finland. Her time of 57.52 is the fastest of the year by a US high school girl. Kostetskaya caught compatriate Irina Obedina in the last 20 meters. "I was surprised how good my time was," Kostetskaya said. "My coach advised to start as fast I could. It paid off." European Juniors.
Lindsay Regan
sets freshman record

Lindsay Regan, youngest of the pole vaulting Regan sisters of Easton PA, won the AAU JO intermediate pole vault at 12-3.25, breaking the US freshman record of 12-3 set by pioneers Samantha Shepard and Molly Lederman in 1999. Lindsay was the Pennsylvania indoor champion this year, and sister Courtney, a junior, won the outdoor championship.

photo by Mike Lawryk, Vertical Assault
College Choices 2003 - National letter of intent signing period ended August 1. We have 1,386 college choices by the class of 2003.
Seymour Sisters of DC

The DC Redwings of Washington DC are one of the up and coming running clubs in the country, and their Seymour Sisters each won the 1500 on closing day of the USATF Jr Olympics in Miami Sunday (8/3). Midget class Ashley, 12, and bantam Kiah, 9, are both undefeated for the summer at 1500 meters, with their best times (4:49.88 and 5:09.15) coming at the AAU JO in Michigan last week. Ashley also completed an undefeated season at 3000 meters by winning Friday in Miami; her best time was posted at the AAU meet in 10:26.97. Kiah was runner-up in the 800 at both AAU and USATF, and her PR of 2:28.34 is the fastest for a 9-year-old this year.

left, Ashley and Kiah with their medals at the AAU JO in Michigan
USATF Junior Olympics
July 29 - Aug 3 at Tropical Park Stadium, Miami FL
7,000 athletes converge on Miami

Stanford replaces Lananna with a team - Stanford University announced the following appointments to replace Vin Lananna, who left to become athletic director at Oberlin College:
Robert Weir - head men's track coach
Edrick Floreal - head women's track coach
Dena Evans - head women's cross country coach
Andrew Gerard - head men's cross country coach
2003-2004 Meet Calendar - It's early, but we need meet information now on all major meets for cross country, indoor and outdoor. Send specifics - name of meet, date, place, contact information, and any other significant information by email to John Dye at [email protected]
About Us - the story of DyeStat, 1995 to 2004
2003 Cross Country - less than 2 months away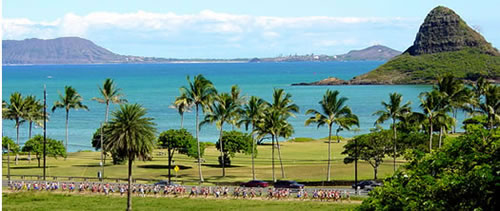 5th Iolani Big Aloha Invitational will be held September 20 at Kualoa Ranch in Hawaii. This is a photo of one of last year's races. After the races, runners ran across the road to cool down in the ocean. Thirty mainland high schools are expected to run in this year's Iolani, twice as many as last year. Last year's winners were Ruth Graham, Carl Moe, Montgomery CA girls, and Eisenhower WA boys. The University of Hawaii Big Wave Invitational for college teams will run in conjunction with the high school meet. a DyeStat on-site meet
National rankings
DyeStat Elite - July 23 lists have 4,253 performances from 605 meets ranked.
Gourley's list - Hammer Throw rankings updated July 27.
Jim Spier's Top 5 - Jim's June 11 update.
Roth's Race Walk -- updated July 3
High school track is getting bigger and better,
and the Internet is a big reason -- Jeff Hollobaugh on espn.com.


Nike ID shoes - purchases help support DyeStat
the Harrier
Cross Country Report
Award winning track writer Marc Bloom's unrivalled coverage of high school cross country and distance running.
8 issues for $32
SUBSCRIBE NOW
and get big
Pre-Season issue in late August
California news
DyeStatCal
complete coverage of the Golden State by Rich Gonzalez and Doug Speck


Hawaii September 20, 2003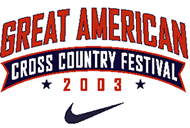 Sep 26-27 Cary NC
XC Coaches:
Get the Parent's Guide for all your runners' parents. Team discounts available. Write John Dye, [email protected], for rates.

click here to shop at Eastbay;
purchases help support DyeStat