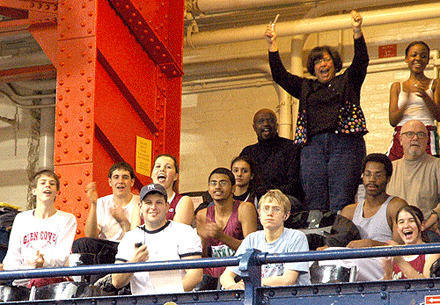 DONNA ON THE SIDE -

Donna roams the sidelines and takes 217 pix
12th Hispanic Games
Jan 7, 2006 at the New York Armory
DyeStat on-site with John Dye, Donna Dye and Marc Davis
10 US#1 performances
Brian Rhodes-Devey NY 4:13.19, Kara McKenna NY 4:54.73 win invitational miles. Krystal Cantey NJ 55.16 and Clemore Henry NY 48.61 win invitational 400s. Lindsey Ferguson NY runs away from Aislinn Ryan in 3000m. Gabby Mayo NC doubles 55-200. Eleanor Roosevelt MD girls win three relays, Simon Gratz PA boys two.
Attendance Down, Quality Remains! 6 US#1 Marks!
Full Results
Meet Story and 54 DyeStat Elite marks
Girls 55 - Bianca Knight (pictured above) MS 6.82, then 6.79
Boys LJ - Will Coppage LA 24-1.25 last jump for win.
Girls 400 - Brandi Cross TX 54.89
Boys TJ - Mike Green LA 47-9.5
Boys 55 - Trey Harts LA 6.30
Boys HJ - Kendrick Poullard LA 6-7
And Dallas Gold TC girls 1:40.27 4x200 (different schools - Tara Thomas, Sandy Wooten, Victoria Jordan, Porscha Lucas), Jordan Scott GA 16-4 boys PV, 8th-grader Cory McGee MS 5:10.73 girls 1600, Rachel Laurent LA 12-0 girls PV (missed 12-7),Tierah Hall TX 43-4.5 girls shot put, Karjuan Williams NC 1:56.59 boys 800, Stampede TC 3:55.44 girls 4x400, Armanti Hayes GA 48.92 boys 400, Tim Grier GA 7.47 55H, 47-6.75 TJ, 22-9.5 LJ... and much more.
37th Dartmouth Relays
January 6-8, Leverone Fieldhouse, Dartmouth Coll. NH
Full Results
- 32 DyeStat Elite marks
Nicole Blood: Wins college 3k Sunday with US#1 9:36.67!
More US#1s! : Walter Henning NY national junior record (#3 all-time) US#1 81-0 for 25-pound weight. Also 56-9.25 shot put.
More Girls: Axrantxa King MA 19-6.5 girls LJ, Tynisha McMillan CT 46-8 girls shot put.
More Boys: Corey Mosley CT 1:21.20 600
Great American gets new home
12/16/05 - The National Scholastic Sports Foundation has announced that the Great American Cross Country Festival will be moved to a new course at Spain Park in Hoover AL near Birmingham next year. The meet has been held in Cary NC the last 3 years. More . . .
Reebok Boston Indoor Games
Organizers have announced they will again hold Junior Invitational Miles for both boys and girls at their Jan. 28 meet. Press Release - Last year's coverage.
Steroid Testing in New Jersey
12/22/05 - New Jersey acting Governor Richard J. Codey has issued a first-in-the-nation plan to randomly test prep athletes for steriods at championship events. Story at espn.com
Surveys Indicate Possible Big News for Illinois Athletes
12/20/05 - Illinois principals and athletic directors have voted in a survey to allow out-of-state travel (if only one day of school is missed), and to move to three classifications for track and cross-country. However, a vote of the IHSA still must take place in a future meeting. Details at ihsa.org.
Virginia Tech changes
The Virginia Tech Invitational Jan 27-28 will be changed from prior years. No club or unattached athletes will be accepted, and entries will be limited to about 90 schools and 1,800 athletes due to fire marshall rulings. The meet will be sanctioned for DC, VA, NC, WV, MD, TN and KY. For questions, contact Dan Ward.