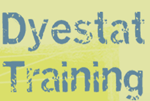 New section on powerhouse programs and star runners.
Galen Rupp blog on his training in Europe, where he just ran 7:49.16 for a new US junior 3000m record and was named USATF athlete of the week.
now on sale ...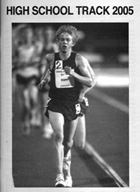 Want to know who has the all time record in the 4xMile relay? Or the freshman record in high jump? You need Jack Shepard's HIGH SCHOOL TRACK 2005. "I never leave home without it," says John Dye.
Pan American Junior Championships
July 28-31 Windsor Ontario
DyeStat on-site with Marc Davis.

Day 1 Friday - Live results - Heat Sheets -
Top US preps go against junior stars (under age 20) of the Western hemisphere. Cleo Tyson wins first US gold in 100m. US gets 1-2 sweeps in 5000m (Daniel Nunn) and SP (Ryan Whiting). Justin Oliver and Nate Anderson sweep 400m semis. Natasha Hastings is fastest in 400m heats.

W 100m semi and final - US champ Cleo Tyson runs away for gold into a headwind at 11.52 -1.8, with Amberly Nesbitt fifth at 11.89 in a pack of girls slower than 11.80. In the semis, Tyson 11.35 +1.1 and Nesbitt 11.81 -2.1 lived up to their top seeding by winning two of the three heats. The other heat winner was Schillonie Calvert of Jamaica 11.88 -3.8; she finished second in the final at 11.80..
M 110H semi and final - Dayron Robles Planes of Cuba 13.46 -1.6 set a meet record and left the US pair far behind -- Tyrone Akins 14.00 and Dominic Berger 14.01. In semis, Berger 13.76 +2.4 won his heat and and Akins 14.04 -0.1 was second to Dayron Robles Planes 13.55.
W 100H semi and final - Jamaica gets 1-2 sweep from Latoya Greaves 13.38 +2.1 and Natasha Ruddock 13.42 as US#1 prep Kira Robinson 13.53 is fourth and collegian Talia Stewart 13.76 is fifth. In semis, US entry each runs 13.82 behind Greaves 13.54 +1.6 and Genevieve Thibault 13.77 +0.1 of Canada, who finished third in final in 13.50. .
W 800m semi - Only eight entries, so semi was eliminated. US champ Becca Noble 2:03.73, the leading junior in the world, shoots for the meet record (2:03.70 by Mairelin Fuentes of Mexico in 1997). Second seed is Heidi Magill 2:04.99 of Brigham Young University. Cuba's Analia Vidiaud Quebrun 2:06.42 lurks.
M 800m semi - Top seeded St. Augustine LA jr Karjuan Williams 1:50.14, US#2 prep and the US junior champion, advanced to the finals in a closely bunched field with a time of 1:51.67, accompanied by US teammate Jacob DeBois 1:51.87. South American runners had the three fastest times.
W DT - Cuba's top seeded pair of Lisandra Rodriguez Alvarez 163-7 and Yuneimis Soria Garraway 162-5 were 1st and third, with the US team of Shanna Dickenson 163-0 and Jocelyn White 162-3 finishing second and fourth.
M PV - Only seven entries and the US pair finished 2nd and 4th well below their best -- collegian Mitch Greeley 16-4.75 and Great Bridge VA jr Michael Morrison 16-0.75. The winner was German Chiaraviglio of Argentina at 17-8.5. .
M LJ - Bellevue East NE grad Robert Rands 24-11.25 is the 4th ranked US prep and is joined on the US team by collegian Jade Ellis 24-11. Jamaica's Alain Bailey is top seeded at 7.88m (25-10.25).
M 400m semi - Two US preps sweep semifinal heats -- Texas A&M recruit Justin Oliver 46.80, US#2 prep and champion of US Junior Nationals, Nike Outdoor, and the Golden West, and Benson Portland OR jr Nate Anderson 47.54, US#4 and the Oregon state champ. Next fastest were Leford Green of Jamaica in 47.20 and Jamil James of Trinidad and Tobago in 47.31, who chased Oliver in Heat 2.
W 400m semi - Natasha Hastings 52.12 is fastest qualifier for the finals. Her US teammate Lauren McNary 55.14 also advances, finishing third in the other heat behind Kineke Alexander of St. Vincent 53.96. Second fastest qualifier was Carlene Muir of Canada, runnerup to Hastings in 52.91.
M SP - US sweep with US champ Ryan Whiting, from Central Dauphin high school in PA, winning with a throw of 64-9.75, followed by Nate Englin 64-4.
W 3000 - US champ Marie Lawrence 9:45.43, a rising junior from Reno NV, finished 4th and collegian Lisa Canty 10:28.71 was 7th as Canadian Aly Kohlmeier 9:25.09 was an easy winner.
M 5000 - With only six runners in the field, the US team was top seeded and lived up to is with a 1-2 sweep -- Daniel Nunn 14:55.17 winning and Paul Hefferon 14:56.65 second.

Thursday - Opening Ceremonies video - 9.9 mb
Becca Noble - fastest junior 800m runner in the world after 2:03.73 at US Junior Nationals, now she is gunning for Pan Am Junior record.
This biennial meet is for athletes under age 20. Athletes became eligible for the US team by finishing first or second in the US Junior Nationals championship.June 24-25 at Carson CA.
39th USATF
Junior Olympics


July 26-31 Indianapolis IN


on-site coverage by Doug Speck, Mike Kennedy and Pete Cava
Friday - Live Results from USATF
Ebony Collins and David Klech advance to 400H finals. Nkosinza Balumbu wins TJ. Katie Veith 13-1.5 is big winner in IG PV. Brian Webb and Sade Williams lead 400m finalists. Nicole Jones and Matthew Frerker are strong in intermediate 1500 heats. Bianca Knight and Ebony Collins rule 100m prelims.
100m prelims

YM - Will Glover IN 10.55 +2.1 and Jerek Hewitt NC 10.55 +1.8 lead qualifiers into finals.
YW - Kenyanna Wilson AZ 11.79 -01 and Seun Adigun IL 11.80 +2.0 are fastest qualifiers.
IB - Donald Monroe 10.69 +1.4 is fastest qualifier.
IG - World Youth champion and US#1 Bianca Knight 11.70 -1.1 and Ebony Collins CA 11.72 +0.0 rule.

400m prelims

YM - Bearden TN sr Bryan Webb 46.98 is fastest qualifier for the finals, with Jacob Scheuerman CO 47.03 next.
YW - Katie Baker TX 54.48 and Myra Hassan CA 54.78 head the finals qualifiers..
IB - Bryshon Nellums CA 48.05 cruises into finals.
IG - US#1 Sade Williams CA 54.26 , Erica Alexander TX 54.89, Meshawn Graham OH 55.06 and Devon Williams MD 55.21 and Brittany Hall GA 55.66

400H prelims

YM - California, Youth National champion and US#3 David Klech 51.93, and Washington champion Jake Hanson 53.01 are fastest qualifiers for the finals.
YW - McEachern GA sr Kishelle Paul 1:01.40 leads qualifiers.
IB - North Carolina champion Johnny Dutch 54.68 leads qualifiers into finals.
IG - US#1 and World Youth champion Ebony Collins CA 58.92 is 3.5 seconds ahead of anyone else.

1500m prelims

YM - Jonathan Gest 4:00.68
YW - Cassi Sokol 4:45.34
IB - Freshmen Matthew Frerker WA 4:05.80 and Andrew Perkins WI 4:09.27 win heats.
IG - Youth Nationals champion Nicole Jones TX 4:29.17 is 9 seconds faster than anyone else. Georgia champion Emily Reese 4:42.93 wins other heat, and Virginia AAA champion Aurora Scott 4:38.30 is second in Jones' heat.

Pole Vault-

YW - Indiana champion and US#7 Brianna Neumann 12-7.5 wins, as Texas champion and US#2 Britany Parker no heights.
IG - Indiana runner-up Katie Veith gets a PR 13-1.5 US#9 and wins big.

LJ - IB - Diamond Ranch CA soph Terry Prentice 23-1.25 +0.7 wins.
Triple Jump

YM - US#1 and California and Golden West champion Nkodinza Balumbu 51-1.75 +0.0 wins, with Alabama champion Andre Black second at 50-0.5 +2.1.
YW - LJ champion Ashika Charan CA.

DT - IG - Ohio champion Emily Pendleton 141-9 wins, with Indiana champion Rachel Deloney second at 137-8..
SP - YW - Tennessee champion Brittany Cox 44-4 edges Pennsylvania champion Allyn Laughlin 44-3.5, with US#5 and Nebraska champion Jenny Svoboda third at 43-11.25.
JT - IG - Rhode Island and New England champion Leigh Petranoff wins with throw of 137-11.
Thursday
Bianca Knight 23.70 (IG) and Trey Harts 21.20 (YM) lead 200m qualifiers. PA frosh Chanell Price 2:10.62 leads IG 800m qualifiers. Jordan Scott and Scott Roth beat PV record.
US#2Jordan Scott GA, left, edges US#1 Scott Roth CA on fewer misses, with both setting new JO record at 17-1.5.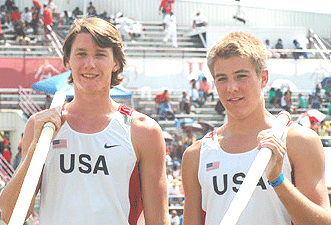 Annual gathering of the best age group (8-18) athletes in the country. Present and future high school stars.
AAU Junior Olympic Games


July 30 - Aug 6 at Tad Gormley Stadium, New Orleans
National meet for ages 8 to 18.
J-Mee Samuels breaks 100m record with 10.08 +0.7
GREENSBORO NC 7/24/05 - At the Russell Blunt East Coast Invitational age group meet on the North Carolina A&T track, Arkansas recruit J-Mee Samuels, of Mt. Tabor NC, broke the national high school record in the 100 meters by winning in 10.08 +0.7. Earlier, he had run a barely windy 10.05 (+2.1) in a heat. The old record (see Track and Field News) was 10.13 by Derrick Florence of Galveston TX in 1986.
Meanwhile, Tennessee recruit Sarah Bowman, of Fauquier County VA, won the YW 800m by 15 seconds in 2:05.27, US#3 this year. Both Bowman and Samuels were warming up for the Pan Am Juniors this week. Results and DyeStat Elite performances
The WCSN webcast (see www.wcsn.com) for the World Championships in Helsinki will cost only $4.95 (instead of the previously announced $14.95) for the entire meet, plus bonus coverage of Bislett Games.

The new webcast service will include start to finish live coverage (58 hours in all) of the IAAF World Outdoor Track and Field Championships at Helsinki Finland August 6-14. Every heat will be shown live and every event will be archived an hour after the event for later retrieval by subscribers. Viewers will need broadband internet access with at least 350 kb per second bandwidth. In addition to the webcast, there will be a daily 1-hour highlight show on PAX and Comcast Sports. In a free preview of the new technology, the Bislett Games in Oslo Norway July 29 will be webcast. This will be the first Bislett Games in Oslo's newly renovated stadium, and it will feature US runners such as Bernard Lagat, Alan Webb, Galen Rupp, and Adam Goucher.

The new coverage is a cooperative effort between the International Association of Athletics Federations (IAAF), USA Track & Field (USATF), the World Championships Sports Network (WCSN), and Dentsu Inc. USATF CEO Craig Masback said, "This is a test for those who have been yearning for more coverage of elite track and field."

DyeStat uses Hy-Tek
for meet results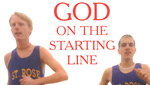 Steve (steveu) Underwood says: "God On The Starting Line is a wonderful gift to the world of prep distance running. It's kind of like eating, oh, a premium triple chocolate fudge brownie ice cream sundae. You might feel stuffed and a little woozy, but like you've never devoured anything so delicious."
ShopDyeStat


unique items
for the HS athlete
--Parents Guide

--Training G
uide
--Training Profiles
--Pace Calculator
--the Harrier
--HS Track 2005