1,097 College Choices by Class of 2004
The NCAA national letter of intent signing period for this year's seniors runs from April 14 to August 1. DyeStat has received 1,097 college choices by the class of 2004 as of May 13. Send choices to John Dye, giving your name and how you know the information is correct. We will update the lists periodically.
Some noteworthy choices with this update:
Colette DeBenedetto NJ, jumps, to Virginia. Alex Miletich FL, distance, to Florida State. Michael Mason CAN, HJ, to Kentucky. Chris Rohr MO, throws, to Missouri. Lindsay Scherf NY, distance, to Harvard. Ari Zamir NJ, distance, to Brown. John Ealy OH, distance, to Ohio State. Julius Jiles-Tindall MO, hurdles, to Kansas. Laura Bowerman FL, distance, to Florida State. Kirsten Hagen VA, distance, to Florida State. Kate Papenberg PA, distance, to US Air Force Academy. Lashawn Merritt VA, sprints, to East Carolina. Tahari James CT, jumps, to Boston U. Scott Wall OR, distance, to Stanford. Liam Boylan-Pett ME, distance, to Columbia. Richard Wooten TN, throws, to Tennessee. Jenny Homan OH, distance, to Butler. Maddie Schueler KY, distance, to Missouri. Ben Delay NE, distance, to Kansas State. Jonathan Cardenas NV, distance, to Northern Arizona. Justin Langdon AZ, distance, to Northern Arizona. Evan Garber WA, distance, to Iona. Frances Vital LA, hurdles/jumps, to Mississippi. Jacob Gurzler NY, distance, to Quinnipiac. Corey Brown NC, sprints, to Clemson. Scott Gemberling WV, distance, to Wheeling Jesuit. Melissa Salerno NY, mid-distance, to Fordham. Jacob Fortney KY, distance, to Eastern Kentucky. Brittni Dudley CA, 400, to San Diego State. Jared O'Connor NY, PV, to North Carolina. Danielle O'Reilly NJ, pole vault, to Arkansas. Ricardo Chambers FL, sprints, to Florida State. Dave Zaycek NJ, throws, to South Carolina. Laneisha Waller IA, sprints/jumps, to Illinois. Jesse Carlin NY, 400/800, to Pennsylvania. Norris Frederick WA, jumps, to Washington. Amanda Miller WA, distance, to Washington. Bonnie Snyder KS, jumps/sprints, to Washington. Jeremy Mineau CA, distance, to Washington. Michael Cooley AL, sprints, to Alabama.
| | |
| --- | --- |
| | Icahn Stadium replaces historic Downing Stadium at Randall's Island in New York City |
Results and other news posted in week ending June 24.
AOC Raleigh
adidas Outdoor Championships
June 18-19 NC State U., Raleigh NC
a DyeStat featured meet
INDEX

AOC index page - COMPLETE RESULTS - Event Summaries
steveu's distance report - Stephen Underwood tells about the girls mile (Blood Proving them Wrong), boys 800 (Front Runner Has Another Gear), girls 800 (Bowman All Out), boys steeple (Hampton mentally tough), girls steeple (Ferguson in Control), boys 4xMile (Shen You Dig It?), boys DMR (double-double for Saline), girls DMR (double records for Bay Shore, Eureka), boys mile (Beasts of the East), and girls 4xMile relay (College Park Pulls Away). .
Dave Casper photo album -

Bay Shore NY, West Catholic PA girls
set national records

Bay Shore NY girls 11:33.42 smash national DMR record, with Eureka MO right there. 3 golds for Ted Ginn. Kickers win thrilling miles: Gavin Coombs 4:05.72 over Victor Gras 4:06.39 and Nicole Blood 4:42.40 (US sophomore class record) over Caitlin Chock 4:42.52. Lashawn Merritt doubles 200-400. Sarah Bowman's 2:04.94 is fastest US 800 in 8 years. Jason Richardson 49.79 400H is US#3 all time, but Ginn repeats in 110H. Skyline Dallas girls triple. Shalonda Solomon wins 200. Saline MI boys repeat in great DMR. Erica McLain double includes 44-1.25 MR US#1, one inch from USR. Scott Sellers repeats. Natasha Hastings 52.89. West Catholic girls 3:52.22 for 1600 SMR national record. Shadrack Kiptoo and Sunni Olding win 2 miles. Glenville Cleveland OH boys and Skyline Dallas TX girls dominate.

Donna on the Side

Donna talks to athletes
and their Dads

left, pole vault champion Adam Sarafian and his dad, Steve
190 action photos by John Dye tell the main stories

Ted Ginn repeats in 110m hurdles.

Scott Sellers HJ and Erica McLain TJ are repeat champions, and they both flirt with national records.


2 Miles - Shadrack Kiptoo and Sunni Olding win thrillers over Josh McDougal and Shannon Bergstedt.
Webb named USATF Athlete of the Week
Alan Webb's 3:50.85 mile at the Prefontaine Classic last Saturday, fastest ever by an American on US soil, earned him USATF Athlete of the Week honors. John Schiefer called it "the most impressive American mile performance in history."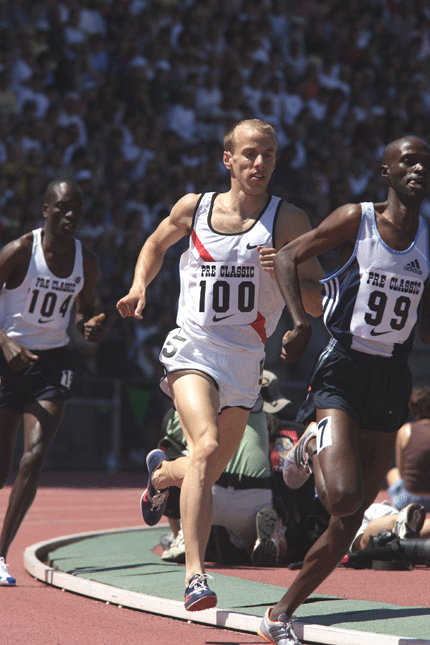 photo by Victah Sailer, PhotoRun