Nicole Blood fans cheer her great rally to win AOC's "best ever" girls mile. Blood's followers spread themselves
around the entire track so she can always hear someone urging her on. --- photo by Donna Dye
Event Summary
Comments and Winners Table

Top Marks
435 DyeStat Elite

Donna
on the Side
Dad's Day
Friday
Saturday
the original "Dukies" of tobacco fame and fortune

Saturday
Girls report
Boys report
steveu's distance report

Friday
Girls report
Boys report

PA report
by Don Rich

Previews
Heats
Entries
Schedule
Records
Prior Years

National records set by Bay Shore NY and West Catholic PA girls

Bay Shore NY girls 11:33.42 smash national DMR record, with Eureka MO right there. 3 golds for Ted Ginn. Kickers win thrilling miles: Gavin Coombs 4:05.72 over Victor Gras 4:06.39 and Nicole Blood 4:42.40 (US sophomore class record) over Caitlin Chock 4:42.52. Lashawn Merritt doubles 200-400. Sarah Bowman's 2:04.94 is fastest US 800 in 8 years. Jason Richardson 49.79 400H is US#3 all time, but Ginn repeats in 110H. Skyline Dallas girls triple. Shalonda Solomon wins 200. Saline MI boys repeat in great DMR. Erica McLain double includes 44-1.25 MR US#1, one inch from USR. Scott Sellers repeats. Natasha Hastings 52.89. West Catholic girls 3:52.22 for 1600 SMR national record. Shadrack Kiptoo and Sunni Olding win 2 miles. Glenville Cleveland OH boys and Skyline Dallas TX girls dominate.
Gallery of Stars - pix of the best performers of the meet

Photo Albums

190 action photos by John Dye tell the main stories
Gallery of Stars

- the best performers of the meet

those fabulous miles -

kickers Coombs and Blood get up just in time

record setters -

Bay Shore NY and West Catholic Philadelphia PA girls

sprints -

Merritt, Tyson, Hastings, Solomon, Kimmons et al

hurdles -

Ginn, Richardson, Moss, Sappleton

2 miles

- Kiptoo, McDougal, Olding, Bergstedt

relays

- Skyline TX , Spirit of Pre (Saline MI), Newburgh NY, Glenville

800m - race walk

- Bowman, Harris, Pollinger, Michta

field

- Sellers, McLain, Sarafian, McPherson, Donnelly
Saturday highlights
Bay Shore NY girls 11:33.42 DMR national record
(Eureka MO 11:33.87, Saratoga NY 11:43.81)
Bay Shore's Laura Cummings and Eureka's Meredith Snow ran a step apart the entire anchor leg, with Cummings holding a slight edge to the finish, splitting 4:50.3 to Snow's 4:50.9. Mary Liz McCurdy's 3:31.7 opening 1200m split got Bay Shore going strong. Eureka got the lead back in the middle legs, but Cummings put Bay Shore back on top after the first lap of the anchor leg. Saratoga was 30 meters back, and anchor Nicole Blood, coming back less than 2 hours after her thrilling win in the mile, could not make up much ground on the flying leaders. Both Bay Shore and Eureka clobbered the record of 11:37.86 set by Red Bank NJ here last year, and Saratoga moved into 6th on the all time list in Jack Shepard's HIGH SCHOOL TRACK annual.
Lashawn Merritt 20.80 +0.0 200m, completing a brilliant 200-400 double.
steveu's distance report - Stephen Underwood tells about the girls mile (Blood Proving them Wrong), boys 800 (Front Runner Has Another Gear), girls 800 (Bowman All Out), boys steeple (Hampton mentally tough), girls steeple (Ferguson in Control), boys 4xMile (Shen You Dig It?), boys DMR (double-double for Saline), girls DMR (double records for Bay Shore, Eureka), boys mile (Beasts of the East), and girls 4xMile relay (College Park Pulls Away).
Spirit of Pre TC (Saline MI) 10:03.15 DMR, Westfield VA 10:05.68, with Saline winning for the second straight year. It was billed as pick 'em race, and it played out that way, with the two anchors (Saline's Dustin Voss and Westfield's James Scheiner) battling step for step four times around the oval before Voss wrested a small lead in the closing meters.
Shalonda Solomon 23.42 200m, giving her an individual national title to go with her nine relay national records with Poly Long Beach CA. .
Gavin Coombs 4:05.72 mile won another pulsating finish, and Victor Gras 4:06.39 lost another big one in the stretch. Just when Gras, who put away distance doubling Shadrack Kiptoo, winner of the 2-mile Friday night, on the last lap, appeared to have the race in hand, Coombs launched his kick from 200 meters out. Craig Miller 4:06.76 went with Coombs and just missed the sophomore class record.
Theodore Ginn 13.46 110H. Jason Richardson stopped at mid race whhile trailing and walked away. Third gold for Ginn, who also led Glenville Cleveland to 1:23.78 4x200 US#1 and 40.51 4x100 victories.
Shantia Moss 13.67 100H
Nicole Blood 4:42.40 mile, running down Caitlin Chock 4:42.52 in a great stretch.run that inverted Blood's usual front running style. Jenny Barringer took it out hard and passed a quarter in 68.9. Then Chock took over through a half in 2:23, with Blood 30 meters back. Just when it appeared Chock was a certain winner, Blood started to reel her in on the backstretch of the last lap. "At 200 meters I had nothing left," said Chock, who a week ago ran the US#3 all time 3200 at the Golden West. It still took most of the stretch before Blood surged in front, breaking the US sophomore class record that had stood for 26 years (4:42.5h by Deanna Coleman in 1978).
Lashawn Merritt 45.37 400m US#9 all time
Weather Delay - The meet was suspended at 640 pm because of lightning in the area, just as the boys 400m final was on the starting line. At 725pm, a decision was made to resume at 745 pm.
Natasha Hastings 52.89 400m, freshman Bianca Knight 53.35, Brandi Cross 53.69, Nicole Leach 53.78
Sarah Bowman 2:04.94 800m, fastest in 8 years, in a killer front running performance similar to her Penn Relays mile victory.
Jason Richardson 49.79 400H, fourth ever under 50.0
B200 prelims: Lashawn Merritt ran an eased up 20.80. Ivory Williams was DQ'd for running on the lane line.
Friday Highlights
Josh McDougal (L) and Shadrack Kiptoo after the race -- photo by John Dye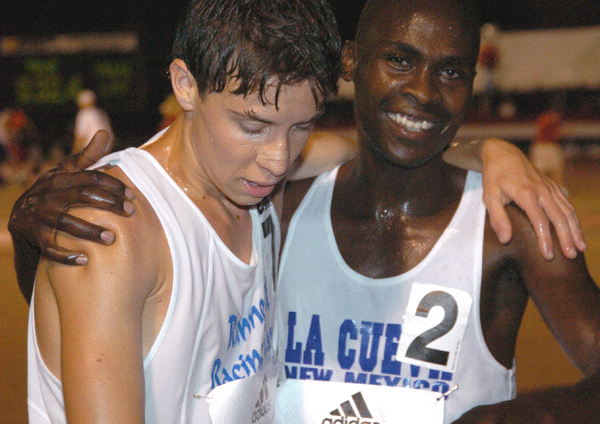 Boys 2-mile: Shadrack Kiptoo NM 8:45.44 and Josh McDougal NY 8:48.11 lead entire race, with Christo Landry VA 8:48.25, Chris Barnicle MA 8:51.26 and Mohamed Khadraoui NJ 8:53.74 also running strong on a hot, steamy night.
Girls 2-mile: That's why they play the game.
Older heads said that after the Pistons demolished the Lakers in the NBA finals.
That's why they run the race.
Everyone said that after Sunni Olding OH 10:24.19 defended her 2-mile crown with favorites Jenny Barringer FL and Katelyn Kaltenbach CO far up the track in 9th and 10th place. Olding won a torrid stretch duel over Shannon Bergstedt MN 10:24.29. The first 15 girls finished under 11 minutes in a steady rain.
Girls 1600 Sprint Medley: A great 2:07.3 anchor by Latavia Thomas brought West Catholic Philadelphia PA from behind to a new national record of 3:52.22 (was 3:52.22 by Wilson Long Beach CA in 2003). It was a battle of Eastern powers, with A.P. Randolph NY on record pace themselves after Natasha Hastings' 53.3 carry on the third leg. But Thomas gradually reeled in Selena Sappleton (2:10.3 split) on the anchor.
Rich Gonzalez' Day 1 Summary on DyeStatCal
Raleigh, NC -- Wwwwwwwow!!!

In what proved to be a historic opening day of action thanks to a record-setting quartet of young ladies from the great state of Pennsylvania, track athletes gained the clear upper hand versus their field event counterparts during a thrilling six-hour span at the 14th annual adidas Outdoor Championships on Friday evening.

All told, eight yearly nation-leading marks were established -- all coming via the running/race-walking events -- and a whopping 188 DyeStatElite marks were achieved, a stunning jumpstart to what is already projecting as the greatest single performance meet in national history (a credible observation when one takes into consideration the burgeoning depth of across-the-board performance marks nationally since the inception of the DyeStateElite rating system in the mid-1990s, providing a barometer for year-to-year comparision).
AOC Raleigh is truly national this year
The adidas Outdoor Championships have always been presented as a national high school championship event. This year, the claim is completely true, as athletes from all 50 states have now entered the meet to be held at North Carolina State University June 18-19. Meet director Jim Spier, of the presenting National Scholastic Sports Foundation, said he believes this is the first time a high school track meet has had entries from every state.
Prior Years on DyeStat
2003 -

Ari Lambie - Sam Vazquez - Red Bank NJ girls - Winslow Twp NJ boys - Theodore Ginn and Glenville OH boys - Shana Cox - Katya Kostetskaya - Scott Sellers - Erica McLain - Andy Fryman - Davidson Hilliard OH boys - Saratoga NY girls - Christian Wagner - Vineland NJ boys - Skyline Dallas TX girls - Bay Shore NY girls - Juanita Broaddus



In one of the most thrilling races of the 2003 meet, 6 Vineland NJ holds off 7 Mt. Tabor NC by 0.01,
with top 4 finishers hitting the top 15 all time list. - photo by Victah Sailer, PhotoRun
2002 - 3 national records: Auburn WA boys 7:32.89 4x800, Bronxville NY girls 20:11.56 4-mile relay, and Molly Huddle NY 10:01.08 2-mile. Sprint doubles by Kelly Willie TX and Sanya Richards FL.
2001 - Alan Webb leads South Lakes VA 9:49.78 to USR in DMR and near miss 7:35.33 in 4x800. Heat and humidity foil Dathan Ritzenhein 8:44.43 in bid for 2-mile record.
2000 - Dathan Ritzenhein MI wins "clash of the titans" 2-mile in 8:48.06 and then beats Donald Sage again on anchor in the 4-mile relay the next morning. California boys repeat 1-2-3 finish of California Southern Section in mile -- Ryan Hall, Ryan Bousquet, and Josh Spiker. Western girls, future Stanford runners all three, go 1-2-3 in girls 2 mile -- Anita Siraki CA, Alicia Craig WY, and Sara Bei CA. Rockford MI wins both 4-mile relays.
1999 - Rockford MI sweeps distance medleys. Brendan Mahoney 4:04.78 outkicks Alan Webb 4:06.94 in the mile, but Webb beats Jim Ryun's sophomore record in a precursor of the future. Northwestern MD boys 3:11.12 complete a dream year in 4x400 and double in the 4x800 in 7:42.25, plus their anchor James Graham beats Rickey Harris in the 400m hurdles.

1998

- O.D. Wyatt TX boys break 40 seconds and 1:24. New Jersey Barber twins sweep girls 100, 200, and 400.Ato Modibo MD doubles 21.11 and 46.09. Jim Autenreith TX wins pole vault on one jump.