This is the sixth running of the national post-season meet managed by the founders of the modern post-season high school championship -- the National Scholastic Sports Foundation.
Scott Sellers 7-5.25 USR, Saratoga girls 20:08.72 USR, Katelyn Kaltenbach 4:45.32, Lashawn Merritt 21.73 and 47.88, Ashley Owens 7.32, Shadrack Kiptoo 9:00.30, Corey Brown 6.73, Laura Cummings 10:38.79, Jeremy Jackson 7.83, Shantia Moss 8.47, Gayle Hunter 19-10.75, Erica McLain 41-6.5 TJ, Andre Tillman 48-10.25 leads 1-2-3 North Rowan NC sweep over 48'), Michaela Wallerstedt 46-10 SP, Nate Rolfe 72-1.5 WT, James Logan girls 1:39.87 and 3:47.87.
Scott Sellers 7-5.25 is best ever in US, breaking a 26-year-old national record (Gail Olson 7-5 in 1978)



by PhotoRun

Katelyn Kaltenbach passes Nicole Blood in last 50 meters - they run the 2 fastest mile times of the year


announcer Ian Brooks interviews happy Saratoga NY girls 4xMile record setters by John Dye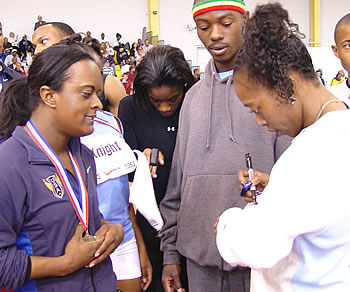 The high school 60m record holder, Ashley Owens, gets an autograph from the world champ, Gail Devers.
BOYS

EVENT

GIRLS

Corey Brown Charlotte, NC 6.73
Ashley R. Owens Denver, CO 7.32
Lashawn Merritt, Portsmouth, VA 21.73
Carol Rodriguez, Long Beach, CA 24.22
Lashawn Merritt Portsmouth, VA 47.88
Ebony Collins Long Beach, CA 55.05
Michael Carmody Berkeley Heights 1:53.84
Geena Gall Detroit, MI 2:12.20
Kyle Miller Katy, TX 4:12.14
Katelyn Kaltenbach Aurora, CO 4:45.32
Kendall Robbins Owasso, OK 4:31.24
Halsey Sinclair Silver Spring, MD 5:07.91
Shadrack Kiptoo Albuquerque, NM 9:00.30
Laura Cummings Bay Shore, NY 10:38.79
Jeremy Jackson Giddings, TX 7.83
Shantia Moss Pompano Beach, FL 8.47
Scott Sellers Katy, TX 7-05.25
Lauren Biscardi NY 5-8.75
Felipe Reyes Albany, NY 24-01.75
Gayle Hunter Riverside, CA 19-10.75
Andre Tillman Spencer, NC 48-10.25
Erica McLain Plano, TX 41-06.50
Boys -Andrew Rademacher Hermitage, PA 16-08.00
Danielle O'Reilly Indian Mills, NJ 12-09.50
Auston Papay Sharon, PA 62-06.75
Michaela Wallerstedt Omaha, NE 46-10.00
Nate Rolfe Bothel, WA 72-01.50
Erin Donnelly Barrington, RI 53-07.75
Glenville 1:28.90
James Logan 1:39.87
Winslow Twp 3:22.16

4x400

James Logan CA 3:47.87
Carmel HS 7:54.20
Hatboro-Horsham Hs 9:13.93
Midlothian, 18:11.26
Saratoga, NY 20:08.72 National Record
Spirit of Pre 10:21.30
Saratoga, NY 12:03.38
Blazin' Raiders 3:33.67

SMR

West Catholic PA 4:04.69
Zachary Pollinger, Allendale, NJ 6:21.34
Katy Hayes, Oconomowoc, WI 7:00.94
Westside SC 29.45

Shuttle
Hurdles

Jackson Twp 33.82
Speed Clinic
For the second straight year, NIC will have a free speed clinic for athletes, "Taking Speed to the Hurdles and Long Jump," on Friday night before the meet at the PG Sportsplex. HSI head coach John Smith will be joined in presenting the clinic by Westbury Houston TX coach Rose Brimmer and Nike athletes Allen Johnson, Jenny Adams, and Savante Stringfellow. The schedule:
7:00 - 7:10 Introduction
7:15 - 8:15 John Smith
8:30 - 9:30 Breakout Groups
9:40 - 10:00 Q&A/Closing
Prior Years on DyeStat
2003 - Bobby Curtis threepeats in mile. Michelle Carter sets new national record in shot put. Nicole Blood and Chris Solinsky win 2 miles. Sarah Bowman enters the elite with killer kick in the mile. Mike Morrison doubles in LJ/HJ. Broken pole costs Tommy Skipper a national record.
2002 - Big winners include Molly Huddle, Ken Ferguson, Megan Kaltenbach, Kelly Willie, Richard Smith, Bobby Curtis, Bobby Lockhart, Glenn DiGiorgio, and Rockford girls.
2001 - Alan Webb runs 8:45 2 mile, 3rd best ever.
2000 - Doubles by Erica Whipple and Allen Simms. Rockford girls triple. Other big wins by Lashinda Demus, Alejandra Barrientos, Alan Webb, Dathan Ritzenhein, Kevin Bookout.
1999 - Inaugural meet at Columbus OH sees Casey Combest rocket to national record 6.57 in 60 meter dash, faster than the NCAA champion the same weekend. Other notable winners are Ricky Harris, Perdita Felicien, and Sheena Johnson. Wilson Long Beach CA girls triple in relays and Istrouma LA boys double.