| Results | Preview | Schedule | HS Mile Selection | HS Mile Selections | HS Mile All Time Lists | the meet's own web site |
| Prior Years on DyeStat | Press Releases | NYC relay trials | MAC 14 under girls 800 | Confirmed Colleges | Clinics | Last Year |
Photo Albums: | HS Relay qualifiers | Boys Mile | Girls Mile | Action Shots | DONNA ON THE SIDE
Nicole Blood wins second straight year, and still only a sophomore. Hakon Devries runs down Victor Gras on last lap. Marion Jones returns after having her baby. Crowd is 14,154, a 35 percent increase over last year.
Boys Millrose Mile at the bell - Hakon Devries (blue) mounts his second charge at Victor Gras.
This one is successful. Devries 4:14.29, Gras 4:15.45.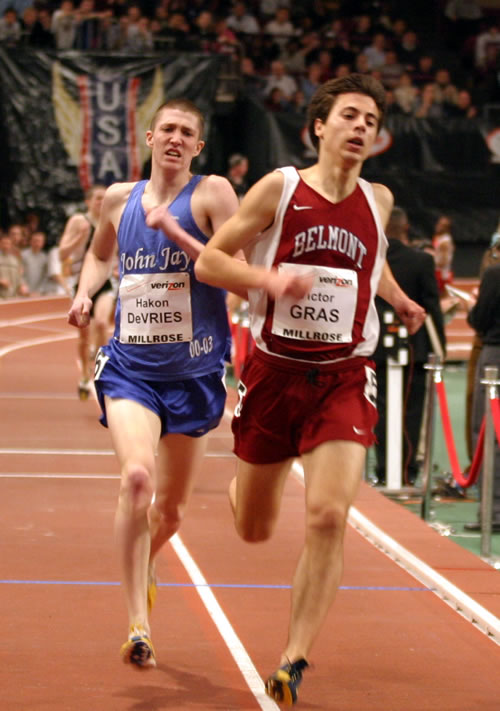 Photo Album - lap by lap
Boys Mile


1.

Hakon Devries

4:14.29
2. Victor Gras 4:15.45
3. Brian McCabe 4:18.85
4. Jeremy Zagorski 4:20.35
5. Gavin Coombs 4:21.75
6. Andre Silva 4:22.35
7. Ari Zamir 4:22.19
8. Ahmed Haji 4:23.24
Hakon Devries ran down front running Victor Gras on the last lap. Gras led from the break after the first turn until the backstretch of the 11th and last lap. Devries tried to take the lead with 3 laps to go, but Gras held him off and opened up a small gap. But Devries roared back at the bell and surged in front on the backstretch to seal the victory.
Steve Hallinan of PA was a late scratch because of an inflammation of his heel. "He held out hope that he would be able to race, but when we saw the MRI Wednesday, we decided it wasn't smart to race, especially on that track," said O'Hara coach Tom Kennedy. According to Kennedy, Hallinan had some pain in his heel after the Hispanic Games, that came and went. He even wore a boot around school for awhile. The MRI was negative for anything except inflammation. "He even ran yesterday without pain." Kennedy called the Millrose organizers to give them the news Thursday, the day after the MRI results. Plans call for Hallinan to return to action at the PCL Championships on Sunday, February 15th. [Don Rich, PennTrackXC.com)
Girls Millrose Mile - Nicole Blood 4:52.41 was all alone from the second lap on
-- her second straight Millrose title and still only a sophomore.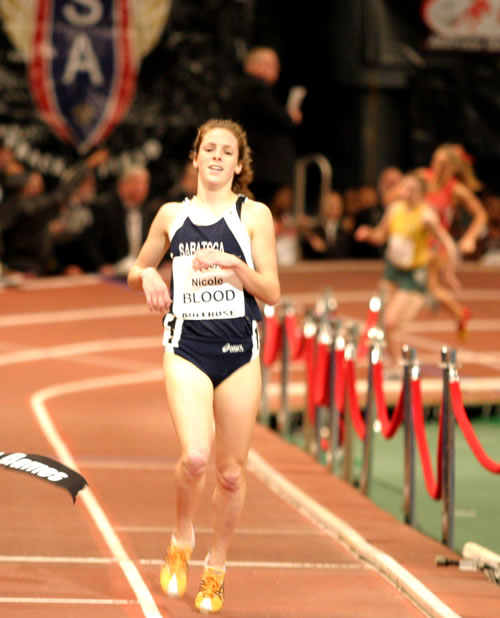 Photo Album - lap by lap
Girls Mile


1.

Nicole Blood

4:52.41
2. Heather Iatauro 4:57.44
3. Frances Koons 4:57.62
4. Lindsay Ferguson 4:58.50
5. Amy Kelly 4:59.75
6. Laura Cummings 5:00.90
7. Allison Keiffer 5:03.83
8. Sarah Bowman 5:05.99
9. Amie Schumacher 5:20.71
After Sarah Bowman led for one lap, Blood took command and lengthened her lead the rest of the way to win her second straight Millrose mile. Heather Iatauro continued her fine string of races by rallying for second, just ahead of Frances Koons. Blood's Saratoga teammate Lindsay Ferguson took fourth, and Amy Kelly was the fifth girl under 5 minutes.
Other High School results:
Suburban Girls 4x400 - Bellport NY 4:02.97
Suburban Boys 4x400 - Camden NJ 3:31.43 (Uniondale NY 3:31.46)
CHSSA Girls 4x400 - Bishop Loughlin NY 4:09.14
PSAL Girls 4x400 - A.P. Randolph NY 3:56.17
PSAL Boys 4x400 - Dewitt Clinton NY 3:27.43
CHSAA Boys 4x800 - Fordham Prep NY 8:10.07 for their third straight Millrose victory.
Marion Jones Returns
Marion Jones is somewhere in the middle of a crush of photographers and autograph seekers after winning the 60 meters, her first race after taking a year off to have a baby.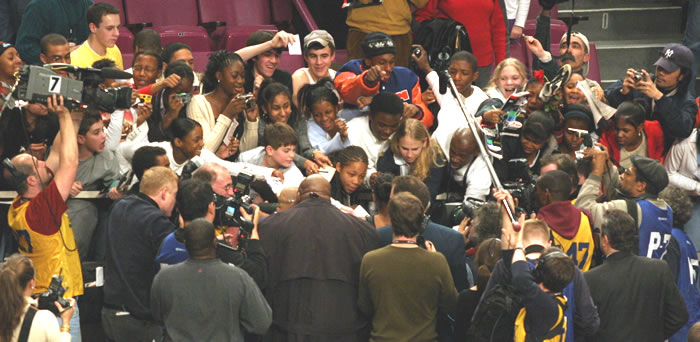 Women's 60m - About a third into race, Marion Jones (right) is digging in to overcome characteristic slow start. To her right are Torri Edwards, Allyson Felx and Lisa Barber. Barber shows pain of injury and falls moments later.

The Millrose Games has a new owner and a new emphasis on youth, high school and colleges, with 60m dash to crown "Fastest HS Boy & Girl in New York." Marion Jones will return to competition after maternity leave, with Allyson Felix in the race. Stacy Dragila vs. the Vault Girls. Shot put returns to the Garden after 15 years. Highlight for HS fans are the high school miles, headlined by Nicole Blood and Victor Gras.
Millrose Games High School Miles
Nicole Blood and Victor Gras headline stellar fields
There are many more high school and youth races added this year, including the Fastest Kid in New York and the Fastest boy in New York, but the headline event is still the High School mile. Both races should be great.
BOYS - Gavin Coombs CT, Hakon Devries NY, Victor Gras MA, Steve Hallinan PA, Brian McCabe NY, Andre Silva NJ, Ahmed Haji CT, Jeremy Zagorski NJ, and Ari Zamir NJ.
Could be as close as the gang fniish at New Balance Games 2 weeks ago, when Coombs, Devries, and Zagorski finished within a half a second of each other, all under 4:12, and Hallinan, Silva, McCabe, and Zamir were not far behind in another 3-second blanket, all under 4:16. The only runner not in that race, Victor Gras, stamped himself as a slight favorite with a sizzling 1:51.73 800 meter effort against collegians at Boston University last weekend. That made him the fifth fastest ever at that distance in the US, and his training has been geared toward the mile, aiming for "as close to 4:00 as I can get."
GIRLS - soph Nicole Blood NY, jr Sarah Bowman VA, sr Laura Cummings NY, soph Lindsay Fergusion NY, sr Heather Iatauro NY, sr Amy Kelly PA, jr Allison Kieffer NY, Frances Koons PA, Amie Schumacher CT.
As defending champion and US#1 this season (4:48.82), Blood was already the favorite but became even more so when Maryland freshman phenom Devon Williams withdrew Thursday with a knee sprain. Williams had the second fastest mile of the season (4:50.76) at the Hispanic Games Jan 10 and set a new national record for 500 meters last weekend at Virginia Tech. Blood could take aim on Sarah Schwald's Millrose record (4:49.94 in 1989). Blood's 4:52.00 last year is 3rd on the Millrose all time list. Bowman, last year's Nike Indoor champion, may be rounding into shape after an injury layoff; she won the 1600 at Virginia Tech last week in 4:53.37. Iatauro enjoyed a breakthrough victory in the New Balance Games mile at 4:53.79 and followed up with a 10:53.97 win at 3200 meters at Virginia Tech last Saturday.
Millrose Games High School Mile Selections

After the great finishes of the New Balance Games invitational miles, the fields for the high school miles at the Millrose Games February 6 at Madison Square Garden in New York were announced by selection chairs Larry Byrne (boys) and Jim Spier (girls).

Millrose Games HS Mile All Time Lists

- The records are 4:08.0 for boys (Kevin Byrne 1977) and 4:49.94 for girls (Sarah Schwald 1989). The first three girls last year cracked the all time top 10 list: Nicole Blood 4:52.00, second fastest winner and third fastest overall (#2 all time Cheri Goddard was second to Schwald); #7 Ari Lambie 4:53.14, and #8 Kathleen Trotter 4:53.17. Only three boys on the top 10 all time list made it since 1989, with #2 Jonathon Riley 4:10.62 winning in 1997.

Millrose Games prediction contest

- Pick the top four in the high school boys and high school girls miles and pick the boys winner and time. Win NikeVision Nike Skylon.R Sunglasses ($79 retail).

Devon Williams injured; will miss Millrose

--

A strain in her right knee will keep Maryland freshman phenom Devon Williams out of the Millrose Games high school mile Friday night in Madison Square Garden. Williams will be sidelined for 2 weeks, a friend of the family said.
Last Year - Nicole Blood and Matt DeBole win high school miles at 2003 Millrose Games
97th Millrose has new owner and new emphasis on youth
The 2004 Millrose Games will celebrate its 97th edition on Friday evening, February 6 at New York 's famous Madison Square Garden . Televised nationally on NBC, it is the nation's oldest invitational track meet, the Garden's longest running sporting event, and a highlight of USA Track & Field's annual "Golden Spike Tour". This year's meet promises to be a preview of America 's best prospects for medals at the 2004 Olympic Games in Athens , Greece . The star-studded field will include athletes from 13 different countries, 16 medallists from last summer's World Championships in Paris, and five Americans who will launch their drive to defend their Olympic titles from the 2000 Games in Sydney… Stacy Dragila (women's pole vault), Allen Johnson (hurdles), Nick Hysong (men's pole vault), Maurice Greene (100m), and Gail Devers (hurdles).
Previously owned by Octagon, the Millrose Games has been acquired by Pro Sports & Entertainment Inc., an owner/operator of live entertainment events with offices in Santa Barbara and Los Angeles, California, which has instituted changes including a shorter program (over by 10:15 pm) and new youth, high school and college events.
Fastest Girl/Boy in New York
Changes in the program include the addition of new youth, high school, and college events and the return of major Eastern track schools to entertain the Garden faithful. An expanded speed portion of the meet will include "Fastest Kid in New York " 50m dashes for 8-9 year old boys and girls, and "Fastest Schoolgirl/Schoolboy in New York " 60m dashes for high schoolers. The college 60m sprints and hurdles will feature Middle Tennessee's Mardy Scales , the 2003 NCAA 100 meter champion, and Tennessee's Jabari Greer , the 2003 NCAA indoor hurdles champion and All-America defensive back for the Vols this fall. In addition, the men's shot put will be contested in the Garden this year for the first time since the 1980s and showcase four Americans— Adam Nelson , John Godina , Christian Cantwell , and Reese Hoffa --who rank among the top-8 throwers in the world.
High School Mile
The high school boys mile has been run at the Millrose Games since 1974 and the girls mile since 1984. Because of new ownership, there have been some changes in the selection procedures for these two races. Selection chairs Larry Byrne (boys) and Jim Spier (girls) have announced the new procedures.
Boys
Kevin Byrne 4:08.0 (1) 1977
Jonathon Riley 4:10.62 (1) 1997
Mike Stahr 4:10.98 (1) 1983
John Carlotti 4:11.48 (2) 1983
Miles Irish 4:11.84 (3) 1983
J.T. Burke 4:11.94 (1) 1989
Ryan Travis 4:13.22 (2) 1997
Dylan Walsh 4:13.30 (1) 1999
Vince Draddy 4:13.3 (1) 1979
Greg Herzog 4:13.3 (2) 1979

Girls
Sarah Schwald 4:49.94 (1) 1989
Cheri Goddard 4:50.33 (2) 1989
Nicole Blood 4:52.00 (1) 2003
Sally Glynn 4:52.20 (1) 1995
Glynn 4:52.27 (1) 1994
Stacey Carpenter 4:52.29 (2) 1994
Arie Lambie 4:53.14 (2) 2003
Katthleen Trotter 4:53.17 (3) 2003
Courtney Adams 4:53.29 (1) 1996
Kristin Nicolini 4:53.38 (2) 1995
The action starts at 6:30pm. Tickets can be purchased by:
Visiting the Madison Square Garden Box Office or calling (212) 465-6741 .
Calling the following local Ticketmaster outlets and charge-by-phone numbers:
(212) 307-7171 , (201) 507-8900 , (914) 454-3388 and (203) 624-0033 .
Logging-on to www.verizonmillrosegames.com .
Ticket prices are $15, $30, $40, $50, $70 and $90.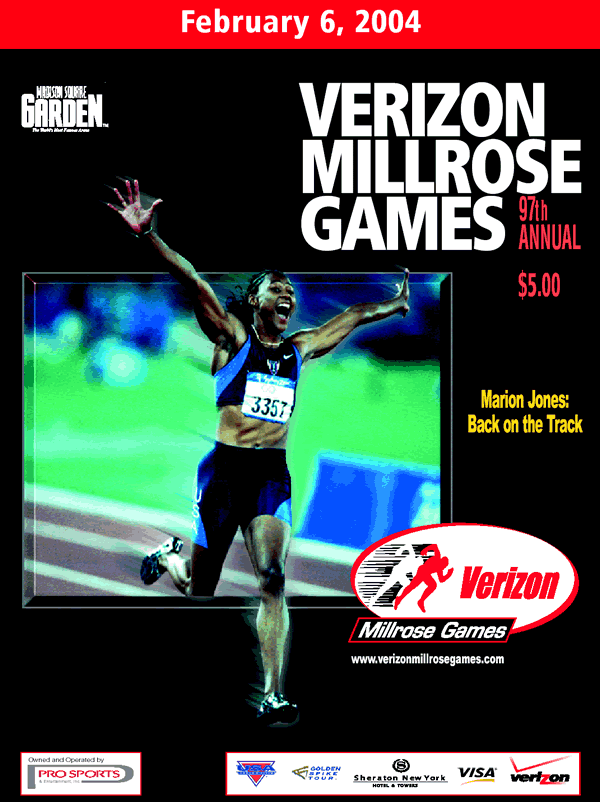 Prior Millrose Games on DyeStat
2003 - Nicole Blood runs second fastest HS mile ever at Millrose
2002 - Chris Lukezic and Melissa Donais win high school miles.
2001 - Sara Bei and Nick Schneider
Verizon Millrose Games Learn by Doing Clinics
Two clinics will be held for young athletes before the Millrose Games.
Male High School Shot Putters - Tuesday February 3, 4:30 to 7 pm, at the New York Armory.
Female High School Pole Vaulters - Tuesday February 3, 4:30 to 7 pm, at the New York Armory.
Schedule
| | | | | | | | |
| --- | --- | --- | --- | --- | --- | --- | --- |
| Event | Time | Interval | TRACK EVENTS | Event | Time | Interval | FIELD EVENTS |
| #1 | 6:30 | 6:00 | Girls Suburban H.S. 4x 400m Relay | #2 | 6:30 | 45:00 | Women's Invitational High Jump |
| #3 | 6:36 | 5:00 | Boys Suburban H.S. 4x 400m Relay | | | | |
| #4 | 6:41 | 4:00 | NYRRC Foundation Mixed Youth 4-Lap Relay | | | | |
| #5 | 6:45 | 5:00 | MAC Jr. Girls 800 meters | | | | |
| #6 | 6:49 | 6:00 | Girls CHSSA H.S. 4x 400m Relay | | | | |
| #7 | 6:55 | 8:00 | ? Susan M. Rudin Men's 1-Mile Walk | #8 | 7:00 | 90:00 | Fred Schmertz Men's Pole Vault |
| #9 | 7:04 | 6:00 | ? Mayor's Cup Girls PSAL 4x400m Relay | | | | |
| #10 | 7:10 | 6:00 | ? Mayor's Cup Boys PSAL 4x400m Relay | | | | |
| #11 | 7:15 | 11:00 | ? Men's Invitational College 4x 800m Relay | #12 | 7:15 | 60:00 | John Thomas Men's High Jump |
| #13 | 7:27 | 7:00 | Girls Invitational H.S. Mile | | | | |
| #14 | 7:34 | 6:00 | Women's Eastern Colleges 4x 400m Relay | | | | |
| #15 | 7:40 | 5:00 | Men's Eastern Colleges 4x 400m Relay | | | | |
| | 7:45 | 10:00 | Opening Ceremonies- Parade of Olympians | | | | |
| #16 | 7:55 | 5:00 | ? Men's Invitational College 4x 400m Relay | | | | |
| #17 | 8:00 | 4:00 | ? Diane Dixon Women's 500 yards | | | | |
| #18 | 8:04 | 7:00 | Boys Invitational H.S. Mile | | | | |
| #19 | 8:11 | 5:00 | Women's Invitational 800 meters | | | | |
| #20 | 8:16 | 4:00 | Men's Invitational 800 meters | | | | |
| #21 | 8:20 | 6:00 | Women's Invitational College 1000 yards | #22 | 8:15 | 40:00 | Men's Invitational Shot Put |
| #23 | 8:26 | 4:00 | ? Mel Sheppard Men's 600 yards | #24 | 8:30 | 90:00 | Women's Invitational Pole Vault |
| #25 | 8:30 | 7:00 | Men's Invitational College Mile | | | | |
| #26 | 8:37 | 10:00 | Boys CHSAA H.S. 4x 800m Relay | | | | |
| #27 | 8:47 | 7:00 | Fred Lebow Women's Invitational 1500 meters | | | | |
| | 8:54 | 3:00 | National Anthem | | | | |
| #28 | 8:57 | 7:00 | ? Wanamaker Men's Invitational Mile | | | | |
| | 9:04 | 20:00 | -- Track Curve Removal -- | | | | |
| | 9:04 | | Millrose Games Hall of Fame Ceremony | | | | |
| #29 | 9:24 | 3:00 | Women's Invitational College 60m Hurdles | | | | |
| #30 | 9:27 | 5:00 | Women's Invitational 60m Hurdles | | | | |
| #31 | 9:32 | 6:00 | Men's Invitational College 60m Hurdles | | | | |
| #32 | 9:35 | 5:00 | Men's Invitational 60m Hurdles | | | | |
| #33 | 9:40 | 3:00 | Girls "Fastest Kid in New York" 50 meters | | | | |
| #34 | 9:43 | 3:00 | Boys "Fastest Kid in New York" 50 meters | | | | |
| #35 | 9:46 | 3:00 | "Fastest Schoolgirl in NYC" H.S. 60m Dash | | | | |
| #36 | 9:48 | 3:00 | "Fastest Schoolboy in NYC" H.S. 60m Dash | | | | |
| #37 | 9:51 | 3:00 | Women's Invitational College 60 meter Dash | | | | |
| #38 | 9:54 | 3:00 | Men's Invitational College 60 meter Dash | | | | |
| #39 | 9:57 | 5:00 | Women's Invitational 60 meter Dash | | | | |
| #40 | 10:02 | | Men's Invitational 60 meter Dash | | | | |
| | | | ?= C up Race | | | | |