Open Events
June 21-22 at Stanford University, Palo Alto CA

Combined Events
June 18-19 at UC-Berkeley

Huge double for Sanya Richards
200: Wins torrid stretch duel with Allyson Felix, 23.31 to 23.34
400: Dethrones Monique Henderson with new US record 50.69, faster than the senior women's champion!!!

800: Richard Smith gets 3rd national title of 2002
400H: Bershawn Jackson turns tables on Kenneth Ferguson
M-1500: The year's best HS miler, Chris Lukezic WA, hero of Auburn WA's national record 4x800 at AOC Raleigh last week, wins comfortably in 3:47.32

High schoolers Donovan Kilmartin ID and Julie Pickler TX win the combined events competition. Julie and twin sister Diana, the 2001 champion, came to the closing 800 meter race tied, with Julie prevailing, 5,338 to 5,281. Kilmartin scored 7,440 points, 748 ahead of runner-up Robert Bates.
2001 HS Athlete of the Year Lashinda Demus
meets the press at Palo Alto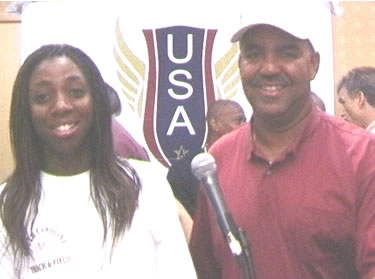 Demus, left, with South Carolina Coach Curtis Frye - photo by DyeStat
Just one year out of high school, Lashinda Demus (Wilson Long Beach CA and the University of South Carolina) was featured at a pre-meet media conference along with Olympians Marion Jones, Maurice Greene, Tim Montgomery, Adam Nelson and Allen Johnson. As a freshman, Demus scored the most points of any woman 3 weeks ago at Baton Rouge, playing a key role in South Carolina's NCAA championship. Demus won the 400 meter hurdles in 54.85 for a new world junior record, ran anchor on South Carolina's US college record 4x400 relay team, and placed third in the 400 meters. Demus said she hoped to be part of an NCAA championship team as a freshman, but didn't expect to set a world junior record. "But I'm not giving it back." Even though her 400H time is the fastest in the US by any woman this year, Demus will compete in the Junior Nationals instead of the Senior Nationals this weekend. "This is my last chance to run in the World Junior Championships for Team USA," Demus said. "I'll have plenty of years ahead to run in the senior nationals." Demus said she will run in the World Juniors at Jamaica next month if she qualifies for Team USA, but then she looks forward to spending the summer back home in Southern California.