Sanya Richards' 50.69 takes down Monique Henderson's record
by John Dye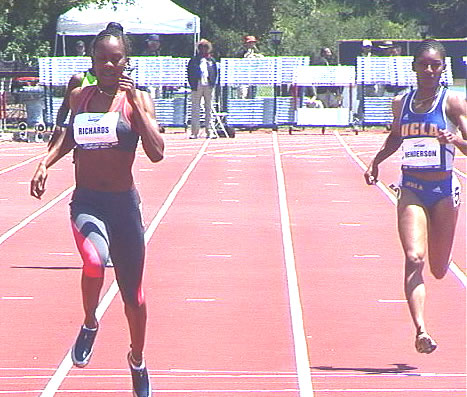 This year's 400 meter queen, Sanya Richards FL, (left) went for a double against last year's queen, UCLA freshman Monique Henderson, the HS record holder and a 2000 US Olympian, and Richards was clearly best. As if it wasn't enough to lose the record, Monique Henderson (right) had to view it from the next lane. Richards topped Henderson's 50.74 set in the California state meet 2 years ago. Henderson's runner-up 51.52 also beat the old Junior Nationals meet record.
"The 400 record was my goal at the start of the season, but I wasn't sure it would come today." Sanya said afterward. "Sometimes you just run to win, not for time." A Jamaican native who recently obtained US citizenship, Richards will now return to her home town of Kingston, Jamaica next month running for Team USA in the World Junior Championships. Asked if she would have mixed emotions, Sanya said firmly, "No. I made my decision."

Richards

Before the race, both runners
had their game faces on.


Henderson
. . . . they're off
| | |
| --- | --- |
| Richards | Henderson |
Stretch - As they came out of the turn, Richards had a slight edge, which grew steadily to the finish.

Sanya and Monique

shake hands after the race
| | |
| --- | --- |
| | Hook 'em Horns! - That's what Sanya answered when the track announcer asked if she was going to the University of Texas next year, and she must have learned the hand signal on her campus visit. |
Sanya Richards draws athletic talent from both her parents. Mom Sharon (

below

) ran the 100, 200, and 400 in high school, same as Sanya, "but don't ask me my times," she said. Dad Newton, better known as Archie, was a top soccer player and coach.
Women 400 Meter Dash

================================================================

World Junior: W 49.42  1991        Grit Breuer (GDR)

American Jr.: A 50.74  2000        Monique Henderson

        Meet: M 51.96  1999        Monique Henderson

   WJr Qual.: ! 54.64

    Name                    Year Team                    Finals

================================================================

Finals

  1 Sanya Richards               StThomAquina             50.69A

  2 Monique Henderson            UCLA                     51.52M

  3 Christina Hardeman           ACSTC/CA                 53.72!

  4 Deonna Lawrence              Alex VanDyke             53.74!

  5 Diane Anderson               CO Flyers                54.26!

  6 Lauren Austin                Yng. Achiev.             54.30!

  7 Keisha Gaines                Stockdale HS             54.60!

  8 Ashley Freeman               Unattached               55.77

  9 Deborah Jones                Benson HS/OR             56.06




Prelims
High school record holder Monique Henderson, a freshman at UCLA, served notice she is not ready to relinquish her prep crown without a fight as she posted the fastest qualifying time in 53.10. This year's prep sensation, Sanya Richards FL, who ran 51.68 this year, was second fastest in 53.98..


Event 133  Women 400 Meter Dash

===================================================================

9 Advance:  Top 2 Each Heat plus Next 3 Best Times

World Junior: W 49.42  1991        Grit Breuer (GDR)

American Jr.: A 50.74  2000        Monique Henderson

        Meet: M 51.96  1999        Monique Henderson

   WJr Qual.: ! 54.64

    Name                    Year Team                   Prelims  H#

===================================================================

  1 Monique Henderson            UCLA                   ! 53.10Q  3

  2 Sanya Richards               StThomAquina           ! 53.98Q  1

  3 Christina Hardeman           ACSTC/CA                 54.67Q  2

  4 Deonna Lawrence              Alex VanDyke           ! 54.57Q  1

  5 Ashley Freeman               Unattached               54.92Q  2

  6 Diane Anderson               CO Flyers                55.70Q  3

  7 Keisha Gaines                Stockdale HS             55.05q  2

  8 Lauren Austin                Yng. Achiev.             55.22q  1

  9 Deborah Jones                Benson HS/OR             55.51q  2

 10 Sheena Davidson              George Mason             55.75   3

 11 Brandi Probasco-Canda        Benson HS/OR             56.60   1

 12 Shakara Lott                 Alex. Light              56.77   3

 13 Kathleen Smyth               Unattached               56.91   3

 14 Raynisha Bragg               Fresno St.               57.36   2

 15 Christine Moschella          Stanford                 57.67   2

 16 Cameron Washington           Marlborough              58.15   2

 17 Lauran Dignam                Kailua AA                58.54   1

 18 Nicole Carmier               Alex VanDyke             59.66   1



 
USA Junior Nationals Event Index