Sanya Richards FL 23.31 -3.5 (Allyson Felix CA 23.34)
Opposite emotions at finish of torrid stretch duel.
Felix pulls hamstring
as pair are dead even near the finish

.

Felix falls, and Richards races off the winner.
Felix pulls hamstring in the last few meters. It was too close to call before the race - the best in the West vs. the best in the East -- and it was almost too close to call at the finish. The two raced the last 75 meters side by side in adjacent lanes with the issue totally in doubt until Felix faltered just enough for Richards to win. The California junior, who usually floats serenely across the finish line no matter how close the race, had a contorted face as she reached the finish line and then collapsed just after the finish. After several minutes prone on the track, Felix got up and walked off under her own power. She had been entered in the senior women's 200 Saturday, but scratched. Headwind (-3.5 mps) holds down time on this and other sprints and hurdles on Friday.
Richards gets the edge as they lunge at the finish.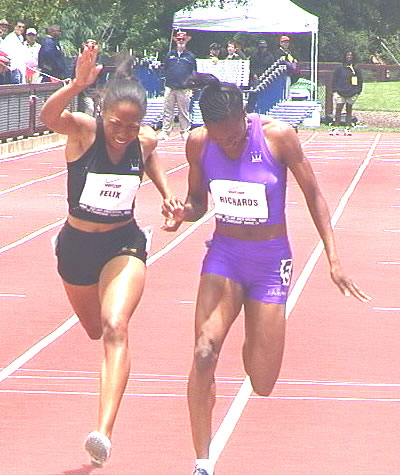 Felix fell as soon as she crossed the finish line.

Felix walks off, still hurting.
Event 132  Women 200 Meter Dash

=====================================================================

World Junior: W 22.19  1980        Natalya Bochina (URS)

American Jr.: A 22.58  1992        Marion Jones

        Meet: M 22.94  1992        Marion Jones

   WJr Qual.: ! 24.44

    Name                    Year Team                    Finals  Wind

=====================================================================

Finals

  1 Sanya Richards               StThomAquina             23.31! -3.5

  2 Allyson Felix                LA Baptist               23.34! -3.5

  3 LaShauntea Moore             Barton CCC               23.78! -3.5

  4 Shalonda Solomon             LBch PolyHS              23.84! -3.5

  5 Marshevet Hooker             SA Southwest             24.17! -3.5

  6 Ashlee Williams              Dallas Flyer             24.44! -3.5

  7 Angel Perkins                Team Purpose             24.50  -3.5

  8 Janice Davis                 Unattached               24.61  -3.5

  9 Dominique Dorsey             Unattached               25.33  -3.5












Prelims
Heat 1- Shalonda Solomon


Heat 2 - Allyson Felix (left), Kimberly Lyles


Heat 3 - Sanya Richards (center),
Marshevet Hooker (left), and LaShauntea Moore (right)


Event 132  Women 200 Meter Dash

========================================================================

9 Advance:  Top 2 Each Heat plus Next 3 Best Times

World Junior: W 22.19  1980        Natalya Bochina (URS)

American Jr.: A 22.58  1992        Marion Jones

        Meet: M 22.94  1992        Marion Jones

   WJr Qual.: ! 24.44

    Name                    Year Team                   Prelims  Wind H#

========================================================================

Preliminaries

  1 Sanya Richards               StThomAquina           ! 23.54Q -0.7  3

  2 Allyson Felix                LA Baptist             ! 23.66Q -1.8  2

  3 Shalonda Solomon             LBch PolyHS            ! 23.69Q -0.1  1

  4 LaShauntea Moore             Barton CCC             ! 23.66Q -0.7  3

  5 Angel Perkins                Team Purpose           ! 23.91Q -0.1  1

  6 Janice Davis                 Unattached               24.60Q -1.8  2

  7 Ashlee Williams              Dallas Flyer           ! 23.95q -0.1  1

  8 Marshevet Hooker             SA Southwest           ! 24.13q -0.7  3

  9 Dominique Dorsey             Unattached               24.46q -0.7  3

 10 Tianna Madison               Elyria HS                24.60  -0.1  1

 11 Michelle Dixon               Charlotte                24.75  -0.1  1

 12 LaKadron Ivery               Baylor                   24.78  -1.8  2

 13 Jennifer Roberts             Cent. Mich.              24.90  -0.1  1

 14 Kimberly Lyles               Unattached               24.95  -1.8  2

 15 Daquia McCoy                 Fl. Atlantic             25.15  -0.1  1

 16 Bernadette Washington        Charlotte                25.17  -0.7  3

 17 Cheryl Garner                Lamar                    26.24  -1.8  2

 -- Cheri Craddick               Logan HS/CA                DNF  -1.8  2



 
USA Junior Nationals Event Index