Richard Smith 1:48.94
Third national title of 2002 for Richard Smith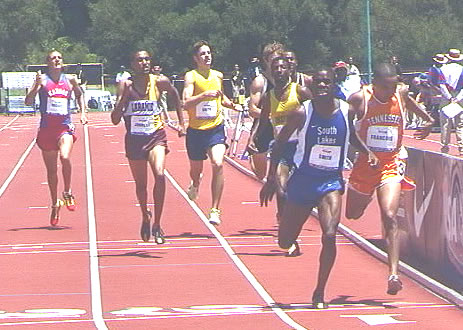 South Lakes VA sr Richard Smith, who labored in the shadow of teammate Alan Webb last year, came into his own with a 1:48.94 personal best, following up his victory at AOC Raleigh last week and Nike Indoor Classic last February. Next was Tennessee freshman Frank Francois 1:48.99. Smith and Francois are from the same HS track region in Northern Virginia and they will be teammates at Tennessee next year. As usual Will Fitts TX led three fourths of the race, and as usual Richard Smith came on in the stretch. Francois came with Smith and made it very close. Fitts faded to last in a still respectable 1:51.16 as the entire field ran well.
Splits:
200 25.2
400 27.5 - 52.7
600 27.6 - 1:20.3
800 28.7 - 56.3 - 1:49
the start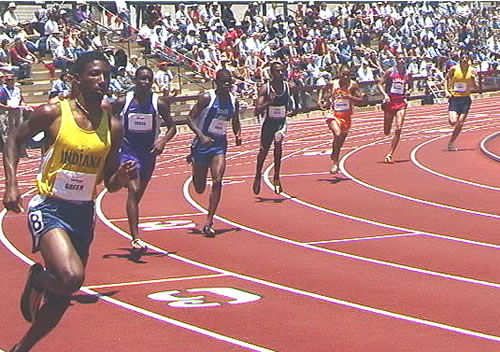 halfway - As usual, Will Fitts TX was out in front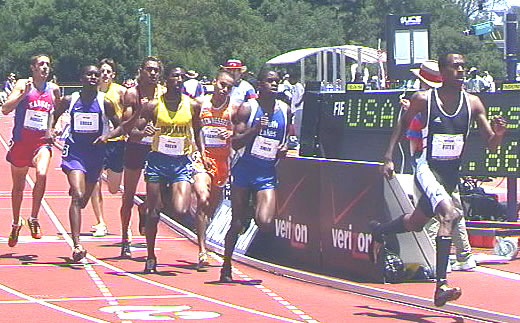 midstretch - Richard Smith and Frank Francois duel for the victory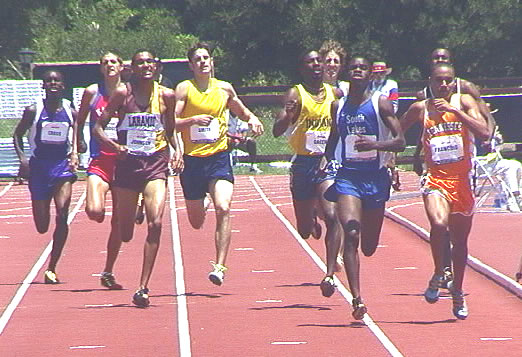 Men 800 Meter Run

================================================================

World Junior: W 1:43.64  1997        Japheth Kimutai (KEN)

American Jr.: A 1:44.9h  1966        Jim Ryun (880y)

        Meet: M 1:47.55  1987        Mark Everett

   WJr Qual.: ! 1:50.00

    Name                    Year Team                    Finals

================================================================

Finals

  1 Richard Smith                S. Lakes HS            1:48.94!

  2 Frank Francois               Tennessee              1:48.99!

  3 Tyron Green                  Lawr. Cent.            1:50.10

  4 Jeremiah Johnson             Laramie HS             1:50.14

  5 Rem Moll                     Missouri               1:50.57

  6 Christian Smith              Pawnee Hts H           1:50.65

  7 Paul Cross                   S.Plantation           1:51.08

  8 Brandon Hodges               Kansas                 1:51.11

  9 Will Fitts                   DeSoto RR              1:51.16








Francois is already at U-Tennessee and Smith will be there next year,
joining another great 800 meter runner, 2001 prep national champion Marc Sylvester.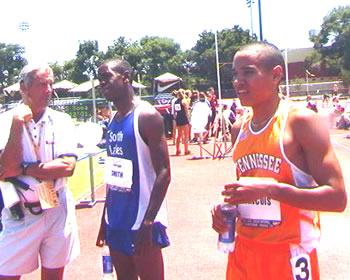 .
Smith is interviewed with his image on the giant screen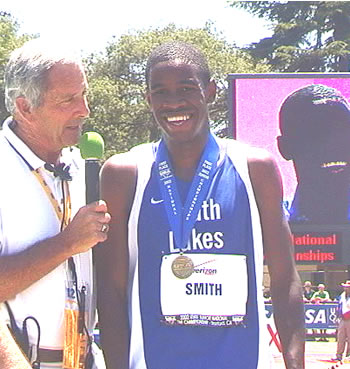 Prelims
AOC Raleigh leaders take top 4 spots in qualifying for the Saturday final: Richard Smith VA 1:50.90 beats Will Fitts TX 1:51.31 in section 1 (Frank Francois, U. Tennessee 1:51.62, Rem Moll, Missouri 1:51.92). Paul Cross FL 1:52.14 beats Jeremiah Johnson WY 1:52.84 in section 2.







Men 800 Meter Run

===================================================================

9 Advance:  Top 3 Each Heat plus Next 3 Best Times

World Junior: W 1:43.64  1997        Japheth Kimutai (KEN)

American Jr.: A 1:44.9h  1966        Jim Ryun (880y)

        Meet: M 1:47.55  1987        Mark Everett

   WJr Qual.: ! 1:50.00

    Name                    Year Team                   Prelims  H#

===================================================================

Preliminaries

  1 Richard Smith                S. Lakes HS            1:50.90Q  1

  2 Paul Cross                   S.Plantation           1:52.14Q  2

  3 Will Fitts                   DeSoto RR              1:51.31Q  1

  4 Jeremiah Johnson             Laramie HS             1:52.84Q  2

  5 Frank Francois               Tennessee              1:51.62Q  1

  6 Tyron Green                  Lawr. Cent.            1:52.86Q  2

  7 Rem Moll                     Missouri               1:51.93q  1

  8 Brandon Hodges               Kansas                 1:52.91q  2

  9 Christian Smith              Pawnee Hts H           1:53.30q  2

 10 Jeremy Mims                  Unattached             1:53.42   2

 11 Courtney Jaworski            SETA                   1:53.81   2

 12 Michael Haddan               Unattached             1:54.69   1

 13 Matt Bates                   Long Bch St            1:58.21   2

 14 Timothy Walker               Penn State             2:00.64   1

 -- Carson Schmiett              Sport OTGods               DNF   1  


USA Junior Nationals Event Index