DyeStat on-site -- with Stephen (steveu) Underwood, Kirsten O'Hara, and Bill Leung.
AAA day
Air Jordan, AJ, and Almost All California
Freshman sensation Jordan Hasay 17:14 ties Amber Trotter's course record in 24-second win over Marie Lawrence. The 8-pack of boys qualifiers ran almost as a team, hitting the stadium track together for the final 200 meters, with A. J. Acosta winning in 15:38, one second ahead of Ben Sitler and only 9 seconds separating first from eighth. California boys issue a challenge to Illinois for next Saturday in San Diego.
By Steve (steveu) Underwood and Kirsten O'Hara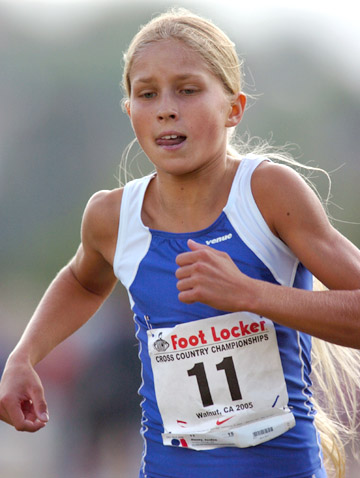 Jordan Hasay en route to victory. Photo by Bill Leung.
When witnessing a Foot Locker regional or national meet, one normally expects outstanding individual performances. One certainly did, thanks to Jordan Hasay, in the girls seeded race. But almost as if to say that the team cross-country ideal can exist here as well as at the same-day Nike Team Nationals, the top California boys worked together to earn five of them tickets to San Diego. It was similar to what top Illinois boys did a week ago at the Foot Locker Midwest in Kenosha WI. But this time the Cali boys, led by AJ Acosta, even helped some of their out-of-state rivals.
The girls seeded race turned into an historic occasion as the phenomenal freshman Hasay tied the FL West Mt. SAC course record with a 17:14 and ran away from Marie Lawrence. The California D5 state champ used her hill-running power to get a break on Lawrence on Poopout Hill, then pulled away big on the airstrip and onto the track, forging a gap of 24 seconds. For comparison's sake, Hasay's split time at the end of the "traditional" 2.91M course was 16:19, 29 seconds faster than she ran at the Oct. 22 invitational and 10 faster than Lawrence ran the same day. How stunning was the time? "Mel" ran 18 seconds faster than she did here last year and was more than 100 meters back today.
Of the four returning qualifiers from this race last year, two made it to San Diego, with Kauren Tarver taking fourth in 17:59 to join Lawrence. Ahead of Tarver was Washington champ Megan O'Reilly, who clocked 17:52 for third. In fifth (18:02) was an excited Crystal Reed, who went to nationals as an NTN qualifier last year. Arizona champ Kari Hardt, who ran so well at Mt. SAC in October, was sixth in 18:05. She was followed by Cali standouts Christy Adamyk (18:16) and Alex Kosinski (18:20) for the final two spots.
The budding California-Illinois rivalry was ratcheted up a notch as Acosta led five Golden State boys to the tape in a unique (to this kind of meet) display of team running. Eight runners, also including New Mexico's Matt Tebo, Washington's Jeff Helmer, and Oregon's Issac Stoutenburgh, hit the track almost together as fans looked on in amazement. But there wasn't going to be a sprint to the tape until Acosta and Ben Sitler began to kick at the end, almost for fun, with AJ getting the nod.
The real running took place much earlier as the pack, led by Acosta and the Mercado brothers, opened in 4:35 and charged into the switchbacks. As eight runners separated themselves, the collective strategy was just to keep the five Cali runners and the three who managed to stay with them together. Following Acosta and Sitler (15:39) were Tebo (15:42), Michael Coe CA (15:42), Stoutenburgh (15:43), Danny Mercado CA (15:43), Diego Mercado CA (15:44), and Helmer (15:47).
A.J. Acosta and Jordan Hasay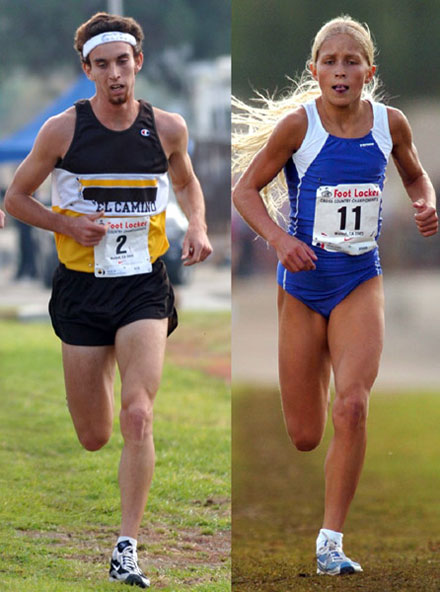 photo by Bill Leung
Foot Locker West Qualifiers

BOYS
GIRLS
1. A. J. Acosta CA 15:38
2. Ben Sitler CA 15:39
3. Matt Tebo NM 15:42
4. Michael Coe CA 15:42
5. Issac Stoutenburgh OR 15:43
6. Danny Mercado CA 15:43
7. Diego Mercado CA 15:44
8. Jeff Helmer WA 15:47

1. Jordan Hasay CA 17:14
2. Marie Lawrence NV 17:38
3. Megan O'Reilly WA 17:52
4. Kauren Tarver CA 17:59
5. Crystal Reed CA 18:02
6. Kari Hardt AZ 18:05
7. Christy Adamyk CA 18:16
8. Alex Kosinski CA 18:20


From NTN
1. Kenny Klotz OR
2. Taylor Nepon WA

From NTN
1. Anne St. Geme CA
2. Cassie Ricks UT
Girls Details
"Air Jordan" Hasay obviously had a lot of respect for defending FL West champ Marie Lawrence. But not so much to roll away from her up Poopout Hill and extend the margin to 24 seconds on the flat leading up to the finish.
"Mel's such a good runner … I can't believe I won!" she said. "I planned not to lead, but just relax. I tried hard not to be nervous."
Through the mile, at 5:20, they were together, but many more were in attendance, including Kevyn Murphy CA, Hilary McClendon ID, O'Reilly, Kosinski, and most of the others that would eventually qualify. But after the switchbacks, around 1.75 miles, Mel and Air Jordan had forged a 10 second lead ahead of everyone else, a group which was then led by (in order) Tarver, O'Reilly, Reed, Hardt, and Kosinski.
Then came Poopout Hill, and the beginning of the end for the battle for first. "Mel is really good on the downhills and I'm good on the uphills, so I tried to keep an even pace," said Hasay. They passed two miles in 10:36 and 10:37, then the gap started to grow.
Lawrence didn't seem too phased by getting beaten, perhaps knowing the most important race lies ahead. "My legs felt really tight … and (in the end) I just ran to qualify," she said. "I just wanted to stay consistent."
Qualifiers O'Reilly, Tarver, Reed, Hardt, Adamyk, and Kosinski stayed pretty consistent in their positions the latter part of the race. But Murphy and Lauren Saylor CA were both in strong contention until the end. Murphy, the second freshman across the line in ninth, simply could not quite stay in the top eight. Saylor's problems were of more concern, as her body ran out of gas and she shambled across the line in 23rd. The 2004 nationals qualifier said she has overcome iron problems over the past year, but is not sure what has caused her to crash and burn in the final 400 or so the past two weeks.
Meanwhile, O'Reilly added another gem to what she called "a dream season," one which has not included the injuries and other blemishes of previous years. She scorched through the season, including the course-record win at the Border Clash Nov. 19. Now she's finally gotten her first Foot Locker nationals bid.
"I felt great the whole race," she said. "I ran as relaxed as I could and still made it. I wanted to make sure and qualify."
The meet's other first-time qualifiers, Hardt, Adamyk, and Reed, were equally thrilled with the results. Hardt trained through the Border Wars meet between top AZ and New Mexico runners two weeks ago to make sure she was peaked for this. "I'm pretty excited. I've been training for this all year," she said.
Adamyk was concerned about how she'd do because of recent inconsistency, but came up with a peak performance today and is thrilled with her race and the race ahead. Her plan for today was to go out with the lead pack and to start pushing with a mile left since she doesn't feel strongly about her short kick. At the two-mile, she was 11th place, moved up to ninth at Reservoir Hill, then kept plugging away to stay in the top eight.
A beaming Kosinski was equally pleased, having succeeded after taking a low pressure approach to the race. She was one of the few Cali elites who hadn't raced Mt. SAC in October, but got herself into ninth by the time she hit the track for the final 300 meters. She had to move and she did.
Joining Lawrence in a repeat trip to San Diego are Tarver and Reed. Tarver said she's even more excited about going this year because "I know what it's like. The whole season was leading up to today." Last year's nationals for Reed were almost an afterthought after NTN and she was only 36th in San Diego. She felt so much more accomplished for what she did this year than last qualifying through the regional meet, loving the build up, the excitement and the passion of the other girls out there. At the two-mile mark she was in 8th place and knew what she had to do.
Boys Details
Given his average (for him) performances in recent weeks, as well as his loss at Mt. SAC in October, AJ Acosta may have seemed like an unlikely winner Saturday. Well, maybe AJ was being rewarded for everything he did for his new "teammates."
The Cali. D1 state champ was not only a key part of the mutual Golden State rallying committee, but once the eight-man group of qualifiers for next week's finals began to take shape, he even helped some out-of-staters. After all, they would represent the West Region with him next week in San Diego.
For example, consider the words of eighth-place finisher Jeff Helmer, the talented Washington senior who overcame health issues to qualify. "AJ is a great guy," he said sincerely. "At one point he pulled back and was talking with me and encouraging me," he said. "And Diego and Danny Mercado, they're such humble guys. It's nice to come down here and meet runners like that."
Of course, AJ wasn't just being a great guy, he was building a team to "win" at Foot Locker nationals next week. "We're going to go down there and challenge those Illinois guys in everything – the race, video games, everything," he said with a laugh.
Acosta admitted he hasn't really been himself in recent weeks, dealing with chronic diaphragm pain that slowed him last week to a relatively narrow win and prevented him from making any hard mid- or late-race move today, even if he wanted to. He hopes he can resolve it next week because, after all, Balboa Park is practically his home course. "I figure I've run the course more than anyone," he said. "It will be about my eighth time on there."
AJ won the all-in-fun kicking battle that broke out in the last 150 meters, but Sitler was still all smiles afterward. He had off days both at FL West last year and his state D3 race last week (he lost to Coe by 25 seconds). "I was so happy to be up there. I was 53rd last year here, so it was really cool," he said. "On the track, Diego or someone said 'Ben, you're going to win the race," but then all of the sudden AJ came up and we raced it in."
It was a great day for Diego Mercado, too; in fact, he said, the happiest of his life. A disaster last week at D1 state began with hamstring tightness, continued with a fall and getting kicked in the head, and ended with getting slammed by another runner that took both of them out. "I felt so bad that I ruined that guy's race," he said.
Thankfully, the hamstring pain didn't linger and there were no other long-term effects from the incident, leading to a normal week of training and an effective race Saturday. Once he realized that he was running with the top eight guys, he just relaxed and ran with them. "Meet your team, stay with your team!" he said after cruising in seventh.
Danny Mercado was so pained by his brother's fall last week that he wanted to stop. He was a distant sixth, but the old Danny was back in force Saturday, joining Diego for nationals after missing last year while his bro went. He confirmed that once they realized that the group they had in the race were the top eight guys, they started to talk to each other and "chilled" a bit. In fact, during the final 150 meters he turned around to encourage the other runners to catch up.
Helmer wasn't the only runner who had to hang on to the pack to get his ticket. Tebo, after his devastating performance at the Border Wars, struggled today. "I was totally dead from the start," he said, shaking his head. "I think it was the hardest race I've ever run in. I really don't know what happened."
Of course, even with that, he still managed to kick in a bit for third, ahead of Coe, and he was very happy to qualify as a junior (the only one).
Coe was surprised about the fast pace of the race, which did the most to separate the contenders from pretenders, but he felt strong. Fourth place was where he wanted to finish, he said. Once he knew that the top eight were in a group, he wasn't too concerned to race too much harder.
"When I hit the track and AJ and Ben started to pull away, I thought for an instant that I wanted to go with them, but decided to hold back," he said. "Next week it's all about the kick, though. I want to make sure I'm in contention and ready to lay in on the line that last 400."
Stoutenburgh, who took fifth and will represent Oregon with NTN winner Kenny Klotz, had gone into a late-season tailspin last year at state and Foot Locker, and mediocre results at state (21 seconds behind Klotz in second) and Border Clash (third behind Klotz and Jerhoemee Murray) were cause for concern. But he had the goods Saturday.
"I just had to stay focused and work harder," he said of his training the last two weeks. "It's awesome to make it."
There may not have been anyone among the 16 qualifiers who wouldn't echo that last sentence.
(more photos to come)

Below, AJ Acosta, Danny Mercado, Diego Mercado, Michael Coe, and Marcos Corona lead the pack in the first mile. Photo by Bill Leung.