steveu's Foot Locker - rankings and analysis of the regional contenders

DyeStat on-site with Steve Underwood


Keara Sammons & Mohamud Ige of Colorado win, but It was an Illini kind of day.
Stephen (SteveU) Underwood reports -- After the Midwest's best runners tried to earn a ticket to San Diego on a sunny, but un-California-like snowy Saturday morning, one had several choices in how to summarize the proceedings. It was a Colorado day, with Mohamud Ige (14:58 for the boys) and Keara Sammons (17:26 for the girls) showing that you can predict this year's winners based on last year's top returnees. It was a Minnesota day, with girls from that state taking three of the top nine spots. But above all, it was an Illinois kind of day, with an intensely focused group of boys from different schools in that state working together to get four in the top ten for clearly the best performance of the day.

Qualifiers for national finals Dec. 10 in San Diego

BOYS
GIRLS
1. Mohamud Ige CO 14:58
2. Landon Peacock MI 15:01
3. Brock Hagerman IN 15:05
4. Ryan Craven IL 15:06
5. Jeremy Stevens IL 15:08
6. Dan Roberts CO 15:09
7. Steve Finley IL 15:10
8. Noah Shannon CO 15:12
9. Evan Jager IL 15:16
10. De'Sean Turner IN 15:18
1. Keara Sammons CO 17:26
2. Betsy Bies SD 17:29
3. Hannah Grinnaker MN 17:30
4. Bria Wetsch MN 17:33
5. Briget Franek OH 17:37
6. Alison Eckert SD 17:42
7. Lindsay Anderson ND 17:44
8. Alexandra Banfich IN 17:47
9. Elizabeth Yetzer MN 17:51
10. Meredith Snow MO 17:52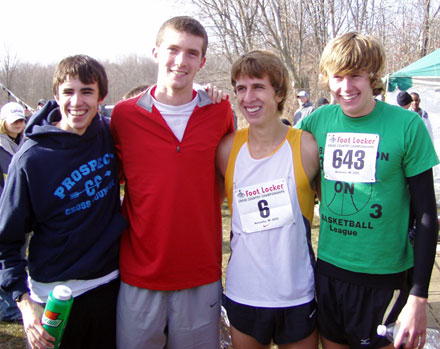 Illinois' fab four.-- Ryan Craven (4th), Stephen Finley (7th), Jeremy Stevens (5th) and Evan Jager (9th).
They're going to San Diego.
Girls - Betsy Bies SD took control of the race at the top of the hill of the snow-covered course, then passed the mile at 5:36 with a 3-second lead. She held it until the last 600 when Keara Sammons CO streamed past her for a 17:26-17:29 win. Although top returnee Elizabeth Yetzer MN had to squeak in ninth, Minnesota led the states with three qualifiers, including a stunner from Hanna Grinaker in third, and an expected strong race from Bria Wetsch in fourth. The Dakotas also got three with Bies, SD's Alison Eckert, and ND's Lindsay Anderson.
Boys - MI's Mid-East champ Landon Peacock gave Mohamud Ige CO all he wanted, but the Coloradoan kicked in for the win to confirm his status as top returnee, 14:58-15:01. Peacock joined Ige at the mile (4:42) and battled back and forth with him the whole race, neither able to break the other ... until the end. Otherwise, it was an Illinois show, with AA runner-up Ryan Craven leading the way in fourth, followed by 'A' champ Jeremy Stevens in fifth, AA champ Steven Finley in seventh, and Evan Jager in ninth.
Keara Sammons


Mohamud Ige

Last year - Rocky Mountain High from four Colorado qualifiers, but Ramsey Kavan (below, left)

and Allison Eckert Earn Props for South Dakota. Battling Buckeyes Jeff See and Levi Fox (

below, right)

lead boys qualifiers.
Top Returnees
Underclassmen in regional top 50 last year.
BOYS
GIRLS
Place Name Grade City St Time
3 973 Mohamad Ige 11 Denver, CO 15:33
7 4 Daniel Roberts 11 Vicksburg, MI 15:42
11 487 Rob Finnerty 9 Burnsville, MN 15:51
15 525 Noah Shannon 11 Fort Collins, CO 16:02
17 62 Matt Conahan 10 Omaha, NE 16:04
20 526 Jeremy Stevens 11 Winnebago, IL 16:06
21 460 Tucker Weems 11 Lake Quivira, KS 16:06
26 88 Ben Engelhardt 11 Westerville, OH 16:08
28 749 Michael Torchia 11 Rochester, MN 16:11
32 85 Josh Ehrhard 11 Lee's Summit, MO 16:15
36 194 Bobby Moldovan 10 Fort Wayne, IN 16:18
39 886 Kevin Havel 9 Arlington Heights, IL 16:19
40 664 Ryan Craven 11 Mount Prospect, IL 16:19
44 685 Elliott Heath 10 Winona, MN 16:25
49 224 Michael Quick 11 Bloomfield Hills, MI 16:27
50 36 Ben Brammeier 11 Ballwin, MO 16:27
Place Name Grade City St Time
6 232 Keara Sammons 11 Centennial, CO 18:16
7 84 Allison Eckert 10 Sioux Falls, SD 18:17
8 296 Elizabeth Yetzer 11 Lakeville, MN 18:18
9 8 Rebekah Smeltzer 10 Monroe, MI 18:21
10 280 Molly Waterhouse 9 Vicksburg, MI 18:24
11 204 Molly Palmer 10 Colorado Springs, CO 18:25
12 249 Merideth Snow 11 Wildwood, MO 18:32
13 85 Krista Eckert 10 Sioux Falls, SD 18:33
14 100 Bridget Franek 11 Hiram, OH 18:35
15 380 Betsy Bies 10 Yankton, SD 18:38
16 348 Amy Laskowske 11 Palatine, IL 18:45
17 105 Melanie Funke 9 Minot, ND 18:47
19 367 Jillian Tholen 11 Tracy, MN 18:48
20 421 Rachel Severin 11 Chelsea, MI 18:52
22 359 Cassandra Schenck 10 Mantua, OH 18:53
23 555 Bria Wetsch 11 Chaska, MN 18:57
25 290 Rachel Wittum 10 Rockford, MI 19:03
26 262 Elizabeth Tacl 11 Saint Cloud, MN 19:04
29 404 Erin LaFave 9 Troy, MI 19:06
30 319 Alexandra Banfich 9 Plymouth, IN 19:08
32 484 Amber Stack 9 Wheeling, IL 19:09
36 157 Emily Langenberg 10 Lansing, MI 19:15
38 197 Kristina Olsen 11 Jackson, MI 19:17
39 20 Mary Ballinger 11 Chesterton, IN 19:18
40 48 Lori Burgess 11 Byron Center, MI 19:18
41 315 Christy Severy 11 Aspen, CO 19:18
42 7 Angela Bizzarri 11 Cincinnati, OH 19:19
44 324 Amber Brunmeier 10 Holland, MI 19:20
45 575 Nancy Nieto 10 South Elgin, IL 19:21
47 117 Jessie Gulsvig 10 Colorado Springs, CO 19:21
48 344 Megan Jackson 11 Middlebury, IN 19:23