DyeStat on-site with Don Rich.

steveu's Foot Locker - rankings and analysis of the regional contenders - with Craig Miller out, Brian Rhodes-Devey moves into favorite's spot in boys race. Defending national champion Aislinn Ryan is runaway favorite to win girls regional.


Nicole Blood beats Aislinn Ryan - 4 Saratoga girls qualify again - Taye brothers 1-2

Don Rich reports
Boys - The Tayes have it. Saratoga Springs qualifies a boy. PA sends two.
Girls - Saratoga Springs High School pulls a double quad. In a long-awaited rematch, Nicole draws first blood and earns an unmatched triple.

Qualifiers for national finals Dec. 10 in San Diego

BOYS
GIRLS
1. Ayalew Taye MA 15:21
2. Sintayehu Taye MA 15:29
3. Noel Bateman NY 15:32
4. Greg Kelsey NY 15:34
5. Tradelle Ward CT 15:35
6. Brian Rhodes-Devey NY 15:36
7. Jeff Perrella NJ 15:37
8. Jay Koloseus CT 15:38
9. Keith Capecci PA 15:38
10. Josh Hibbs PA 15:44
1. Nicole Blood NY 17:42
2. Aislinn Ryan NY 17:50
3. Caitlin Lane NY 17:52
4. Lindsey Ferguson NY 17:55
5. Danielle Tauro NJ 17:55
6. Liz Costello PA 18:00
7. Briana Jackucewicz NJ 18:01
8. Liz Deir NY 18:01
9. Hannah Davidson NY 18:08
10. Shelby Greany NY 18:09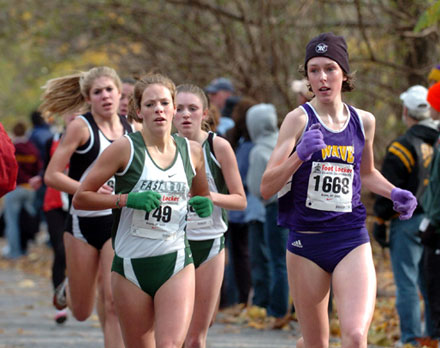 At 2k mark, defending national champion Aislinn Ryan (1663) and defending regional champion Nicole Blood (149) were side by side. They duelled in the woods and hills before Blood pulled away. To be continued in San Diego. photo by Don Rich
Girls - Defending regional champion Nicole Blood NY dominated defending national champion Aislinn Ryan NY. After one mile, Blood and Ryan led a pack of 20 girls within 9 seconds. Blood opened a gap in the hills, however, and finished looking comfortable and full of run, while Ryan appeared to labor down the stretch. Saratoga NY qualified four girls for nationals for the second straight year -- Blood and Caitlin Lane, who trained on their own, and Lindsey Ferguson and Hannah Davidson, who stayed with the US#1 team.
Boys - The Taye brothers - Sintayehu and Ayalew - who moved from Maine to a private school in Massachusetts this year, finished 1-2.
Nicole Blood


photos by MyersPhoto

Ayalew Taye


Sintayehu Taye

PA Preview - Even minus the sidelined Craig Miller, PA is sending strong group to Northeast -- several should qualify., says Don Rich
NJ Preview - Ed Grant tabs six New Jersey runners with high hopes for a trip to San Diego.
Craig Miller sidelined – Pennsylvania's best chance in years for a first-ever Foot Locker National Champion will not be racing in the Northeast Regional after suffering a collapsed lung during a workout on Saturday, November 12th at Van Cortlandt Park in New York City. More from Don Rich
Top Returnees
Underclassmen in regional top 50 last year.
BOYS
GIRLS
Place Name Grade City St Time
4 Sheridan, Ryan 10 Melville NY 15:37.8
8 Miller, Craig 11 Lancaster PA 15:43.0
9 Ward, Tradelle 11 Griswold CT 15:47.9
10 Taye, Ayalew 11 PORTLAND ME 15:54.6
16 Bateman, Noel 11 ROCHESTER NY 16:02.1
20 Hall, Alex 11 MANCHESTER NH 16:03.5
22 Walker, Jake 11 Ellwood City PA 16:05.1
24 Taye, Sintayehu 9 PORTLAND ME 16:09.8
26 Murdock, Stephen 10 SARATOGA SPRINGS NY 16:13.1
27 Koloseus, Jay 11 GUILFORD CT 16:14.5
29 Busby, Dan 11 New Paltz NY 16:15.4
35 Edmonds, Joshua 11 Cooperstown NY 16:17.4
38 Croff, Christopher 11 LISBON CT 16:20.6
39 Duplinsky, Steven 11 Kensington MD 16:21.1
41 Webb, Thomas 11 Barington RI 16:25.4
42 Kelsey, Greg 11 SARATOGA SPRINGS NY 16:26.0
47 Massam, Benjamin 11 Chatham NJ 16:27.6
Place Name Grade City St Time
1 Blood, Nicole 11 GANSEVOORT NY 17:41.8
2 Ryan, Aislinn 11 Bellvale NY 17:46.8
3 Davidson, Hannah 9 SARATOGA SPRINGS NY 17:52.1
5 Ferguson, Lindsey 11 GREENFIELD CTR NY 18:16.2
6 Lane, Caitlin 9 GANSEVOORT NY 18:18.3
10 Sedberry, Brittany 11 Beesleys Point NJ 18:33.0
11 Clausen, Jennifer 11 JACKSON NJ 18:34.9
13 Tauro, Danielle 10 MANAHAWKIN NJ 18:47.4
14 Spence, Neely 9 Shippensburg PA 18:47.6
15 Hintz, Cassie 11 STILLWATER ME 18:47.8
16 Sorrell, Kelly 10 LEBANON CT 18:48.6
21 Junod, Nicki 11 Cicero NY 19:01.2
22 Van Alstine, Amy 11 Midland Park NJ 19:02.2
23 Smith, Alison 10 Columbia MD 19:03.3
24 Heigis, Lara 10 WALPACK NJ 19:04.4
26 Childs, Lauren 10 COCKEYSVILLE MD 19:06.6
29 Marino, Amanda 10 JACKSON NJ 19:10.3
30 Lagasse, Erin 11 Cranston RI 19:11.1
32 Stedman, Samantha 10 SAUQUOIT NY 19:16.8
33 Woodruff, Alycia 10 WEST CHESTER PA 19:17.2
34 Perron, Emma 10 WEST HARTFORD CT 19:17.3
35 Pierret, Lindsey 11 Morristwon NJ 19:18.6
37 Sawyer, Allison 10 Hilton NY 19:21.0
38 Repsher, Patricia 11 WESTMINSTER MD 19:22.8
39 Sheffey, Brittany 10 BAYSHORE NY 19:23.5
40 Brousell, Anna 11 WILMINGTON DE 19:24.0
41 Roberts, Erin 11 FOGELSVILLE PA 19:26.4
42 Barton, Jessica 10 Newton MA 19:27.4
46 Deir, Elisabeth 10 Lima NY 19:30.4
48 Kempton, Molly 9 Island Heights NJ 19:31.6
49 Vahanian, Cameran 11 GANSEVOORT NY 19:32.4
50 Smith, Amanda 12 Green Brook NJ 19:34.5