Mary Saxer raises pole vault
national record two more times!
Lancaster NY sr Mary Saxer, the only female high school vaulter ever to clear 14 feet, did it two more times at Nike Indoor Nationals, ending at 14-2 USR. Saxer was determined to prove that her Dartmouth jump in January was no fluke, having followed that with several wins at more earthly levels. "I knew I could do it, but I wanted to prove it," Saxer said after thrilling a capacity crowd with her high wire act. "I think I can go higher, but for now I am very happy." Her coach, Rick Suhr, thinks Saxer has the ability to go high 14, maybe even 15 feet before she graduates. "It all depends on getting good weather and good runways," Suhr said. And these things are not in great supply in the Buffalo area in the spring.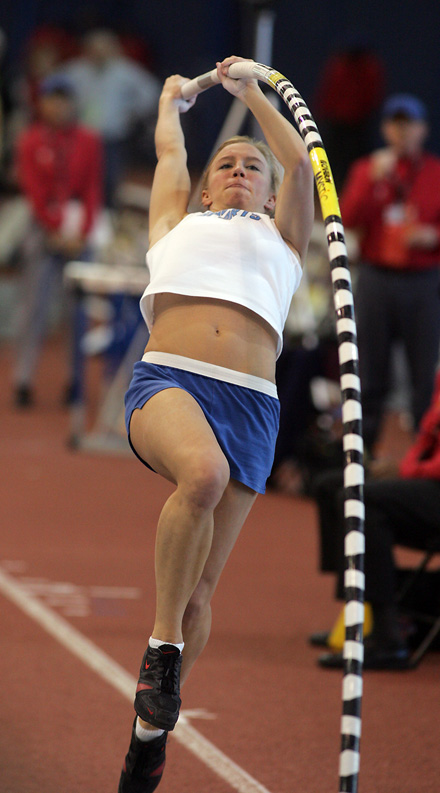 B 4x400 - Da Stable (C.H. Flowers MD) 3:22.95, just catching Camden NJ at the tape in a rousing finish to the meet.
G 4x400 - Rancho Cucamonga CA 3:53.78 pulled away to win easily on Sade Williams' 54.9 anchor leg,.
Ryan Whiting, the leading shot putter in the nation all year, pulled it out on his last throw. The last round started with Whiting third in a group of four boys under 62 feet. On the next to last throw of the competition, John Hickey NY appeared to win it with a throw of 62-8. But Whiting calmly stepped in the ring and heaved the ball 65-1 to win.
Kinetic RC (Saratoga NY) takes 4x800 9:20.34
Cinco Ranch Katy TX wins 4x200 in 1:29.76 as anchor Quieto Teasley catches West Charlotte 1:31.23 in the home stretch. Ridge View TC 1:30.38 and Deep Creek VA 1:30.92 won earlier sections to place ahead of West Charlotte.
Bethel VA 1:40.59 comes from behind to win 4x200 on a brilliant 23.4 anchor by Francena McCorory.
Scott Sellers Katy, TX takes the high jump 7-02.50
Dennis Boone Chester, VA wins the long jump 24-07.75
Foot Locker champion Kenneth Cormier of Douglas, AZ comes from far behind to win 2 mile in 9:11.33, catching Steve Murdock NY 9:11.40 in the very last stride.
Kate Niehaus Columbia, SC takes the Girls 2 Mile 10:31.87
J-Mee Samuels Winston-Salem, NC 21.22 wins 200
Bianca Knight Ridgeland, MS wins 200 24.05
Karjuan Williams, River Ridge, LA wins 800 in 1:52.79
Geena Gall Flint, MI 2:10.62 wins 800, holding off Sarah Bowman 90 minutes after Bowman's win in the mile.
Justin Oliver Stone Mountain, GA Boys 400 47.90
Sade Williams, Alta Loma, CA Girls 400 55.47
Trindon Holliday Zachary, LA wins 60 in 6.64
Sarah Matthew Longmont, CO wins girls 60 7.45
Erin Hannon Bradford, PA wins high jump 5-08.75
Andrew Bumbalough Brentwood, TN takes the Boys Mile 4:12.60
Sarah Bowman Warrenton, VA goes wire to wire to beat Nicole Blood to in Girls Mile in 4:46.79
Andrew Perkins Juneau, WI wins Freshman Mile 4:23.39
Lindsay Anderson Leeds, ND wins Freshman Mile, 5:03.08
Westfield Spring TX soph Nichole Jones 2:11.96 put up a fast time in the "slow" morning section of 800 meters. She chose the early section so she could run the seeded 2-mile in the afternoon.
photo by Vic Sailer / PhotoRun