Meet calendar updates -- We have updated our meet calendar for 2005 indoor and outdoor seasons. ATTN meet directors: If we missed your meet, send email to John Dye.
THE NIKE LIST
US leaders
2005 indoor
ShopDyeStat


unique items
for the HS athlete
--Parents Guide

--Training G
uide
--Training Profiles
--Pace Calculator
--the Harrier
--HS Track 2004
Marines capture the New York Armory
DONNA ON THE SIDE at the Marine Corps Holiday Classic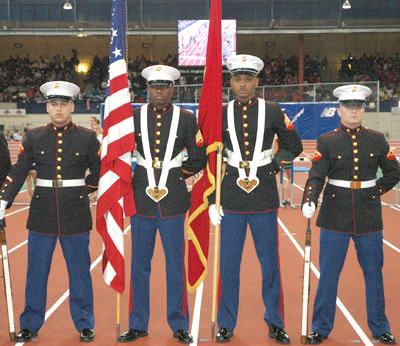 Marine Corps Holiday Classic photo album - Relay action was fast and furious at the New York Armory Tuesday (12/28). Here, the Woodrow Wilson Camden NJ girls win the 4x200.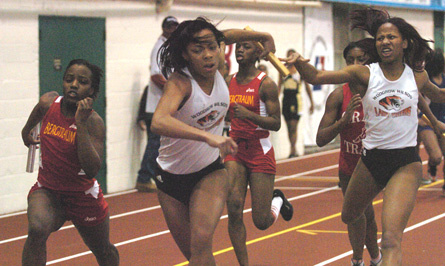 below, Simon Gratz Philadelphia PA boys enjoyed the video limelight after winning the 4x200 so much that they came back twice more with wins in the SMR and 4x400. They now lead the US in all three events. See John Dye's Photo Album for more pix.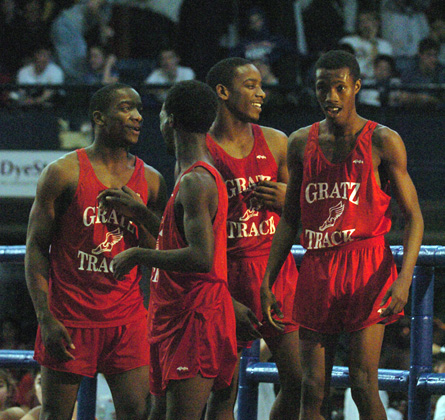 photos by John Dye
THIS WEEK
News items posted to DyeStat in the week ending Dec. 31
Listed by states alphabetically
CT New Haven Invitational - Willingboro NJ boys, North Rockland NY girls win team titles. Barrington RI sr Bradley Holtz 15-9 PV. Hamden CT sr Tristan Medley 45-0.5 TJ.
MD FIT Relays - Doubles by Kharya Brown and Larrone Moore.
ME U. Southern Maine Invitational - Thurs - Gorham ME
NJ Seton Hall Invitational - Tues-Wed - Seton Hall U.
NY MAC Holiday Classic - Sun - NY Armory
NY 28th Pearl River Holiday Festival - Rockland CC.
NY Marine Corps Holiday Classic - Fifth running of this New York Armory meet Tuesday (12/28) has been renamed for its new sponsor, the US Marine Corps.
NY PSAL Holiday Games - Thurs - NY Armory
PA Christmas City Relays - Juan Cave 6-10 HJ
PA Robert J. Burdette Indoor Classic - Thur - Lehigh
PA Pennsylvania Week by Don Rich - Latavia Thomas 2:15.1 800m
RI Brown Invitational - Mon-Tue - Brown U., Providence - With and without Nicole Blood, Saratoga Springs runs list-leading races
Simon Gratz PA boys sweep three sprint relays in US#1 time. Kevin Tschirhart and Aislinn Ryan lead DMR wins.
BOYS

GIRLS

4x200

Simon Gratz PA, the national leader this season, improved to 1:28.25, #13 on the all time list and a PA state record.

Woodrow Wilson Camden NJ

1:43.79

Northport NY 10:19.35, with anchor Kevin Tschirhart (4:15) bursting from behind to break open a 3-way battle with Shenendehowa NY and Christian Brothers NJ.


Warwick Valley NY 12:11.82, with Aislinn Ryan anchoring in 5:00.1 in her first race since winning the Foot Locker cross country national championship.


St. Benedict's NJ sr Bryan Scotland 1:53.32 broke on top and stretched it out the entire way, posting the fastest time in the US this season.


Ward Melville NY sr Michelle Seibert 2:17.53, taking over on the second lap but never completely shaking Bishop Loughlin NY jr Janean Morris 2:18.10.


4x800 Northport NY 8:03.78
SMR Simon Gratz PA 3:38.36
4x400 Simon Gratz 3:20.14
4x800 Clinton NY 9:40.54
SMR Bellport NY 4:11.74
4x400 Bishop Loughlin NY 4:00.35
At Brown Inv, Saratoga Springs picks up where they left off - at the top.
Yikes! 2 national indoor records already and it isn't even January yet
Devon Williams 1:11.44 500m -

Towson Catholic MD soph, national indoor athlete of the year last year, broke her own national record (1:11. 53 at Virginia Tech 1/30/04) at the MAC Holiday Festival in the New York Armory Sunday 12/26.

Mary Saxer 13-7 PV - Lancaster NY senior, the latest addition to Rick Suhr's Buffalo NY vaulting stable, broke her new national indoor record (13-5.25 at the International Youth Meet of Champions in Toronto 12/3) two more times Dec 26 at the USATF Holiday Classic at RIT, going 13-5.5 and then 13-7. This is the fourth straight year the US girls indoor has been broken. Saxer joined Suhrsports to train with Tiffany Maskulinski and Jenn O'Neil, who finished first and second at AOC Raleigh last June.



Rick Suhr and Mary Saxer
Sanctioning issues creating turmoil
in big invitational meets
National stars such as Towson MD Catholic's Devon Williams, the US prep indoor athlete of the year last year, and West Catholic PA's Nicole Leach and Latavia Thomas are being barred from running against New York athletes at the New York Armory, the mecca of indoor track in the US. Why? Because of more rigid enforcement of meet sanctioning rules by the New York State Public High School Athletic Association.
Find out why in A Race with No Winners, first of a series by Don Rich.

.
VISIT

TRACK-TECH.COM


for


USA Open T&F Camp, FL,
USA Open XC Camps, CO,
USATF Jr Elite Camps CA
T&F TRAINING software
USATF Development Videotapes


.

Tucson Elite
Throwing Camp
Jan 15-17 at Tucson AZ
Build a base for a successful season in shotput, discus, hammer and javelin. Staffed by current & former U. of Arizona athletes.
Web Site - email








DyeStat uses Hy-Tek
for meet results

The Harrier
by Marc Bloom