Part 9
- The Distance Gods are Back!
Wyoming's Alicia Craig, queen of the mile in 2000
physically and spiritually fit junior year ends with her Number 1 in the US
by Stephen (steveu) Underwood
Just a little over a year ago, the national-level running future of 2000's fastest and most decorated female miler seemed to be a long-distance challenge at best.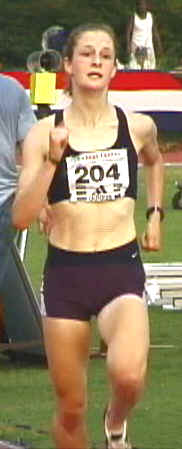 After a fine freshman year where she had helped lead her Campbell County (Gillette, Wyo.) cross country team to a No. 1 ranking nationally - and ran 1600 and 3200 meter times of 5:09 and 11:11 in track - Alicia Craig's running career had gone backwards.
Though she had another good CC season, her track times as a sophomore had slipped several seconds (5:13/11:29). Injuries were in part to blame, but a decision to give up basketball to concentrate on running - the fine all-around athlete was widely considered her school's point guard of the future - was not entirely well-received. Alicia Craig had a lot more on her mind than running in spring of '99.
But something made veteran Campbell coach Orville Hess optimistic going into last fall. "Someone who had seen her during the summer had said, 'Alicia's so thin.' I wasn't going to see her until cross-country practice started and I thought either she's anorexic or she's really fit."
"She was fit."
Indeed, it was the latter. Physically and spiritually healthy, Craig had returned from a literally refreshing summer ready to move forward. Ten months of training and racing later, she accomplished something that none of the other great prep long distance runners of 2000 could lay claim to.
The junior was the only miler or two-miler to win titles at both the Golden West Invitational and the Foot Locker National Outdoor Championships. First came a 4:50.46 triumph in California, as she finished fastest and strongest off a slow pace. Eight days later, her winning burst gave her the gold in Raleigh with a nation-leading 4:46.57 (which came after a runner-up 10:22.34 in the 2-mile the night before).
All this after nearly as stellar a cross-country season, which saw Craig claim the Foot Locker West regional title at Mt. SAC in 18:07, then take third at Nationals in Orlando with a 17:19.
It won't get any easier this fall, not with the West having the lion's share of the nation's best girls. But Craig can be regarded as no less than a co-favorite for regional and national honors, despite the challenges from the likes of Anita Siraki, Sara Bei, Alejandra Barrientos, Jenny Aldridge and Phebe Ko from her region alone.
But will the humble senior feel the pressure? Unlikely, with the balanced perspective she now carries. In fact, spiritual growth was a huge part of what got Alicia back on the fast track last summer - and carries her into what could be an incredible final year at the prep level.
A Program Well Established
"There were a number of things involved," says Hess about the difficulties of Craig's '99 outdoor season. "It was a difficult decision for her to leave basketball."
In fact, Craig ran track and CC mainly to stay in shape for basketball - at first. There was also some family influence in getting her started in running. Both of her sisters ran. "I wanted to tag along," she says.
But as she encountered success on the Camels' team, including starting to win state titles, things shifted. "The more I did it, the more I loved it."
The Campbell County program under Coach Hess was already well-known as a power before Craig came on the scene. It had started getting recognition earlier in the '90s with the success of runners like current Colorado University assistant coach Jason Drake and now-star triathlete Ryan Bolton.
The girls' squad, meanwhile, was most noted for its depth and performances at big regional and national-level invitationals, leading it to No. 1 and No. 3 U.S. rankings in 1997 and 1998. The first really elite runner had been Kelly Rice, now at the University of Montana.
The training program of Coach Hess - who has been teaching and coaching for over 20 years - emphasizes the individual, with workouts of varying distance and intensity being assigned to different runners or groups of runners. So with the exception of running with someone on the boys' team occasionally, Craig has mainly trained on her own.
"One thing about Coach, when I was struggling, he always stayed calm and supportive," says Craig. "With my training, it's very specific to me. He never gives me something I can't handle. My coach takes the philosophy that you can work hard now and still do well in college. He's open to listening to runners."
Citing an example of a 14-minute female 2-miler who improved to 11:20, she adds, "If you take the time to put in the work, he'll take the time for you."
Hess says one thing that takes his runners to the highest level are anaerobic threshold runs. Craig has done 6 miles at that level at 5:52 pace - at 4500 feet. Great gains are also made in what he calls the slow interval phase. The team will do up to 4 miles of volume in 800s or 400s.
Another key to success is enduring the Wyoming winters, which can be pretty harsh in this coal-mining town of 25,000 in the northeast part of the state. "They're horrible, but they build character," Craig says with a laugh. "It's always windy."
Overcoming The Challenges
Still, Hess didn't know what to expect when practice started last fall.
But living with a sister at higher altitude in Colorado that summer, and getting involved in a youth ministry in Colorado Springs, got Craig into physical and spiritual shape. "That had quite an impact on Alicia's life … and it really impacted her performances," says Hess. "She was making decisions on a spiritual level. I knew when I saw her to start cross-country that she was going to have a good season."
Despite her success in the fall, Hess felt his leader wasn't ever really given due credit, considering how the Foot Locker West win and third at nationals both came after late race falls by New Mexico's Felicia Gulliford. And Alicia was not exactly overconfident about her potential this past spring. After all, she still did not have a mile race under 5:09 to her credit.
But Craig took care of that with an early 4:58 indoors. When her coach wrote down goal splits for her at the Simplot Games to hit a 4:52, however, it was too much for her to take in. "I was like, 'What? I can't run that,'" she remembers. "I had to prove it to myself."
Just 4:51.65 later, Craig had her first major 1600 win of the year. That was followed by a second in the mile at Nike Indoor in 4:53.75, and she was well on her way.
An "amazing" June at Raleigh
Still, Craig was probably not prepared for the level of success she enjoyed in June.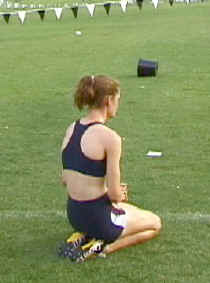 "It was an amazing feeling," she says of her Foot Locker victory. "It was not just winning, but all the emotions I was feeling. I just wanted to praise God, and thank God that he got me there. I just dug down deep at the end." The first thing she did after the race was find a solitary spot in the infield to give that thank you to God (left).
Craig credits her strong base with enabling her to bounce back after Friday's 2-mile in Raleigh. "I didn't know how I was feeling until after the first couple of laps, but I felt good so I went with it."
When she talked with the media afterwards (and now), it's clear that the spiritual foundation of her life is what got her to new heights.
"The way I see it, God blesses us all with talents that we're given to glorify Him," Craig explains. "We don't do it out of our own strength. And that's my main purpose in running."
She also gives a lot of credit to her family and a late teammate. "My family is amazing and I know I'll miss them in college," she says. "My two sisters are like my best friends; they're amazing role models and spiritual leaders. I feel very blessed and fortunate. And my teammate that passed away in February - something he taught me was that he took every experience and cherished it."
Hess has seen some qualities of character that will carry over into this year. "What has happened with her over the last 12 months has been phenomenal," he says. "She's had a lot of growth … and has pretty well developed a lot of leadership skills. She doesn't put pressure on herself, because she realizes it can all be taken away. She knows what she needs to do.
"It has filtered down into the girls' team. We'll see some good things out of them this fall."
Craig's goals for the future are illustrative of her perspective on life.
"I want to keeping competing on the national level … but I hate to set up times and goals," she says. "I want to keep running and improving … but have fun and love what I'm doing. My driving motivation isn't 'I've got to win.' I've got no control over the other runners. My goals are more centered on (what I have control over) myself.
"Sometimes runners get too focused, and when they don't do well, it's devastating," she adds. "I just want to enjoy the process and take every race for itself. As long as I enjoy the process, then it's worthwhile. I try and embrace every race like it's my last."
College-wise, Craig is considering exercise physiology as a possible course of study and has thought about attending a Christian college. Still, Division I powers like Stanford, Colorado, Georgetown and Villanova are on her list. "The final factor will be when I get to spend some time with the team," she says, "and see if it's a good team atmosphere."
NEXT: Next, a look at the young man most responsible for the attention paid to prep distance running all year, Alan Webb. Plus a wrap-up on the series and how this year's stars compare to the past in the final analysis.
The Distance Gods series by Stephen Underwood: