Part 5
- The Distance Gods are Back!
Ryan Hall: Overcoming the Odds from Big Bear Lake
By Stephen ("steveu") Underwood
To visit California's new 3200 meter champion, you must go far outside the populated areas of Los Angeles, taking Interstate 10 out of the city. You get to Exit 30 and then from that point, according to Mickey Hall, "go from zero to 6800 feet in the next 49 miles."
There, up in the San Bernardino Mountains community of Big Bear Lake, you might meet a modest, quiet, but determined young man hammering up the ski slopes, or gliding along the shores of the body of water for which the town is named.
Just don't go looking for him with the varsity track team. In this football-oriented community, despite a high school population of around 1000, the sport hasn't been granted that kind of status yet.
That doesn't stop Ryan Hall.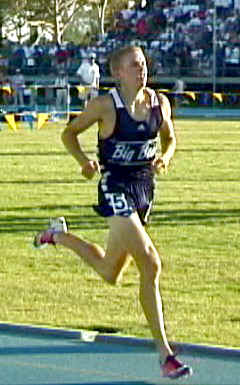 And because of him, track fans all over the country have heard of Big Bear and the junior phenom, who descended to the lower elevations for an awesome double-double at the Southern Section Divisionals and Finals (Masters). then the CIF State 8-lapper in 8:55.12.
The questions "Who is Ryan Hall?" and "Where is Big Bear?" had been skating across the message boards all spring. "When is your next jogathon?" was a popular local question.
But if they don't know the 5-10, 140-pounder gladiator after this weekend, when he competes in the FootLocker mile in Raleigh, N.C., it's time to write them off. Not that Hall is running for glory or recognition. It would just be nice he, his clubmates and his father/coach Mickey to get a little of the support that the school's other athletes do.
In fact, this Ryan legend started with a youngster who, as a 5-0, 90-pound middle-schooler, just wasn't seeing the action he desired in football or basketball. Growing up in an active family, it was hard to sit on the bench. You wanted to participate.
With his father and sister - the former already a triathlon champion with coaching experience - providing role models and encouragement, the young Hall began to pick up the sport. Both father and son remember that first big run - around the lake.
"I remember one day we were in the car, looking out at the lake, and I said, 'I think I want to give running a try,'" Ryan remembers.
"He convinced me to let him try running around the lake," says Mickey with a laugh. "He made it all the way around (15 miles). He was pretty sore … but he understood at that point that he had some ability."
Ryan began training through the fall of his 9th-grade year, then competed for the first time the next spring as his father, a teacher at the school, took several Big Bear athletes to a meet. "We had developed a club with about 8 kids," recalls Mickey. "Ryan ran 4:35 in his first race."
By the time the young Hall was a sophomore, he was competing with the big boys. He was fourth in the Division IV state CC meet, then in track he was shooting for a 4:15 in the 1600. His best was 4:22, though, and he didn't qualify for the Masters meet. But the mild disappointment lit a fire under him that found its fuel in a camp he attended last summer - The Jim Ryun Running Camp in Lawrence, Kansas.
"It was really great," says Ryan. "It mixed the spiritual aspect with running."
"They gave a lot of good advice … and it was a Christian camp," says Mickey. "That was where he saw that it would be more than just running that he was doing."
It's certainly not workable in all families, but with the Halls, the father-son coaching relationship seems to be well-balanced and paying big dividends.
"He's never pressured me," says Ryan. "I think it's easier to work with a supportive, loving Dad. He motivates me … and doesn't push me too hard."
"He is incredibly disciplined," says Mickey, also noting that his son has been almost completely injury free over three years of hard training. "He's always ready to do more. My job has been to not overtrain him. We've taken two years to build a decent base; we take a long-range view of things."
The Halls have also been advised by Irv Ray, who works with Cal Baptist and has organized some international early-summer competitions that Ryan will participate in to close his season.
The Ryun camp and coaching has paid off. In cross-country last fall, he not only won Division IV, but his 15:24 was seven seconds clear of second place and just three ticks off the best time in any class. Still, not many around the country really knew Ryan Hall, and his profile remained modest when he and his father decided that continuing on to FootLocker regionals and possibly beyond would be overextending a season of already a dozen meets.
So when Ryan, with just a single indoor race under his belt, showed up at Nike Indoor in Indiana and ran a 9:03 for third, it definitely raised some eyebrows.
The inquiries about this young man began hitting the message boards, chat rooms and anywhere else people talk about prep distance running. But it was in May that he really started letting people know that he was going to be a prime-time player for the ages, with six incredible performances in about 21 days.
First, he moved into second on the national 1600 list with a 4:05.78 at the Southern Section prelims the second weekend of May. The following weekend in the Division Four Sectionals at Cerritos, he nearly missed his 4-lapper after a journey that took an hour longer than normal, but began his double with a 4:09.71. But then he really impressed with a 9:04.41 3200 that he closed with a 4:22.
A week later Hall returned to Cerritos for the Masters and improved his 1600 to a scintillating 4:05.01, then doubled back again with a 9:02.57.
Ryan's anonymity was fading fast; he was making plenty of noise with his performances, without needing any other promotion. He decided to do just the 3200, with stories flying around that he was going to try and run 8:40, and that he and Ventura rival Josh Spiker were going to try and alternate laps in the lead to that end.
But the two decided against the strategy, and Hall was basically alone to try and hit the splits best he could. His fourth straight week down from altitude and in less-than-ideal conditions, he settled for the personal best 8:55.12, which will surely stand as the best in the state for the year.
Hall bypassed Golden West, choosing to recharge for an extended season that will go beyond FootLocker. Meanwhile, Spiker followed Illinois' Don Sage across the line in Sacramento with a big PR of 4:06 for the full mile, basically equaling Hall's 1600 best and setting up what should be a good four laps in Raleigh with several others.
In fact, it's a tribute to both Hall and Spiker that they've quickly developed something of a friendship. Spiker, injured before the state meet last fall after a near-record 14:42 at Mt. SAC, could've been bitter his about his fate and the junior who streamed into the limelight ahead of him. But the senior has nothing but good things to say about him in the media and dyestat.rivals.com message boards.
And Big Bear is finally beginning to notice Hall and what he's done. Local newspaper writer Ryan Smith has featured him in several stories. The community, through fund-raising efforts that included a car wash, rummage sale and various raffle items and donations, has enabled Mickey and Susie Hall, Ryan's parents, to go with him to Raleigh. And this past Monday night, Ryan was to be recognized at the local city council meeting.
Whatever happens in the meets ahead, it's already been a great season, with great strides made at every turn. "I've been real excited about this year," Hall says. "My goal was to run 4:05 and glorify God in doing it."
And if Big Bear and the rest of the world would like to get to know him better, it won't be too hard.
He's still got his senior year ahead of him.
---
In the days leading up to the Foot Locker outdoor championships in Raleigh, N.C. on June 16-17, we are taking a look at some of the athletes and teams who have made the biggest splashes this year - for both boys and girls, in the mile/1600 and 2-mile/3200.
Next: We head back east to check out a pair of leading contenders to win the NSO girls mile, Shalane Flanagan and defending champion Erin Donohue.
The Distance Gods series by Stephen Underwood: