Part 7
- The Distance Gods are Back!
Pre-Bound: Don Sage, the Dukes of York and the Great Tim Keller Rivalry
By Stephen ("steveu") Underwood
There have been a lot of great stories in the Land of Lincoln this year.
They include the last hurrahs (one real, one reneged) of an old coach, one of the nation's best; the emergence of one of the nation's top distance runners, and probably the finest in the state since Craig Virgin; and the flowering of the greatest rival a recent champion has had -- and one who would be a state titleist in almost any other state, any other year.
It's the story of the Dukes of York and Coach Joe Newton, judged by many to be the greatest coach in prep history -- depending how you feel about his unique training methods and personality. And the greatest groups of runners he's ever had, and at least one of the two best distance teams in the country this year.
It's the story of Don Sage, who has exploded into his own to record two of the six sub-8:50 3200s this year (or equal times at 2M or 3000m), run well at other distances, lead York to a state title and create one of the most anticipated prep championship matches ever.
And it's the story of West Chicago's Tim Keller, whose superlatives could include the fastest guy this year not to win a state title, but better yet, the man with the most sub-9s (at 3200 or equivalent) of anyone.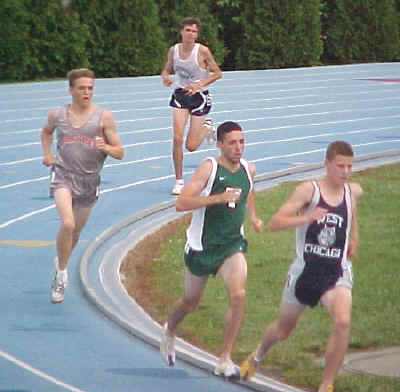 Don Sage stalks Tim Keller in Illinois State Meet
The story would have had its final chapter last weekend in Raleigh, N.C., at the Foot Locker National Outdoor Championships. Sage was a disappointing 8th in the 2-mile there Friday (9:05.99), but came back the next morning with a rousing 4 x Mile relay leg (4:08.36) that almost overcame a 5-second deficit to Rockford (Mi.) HS and its fellow megastar, Dathan Ritzenhein. Keller was fourth in the 2-mile and continued his remarkable consistency at 9:00 or better.
But Sage has a chance to put a final capper on this season with an incredible opportunity this weekend. After previous invitee Alan Webb ended his season before Foot Locker, Prefontaine Classic meet director Tom Jordan called the Duke senior and asked him out to Eugene to run the Pre Mile.
Sage: Ready For The Final Chapter
Sage was definitely ready to recharge after his relay leg Saturday morning. "I'm going to see the podiatrist and get a nice massage," he said with a rueful laugh.
But then Sage will fully embrace his opportunity at Hayward Field. "It's what I've always dreamed of. It's so fantastic to have this opportunity. I want to make the most of it."
While Sage hasn't had the notoriety at the mile that Webb has, the fact is that his open race PR of 4:04.2 is just .87 off the Virginian's 4:03.33 (though the latter has that 3:59.9 1600 relay leg from Penn).
Indeed, that Golden West race for Sage was something else, a noble -- if not entirely preplanned -- attempt at the 4:00 barrier. With a rabbit (Eric Heinonen of Oregon, for a lap) offered by the meet director, Sage went out in 60.6, 2:00 and 3:01 before fading a bit in the final 440.
If I'd had someone else with me (the whole way), I'd have had a good chance," he says. "I felt good for three laps."
But in that 4 x Mile the other day, the York star went out in 57.70 and 1:59.36 in an attempt to draw up to Ritzenhein, certainly proving he can go out fast, if need be.
Sage is well aware of the dilemma he could face Saturday in Eugene. He would love a kicker's pace of around 60 seconds per lap, but if the pack is closely following a 3:50-type pace, it'll be decision time. "I'll have to debate whether it's better to maintain contact or go into oxygen debt," he says. "It's easier to go by in 3:00. Four minutes is a tremendous barrier. I'll be close if I run well."
By Wednesday, Sage had had plenty of rest and a few sharpening workouts. "I feel a lot better than I did last week," he said.
Sage has been well-known and picked to be one of the nation's best for a few years now. Last spring, he ran 4:09.64y and 9:02.78m, positioning himself as a prime national contender for his senior year in CC.
While he and his teammates won a glorious 20th state title for Coach Newton (see below), Sage's bright light was dimmed just a bit a few weeks later when he lost in what was thought to be a mild upset to Ritz and Matt Tegenkamp at the FL Midwest Regional. At FL CC Nationals, Ritz ran away in the last half mile, but Sage came in a very strong second in 14:33.
After modest beginnings in the spring, Sage again earned props as perhaps the nation's best runner with his monumental 8:45.3 and 8:42.89 3200 clockings three weeks apart. His Golden West win did nothing to dim that and a huge groundswell of momentum built towards Raleigh last weekend.
Yet what ensued there was another loss to Ritz and one to his relay team. But all this is not to say anything about what Sage does in the big races, but rather the grace with which he handles the inevitable ups and downs that almost every runner has.
After the 4 x Mile, Sage was exceedingly gracious to reporters and praised his rival from Michigan. "I know I couldn't be as good without Dathan," he said, adding with a laugh, "But I haven't bugged him about choosing Stanford yet!"
Indeed, the new NCAA track champs out in Palo Alto can count their lucky stars to get a young man not only of Sage's talent and work ethic, but also his character.
"He's the most humble runner I've ever coached," says Coach Newton.
Keller Pushes Sage And Self To New Heights
Before the battles with Ritzenhein, Sage had all he could handle last fall and this spring right in his own backyard, the west side of the Windy City. While Oregon's runners come close, there was no local rivalry to match Sage-Keller this year.
And Keller was, of course, a star in his own right. After an impressive cross-country season that was capped with a surprising 6th at nationals, the senior quickly confirmed this winter that he indeed belonged with the big boys. At Nike Indoor, he was second only to Ritz, running a big PR 9:00.35 for the full 2M distance.
While Keller surely wanted to improve his times and compete as well as possible, even he couldn't have imagined he would run 9:00 or better six more times this season. "It's amazing, absolutely," says Sage. "A few years ago, 8:59 was the fastest time of the year, and he's done it seven times."
But Keller's reputation as a game warrior was probably forged during two epic races with Sage at their county and state meets in Illinois. In both 3200s, with the lofty goal of trying to break the York titan, he set a devastating pace that took him into uncharted territories. With a 1600 PR of "just" 4:12, Keller ripped the first four laps of the races in 4:22 and 4:21 respectively.
At the end, after some slower laps, Sage wowed the crowd with fast last laps en route to the sub-8:50s he ran. Despite losing double-digit seconds in the final go-rounds, Keller still ran 8:56 in each race and won the admiration of the fans and his peers for his gutsy running.
While Keller has always been a pretty decent runner, some of his breakthroughs have been born of adversity. After running 9:39 and 4:38 as a sophomore, he had a pretty good junior CC year, but finished 33rd at state. That gave him cause to train more strongly in the winter, which led to PRs of 4:24 and 9:15. Yet the state track meet was a big disappointment, as he ran a 9:45.
So Keller set out to be consistent in his training last summer, which included a key week at Camp Paavo in Indiana. The dedication showed in the fall, when he won his region and moved all the way up to second in the section and state.
Keller gained confidence with a win in the Midwest Championship (not FL), then ran a solid 6th in the Midwest Foot Locker race. Ritz may have won the nationals two weeks later, but that meet was also a coming out party for the West Chicago star. Appearing in few of the top tens of pre-meet prognosticators, Keller stunned with his 14:50 in 6th.
"I felt really good," he recalls of that December day. "I stayed up there as long as I could. "It was one of the happiest points of my life."
Yet it is telling of the pride Keller takes in his own state that his runner-up finish there was "more gratifying."
That all leads up to the great showdowns this season that woke up the distance-running community. But why did Keller go out so fast?
"Well, especially in the state meet, I knew that if he controlled the race, he could outkick me any way," he says. "I knew I might have a big letdown, but the only way I figured I had a chance was to run fast and hope he tired at the end."
"It didn't work."
Still, the strategy not only earned Keller two more sub-9s, but quite a reaction from fans for both the fast early pace and the manner in which Sage was still able to explode on the final lap. "Quite a few people said it was the most amazing thing they ever saw," he says.
With lots of competition and a little more moderation, Keller's great campaign was wrapped up with an 8:56.3 3200 for 4th at Golden West, then his fine 4th-place 8:58.81 at Foot Locker.
Not surprisingly, Keller has plenty good to say about his rival from York. "He's probably the best distance runner to come out of Illinois in a long time, since Craig Virgin," he says. "He's one of the hardest workers I know ... and the most humble person I know. He's definitely helped me and he deserves all that he gets."
Likewise, Sage has words of praise for the future Wisconsin Badger. "Those races ... wouldn't have been as good if it wasn't for Tim," he says. "If I was in his position, I would have done the same thing. He's a great guy and I've enjoyed getting to know him in the big meets."
No. 20 and No. 1 For "The Old Coach"
This whole story really begins with a coach who, despite going into the year with 19 state cross-country championships and at the ripe age of 71, was still proving that you never stop learning.
Joe Newton has coached for over 40 years, but he says part of what made this year so successful is adapting to the changing times. "I listen more," he says. "When you're young, you think you know everything … but my word now is empowerment. I try and empower them."
This is York's best team ever, says Newton, as well as the best in state history. They have the stats to prove it. The all-time combined time (of top 5 runners at state) record was hacked by a minute by the Dukes, from 73:37 to 72:37. "We had all five under 15 minutes," he says. "And we scored just 24 points."
The track season was equally, if not more, satisfying. York had never won a title in the spring, but this year claimed their first championship, scoring 70 points to nearly double the second-place total. Sage also anchored a 4 x 800 relay team that set a national record of 7:34.1 in an earlier meet.
But, hey, this team was inspired. And it had a trio of guys at the top that led the way, on and off the track.
"We had three leaders who were just outstanding," says Newton, "Don Sage, Pete Cioni and J.J. Janulis. We just had some warriors. They have run together since grade school. They have a bond, I've tried to empower them and when they thought I was retiring, that was the last straw."
Indeed, a big part of what moved these guys was "the old coach's" announcement that he was going to step down at the end of the season. Such a ruckus was raised that Newton declared he wouldn't retire if his team won it's 20th state CC title. They did and he didn't.
But it was his last go round for track, and it's been Sage, Cioni and Janulis that have kept the engine running smooth.
Newton describes Sage as humble and quiet. "He leads by example, with his work ethic … and his fearlessness. Even when he was a freshman, I just knew he would be something special."
"And Pete," he continues, "I call him my Renaissance man. He's been one of my top runners all four years … but he's also the number one guy in the school orchestra, in the student council and these honor classes -- and he's just a brilliant student."
"And he talks a mile a minute and makes all the guys laugh ... But he's such a team guy."
As for J.J. Janulis, 400-800 runner, Newton calls him the "kindest guy on the team. He's compassionate. If some guy is down, he helps him out."
Newton's runners have plenty good to say about him, too. "He's helped me in a lot of ways," says Sage. "He helps me to have confidence in myself."
With a laugh, he adds, "If there's a time I don't feel like running, that's the day he brings out all the old workouts that Marius Bakken and Jim White used to run."
Seriously though, Newton is why Sage will say something like, "These (the Foot Locker, etc..) meets are fun to run ... but the state meet was what we were really peaking for. We wanted to win so bad this year for Mr. Newton. That was the ultimate."
That's the story ... and that's why the York Dukes, Coach Newton, Don Sage and his teammates, and Tim Keller -- they're all the 'ultimate', too.
---
In the days leading up to the Foot Locker outdoor championships in Raleigh, N.C. on June 16-17, we took a look at some of the athletes and teams who have made the biggest splashes this year - for both boys and girls, in the mile/1600 and 2-mile/3200 Though the national championships in Raleigh, N.C. have passed, we still have been working our way up to the best boys and girls in the country, in the mile/1600 and 2-mile/3200.
Next: We finally get close with Dathan Ritzenhein and Rockford.
The Distance Gods series by Stephen Underwood: