Part 8
- The Distance Gods are Back!
Ritz, Rockford
Reign Supreme,
in the Long Haul
Ritzenhein: It's What's Inside that Counts
Rockford Girls: The Juggernaut Team
by Stephen (steveu) Underwood
It only takes the observer about 24 hours' worth of races to know that when you watch Rockford's (Mich.) Dathan Ritzenhein take to the track (or CC course) for a big race, you are going to see three things - almost guaranteed.
One is that at some point, and usually more than once, you will see this 5'7"/110-pounder hurl himself into that brutal zone between full sustainable effort and unbearable oxygen debt -- and stay there -- in a manner that would cause almost any other runner to implode.
It's a move that happened multiple times at the Foot Locker Nationals in Raleigh the weekend before last, where Dathan crushed what most called the best 2-mile field in history with an 8:48.06, then anchored a pair of very fast relays to victory the next day.
Second, after such Herculean efforts, you'll almost always see Dathan go horizontal, at the finish line or anywhere nearby. If he doesn't collapse in exhaustion right away, it'll happen within a few minutes, unless attentive teammates are holding him up. In some cases, such as at the FL Nationals 4 x mile relay, he'll get an equally depleted rival (Don Sage) to take the plunge with him. It's ironic though, seeing how it's usually his rivals and spectators who have really been floored by his races
.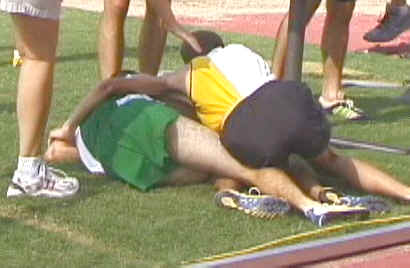 Ritz (right), Sage collapse together after FLO 4-Mile relay
Boy, he puts out an effort. But he recovers -- quickly.
Third --oh yeah, most importantly -- you'll see a victory. A big one.
And if you're watching Rockford's distance juggernaut, you'll likely see a whole lot of victories. It could be in Raleigh, where Ram teams had overpowering triumphs in 5 of 6 distance relays (plus Ritz's 2-mile win), or somewhere in Michigan where they (especially the girls) generally dominate at the state level.
It's all part of a comprehensive program run by Ram distance coach Brad Prins, who has come from a somewhat unlikely background and used a local club and a year-round schedule to create probably the best all-around boys and girls distance squads in the nation.
Dathan Ritzenhein: It's What's Inside That Counts
The transformation is startling.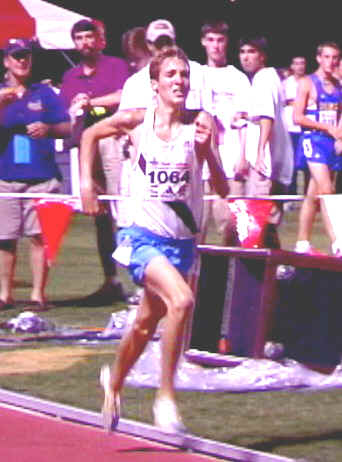 To watch Dathan Ritzenhein on the track in full flight is to witness someone who has chosen not only to push himself to the razor's edge, but to skate fearlessly on it while others recoil.
If you seek the secret as to how Dathan goes from something of a quiet, smiling Clark Kent into Lethal Weapon V when he gets into a race, consider carefully some background information. It might be all you get, because it's not always certain the rising senior himself knows exactly what happens in the proverbial phone booth.
Dathan's story -- the times, the races, the recent history -- is already pretty well known, so you try and get at something else -- kind of what started it all and what really drives him.
It seems a healthy chunk of Rocket Football as a youth might have provided some initial impetus, a rough experience for someone who would even now be small by middle-school standards. "I really got pounded," he says with a laugh. "I remember just getting beaten to crap every game, but I wanted to do it because everyone played football back then. It really discouraged me."
Some new athletic possibilities were unveiled when he began tagging along with his dad to some North Kent Track Club runs. It was a time when there were some family challenges for Dathan and he went on the runs with his dad and then the club to help "take out my anger and confusion."
Ritz saw not only a different sport to try, but an accepting group of "all kinds of people from age 10 to 70."
So did Dathan become an instant star there, or when he began track in 7th-grade? "Not really," he laughs, pointing out a 3200 time of 12 minutes that year. "I really kind of stunk."
But that started to change when a coach got him out for 8th-grade CC ("I loved it"), where he started getting better and which he used as a springboard for track the next season.
"Over the winter, I watched the Prefontaine movie and it really inspired me ... really lit a fire under me," he reveals. "So I made it a point to go out and run 4 miles hard every day, like a tempo run."
He lowered his time to 10:24 in the 3200 and under 5:00 in the 16. Then Prins, who had started the North Kent club and was also now coaching the Rams, took him "under his wing."
Then as HS running began, it sure didn't hurt that Ritz had a major league role model in then-junior Jason Hartmann, who would win multiple state CC and track titles the next 2 years before heading to the U. of Oregon. "He was really an intricate part of everything for me," Dathan says. "I looked up to him a lot."
While Dathan was running 15:55 (CC), 9:31 and 4:25 as a frosh, Hartmann was winning a pair of state titles. Then the improvement of Ritz as a sophomore pulled him up close to his teammate.
Ritz says that going to Foot Locker CC nationals with Hartmann in '98 was a big turning point for him, as the senior kind of showed him the ropes of how to deal with the pressures of a national stage. "I watched him, how he talked and what he did," he says. "A lot of other kids really toot their own horn, but not him."
Naturally, training with Hartmann did a world of good for Ritz, too. "He really helped me; it's so much easier to train hard with someone like that. He helped push me and I helped push him."
The duo was 1-2 in Michigan's Class A CC state meet, 2-3 in Foot Locker Midwest regionals, and 4th and 8th respectively at Foot Locker nationals.
The next spring, Hartmann was running low 4:10s and 9:01, with Ritz at 4:10s and 9:07. Their pecking order stayed the same ... until the state meet. With Hartmann suffering from having been ill, Ritz finally beat him in the 3200, adding a 9:16.16 to his PR 4:14.45 earlier in the meet (where he was third and Hartmann second).
Then Ritz broke through with his 9:01.79 2-mile win at Raleigh last spring and started creeping further into the vocabulary of an increasing number of track pundits across the US. The rest of the story -- beginning with an undefeated cross season (including the Foot Locker cross country nationals in Orlando), continuing with an indoor campaign that saw him smash 9:00 twice and romp to the Nike Indoor Classic win, and concluding with the outdoor season that saw all of his titles and a nation-leading, HS junior class record 8:41.10 3200.
Along with Hartmann, Ritz also gives a lot of credit to Don Sage, with whom he has become linked by both real competitions and those in the fantasies of distance fans all year.
"I need to give him a big public 'thank you,'" he says. "He has been a key factor in my success and helped me more than any other athlete, besides Jason. This whole year it gave me someone to key off. Without Sage in that 4 x Mile, I probably would have run only 4:20."
And Prins gives Dathan a lot of credit for growing up quickly, as he had to. "He's extremely savvy about running, racing, preparing for races and handling himself," the coach says. "And another strength is his cardiovascular system. He's got an incredible recovery rate."
"He just has great determination," he continues. "He could be arrogant, but he's not. He's just a calm kid, smart and savvy. And he makes extremely good choices during races."
But finally, you still want to know more, because you think there is something else to be said about the success of the Ritz, despite all that you've heard.
Because once you really look at his record in the last 13 months, well, you just shake your head.
1st - 1999 Foot Locker National 2 Mile: 9:01.79
1st - 1999 Foot Locker Midwest Reg. CC: 14:55
1st - 1999 Foot Locker National CC: 14:29
1st - 2000 Nike Indoor 2M: 8:52.94
1st - 2000 Foot Locker 2M: 8:48.06
That's in addition to a healthy handful of state crowns, national relay titles and a slew of other accolades.
Then you look at his record in these races and others in the past year against a "Big 12" of prep distance stars you picked out randomly, like Don Sage, Eric Logsdon, Ian Dobson, Tim Keller, Matt Tegenkamp, Noel Paulson, Alan Webb, Ryan Hall, Steve Padgett, Ricky Brookshire, Josh Rohatinsky and Nick Schneider:
And you add it up. And you see that against this cream of the crop, guys who are big guns in their own right, Dathan is 28-0.
That's right, a combined 28-0 in five regional and national races, plus his 8:41.10, since the Foot Locker race last June.
So what really makes you run the way you run, Dathan? Finally, there's this: "When I get into a race, there's something I can't explain," he says. "I've got a real competitiveness ... and that competitiveness is just like a force, like God telling me that this is what I need to do.
"I think it is God sitting on my shoulder helping me to be the best that I can be - like at the end of Foot Locker CC I was so dead that it was like He was pulling me to the finish."
So maybe that explains why Dathan was able to unleash that withering kick from a half-mile out to win that Foot Locker 2-mile on the track last spring and that FL cross-country nationals last fall. And why he was able to sear the greatest 2-Mile field in history in Raleigh with a burst at about 2100 meters that had them appearing to stand still.
Or why he was able to summon up a slight but ever-so-significant gear shift in the third lap of the final leg of the 4 x Mile in Raleigh. A move that came just as now-4:00.29-miler Don Sage had used nearly every ounce of power to draw up to Ritz, only to be gapped again at his most vulnerable point.
A move that champions make.
Is it any wonder Sage says things like, "Dathan makes me a better runner," or Teg shakes his head and says "There's no one who can run that last 1000m with Dathan."
"What really drives me is a spirit to want to be the best that I can be," Ritz concludes. "Running just frees my mind and makes me feel like I have an edge. I want to make America proud of me. We can be great in distance running and we can compete. We just need somebody to lead the way and I would love to be that person."
Dathan's just Dathan. Yes, there's a fire that burns. And as long as it does, this is one young man that's going to be real hard to beat in any big race at his prime distances in the next year -- or beyond.
No 'I' In Team: The Rockford Juggernaut and Coach Brad Prins
The young ladies came to nationals with times on their ledgers like 4:50 (1600), 10:38 and 10:44 (3200), and 2:12 and 2:14 (800). None of them ran an individual event, yet when an exhausting two days were winding down in Raleigh almost two weeks ago, they were the toast of the town.
Who are these girls?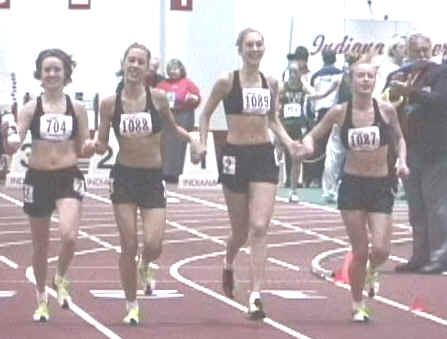 Rockford girls after breaking the 4-Mile relay record in March at the Nike Indoor Classic, Bloomington IN
(L to R, Blakeslee, Blaisdell, Colligan, Toedebusch)
Rockford distance coach Brad Prins guides the venerable national champ Dathan Ritzenhein and a number of other outstanding distance boys who combined with Ritz to win two more relay titles in N.C. But when he tells you, "If you follow us as a team, the girls are better," people ought to listen. "You have to look at what they've done as a group. The girls love to compete. They've really got the right attitude towards it. And they love the big meets."
After the show the Ram girls put on in Bloomington in March, and at Raleigh, the nation is beginning to notice.
Linsey Blaisdell.
Kalin Toedebusch.
Emily Blakeslee.
Nora Colligan.
Amy Keenan and all the rest. If you're outside of Michigan (and you have no excuse if you're not), you may not know these girls individually. But if you were at either national meet, you sure know them collectively.
No offense to anyone else, but can you say, "The best HS girls team ever?"
The girls of Rockford had to feel a little bit like Rodney Dangerfield through last fall. But then, in a true clash of the titans, Nike Indoor meet organizers got together a 4 x mile national record attempt with the Lady Rams, Bingham (Utah), Colonie Central (N.Y.) and a slew of others in March. It was supposed to be a chance for New York champion Colonie, which didn't get to go to the Great American Cross Country Festival in Charlotte, to challenge Bingham UT, which California track guru Doug Speck proclaimed the best cross country team ever after their Charlotte victory. But Rockford stole center stage at Bloomington.
The big clash was no contest. Colligan (5:07), Blaisdell (5:02), Blakeslee (5:08) and Toedebusch (5:05) blitzed the competition and the national record, running a 20:23.24. With their victory lap around the 200 meter oval, Rockford was finally getting some collective respect.
They also won the 4 x 800 (9:12.37) and distance medley (12:02.81) relays. But in Raleigh, they were even faster and got more acknowledgements. They moved into the top 10 all time in the 4 x 8 (8:57.52) and the DMR (11:49.44) with victories that were clinched long before the bell lap. In the 4 x 1, sans Bingham, they won by over a minute in 20:30.57, breaking the old national outdoor standard by 4 seconds and winning by 1:07.
The record response? "It was pretty good," said Colligan, who ran the first leg of the 4 x mile. "We're not really happy with the time."
An attitude problem? Not hardly, Colligan was simply being honest. Incredibly, with three sub-5s, this is a team that could have beaten 20:00. Yes, how would a girls 4 x mile with a "19"-something listed in front of it strike the distance world? Oh, yeah, it could still happen, too.
Toedebusch - she's the owner of the 10:38 (best in Michigan this year), PRs of 4:55 and 2:15, and a 10th-place Foot Locker CC nationals effort last fall - admits the Lady Rams had their eyes on a fast time in that particular relay. "When we discussed our times, what we thought we could do, that was kind of our far-fetched goal," she says. "But it was just real hard that day to keep the pace up."
It was probably Blakeslee, who had run the 2-mile the night before, who saved the national record for Rockford in the 4 x 1, coming through with a 5:04 (the closest to her PR of the four) to insure that Blaisdell could anchor it in with a 5:00 or so. The heroics, which started with the previous evening's 4 x 8, continued later that evening with the DMR.
So what do you say about an environment where there are so many fast kids and so little individual star emphasis? Prins both pushes the runners to great heights - surely Rockford doesn't simply have that much more talent than anyone else - and invests them with the team concept, as he does the boys team.
"We'd rather do it for the team," says Blaisdell, who won the Class A 1600 in Michigan this spring (4:50.75). "Coach challenges us all to be better runners."
"It was Nora's and Emily's last races (at Foot Locker)," says Toedebusch, who has a younger sister, Kelsey, who is quickly ascending to a key varsity role. "We wanted to make sure they went out with a bang."
Of course, the Rockford boys, as a group, hardly take a back seat anymore to their female counterparts. "The boys have gotten a lot closer now," says Prins.
In '99, Ritz and now-graduated Jason Hartmann were the only runners under 9:30 and 4:30. Now the Rams have 4 sub-9:30s and 4 sub-4:20s. Andy Martin, Seth Folkertsma, Brian Smith and Kyle Fujimoto would be number one runners at probably 95 percent of the schools in the country. Incredibly, it could probably be said they've lifted the rest of their state, as Michigan saw the best 1600 and 3200 races in its history three weeks ago at the Class A state meet.
At nationals, Martin, Smith and Folkertsma all played key roles in the dramatic 4 x Mile win (17:21.57) and the grand finale DMR win (10:03.09).
The big goal for the boys this fall, however, is to finally get that team state title. It's something the girls have had both in track and CC, but has eluded their counterparts.
So what exactly has Prins done to build this dynasty?
The Rockford mentor's training philosophy has evolved from an educational background of being "always involved in athletics and (teaching) advanced math."
Prins got interested in running during the boom days of the late 70s and early 80s. With a child on the teams, he says he was very involved, "but as a parent, kept my mouth shut."
But he started the North Kent Track Club in the Rockford area, then in 1992 took over the girls CC program. The involvement with the club would become part of the foundation for a year-round training program that is a key to the teams' success.
"You can't compete year-round, but you can run year-round," says Prins. "And we make it fun. We always run in groups, even Dathan."
He goes on to say that with a year-round, group-running approach, you can pick up and make something out of the "moderately motivated kids."
"For any coach, you've got to have talent," he points out. "But the philosophy I have is that you've got to set the bar high. I drive people to reach that bar -- you don't want to go over it and burn yourself out -- but I drive them to the highest level within reason. People don't realize that kids love to be challenged."
And challenged they are. When Blaisdell and Toedebusch are both asked (independently) what it is that creates so much success in the program, the observer is surprised to hear both of them say, "Fear!"
Ah, but it's a "healthy fear," Blaisdell points out. "He makes it fun," says Toedebusch, " but he gives us certain times for workouts. If we don't hit them, we get 'penalty phases.'"
But the 'penalty phases' (extra intervals or repeats) aren't designed to drive someone into the ground, just as a safeguard against slacking off (and what football or basketball player hasn't paid the price for the same?). "He knows if you're supposed to run a 6:00, but you can only run a 6:05, when you've given everything," says Toedebusch.
"We train so hard, that they know they're going to run good, so it relieves some of the pressure," says Prins. "Before the state meet, I want them to have run fast enough previously so that they're absolutely confident that if they have an ordinary day, they'll still be faster than anyone else."
Prins has gotten much flak from outsiders criticizing his practice of running his athletes (especially Ritz) in 3-4 events in so many meets. But there's a definite method behind it. "What we do is that we almost never put our kids on the track once the season starts," he says. "We use our dual meets as a ladder workout."
The runners also don't go all out in every dual meet event, not by a wide margin. "He uses them to get us prepared," says Toedebusch. "You might go out the first mile hard, then hang on. Or here and there, he'll tell us to go all out."
For the most part, the system seems to work. Most of Rockford's runners improve from year-to-year and throughout the season; not everyone has hit their best times in the biggest meets, but what team can say they've had everyone do that?
During the off-season, training with the North Kent Track Club has been a real boon. While the club members are gearing up for road races, the team always has someone to run with, at every level.
"The kids get a tremendous base," says Prins, "and they never get completely out of shape." But he does a lot more than just have his runners go out and do some mileage during the summer. The structured schedule includes a balance of moderate intervals, hill work, fartlek running, tempo runs and lots of strides. Nothing too intense, just enough to keep things fresh and build the runner into the season ahead. The program also utilizes swim workouts, weight lifting and plyometrics at different times of the year.
Through the club, Prins is able to promote the sport both ways, inspiring club members through their support of a national championship team, while attracting young runners who can move up through the club in their pre-high school years. "They practice with us every day," says Toedebusch. "They're like family.
"The sport is really growing here," Prins says. "I tell kids it's the ultimate sport. Why, we have 1000 people at some of our meets."
That family was in strong evidence in North Carolina, where dozens of club members joined the runners' families and forming probably the biggest cheering section at the meet. After each of the five relay victories, it was photo shoot time. Then when Rockford wrapped up the competition with the DMR sweep, everyone got on the field for pictures, hugs and goodbyes.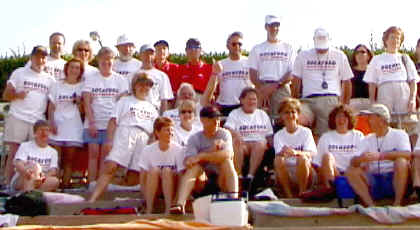 The Rockford fans
"They all came in a big group," says Toedebusch with obvious gratitude. "They're a real inspiration to us."
And Rockford, in turn, is an inspiration for any team desiring greatness.
---
Next: We take our final look at some of the distance athletes and teams who have made the biggest splashes this year - for both boys and girls, in the mile/1600 and 2-mile/3200. It's the new Queen of the mile, Alicia Craig, and the young man most responsible for the attention paid to prep distance running all year, Alan Webb. Plus a wrap-up on the series and how this year's stars compare to the past in the final analysis.
The Distance Gods series by Stephen Underwood: