Part 6
- The Distance Gods are Back!
Unleashed in the East: Shalane Flanagan
and Erin Donohue
By Stephen ("steveu") Underwood
There's something to be said for staying out of the national spotlight until your biggest meet of the year. While everyone else is paying more attention to the headline grabbers, you've quietly prepared for a dramatic peak when others will least expect it. Wily Olympians do it all the time.
Massachusetts star Shalane Flanagan and New Jersey standout Erin Donohue haven't been heard from quite as loudly on the U.S. scene as some of their peers in Spring 2000, despite the fact that each of their past accomplishments lists are plentiful. The former is the fastest U.S. prep miler of the year, indoors or out, while the latter is the defending FootLocker outdoor champ at the same distance.
Each has been biding her time well this spring, and the wise observor will consider them at least co-favorites when they step to the line in Raleigh this weekend - Flanagan in both the 2-mile and mile, Donohue in just the 4-lapper.
They will be part of what should be a very competitive couple of races. Junior Alicia Craig of Gillette, Wyo., who is entered in both, is coming off a big 4:50.3 win at Golden West last week and has proven to be a consistent force at the national level (1st Simplot Indoor, 2nd, Nike Indoor mile; 3rd, FootLocker national CC). With less national experience - but no less imposing - is Kaukauna, Wis. junior Brooke Novak, who recently broke Suzy Favor's state 1600 record with a 4:48.13 and is soloing in that event. They are joined by other standouts from California and other parts of the country. The injured Alejandra Barrientos of California would have joined Flanagan and Donohue as the big three of the race.
But Donohue, just a sophomore at the time, handled last year's FootLocker mile field in 4:48.68, with a great finish to cross the line .62 ahead of second. Flanagan, who was 4th in both the one and the two last year, hasn't won a national title in track yet, but she was second only to Canadian Emily Kroshus at the NSI at the Armory in March -- and her scintillating 4:46.91 was just .12 from victory.
And both are ready.
"I definitely feel stronger and faster this year," says Donohue, "and my workouts have gone better."
Flanagan has been feeling "absolutely great" lately and is ready to "push the pace."
Either could have stayed down in the dumps after rough outings at the FootLocker Northeast Regional last fall. For the second straight year, Flanagan was unable to finish, surrendering a huge early lead when her legs cramped. Donohue was also out well early, but weakened by a bad flu bug, she faded to 79th.
But neither got too far down; they found they had bigger fish to fry.
"I just keep positive; there's always another race."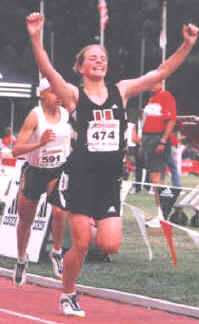 Erin Donohue (left, winning 1999 Foot Locker Outdoor)can hardly stop to take a breath when cross-country ends -- or for that matter, when any athletic season comes to a close. The Haddonfield Memorial junior goes right into hoops season after CC ... and how many sub-4:50 prep female milers also claim to be starting point guards on powerhouse basketball teams? Donohue is an All-South Jersey player and is even being recruited by some smaller schools.
But if you don't already know Erin, you have yet to hear the coolest part. This All-American distance runner also fires the javelin -- and fires it well enough (147 feet) that it was one of four events she won at the Group Two state meet this year, as well as one she'll compete in at Nationals.
"My freshman year, I just kind of picked it up," she says, matter-of-factly.
"She just kind of throws it around after running," says Haddonfield boys coach Nick Baker, who usually has Donohue to workout with his crew instead of his wife Maureen's girls team. "But she's worked on it and improved steadily."
With neither the waif-like physique of many distance runners, nor the bulk of most throwers, Donohue has a build (5'7-1/2", 137 lbs.) more like a smallish heptathlete. She seems to have physical gifts that comprise the best of both worlds - with the work ethic, talent and attitude to go with it.
"She's a really tough, gutty athlete," says Baker. "She's got strength and speed."
But Donohue also has a whole lot of endurance, culled from years of miles with her road-racing father. "It seems like I've been running since I was two or three," she says. Baker says that he took his team to a low-key road race once "when Erin was in 4th-grade, and she beat our first runner by about two minutes."
In 8th-grade, she had already clocked 5:05 for the mile and was well on her way.
Since she rarely had competition, when Erin went to FL outdoor nationals last spring, there was more gratitude than nervousness. She finally had some people to run with. "It was much easier (than pushing herself alone) ... the girls pulled me along," she says. "In the last lap I was in a position to win ... and I did."
The photo of the exuberant Donohue remains on the dyestat.com archives, leading off the FootLocker 1999 page. It's a great shot.
This season, Donohue has worked her way into shape and kept a fairly low profile, though she was part of a distance medley relay team that ran 12:03 for second at Penn, and a 9:11 4 x 8 team in another meet. But then she swept the 800, 1600, 3200 and jav at Group Two (second smallest class) state, leading her team to a runner-up finish after back-to-back titles in Group One the previous two years.
Erin then followed it up at the Jersey Meet of Champions (the best of all classes) by showing she was ready for a national title defense.
Cruising off the leader until 300 to go, Donohue put an incredible 7 seconds on Lindsey Gallo to win the 1600 in a seasonal best 4:50.17. She followed that similarly in the 3200 with a 10:43.14 to win by 11 seconds and a third in the jav.
Her leadership and sense of humor are important to Coach Baker, too. "When she went down to FootLocker, she saw they had this miniature golf tournament and she said, 'Who cares about the race, I'm going to win that!' Sure enough, when they announced the results, she had won it, too!"
"And the kids on the team really look up to her," he adds. "They really like having her around."
"You just have to get back on the horse."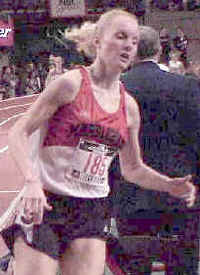 In the eyes of the short-sighted, Shalane Flanagan has been almost off the radar map since her virtuoso performance at the NSI. Not so - the Marblehead, Mass. runner has just taken a little bit different path to Raleigh.
After the unfortunate collapse at Van Cortland, Flanagan not only advanced to big things indoors (which also included a Millrose Games victory - pictured at left), but also a much bigger CC stage. On Feb. 12, she won the US Junior World CC trials in Greensboro, N.C., beating numerous collegians in the process, including past FL stars like Lauren Fleshman and Erin Sullivan.
"To win that was the most bizarre thing," she recalls, considering she had simply been doing good base training leading up to the meet. "I really had no expectations of winning going into that race. I just told my mom I was going to try for 6th (last qualifying) place. That was a huge learning curve for me. Since then, everything has been less intense."
That earned her a trip to the IAAF World Junior Cross Country Championships in Portugal, where she finished a very respectable 29th out of 132 runners for the 6K course. That was just 6 days after NSI -- and Flanagan was as hot as any female prep distance runner in the country.
Smartly, she cycled back and low-keyed it through much of outdoor, passing up the big multi-state relay meets and keeping to a local schedule. But two weeks ago, she cruised a 4:52.38 at her state meet, winning by nine seconds.
Shalane's results demonstrate just how well she's bounced back from the FL Northeast collapse. "It was really hard, because I had worked so hard," she says. "I had had such high expectations of myself … But after about 10 days, I was ready to go again. And it's helped that I had so much support from family and friends."
That family is indeed there for her, with father Steve and mother Cheryl both being former national class runners themselves. In fact, with her HS coach playing more of a supportive, friendship role, Shalane's father has provided some of the coaching expertise. But the senior actually writes most of her own workouts.
"I just give her some guidelines; she pretty much puts her schedule together," he says. "She has cracked the code."
What Dad means by that is that Shalane is well beyond the typical HSer in terms of training savvy and listening to her body.
"I've tried to gain as much knowledge as I can from running camps and other runners," she says. "I'll come to my dad with my workouts. There's some part of me that has to help out (in the planning)."
That's a perspective that Flanagan wants to take to University of North Carolina, where she'll be running with 1999 ACC Coach of the Year Mike Whittlesey. He's someone who she trusts will allow for that kind of partnership and help her with her long term goal of winning an NCAA title.
But first there is some unfinished business a few miles away from Chapel Hill - the Foot Locker Outdoor championships in Raleigh.
"About the last two weeks, she's really been rounding into form," Shalane's father says. "She says if somebody is going to beat her, they're going to have to pay the price to do so."
---
In the days leading up to the Foot Locker outdoor championships in Raleigh, N.C. on June 16-17, we are taking a look at some of the athletes and teams who have made the biggest splashes this year - for both boys and girls, in the mile/1600 and 2-mile/3200.
Next: We hit the peak of our series with The Clash of the Titans: Don Sage and York vs. Dathan Ritzenhein and Rockford.
The Distance Gods series by Stephen Underwood: