Pole Vault Corner

Chelsea Johnson, Dad and Mom
In just a year, Chelsea has soared to the top of the pole vault scene.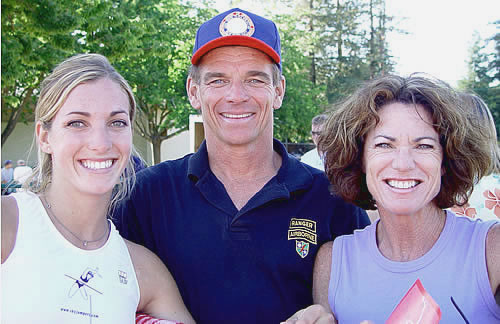 Kacey Lundgren with Mom, Leslie and Dad, Ken. Kasey is part of the loaded Atascadero CA pole vault team.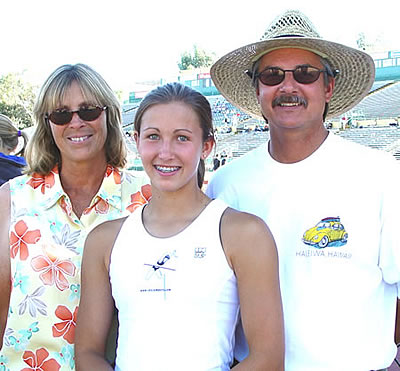 The Heuser Vaulters: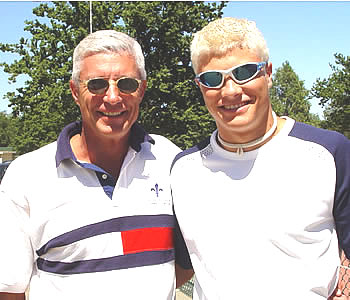 Pole Vaulting enjoys many views.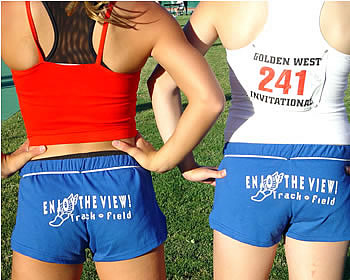 And the Front View:
Stevie Marshalek
WA (l)and
Julene Bailey
ID
Friends on and off the runway.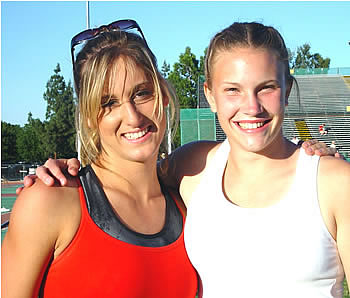 Jumps

Erica McLain TX
Erica doubled in the triple jump and long jump with grace and stylewith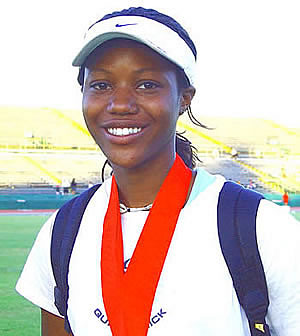 Cassandra Strickland NV finished
4th in the triple jump.


Debra Harris and Lynn McCann from Cimmaron Memorial here coaching Blisha McCall in the 300 Hurdles while also being supportive to Cassandra Strickland a Nevada neighbor.

Three of the Best High Jumpers in the US finish 1,2,3 at GWI: (From Left) 2nd Jesse Williams NC, 1st Andra Manson TX, 3rd Kyle Lancaster KS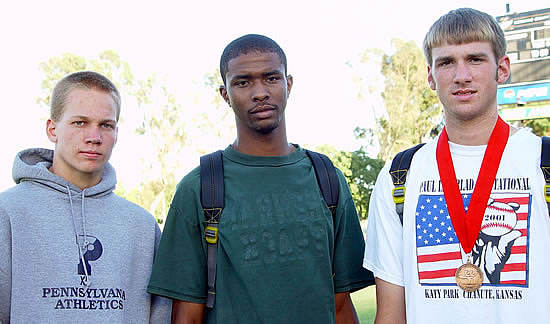 High Jump Winners: (From Left) 1st Sharon Day CA, 3rd Alesha Stagemoller TX and 2nd Ashley Robbins TX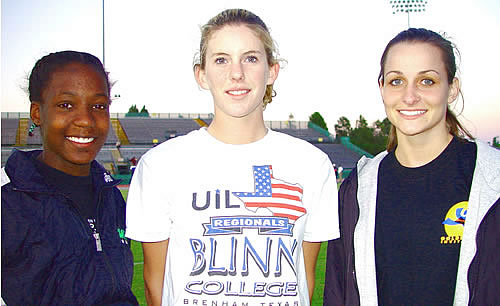 Maxine Marlow with her family, Mom Marie and Dad Tracey and boyfriend, Blake Mackey. Maxine finished 5th in the triple jump. Both Maxine and Blake will be at Colorado next year. While Blake.......he will be concentrating on football next year.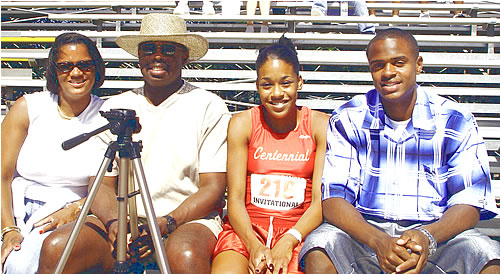 Workerbees
Mark Youmans

Track official and Track and Field Fan

Dan Weldon
Selection Chair for the Girls Horizontal Jumps

DONNA ON THE SIDE AT THE STADIUM
Part 1 - Home page - Outstanding Athletes
Part 2 - Sprints Avenue
Part 3 - Throwers Lane
Part 4 - Runners Circle
Part 5 - Pole Vault Corner - Jumps - Workerbees