Brendan Christian, Megan Kaltenbach
win top prizes with all-time ranking performances
Megan Kaltenbach
3200

splits, pix and story
Most Outstanding Boy - Brendan Christian TX swept the sprints with super swift times of 10.20 +1.0 (making him US#4 all time) and 20.1h. The automatic timing system was malfunctioning on races starting on the backstretch, which caused the boys 200 results to be hand timed. Ivory Williams, Beaumont TX, was second in the 100 in 10.27, setting a new national record for sophomores.
Most Outstanding Girl - Megan Kaltenbach CO won the fastest 3200 of many years in meet record 10:03.35 (making Megan US#4 all time), with most of the top 10 runners getting PRs, including Laura Zeigle's runner-up 10:11.45, Felicia Guliford NM 10:28.15, and Jackie Zeigle 10:29.52. Despite all the great times, it was a 2-girl race from the outset, with Laura Zeigle holding as much as a 30 meter lead over Kaltenbach, who in turn was 60 meters ahead of anyone else. Kaltenbach reeled in Zeigle on the fourth lap as they went through 1600 meters together in 5:04. Kaltenbach then took the lead, but could not shake Zeigle until the last lap. Megan missed the US junior class record by only 0.35 second.
Most Inspirational - Jeff Skiba, Idaho state champion who high jumps with a prosthetic leg due to a birth defect caused amputation, finished fourth at 6-10 in a sensational competition. Five jumpers advanced to 7 feet and three cleared 7-2 before Andra Manson TX won at 7-4.
Golden West action pix, details, splits, and stories - Event Index
Megan Kaltenbach-Laura Zeigle duel produces one of fastest 3200's ever
Brendan Christian moves to US#5 all time in 100 and doubles in 200
Timing system deflates 300m hurdles, but not Bershawn Jackson
Marshevet Hooker TX and Shalonda Solomon CA trade wins in 100 and 200
400 meters -- "I didn't look good in second place," Kelly Willie says - Christina Hardeman validates California title
800 meters - Christian Smith of Kansas surprises; California girls 1-2 but Timinsky wins this time
Jacob Gomez' blistering 59.2 last lap scorchesBoys 3200 field
100/110H: Mike Loyd NC and Ashlee Williams TX win
High Jump: Andra Manson TX 7-4 wins spectacular boys event; Sharon Day CA 5-10
Triple Jump: Texas sweep by super soph Erica McLain and Jaimoy Bryant
Long Jump: Erica McLain completes double; I-Perfection Harris NY repeats
Pole Vault - Chelsea Johnson tantalizingly close to national record; Tommy Skipper 17-1, Ray Stotten surprise runner-up
Shot Put: US#6 all time throw by Michelle Carter; PR's for Kelli Burton and Noah Bryant
Javelin: Dan Brant OR and Rachel Walker LA
Boys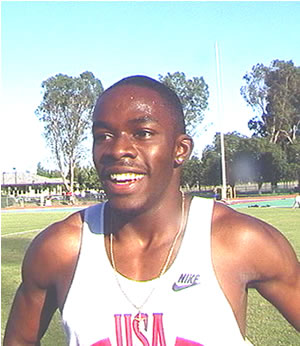 400 meters: Kelly Willie TX 45.52 reclaims US#1 ranking in 400
3200 - Jacob Gomez OR 8:52.75 unleashed a killer kick (59.2) on the last lap to catch Brian Dalpiaz NY, who opened big leads in the last half of the race. California champ Kyle Alcorn 8:56.76 also caught Dalpiaz 8:57.24 in the stretch.
Pole Vault - Tommy Skipper OR won at 17-2 and tried for the meet record at 17-8.25. Ben Davis Indianapolis IN sr Ray Scotten was second at 16-10, adding a 4-inch PR to the 5-inch PR he got a few days ago in the Indiana state meet.
400 - Showdown of Texans Jeremy Wariner and Kelly Willie, who won different divisions in the Texas state meet, went to Willie decisively, 45.52 to 45.85, restoring Willie to the US#1 position for 2002 and making him US#11 all time.
Mile - Chris Lukezic WA, winner of the Millrose Mile in New York in February, returned to that form to win in 4:06.84, fastest in the US this year. Lukezic held off Louisville KY jr Bobby Curtis, who makes a habit of winning big races in the stretch but could not catch Lukezic in this race.
Hurdles - Central Miami FL sr Bershawn Jackson 35.66 routed Texas champion Kerron Clement 37.04 in a showdown of the top two intermediate hurdlers in the country. US#4 Terry Beard TX 37.01 was second. The race was delayed an hour after the runners were recalled halfway through the original start when the automatic timing system missed the start. North Carolina champ Mike Loyd 13.60 +1.6 beat Texas champ Clement 13.85 in the 110m hurdles, with Bershawn Jackson next at 13.90.
800 - Christian Smith KS 1:52.0h beat Stanley Lagrenade NY 1:52.1h in another race with timing problems.
Horizontal Jumps - Jaimoy Bryant TX won triple jump on his first jump, 49-8.25 +5.4. I-Perfection Harris NY won long jump on his last, 24-2.75 +0.0.
Throws - US hammer leader Adam Midles WA won his specialty with a throw of 222-8, 20 feet below his season best, but 23 feet ahead of runner-up Noah Bryant CA 199-3, who was throwing the hammer in competition for only the second time. California champ Noah Bryant won the shot put with a PR 67-6.5. Adam Kuehl NJ won the discus at 200-1. Daniel Brant OR waited until his last throw to win the javelin at 196-10.
Girls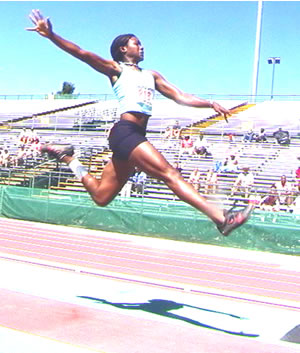 Plano TX sophomore Erica McLain soars 42-10w in triple jump
Mile: Alaska state meet quad winner Kristina Smith surprised a talented lower 48 field with a winning stretch kick in 4:52.20 (Clara Horowitz 4:52.62). "I even surprised myself," Kristina said.
800: Jenna Timinsky 2:09.66 reversed the order of last week's California state meet with Jamillah Titus CA 2:10.17.
Erica McLain was impressive with a horizontal jumps double at 20-3 and 42-10.
Michelle Carter didn't get the US shot put record, but she followed dad/coach Michael Carter's advice to "do your best" and won at 53-0 with four straight 50-plus throws. And she has another year to get the record. Davis UT sr Kelli Burton was second but happy as could be; she topped 50 feet for the first time and she did it twice; with a PR of 51-6.
Chelsea Johnson CA again came tantalizingly close to the national pole vault record, but settled 2 inches short at 13-6 for the second time this season. Nampa ID jr Julene Bailey was second with a 13-2 PR.
Sprints: Southwest San Antonio TX jr Marshevet Hooker 11.43 +2.5 and 23.38 +1.3 and Poly Long Beach CA soph Shalonda Solomon 11.46 and 23.38 traded wins in the 100 and 200.
Hurdles: Ashlee Williams TX won the 100m hurdles in 13.57 +1.9, tying her US#1 time, and missed a double in the 300m hurdles by 0.01 to J.W. North Riverside CA jr Ashlee Brown, 42.36 to 42.37.
Hammer: Kelly Reynolds RI 173-8, moving up to US#3.
California champions: Sharon Day (5-10 HJ) and Billie Jo Grant (167-2 DT) repeated their wins in the California state meet a week ago.

Best Marks - performances qualifying for DyeStat Elite 2002 outdoor national ranking
G-100 11.43 Hooker, Marshevet, , Southwest
G-100 11.46 Solomon, Shalonda, , Poly
G-100 11.63 Broaddus, Juanita, , Penn
G-100 11.86 Urbina, Larica, , Reagan
G-100 11.91 Hall, Gyaisha, , Reagan
G-100 11.96 Menlove, Amy, , Alta
G-200 23.38 Solomon, Shalonda, , Poly
G-200 24.12 Hooker, Marshevet, , Southwest
G-200 24.17 Broaddus, Juanita, , Penn
G-200 24.43 Hardeman, Christina, , Wilcox
G-200 24.5 Lee, Jasmine, , Poly
G-200 24.65 Menlove, Amy, , Alta
G-Mile 4:52.2 Smith, Kristina, , West (Alaska
G-Mile 4:52.62 Horowitz, Clara, , Head-Royce
G-Mile 4:53.65 Owen, Megan, , Killingsly
G-Mile 4:53.8 Aldridge, Jenny, , Maria Carill
G-Mile 4:54.91 Harper, Amber, , Orem
G-Mile 4:55.41 Nelson, Casey, , Hunterdon
G-Mile 4:56.04 Harrington, Katie, , Carmel Senio
G-Mile 4:56.26 Hardt, Whitney, , Payson
G-Mile 4:56.43 Lane, Heidi, , Russell
G-Mile 4:57.35 Mortimer, Erin, , Riley County
G-Mile 4:58.46 Malcolm, Kim, , Villa Maria
G-Mile 4:58.84 Mulkey, Lauren, , Folsom
G-400 54.23 Hardeman, Christina, , Wilcox
G-400 54.73 Jones, Debra, , Benson
G-400 55.2 Probasco-Canda, Brandi, , Benson
G-800 2:09.66 Timinsky, Jonna, , San Dieguto
G-800 2:10.17 Titus, Jamillah, , Vintage
G-800 2:11.29 Caldwell, Ashley, , Los Gatos
G-800 2:11.34 Treherne, Leslie, , Western Bran
G-800 2:12.06 Kloss, Georgia, , Pace
G-800 2:13.1 Kretzschmar, Yfa, , Sf Academy
G-3200 10:03.35 Kaltenbach, Megan, , Smoky Hill
G-3200 10:11.45 Zeigle, Laura, , Bingham High
G-3200 10:28.15 Guiliford, Felicia, , Gall
G-3200 10:29.52 Zeigle, Jackie, , Bingham High
G-3200 10:32.03 Bolf, Christine, , Notre Dame
G-3200 10:38.27 Stanley, Laura, , Carolina Day
G-3200 10:38.52 Hastings, Amy, , Leavenworth
G-3200 10:43.03 West, Sarah, , Davis (Ca)
G-3200 10:45.73 Hughes, Meghan, , Moorestown
G-3200 10:48.28 Gray, Erin, , South
G-3200 10:53.42 Bryan, Rachel, , Laguna Creek
G-100H 13.57 Williams, Ashlee, , Bishop Dunne
G-100H 13.82 Stewart, Talia, , Logan
G-100H 13.86 Moss, Shantia, , Pompano Beac
G-100H 14.1 Boyd, Angel, , Judson
G-100H 14.12 Manning, Dominique, , J.W. North
G-100H 14.16 Onwanghe, Osarhiemen, , Buchanan
G-300H 42.36 Brown, Ashlee, , J.W. North
G-300H 42.37 Williams, Ashlee, , Bishop Dunne
G-300H 43.37 Smith, Christina, , Penn
G-300H 43.4 Nygard, Anita, , Wenatchee
G-300H 44.02 Partain, Tracy, , Parkview
G-300H 44.02 Gallegos, Tasha, , Liberal
G-HJ 5'10.0 Day, Sharon, , Costa Mesa
G-HJ 5'8.0 Robbins, Ashley, , Mcmullen
G-HJ 5'8.0 Stagemoller, Alesha, , Mcmullen
G-PV 13'6.0 Johnson, Chelsea, , Atascadero
G-PV 13'2.0 Bailey, Julene, , Skyline
G-PV 12'10.0 Marshalck, Stevie, , Kennedy
G-PV 12'0.0 Costa, Kira, , Lemoore
G-PV 12'0.0 Boyle, Elizabeth, , New Trier
G-PV 12'0.0 Morgan, Katie, , Corona Ds
G-PV 12'0.0 Enders, Emily, , Snohomish
G-PV 12'0.0 Lundgren, Kasey, , Atascadero
G-PV 11'6.0 Pacas, Monica, , Atascadero
G-PV 11'6.0 Nishumura, Katie, , Bella Vista
G-LJ 20'3.0 McLain, Erica, , East
G-LJ 19'4.25 Bettis, Lena, , J.W. North
G-LJ 19'3.25 Marlow, Maxine, , Centennial
G-LJ 19'2.0 Menlove, Amy, , Alta
G-TJ 42'10.0 McLain, Erica, , East
G-TJ 40'7.5 Duree, Roshena, , Burton Aca.
G-TJ 39'11.75 Hunter, Gayle, , King
G-TJ 39'4.75 Strickland, Cassandra, , Foothill
G-TJ 38'6.25 Marlow, Maxine, , Centennial
G-SP 53'0.0 Carter, Michelle, , Red Oak
G-SP 51'6.0 Burton, Kelli, , Davis (Utah)
G-SP 48'8.25 Ruston, Abby, , Antonian Cp
G-SP 46'7.5 Warren, Kamalya, , St. Mary'S
G-SP 45'8.5 Pressley, Jessica, , Laguna Creek
G-SP 45'7.75 Doyle, Kaylyn, , Sheridan
G-SP 42'5.0 Emsick, Abby, , Lewis Centra
G-DT 167'2.0 Grant, Billie Jo, , Arroyo Grand
G-DT 160'8.0 Warren, Kamalya, , St. Mary'S
G-DT 157'6.0 Varner, Rachell, , Bakersfield
G-DT 151'9.0 Burton, Kelli, , Davis (Utah)
G-DT 151'8.0 Emsick, Abby, , Lewis Centra
G-DT 147'3.0 Faubus, Mellissa, , Centennial
G-DT 142'0.0 Ruston, Abby, , Antonian Cp
G-DT 141'0.0 Uher, Melanie, , Clatonia
G-JT 151'10.0 Walker, Rachel, , Benton
G-JT 142'10.0 Maier, Dani, , Sunset
G-JT 141'3.0 Young, Samantha, , Henley
B-100 10.2 Christian, Brandon, , Reagan
B-100 10.27 Williams, Ivory, , Beaumont
B-200 20.1 Christian, Brandon, , Reagan
B-200 20.3 Willie, Kelly, , Sterling
B-200 20.5 Williams, Ivory, , Beaumont
B-200 20.8 Wariner, Jeremy, , Lamar
B-200 21.3 Loyd, Mike, , Mount Tabor
B-200 21.4 Marion, Kevin, , Hollins
B-Mile 4:06.84 Lukezic, Christopher, , Auburn
B-Mile 4:07.61 Curtis, Bobby, , St. Xavier
B-Mile 4:11.29 Pifer, Stephen, , Edwardsville
B-Mile 4:12.37 Shepard, Steve, , Weber
B-Mile 4:12.64 Moe, Carl, , Riverside
B-Mile 4:12.85 Jesperson, Lauren, , Klamath Unio
B-Mile 4:13.01 DeBole, Matt, , Mount Tabor
B-Mile 4:13.87 Reid, Phillip, , Rio Mesa
B-Mile 4:14.48 Drake, Sean, , University H
B-Mile 4:14.78 Huling, Daniel, , Geneva Comm.
B-400 45.52 Willie, Kelly, , Sterling
B-400 45.85 Wariner, Jeremy, , Lamar
B-400 46.98 Neville, David, , Merriville H
B-400 47.39 Kent, Jordan, , Churchill
B-400 47.79 Bowens, Quentin, , Heritage
B-400 48.04 Kidd, Latrell, , Elk Grove
B-800 1:52.0 Smith, Christian, , Pawnee Hts.
B-800 1:52.1 Lagrenade, Stanley, , Nyack
B-800 1:52.4 Sunderland, Kyle, , Etiwanda
B-3200 8:52.75 Gomez, Jacob, , Klamath Unio
B-3200 8:56.76 Alcorn, Kyle, , Buchanan
B-3200 8:57.24 Dalpiaz, Brian, , Sayville
B-3200 8:58.11 Rupp, Galen, , Central Cath
B-3200 9:01.89 Pelerin, Marc, , Cherokee
B-3200 9:03.04 Rainbolt, John, , Kempner
B-3200 9:03.79 Nelson, Tim, , Liberty Chr.
B-3200 9:04.16 Vandenend, Micah, , Glenbard S.
B-3200 9:08.04 Dampkowski, Carl, , Granada
B-3200 9:14.04 Fuqua, Scott, , Oak Mount.
B-3200 9:17.94 Fayant, Jesse, , Mead
B-110H 13.6 Loyd, Mike, , Mount Tabor
B-110H 13.85 Clement, Kerron, , La Porte
B-110H 13.9 Jackson, Hershawn, , Central
B-110H 14.19 Corbin, Arsenio, , Largo
B-110H 14.23 Stafford, Adam, , Merkel
B-300H 35.66 Jackson, Bershawn, , Central
B-300H 37.01 Beard, Terry, , Mt. Pleasant
B-300H 37.04 Clement, Kerron, , La Porte
B-300H 38.19 Mack, Thomas, , Bakersfield
B-HJ 7'4.0 Manson, Andra, , Brenham
B-HJ 7'2.0 Williams, Jesse, , Broughton
B-HJ 7'2.0 Lancaster, Kyle, , Fort Scott
B-HJ 6'10.0 Skiba, Jeff, , Skyline
B-HJ 6'10.0 Herron, Cole, , Sanger
B-HJ 6'8.0 Brummitt, Mark, , Mt. Whitney
B-PV 17'2.0 Skipper, Tommy, , Sandy
B-PV 16'10.0 Scotten, Ray, , Davis
B-PV 16'10.0 Byers, Tyson, , University H
B-PV 16'6.0 Moore, David, , Miramonte
B-PV 16'0.0 Landers, Mike, , Golden Valle
B-PV 16'0.0 McFarling, Brandon, , A&M Con.
B-PV 16'0.0 Heuser, Chip, , St. Xavier
B-PV 15'6.0 Dormaier, Eric, , University H
B-PV 15'6.0 Murphy, David, , Arroyo Grand
B-PV 15'0.0 Low, Bob, , Timpview
B-LJ 24'2.75 Harris, I-Perfrectio, , Poly Prep
B-LJ 24'0.0 Marion, Kevin, , Hollins
B-LJ 23'6.0 Casupanan, Dani, , Tustin
B-LJ 23'4.75 Bryant, Jaimoy, , Jasper
B-LJ 23'4.25 Little, Brent, , Poplar Bluff
B-TJ 49'8.25 Bryant, Jaimoy, , Jasper
B-TJ 48'6.5 Wheatley, Terrence, , East
B-TJ 48'0.5 Sanderson, Matt, , Del Norte
B-SP 67'6.5 Bryant, Noah, , Carpinteria
B-SP 63'5.75 Robison, Brian, , Splendora
B-SP 62'4.5 Long, Tyg, , Custer
B-SP 61'7.5 Custis, Tyler, , Custer
B-SP 60'10.0 Johnson, Garrett, , Tampa B.A.
B-SP 60'8.0 Kuehl, Adam, , Monmouth Reg
B-SP 60'0.0 Huntzinger, Steve, , Robinson
B-SP 59'10.5 Baker, Brian, , South
B-SP 59'6.0 Howard, Jon, , Arroyo Grand
B-DT 200'1.0 Kuehl, Adam, , Monmouth Reg
B-DT 199'4.0 Kay, Nik, , Los Gatos
B-DT 191'7.0 Robison, Brian, , Splendora
B-DT 178'8.0 Werner, Derric, , Elkhorn Vall
B-DT 178'4.0 Morgan, Jarered, , La Quinta
B-DT 177'3.0 Midlea, Adam, , Capital
B-DT 175'4.0 Talbot, Mike, , Agua Fria
Number of Elite performances: 183