the Aloha spirit - background - schedule of events - prior years - the course -
4th Iolani Invitational - September 21, 2002 - iolanixcinvitational.com
a high school cross country meet on Kualoa Ranch, Oahu Hawaii, site of filming of Jurassic Park
Meet HQ hotel: Ohana Reef Tower, 227 Lewes St., Waikiki Beach, 808-924-8844 www.outrigger.com
Hotel contact Michele Nagamine (808) 921-6871, [email protected]
Entry Contact: Greg Char (808) 689-0132 or [email protected] - James Rubasch [email protected]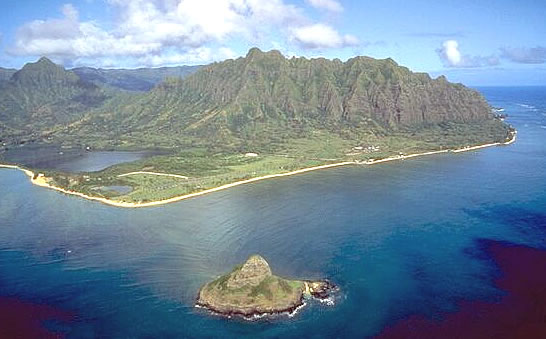 The race is run at Kualoa Ranch, on the ocean on the windward side of Oahu. Headquarters is on Waikiki Beach.
In it's fourth year, the Iolani Invitational is accepting teams for the 2002
meet. Previously, a few mainland teams participated each year, including
Montgomery Santa Rosa CA (with Sara Bei) in 2000 and Ukiah CA (with Amber
Trotter) in 2001. Along with Hawaii native Victoria Chang in the inaugural meet
in 1999, that makes three straight years that a girl has opened her season by
winning here and ended it by winning the Foot Locker Cross Country championship
at Disney World in Orlando FL. Teams interested should email Greg Char [email protected]
Iolani Invitational's own web site
Headquarters Hotel
Ohana Reef Towers
Lewes Street
Waikiki Beach
Schedule of Events
9/19/02

4:00 p.m.-6:00p.m - Registration at Meet Headquarters in the penthouse at Ohana Reef Towers Hotel
7:00-9:00 pm - Coaches Meeting at Meet HQ

9/20/02

"Free" day... enjoy Waikiki's 85 Degree weather
4:00-5:00 p.m. - late registration at Meet HQ
6:00 p.m. - Hosted "Pasta Feed" at Iolani School

9/21/02

7:00-9:00 a.m. - Hosted continental breakfast at Meet HQ
11:00 a.m. - University of Hawaii "Big Wave" Invitational at Kualoa
12:00 p.m. - Iolani XC Invitational at Kualoa
4:00-5:00 p.m. - Awards Ceremony, followed by optional dinner

9/22/02
Prior Years
Background
by the founders: Jim Rubasch (Boys) and Greg Char (Girls)
We started the meet for two reasons. 1) to have an additional Invitational type meet for our runners where they could compete for awards. 2) to have mainland competition to help raise the performance levels of local runners. This was especially important on the girls side. Hawaii is one of the few States left where the girls compete at 2 miles. We race 3 miles at our Invitational and it was our intent to prove to Hawaii and to Iolani that local girls can not only race 3 miles, but can be competitive with their mainland counterparts.
We did not originally intend to have a huge meet. We wanted to keep it small and intimate with a few mainland schools. The 1st year we had two mainland schools, the 2nd year we had four, and last year we had two. This past Fall Paul Shinkawa approached us about turning the meet into something big and we agreed as long as the meet would continue to have a personal, intimate feel for our guests.
Iolani School runs girls volleyball and boys basketball tournaments which are highly regarded on a National level. We hope to do the same with our Cross Country Invitational.
The Invitational is not run on the Iolani Campus. It is held on the windward side of Oahu about 45 minutes from Waikiki. The reason is that the Iolani campus and its surroundings are FLAT and not conducive for an Invitational meet. We decided to have our meet at Kualoa Ranch beacuse it offers beautiful surroundings and great conditions for a cross country meet. The course is mostly dirt trails with several challenging uphills and downhills.
the "Aloha Spirit"

Message from Paul Shinkawa, meet organizer:
We run a good meet with many factors contributing to our meet's success, including:
1) the "Aloha Spirit" of our group and meet... and the planning of additional events for our mainland visitors;
2) the spectacular natural beauty of Kualoa Ranch (site of the filming of Jurassic Park) and the support of Kualoa Ranch;
3) the support of our volunteer group;
4) the support of Iolani School and its running program;
5) the support of Outrigger/Ohana Hotels;
6) the support of our local running community.
Those who attend soon realize they have participated in a meet that is second to none... and for some our meet has led to additional good fortune. The last 3 girl's winners of the Foot Locker National High School Cross Country Championships (Amber Trotter, Sara Bei & Victoria Chang) participated in our meet and began their XC seasons with a "win" at Kualoa Ranch.
Our goal is to share our "aloha spirit" and the road to good fortune with as many visiting competitive runners that we can properly host.