The Golden West Invitational (GWI) began in 1960 in Los Angeles, primarily drawing from the concentration of talent in the Los Angeles area. The meet was expanded initially to include athletes in surrounding areas and neighboring states, and later evolved to its present form of recruiting the best 9 athletes in the country for each event. It is an all-finals meet, with no heats or preliminaries. Until 1994, only seniors were invited. It was held in southern California until 1965, when it moved to the present home in Sacramento.
Along with the competitions, the GWI is a social event. Athletes have an opportunity to meet, room, dine together and make friends. Activities include picnics, barbecues, games and a trip into San Francisco by train. All of this is done by volunteers organized by the Golden West Association, a non profit organization financed by donations and sponsorships.
Many parents, relatives and friends accompany the athletes to cheer and provide support. While the athletes do all the work on the field, the parents, friends and relatives sweat it out on the sidelines.
The Banquet!
A special event, indeed. The banquet celebrates athletes, meet officials and sponsors. Food and awards were aplenty. This year the group was treated with words of wisdom and inspiration from the accomplished champion on several levels, Alberto Salazar. Now 44, Salazar represents Nike and coaches at the professional and high school levels.
VIPs in a Row at the Head Table
It's Dinner Time

The Founder's Cup
An award for achievement in athletics, scholarship and citizenship

Katy Elsbury ID
receives the 2002 Founder's Cup Award.
Hammer Throw is Katy's event.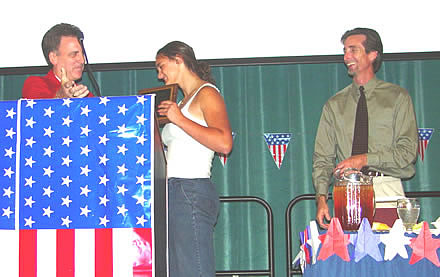 Garrett Johnson FL
receives the 2002 Founder's Cup Award
Garrett is a thrower doing shot put and discus.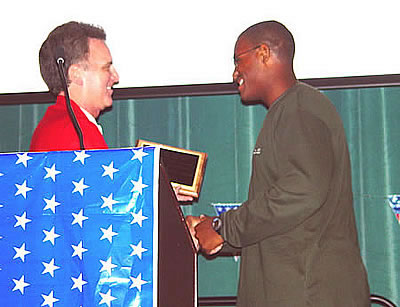 Alberto Salazar

Alberto Salazar says keeping track and field in perspective is important to success in sports and life.

Salazar has a distinguished career. He set one world and six US records. He set a New York Marathon record in 1981 and broke the Boston Marathon record in 1982. He won 3 straight NY marathons from 1980-82. And, he qualified for the 1980 and 1984 Olympic teams.

Today he works at Nike and trains professional and high school runners.
Athletes, Family,Friends, Fans

Founder's Cup winner Katy Elsbury with her family: (From Left) Arlen Olson, Coach; Mom, Jo Elsbury; Brother, Danny; Katy; Natalja Schaefer; Dad, John
(Front in Green) Brother, Steven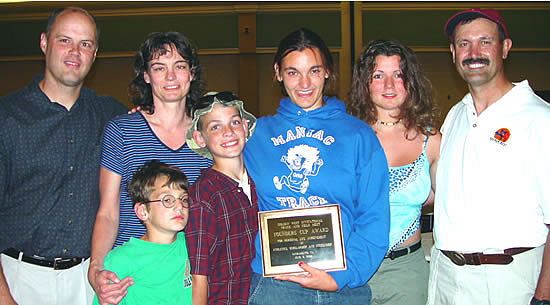 Brian Dalpiaz NY
with Mom, Bobbie and Dad, Bob. They left east coast thunderstorms for the California sun and a storm of competition in the 3200.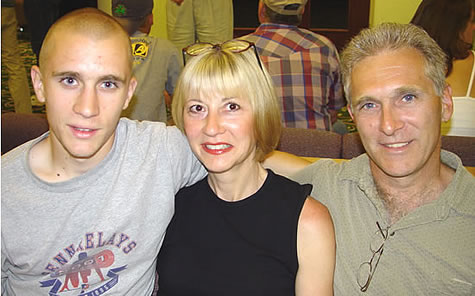 Pole Vaulter
Ray Scotten IN
with Coach Mike Davidson (left) and Dad, Ed
Ray is a newcomer to pole vault. After breaking a few bones a few too many times in football, he is now concentrating on pole vault. He finished 2nd with a PR jump of 16'10. A senior, Ray is leaning toward Southern Illinois next year.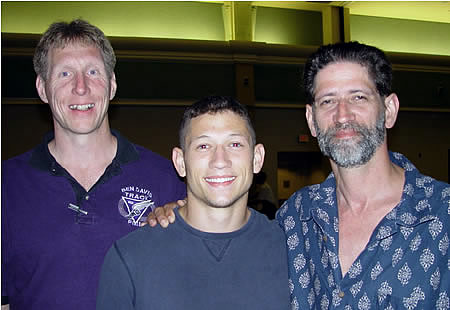 A Dazzling Distance Trio:
(From Left)
Jackie Zeigle, Megan Kaltenbach and Laura Zeigle
All three got PR's the next day in the 3200, with Megan winning in GWI meet record time, Laura 2nd and Jackie 4th.
Julene Bailey ID with Mom, Sharon and Dad, Larre
n
Ranked 2nd in the country in pole vault, Julene PR'd with a jump of 13'02 at GWI. She is a joy on and off the runway, fun loving but very serious about her pole vault. Here at GWI she concentrates in her best and favorite event. But home at high school meets she is busy doing four events: pole vault, long jump, 100 or 200 and relays.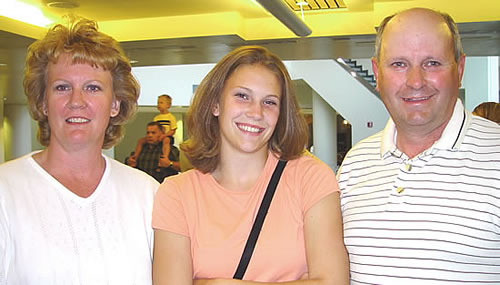 Katie Harrington IN and Dad, Dave

Katie ran the mile and finished

a respectable 7th.

Galen Rupp with Coach, Alberto Salazar
Galen finished a good 4th in the 3200 with a
time of 8:58.11


Top Ranked US Pole Vaulters
Tyson Byers

WA(left) and

Tommy Skipper

OR

I-Perfection Harris NY with
Coach Bart Moraney
I-Perfection is competing again after his team was sidelined for the season because of eligibility issues.

Alaska Delegation
Coach James DeMarco with
athlete, Morgan Ekemo, a miler


Jean Snuggs with Alberto Salazar
Jean represented the Sacramento Sports Commission, one of the GWI sponsors

The Golden West Hall of Fame

A Celebration of the
Golden West Hall of Fame.
The Hall of Fame honors those individuals who have raised the stature of track and field. These individuals have uniquely contributed to the sport as extrodinarily achieving athletes, coashes, educators, professionals or members of the community at large.

This
This year's winner was Mike Mattice. Mike is congratulated by wife, Sam, who is also a very active and critical volunteer at the GWI.

MiJack Shephard, inducted into the Hall of Fame in 1988 welcomes Mike into the honor group. Jack is a lifetime contributor to track and field and is the author of the annual high school track and field stats bible "High School Track." He is also High School Boys Editor of Track and Field News.


Bob Jarvis with Alberto Salazar

Bob is another lifetime contributor to track and field. He was inducted in 1981. He is the "Voice of the GWI, " providing on- time announcements and commentary on meet events.
Bob Phillips is current Golden West Association President. Arnie Krogh is Past President but still continues to volunteer in a whole host of committees and activities. Millie is chair of the Food Service Committee but also works in several other areas.fil


More Hall of Famers
(From Left) Bob Phillips, Millie Krogh and Arnie Krogh

Friends and Associates

Jack Shephard with Linda and Bob Jarvis
Linda, too, is a track and field enthusiast and a busy GWI volunteer.