Galen Rupp 20th in Junior Men - Dathan Ritzenhein fades in men's long race - Lauren Fleshman's 11th is highest US finish of the meet

Sunday

Junior Men - Galen Rupp is 20th, first US finisher, as Kenya and Ethiopia continue to dominate the meet.
Men's Long - Best Americans were 2003 Foot Locker champion Matt Withrow 38:41 60th, Ian Dobson 38:45 61st, and Dathan Ritzenhein 38:46 62nd.

A day that began with such optimism for Ritzenhein quickly turned to defeat, far behind the African runners he was trying to contend with. After one lap at the horse track course, the former 2-time Foot Locker Cross Country champion was 22nd in a big pack only 1 second behind the leader. The next four laps went like this: 26th, 0:13 behind - 35th, 0:47 - 42nd, 1:30 - 55th, 2:32. Olympic 10k gold medalist Kenenisa Bekele took the lead from Eliud Kipchoge on lap 5 and went on to win for a double (he won the short race Saturday).

Women's Short - Lauren Fleshman 13:44 11th is highest US finish of the meet, followed by Shalane Flanagan 14:05 20th and Shayne Culpepper 14:06 21st.

Saturday - Kenya and Ethiopia dominate
Junior Women - Best American is Lindsay Scherf, 18th in 22:12, followed by 18. Erin Bedell 22:32, 30. Lindsay Flacks 22:37, 42. Liza Pasciuto 22:58, 47. Jennifer Barringer 23:02, and Christina Fiduccia 24:42.
Men's Short - Best American is Jorge Torres, 13th in 11:58.
Women's Long - Best American is Colleen DeReuck, 13th in 27:51.
Oviedo FL sr Jenny Barringer and Plano West TX sr Erin Bedell are the only high school runners on Team USA, but there are a bunch of recent grads: Matt Withrow, Dathan Ritzenhein, Ian Dobson, Josh McDougal, Shalane Flanagan, Laura Turner, Hakon Devries, Stuart Eagon, Chris Landry, Jeremy Mineau, Galen Rupp, Ryan Vail, Erin Bedell
USATF releases - Team USA is ready. Ritz feels the best he ever has.
Sports Illustrated article: Ritz' fortune cookie said, "THE TIME IS RIGHT FOR YOU TO REACH YOUR GOALS." SI headline: "Ready to take on the world -- finally living up to his vast potential, tough-as-nails Dathan Ritzenhein could be the first American in 23 years to win a medal at the world cross country meet." Alberto Salazar won silver in 1982.
Team Pix
USA Junior Women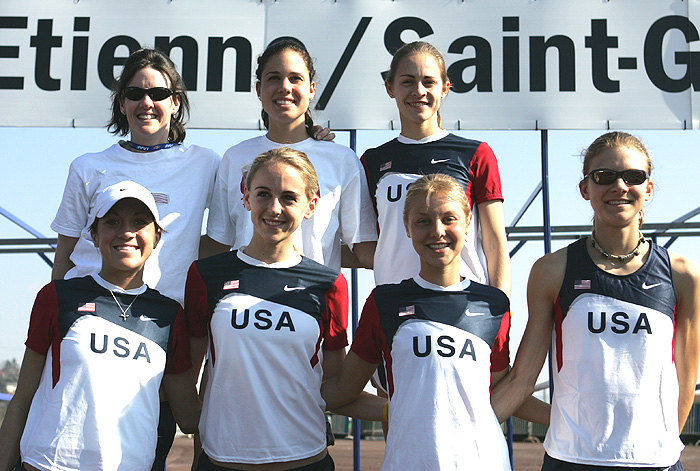 photos by Vic Sailer / PhotoRun
Team USA

Team USA Roster
Senior Men's 4 km

Dave Davis (Portland, OR)
Adam Goucher (Portland, OR)
Joshua McDougal (Lynchburg, VA)
Donald Sage (Stanford, CA)
Jorge Torres (Boulder, CO)
Luke Watson (Minneapolis, MN)

Senior Women's 4 km

Melissa Buttry (Waverly, IA)
Shayne Culpepper (Lafayette, CO)
Shalane Flanagan (Pittsboro, NC)
Lauren Fleshman (Palo Alto, CA)
Amy Mortimer (West Roxbury, MA)
Blake Russell (Marina, CA)

Senior Men's 12 km

Ian Dobson (Stanford, CA)
Matt Gabrielson (Apple Valley, MN)
Paul Kezes (Eugene, OR)
Jason Lehmkuhle (Minneapolis, MN)
Dathan Ritzenhein (Boulder, CO)
Matthew Withrow (Madison, WI)

Senior Women's 8 km

Colleen De Reuck (Boulder, CO)
Katie McGregor (St. Louis Park, MN)
Renee Metivier (Boulder, CO)
Kathy Newberry (Williamsburg, VA)
Chelsea Smith (Provo, UT)
Laura Turner (Provo, UT)

Junior Men's 8 km

Hakon Devries (Stanford, CA)
Stuart Eagon (Madison, WI)
Christopher Landry (Williamsburg, VA)
Jeremy Mineau (Seattle, WA)
Galen Rupp (Portland, OR)
Ryan Vail (Stillwater, OK)

Junior Women's 6 km

Jennifer Barringer (Oviedo, FL)
Erin Bedell (Plano, TX)
Christina Fiduccia (Raleigh, NC)
Lindsay Flacks (Stanford, CA)
Liz Pasciuto (Boulder, CO)
Lindsey Scherf (Cambridge, MA)
Schedule
Saturday, March 19 , 2005
2:30 p.m.
Junior Women's 6 km
3:20
Senior (Open) Men's 4 km
4:00
Senior (Open) Women's 8 km
Sunday, March 20, 2005
2:25 p.m.
Junior Men's 8 km
3:15
Senior (Open) Men's 12 km
4:15
Senior (Open) Women's 4 km