March 24-25, 2001 at Ostend Belgium

29th IAAF World
Cross Country Championships
preps Ritzenhein, Maline, Zeigle, Craig,
and de la Vina compete for US in Belgium
Five high school athletes are on the United States teams that are among 900 runners from 70 countries competing in the 29th IAAF World Cross Country Championships at Ostend, Belgium.
Transferred from Dublin because of the foot and mouth disease problems, the meet moved to Ostend, Belgium on 2 weeks notice. In addition to the short notice, meet managers have faced other difficulties from heavy rains that turned the course in a quagmire and threats of bus and train strikes to disrupt transportation. The course is a historic seaside location that was once a fort for the Duke of Wellington. When coastal invasions were no longer an issue, the site was turned into a recreational facility that includes the Wellington Hippodrome.
Runners at Ostend will be challenged by near freezing temperatures, mud, long grasses, and a stiff headwind off the ocean at the finish.
US teams were selected at the US Winter Nationals in Vancouver WA in February. The junior races (under age 20) saw non pareil Dathan Ritzenhein of Rockford MI lose his first race in 2 years to college freshman Matt Tegenkamp, and Bingham UT jr Laura Zeigle was a surprise winner of the junior women. Joining Ritzenhein and Zeigle as high school members of the US junior teams were Matt Maline of Oakton VA, Alicia Craig of Campbell County WY, and Michelle de la Vina of Valparaiso IN.
US junior qualifiers and their Vancouver times:
US Junior men:
   1   370 Tegenkamp, Matt        19 Unattached          4:51    24:09.00

   2   345 Ritzenhein, Dathan     18 Unattached          4:51    24:11.10

   3   221 Dobson, Ian            19 Stanford Universit  4:55    24:29.00

   4   366 Spiker, Josh           18 Unattached          4:58    24:43.60

   5   250 Cabada, Fernando       18 Unattached          4:59    24:47.20

   6   315 Maline, Matthew        18 Unattached          5:02    25:03.10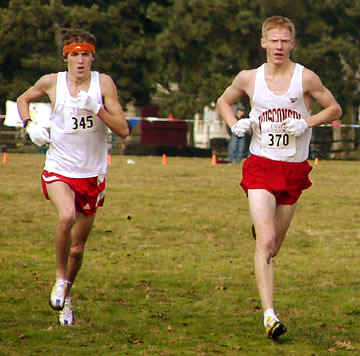 Ritzenhein (L) and Tegenkamp at Vancouver
US Junior Women
 1   387   Zeigle, Laura          16 Asc Striders        5:42    21:18.40

 2   220   Chang, Victoria        19 Stanford Universit  5:46    21:30.30

 3   259   Craig, Alicia          18 Unattached          5:50    21:46.60

 4   382   Williams, Alisha       19 Western Slope Runn  5:52    21:54.60

 5   245   Blakeslee, Emily       18 Unattached          5:52    21:55.50

 6   263   de la Vina, Michelle   18 Unattached          6:00    22:23.50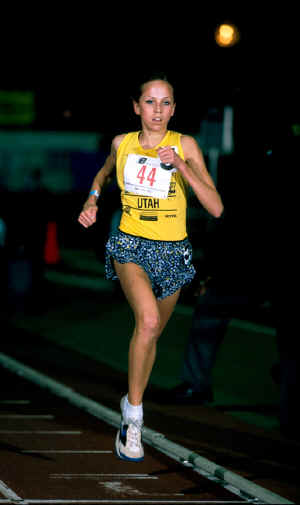 Laura Zeigle at the 2001 National Scholastic Indoor
Championships in New York. (Photo by Victah Sailor)

Long Race
Short Race
Long Race
Short Race