DONNA ON THE SIDE
by Donna Dye
Part 1 - the scene
Part 2 - the Meet - race walk, sprints, hurdles
Part 3 - distance
Part 4 - relays
Part 5 - jumps
Part 6 - throws, pentathlon
Part 7 - potpourri, Tony Wells, Cinco Ranch, Harry Weaver, workerbees, opening ceremonies
the Scene
Located in the shadow of Washington D. C., The Prince George's Sports and Learning Complex in Landover, Maryland is home to the 2005 Nike Indoor Nationals. From the highpoints of Landover, you can see the Capitol Dome and the Washington Monument in the distance. Many government agencies are located in nearby suburbs. Very close in Greenbelt is the NASA Goddard Space Center. But the most notable resident of Landover is the Washington Redskins Football team at the FedEx Stadium.
Agreement to build the FedEx Stadium was no easy task. It took extensive negotiation between Jack Kent Cooke, owner of the Redskins and Prince George's County Maryland. After all was said and done, there was agreement to build the stadium in Landover and to assure that the new stadium and related development would benefit the citizens of the County. The Prince George's Sports and Learning Complex is the result of those efforts.
The Complex is located on 80 acres of land and is a mixture of public and privately operated facilities, of which the Wayne Curry Sports and Learning Center is the centerpiece. The Center consists of a fitness center, a gymnastics facility, learning center, aquatics center and a field house which is the site of the Nike Indoor Nationals.

With the help of the Cowrie Shells, drums beat to the rhythm of the runners in the distance events.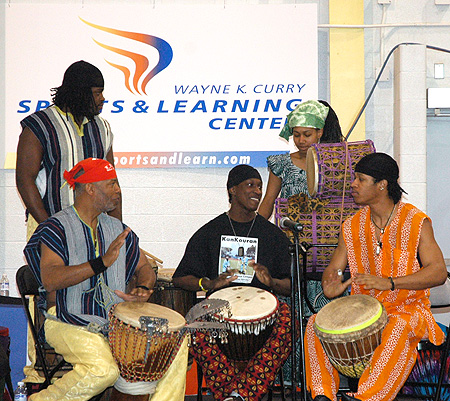 The Cowrie Shells African Drum & Dance Ensemble
(top from left) Malari Moore and Jocelyn Walker
(from bottom left) Arthur Coe (Co-Founder), Kuumba King, Wasuu Washington
The Cowrie Shells perform at various functions and teach drum and dance
at the Wayne K. Curry Sports & Learning Center.
What do they like about NIN?
What so special about a national meet like the Nike Nationals? We asked some athletes at Nike Indoor. Athletes like national meets because they provide the ultimate level of competition, and an opportunity to test skills and come head to head with the best. Maybe that's why some athletes travel from one national meet to another in the same weekend. Here are some first-hand comments:

Jermaine Alexander
Jermaine Alexander, who was in New York on Saturday, summed it it up
by saying: "This is what it is all about. You work hard all year
and this is the culmination of all that work."
Teaneck NJ: "It's the ultimate level of competition."
Montbello CO: "To prove we're the best."
Bekah Smeltzer MI: "Best of the Best in America. It has great
competition and that makes you run faster."

Rebecca Seltzer
Some other comments:
Great competitive atmosphere.
It's special because I qualified.
Like the travel.
Like the music, crowds and excitement
Needed--Not much in my state.
Smiles On the Side
Warming Up
DONNA ON THE SIDE at Nike Indoor Nationals
Part 1 - the scene
Part 2 - on to the meet - race walk, sprints, hurdles
Part 3 - distance
Part 4 - relays
Part 5 - jumps
Part 6 - throws, pentathlon
Part 7 - potpourri, Tony Wells, Cinco Ranch, Harry Weaver, workerbees, opening ceremonies