April 6-7, 2001 at Mobile AL
Mobile Meet of Champions
The Story in Pictures -
Girls Field/Relays
High Jump - Long Jump - Pole Vault - 4x100
Girls High Jump
A duel of high flyers fizzled a bit. Both Kaylah Burks, Davidson Mobile AL, and Kelley Bowman, Berea KY, have their eyes set on 6 feet, but they were disappointed today.
Burks has plenty of clearance on her winning 5-8 jump, but couldn't make 5-10.25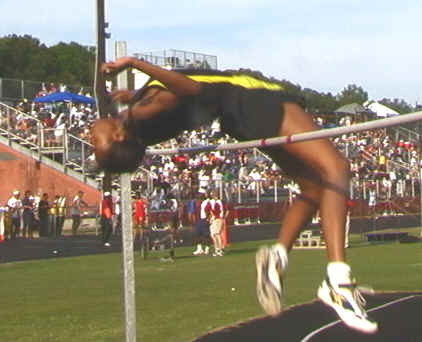 Bowman approaches at 5-8, which she missed.

Girls Long Jump
Shamekia Louis, Sacred Heart LA, (red below) took the lead with a 19-0 +0.8 leap.

Nikita Taylor, Holly Springs MS, and coach Maxine Tucker watched the measurement intently after Nikita's last attempt.

19-2 ! Coach Tucker jumps and shouts on hearing the winning mark.

"She's never been beaten," said Coach Tucker, raising Nikita's arms in victory. Taylor is also a star point guard in basketball and a softball player.

Girls Pole Vault
Lacy Janson, Sarasota FL senior, burst on the elite scene this spring after only 13 months experience with two 13-foot marks at the Disney World series. She "only" got 12-6 today but could be forgiven an excuse of being tired. She had a conference meet in Tampa Friday; she and her coach drove all night to Mobile, arriving at 6:45 a.m. the day of the meet.
Start

Approach

Over at 12-6

Pat on back from coach

Just grazing bar at 13-1 - Janson clearly is ready to take aim on national record.

Girls 4x100
Woodham FL anchor accelerates in mid-stretch to win in 48.69

More Pix
Return to Mobile Meet of Champions page