April 6-7, 2001 at Mobile AL
Mobile Meet of Champions
The Story in Pictures
Girls Track
100 - 200 - 400 - 800 - 1600 - 3200 - 110H - 300H
LA sr Shamekia Louis 11.93 (red) beats MS soph Nikita Taylor 12.09 (yellow and black).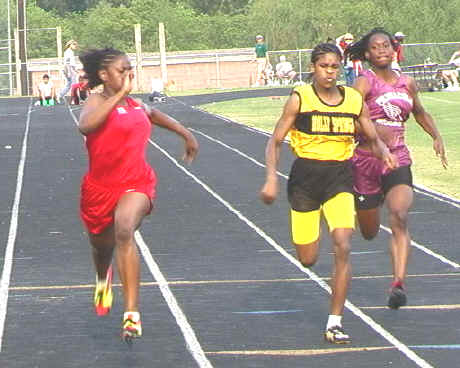 In rematch of the 400, Stephanie Smith 23.64 (red) edges Janice Davis 23.71 (blue) to win the Most Outstanding female trophy . . .

. . . and then they embrace . . .

. . . and walk off.

Long striding Stephanie Smith GA (red) got the best of Janice Davis MS (blue) to win in 52.98, one of the fastest times in the nation this year. Davis ran 54.19.

Katrina Davis, Mandeville LA, fired out in the first lap.

but Casey Countryman, Escambia FL, ran down the leader on the far turn and cruised home the winner in 2:14.58 (Davis 2:16.61)
Stretch

Finish

First lap leaders are Kathleen Turchin, North Gwinnett, and Katie Devaux, Fort Walton Beach

Halfway, no change

Lisa Green, Pope GA, wins handily in 5:13.68

FL sr Christa Benton, a Foot Locker cross country national finalist last December, sprinted to a huge early lead and toured 800 meters in 2:34.

pix 54 - KY jr Ali Sauer reeled in Benton on the 9th lap to take the lead

Sauer won handily in 11:08.93, with Benton 18 seconds back

.
A flat tire almost made Marquita Busby LA miss the race. She arrived just in time to take her place on the starting line without a warmup. After routing the field in 14.38 +0.9, she had a big smile.
Over the last hurdle

pix 50 - Vaquaisha Morris, Suncoast FL, 44.46

More Pix
Return to Mobile Meet of Champions page