Meet's Own Site

SteveU Preview

Winner's Table

LIVE RESULTS (check after 11 a.m. ET)

Heat Sheets

Accepted Entries List

Meet Records

Schedule

Prior Years on DyeStat
2008
2007
2006
2005
2004
2003
2002
2001
2000 - Boys - Girls
1999
1998





Tate leads sprint/hurdle stars - 6 US#1s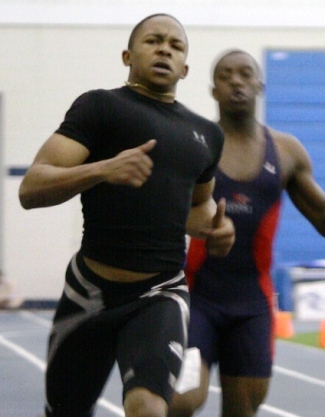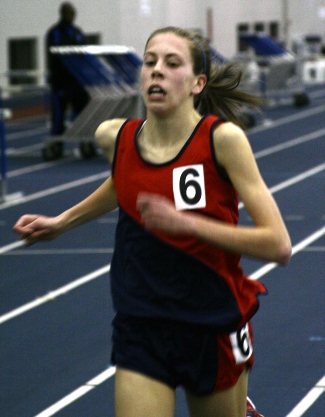 At left, Tavaris Tate completes his 400/200 sweep; at right, Emma Brink crosses the line for an upset win in the mile. Photos Andrew Wilson
Highlights
Starkville MS sr

Tavaris Tate

puts together an overpowering sprint double, blazing out to huge lead in the 400 and hangin on to win in US#1 47.06, #6 all-time, then muscling through the 200 in US#2 21.41.
Decatur (Columbia HS) GA sr

Takeia Pinckney

(Titans Elite) nipped friend and Newnan GA (New Horizon TC) standout Chalonda Goodman in the 60, US#1 7.33-7.34. Both equaled the previous US#1 7.45 in separate prelims.

Goodman

came back, though, and dominated the 200 to defend her title in a US#1 23.79.
Southeast Raleigh NC sr

Wayne Davis

ripped a US#1 7.69 60H, lowering his own leader by .10
Pendleton (Quick Striders) SC jr

Jasmin Stowers

lowered her 60H US#1 by .01 down to 8.43
Mann (Quick Striders TC) SC jr

Briana Nelson

defended her 400 title with a US#1 54.34
Sacred Heart Academy KY soph Emma Brink improved her PR 14 seconds and surprised favorites Madeline Morgan and Cory McGee with 4:55.75 win in the mile
Mason OH soph Zach Wills overcame Knoxville West (Knoxville TC) sr Matt Sonnenfeldt at the end for a fast 2M victory, 9:13.04-9:15.56.
Livonia King GA sr (Sprint Athletics) Damar Forbes improves on his US#3 LJ with 24-07.50
Hoover AL sr Anthony May leaps US#3 6-10.50 in the high jump
Alexandra Morgan AL leapt US#4 5-08, beating Withrow OH sr Alyssa Hall on misses (also 5-08)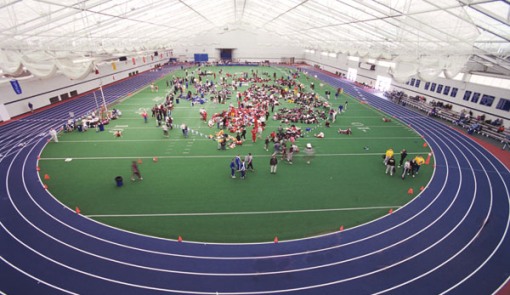 Winners Table
BOYS

Event




GIRLS



prelim: Ken Gilstrap GA 6.84
Final: Ken Gilstrap GA 6.86

60
prelim: Chalonda Goodman GA 7.45
Final: Takeia Pinckney GA 7.33

Tavaris Tate MS 21.41

200
Chalonda Goodman GA 23.79

Tavaris Tate MS 47.06

400
Briana Nelson SC 54.34

Cory McGee MS 2:14.74

800
Moise Frisch OH 1:54.94

Patrick McGregor AL 4:21.34

Mile
Emma Brink KY 4:55.75

Zach Wills OH 9:13.04

2 Mile
Amber Zimmerman TN 11:15.35

prelim: Wayne Davis II NC 7.85
Final: Wayne Davis II NC 7.69

60H
prelim: Jasmin Stowers SC 8.56
Final: Jasmin Stowers SC 8.43

Trotwood-Madison OH 3:20.66

4x400
Michigan Accelerators MI 3:53.95

Mountain Brook AL 9:45.75

4x800

Monsignor Farrell NY 8:05.29

Anthony May AL 6-10.50

HJ
Alexandra Morgan AL 5-08

Damar Forbes GA 24-07.50

LJ
Brittany Porter GA 18-09

C.J. Davidson SC 46-11.50

TJ
Brittany Porter GA 39-00.75

Ryan Cook TN 15-00

PV
Alyson Hasty TN 11-00

Bruck Brucker TN 57-04.75

SP
Brittany Wilson OH 39-07.25





The stars are out again in Kentucky



By SteveU

With a lineup that includes national record-setters, several athletes who have ranked #1 in the US at one time or another, and competitors from New York to Florida to Kansas and most places in-between, the Kentucky Invitational will continue this weekend to solidify its reputation as one of the best indoor invitationals in the country – and certainly the most diverse.

Athletes will come from 17 states to the 291-meter oversized oval in Lexington. While not banked, it joins tracks like University of Washington's in having a rep for fast times that draws stars year-in and year out. With relatively stiff entry standards, the fields are limited in each event and the program goes off in a snappy seven hours – another appeal to this meet. While Nutter Fieldhouse doesn't draw a huge amount of fans with limited seating and the majority of competitors out of state, the meet administration does everything to enhance the experience for observers, offering such things as highly visible markers at standard split points in the races longer than a lap.

But the competition is the thing, and with Wayne Davis II, the meet could not have a more intense competitor. Davis one of just two athletes to set an individual national record so far this winter, and it's rather telling that it was his own mark – the 7.06 55H from 2008 revised to 7.05 – that he shattered. For the second straight indoor season, the Southeast Raleigh NC senior has been one of the country's most dominant tracksters.

Earlier in the season, Davis said that outdoors – where his season was tempered by injury last spring – was going to be his focus in 2009, but the record-level fitness has come anyway. Here, he will race the 60 hurdles, where he also leads the US in 7.79 and where he is tied with three others for the US record of 7.62. As if he needs any more inspirations, Jackie Coward TN set her first USR two years ago in this meet on this track.

Davis is just one of many outstanding preps registered to be here Saturday, though. On the boys side, there's long sprint star Tavaris Tate MS, standout miler Patrick McGregor AL, 24-foot long jumper Demar Forbes GA, 7-foot high jumper Anthony May AL, and Foot Locker Finalists Matt Sonnenfeldt TN and Clint McKelvey TN.

Many of the girls fields are even stronger and deeper, such as sprint fields led by Georgia speed queens Takeia Pinckney and Chalonda Goodman, and Briana Nelson SC; hurdlers led by US leader Jasmin Stowers SC; and a mile paced by Cory McGee MS and Madeline Morgan AL.


More top events to watch

(besides Boys 60H)

:

Girls 60/200

– While these events don't feature either of the hurdling record-setters, they should be the most competitive. Newnan GA sr Chalonda Goodman has won back-to-back 100/200 doubles at Nike Outdoor, but earlier this season at the KTC meet in TN, Decatur (Columbia HS) GA sr Takeia Pinckney edged Goodman in the 60, 7.45-7.47, the US#1 and #3 times going into this weekend. On the other hand, Goodman was 2nd here last year in 7.38 behind now-graduated Brittany Long – but Pinckney is much better now. These two Georgians will be battling all year; they have the #1 (Goodman) and #2 returning times in the 100, too. Meanwhile, the 200 is probably Goodman's best event, where she is US#4 at 24.45. Look for her to edge close to or surpass the national leader (Ashton Purvis CA) at 24.00, as she is the meet record-holder and defending champ at 23.70.

Jasmin Stowers in the Girls 60H

– Lexington has been good to the Pendleton (Quick Striders) SC junior: she has set national freshman and sophomore records here in successive seasons. On the other hand, she was 2nd each time to Jackie Coward TN, who set an overall national record here in 2007. Coward is graduated, but that 07 record (which Coward broke again at Simplot in 08) of 8.17 is the junior class record, which would be an enormous leap, even for Stowers. At 8.44 so far this winter, the SC star hasn't PR'd yet, but she is the national leader. Stowers is also in the 60 dash.

Tavaris Tate in the Boys 200/400

– The rocket you'll see Saturday blazing through the middle of the track in the fast sections of the 200 and 400 will likely be the Starkville MS senior. Few athletes have a bigger head of steam coming in. While the Clayton Parros and Fuquawn Greenes of the world have been racking up US leaders on banked tracks, Tate has quietly been blasting flat track times of 21.58 (US#2) and 47.80 (US#3). On this oversized oval, he'll be more on an even par with the other top long dashers. Tate was 2nd at Nike Outdoor 400 last spring and is the nation's top outdoor returnee (46.39) in that event. He won't be without competition, though, especially in the 400. Douglasville (Alexander HS) sr Andre Carter, Powder Springs (McEachern HS, running for Titans Elite) junior Jaron Roberson, and Trotwood-Madison OH junior Will Henry bring in outdoor PRs of 47.12, 47.30, and 47.64, respectively. Roberson and Henry were the 3rd and 5th best sophs in the country last spring. In the 200, Lincoln (Pacesetters) OH junior Blake Heriot, Henry, and Miller Grove (Titans Elite) GA sr Ken Gilstrap are likely to provide the top opposition to Tate.

Cory McGee vs. Madeline Morgan in Girls Mile

– This could be a great, great matchup of two of best milers in the country. McGee, the Pass Christian MS junior and veteran of many mile wars, is coming off a two week stretch where she was runner-up at Millrose (third straight year) and 4th at Reebok Boston. She should be even better Saturday. Morgan, on the other hand, scratched Reebok BIG and this will be her first major race of the year. But she is defending champ and meet record-holder here (4:52.70), and was 2nd at Nike Indoor last winter. Interestingly, McGee has won here before, too – all the way back in 2006, as she took the mile in 5:02.06 and was 3rd in the 800. That winter she would go on to win a stunning NSIC mile – all as an 8th-grader!

Patrick McGregor in the Boys Mile

– This could have been a potentially great battle of two 4:10-types, but Ohioan Danny Neff scratched out, likely leaving the Hoover AL senior on his own. McGregor was 2nd at Nike Indoor last year and 5th at Nike Outdoor, but took another big step up with a PR 4:09.41 for 3rd at Boston two weeks ago. He is eight seconds up on #2 seed and Bowling Green (Greenwood HS) KY jr Ryan Eaton. Defending champ Logan Rosenberg, a Carmel IN senior, also returns – he beat McGregor here last year, but will have to really step up to do it again.

Foot Locker Finalists vs. Zach Wills in Boys 2M

– Two of the three standouts from Tennessee that made the Foot Locker Finals last fall – Knoxville West senior Matthew Sonnenfeldt and Maryville junior Clint McKelvey (both Knoxville TC) – should put on a good show as they battle Ohio D1 state champ and Mason soph Zach Wills. Wills dominated all fall in OH, but missed making NXN Finals from the Midwest Region during an off day, then bypassed Foot Locker Midwest. Also watch for Eaton. He was 22nd at Foot Locker South last fall but is quickly showing the talent of his former All-American brother Michael.

Brittany Porter in the Girls Horizontal Jumps

– The Decatur (Towers HS) GA senior is a veteran national class performer in both events, with PRs over 20 and 40 feet in the LJ and TJ. She had an off day here in the LJ last year, taking 2nd with less than 18 feet and she'll likely have to be at her best to beat Romulus MI (Michigan Accelerators) Christienne Linton (seeded at 19-03). Defending champ and Kenwood IL jr Kawanna Brooks is back, but her PR is two feet less than Porter's.

Damar Forbes in the Boys Long Jump

– The Livonia King (Sprint Athletics) GA senior is the #2 returnee from last year outdoors at 24-08.25 and currently US#3 indoors. There's no one else seeded beyond 22 feet to push him, but if he wants a target, there's the superlative meet record 25-00.50 from fellow Georgian Christian Taylor from last year – or the US#1 25-01.25 from Marquise Goodwin TX. Forbes is also the #2 seed in the 60H behind Davis.

Anthony May in the Boys High Jump

– The Hoover AL senior towers over the rest of the field with a 7-00.75 PR. Although it's early in the season for him (Alabama no longer has an indoor season), he should give Erik Kynard's year-old meet record a scare.

The Mountain Brook AL girls in the 800 and 4x800

– Besides Morgan in the mile, the girls from this Birmingham AL suburb will be trying to reprise their prowess from last winter, when they swept the DMR and 4x800 at Nike Indoor. As freshmen here last year, Marie Demedicis and Catherine Diethelm went 1-2 in the 800 and they will be back to try and do it again as they rev up their season. They're also part of top-seeded quartet in 4x800 (with Morgan), where they prefaced what they would do in Maryland with a 9:41.38 victory.

James Davidson in the Boys Triple Jump

– The Seneca (Carolina Roadrunners) SC soph was the top freshman in the country in this event outdoors last year at 48-06.50. He has more than three feet on the field.

Trotwood-Madison OH in the Boys 4x400

– Last spring's Nike Outdoor champs lost three of their four from the 3:11 group, including anchor Michael Shaw. But the aforementioned Will Henry did not run in that race, so they should be able to reload. Titans TC (GA) and Monsignor Farrell NY should be able to provide a good challenge. Farrell is one of several teams who could run sub-8:00 in the boys 4x800 (and the only one in the field that has actually done it this winter).

Briana Nelson in the Girls 400

– The defending champ, a Mann (Quick Striders TC) SC jr, is the top seed at 53.46 (her outdoor PR from last year). She was also the Nike Indoor champ last winter.
Other event highlights
Boys 60 Dash – A hard event to call, but the aforementioned Heriot and Gilstrap were 2-3 last year here. Also look out for Dominique Lynch (Michigan Accelerators) who brings in a 100-meter seed of 10.45.
Girls High Jump – Three are seeded over 5-07. Mountain Brook AL sr Alexandra Morgan has an outdoor PR (5-09) that equals the US indoor lead.
Girls Pole Vault – Defending champ and Lawrence Central IN (Indy Vault Club) jr Margo Tucker now has a PR a foot higher than what she won with last year (12-06 to 11-06). She leads the field by more than a foot.
Boys Pole Vault – Three are seeded over 15 feet, led by Christ Presbyterian Academy TN sr (Precision TC) Ryan Cook (15-06). It took just 14 feet to win last year.
Boys Shot Put – The home state could get a win with top seed and Owensboro KY sr Cameron Frazier, whose recent 57-02.75 PR puts him atop the field.
Girls Shot Put – Harrison OH sr Brittany Wilson, 4th here last year, is the only seeded 40-footer in the field at 40-09.75, four feet ahead of anyone else.
Girls 2 Mile – Versailles KY jr Anna Bostrom is the top seed at 10:56.67.