Bronxville 20:11.56 - new national record
Kate Ogorzaly 5:09.5, Caroline Mullen 5:08.2, Catha Mullen 5:02.4, and Michelle Rorke 4:51.5.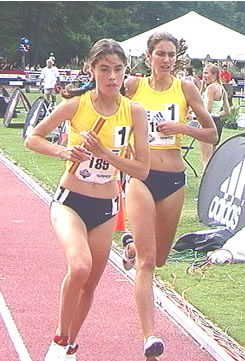 Third exchange, Catha Mullen hands off to Michelle Rorke
Bronxville NY broke Rockford MI's meet and national record by 13 seconds and then raced to the airport for a 10:45 am flight to New York for their high school graduation. It was the last high school race for Rorke, headed for Williams College next year, and Kate Ogorzaly, who will race for Washington State. The Mullen twins return for a senior season.
Bronxville took the lead on the second leg from Carmel IN and widened their lead the rest of the way.
In just 20:11.56, Day Two of the 12th annual adidas Outdoor Championships got off to an incredible start.
In a race that went off at 8:30 a.m. – while many of the competitors in later events were having breakfast – four girls from Bronxville, N.Y. demolished all records for the 4x1-mile relay.
Bronxville seniors Kate Ogorzaly and Michele Rorke weren't about to miss the flight home to their graduation later in the day. So they joined twins Caroline and Catha Mullen in rushing around the track faster than any 4-mile relay team in USA scholastic track history. Bronxville won it – going away, you might say – in 20:11.56 and that easily topped the old U.S. standard of 20:24.34 set last year by Rockford, Mich.
Bronxville trailed only on opening leg, as Catie Harrington of Carmel, In. sped a 5:01 against Ogorzaly. But Caroline Mullen regained the lead and the race against the clock was really on. Catha Mullen widened the gap and Rorke's anchor 5:01 brought it all home.
The Hammer Track Club of Manahawkin, NJ – alias the Southern Regional High School varsity – was a distant second and their 20:58.00 was the only other sub-21, Dulaney of Maryland (21:03.73); Rockford, Michigan's deposed record-holders (21:04.64) and Iowa City, Iowa (21:05.36) were next over the line. Hopewell Valley of New Jersey then took the unseeded section in 21:19.76.
"We came down a little nervous; we just tried to enjoy it, and I think we did," said Ogorzaly. "It's kind of overwhelming. It's kind of a big weekend and it was hard to take it all in. I'm really proud of us."
Said Caroline Mullen: "We all kind of came in knowing what we could run individually, but putting it together for the relay is a little different. It's different than any other relay we run.
"I just love running with these girls, and we have a great coach (Jim Mitchell.)"
"I'm obviously very happy about the way things turned out today," said Catherine Mullen. "We've been planning to run this relay for a long time, but didn't have many opportunities (to run the 4x1-mile.)
"I'm really happy to be part of this team, but really sad they'll (Ogorzaly and Rorke) will be graduating I'm really happy to be a part of this meet and set a national record."
Rorke, who ran 4:51.5, put it this way: "I wasn't really sure how it was going to go when I started out. Sometimes you're pretty sure it's going to be a good race, but (this time) I didn't really know."
So she "stopped thinking about it and ran as hard as I could."

| | |
| --- | --- |
| Bronxville anchor Michelle Rorke, who goes to Williams College next year, had a mixture of emotions after the race: happy the team achieved its goal and sad it was their last race together. | |
Final Results
Girls 4x1 Mile Relay

================================================================

    National: ! 20:24.34  6/17/2000   Rockford, Rockford, MI                   

        Meet: @ 20:24.34  2001        Rockford, Rockford, MI                   

    School                                               Finals 

================================================================

Section  1  

  1 BRONXVILLE-NY  'A'                                 20:[email protected] 

  2 HAMMER TC-NJ  'A'                                  20:58.00  

  3 DULANEY-MD  'A'                                    21:03.73  

  4 ROCKFORD-MI  'A'                                   21:04.64  

  5 IOWA CITY-IA  'A'                                  21:05.36  

  6 CLARKSTON-MI  'A'                                  21:07.45  

  7 CARMEL-IN  'A'                                     21:12.49  

  8 IOWA CITY WEST-IA  'A'                             21:24.42  

  9 GLEN ROCK-NJ  'A'                                  21:35.07  

 10 MOUNT TABOR-NC  'A'                                21:48.26  

 11 SUNSET-OR  'A'                                     21:57.90  

Section  2  

  1 HOPEWELL VALLEY-NJ  'A'                            21:19.76  

  2 JEFFERSON FORREST-VA  'A'                          21:24.59  

  3 MEDINA-OH  'A'                                     21:31.60  

  4 KELLAM-VA  'A'                                     21:45.76  

  5 ELMIRA SOUTHSIDE-NY  'A'                           21:49.67  

  6 BRICK-NJ  'A'                                      22:09.61  

  7 GROTON CENTRAL-NY  'A'                             22:18.79  

  8 MIDDLETOWN-MD  'A'                                 22:48.91  

 
Heats
 Event 46  Girls 4x1 Mile Relay

===============================================================================

Saturday 6/15/02 - 08:30 AM

    National:  20:24.34  6/17/00     Rockford, Rockford, MI                    

        Meet:  20:24.34  2001        Rockford, Rockford, MI                    

     School

===============================================================================

Section 1  Timed Finals

  1  BRONXVILLE-NY  'A'                                           

  2  DULANEY-MD  'A'                                              

  3  HAMMER TC-NJ  'A'                                            

  4  IOWA CITY-IA  'A'                                            

  5  MOUNT TABOR-NC  'A'                                          

  6  ROCKFORD-MI  'A'                                             

  7  GLEN ROCK-NJ  'A'                                            

  8  SUNSET-OR  'A'                                               

  9  CARMEL-IN  'A'                                               

 10  IOWA CITY WEST-IA  'A'                                       

Section 2  Timed Finals

  1  JEFFERSON FORREST-VA  'A'                                    

  2  GROTON CENTRAL-NY  'A'                                       

  3  MEDINA-OH  'A'                                               

  4  CLARKSTON-MI  'A'                                            

  5  PEARL RIVER-NY  'A'                                          

  6  HOPEWELL VALLEY-NJ  'A'                                      

  7  BRICK-NJ  'A'                                                

  8  KELLAM-VA  'A'                                               

  9  MIDDLETOWN-MD  'A'                                           

 10  ELMIRA SOUTHSIDE-NY  'A' 
adidas Outdoor Championship home page