Ceremonies were held before high school cross country meets September 15, just 4days after the horror of terrorist attacks on New York and Washington. Below, saying the Pledge of Allegiance at the Meet of Champions, Hilliard OH. Right, singing God Bless America at the Briarwood Invitational in Pennsylvania. In Colorado, Smoky Hill Aurora coach Jeff Bliven reported that running in the Liberty Bell Invitational Friday "did wonders" for his kids. "They needed to try to get back to normal, yet run with respect and heavy hearts."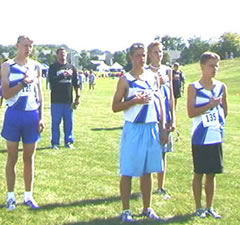 photo by John Dye, DyeStat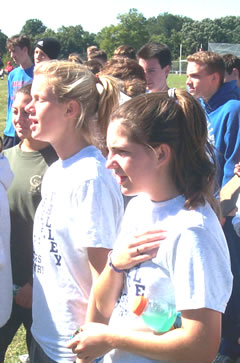 photo by Don Rich, PennTrackXC,
who said, "It was an uplifting day, a day that started to renew my own spirit, the spirit that our kids give to all of us."