May 27, 2000 at Tempe AZ
DONNA ON THE SIDE at the
Great Southwest Classic
Part 2
by Donna Dye
Track fans come young and older:
The Young - A budding track star develops stretching techniques as he watches his sister Amy Menlove. Amy, a freshman from Utah, finished 6th in the long jump with 17-2.25.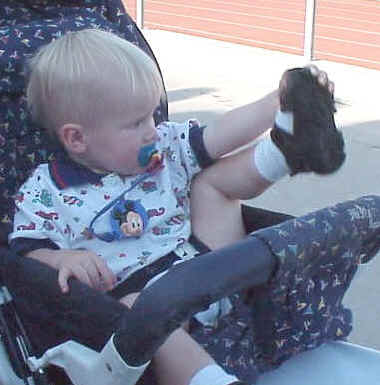 The Older - Almost 91, a great grandfather watches his great grandson, Jason Cage, a junior from Colorado, in the Discus Throw, Shot Put and Javelin Throw. Jason's best finish was in the Javelin Throw at 6th with a throw of 170.3. Jason's great grandfather seems like a spirited man who was having fun on the sidelines.

BUDDING TRACK STARS
Shamara Smith and Tennille Mayfield (right) are 8th graders who participate in the 100 and 4x100. (The Great Southwest includes some events for pre high school athletes.) High School anxiously awaits them. Check out Tennille's sparkling eye lashes!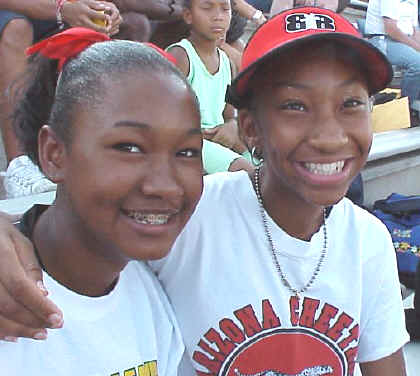 Officials and VIP's
The officials and VIPs of the Great Southwest deserve mention.
Jim Poquette in his trademark red sports coat and tie. "On your mark!" For his service and commitment to improving the sport for young athletes, Jim Poquette was selected as an honorary referee. Jim has been a long time track supporter, official, and fan since moving to the Valley of the Sun from Michigan.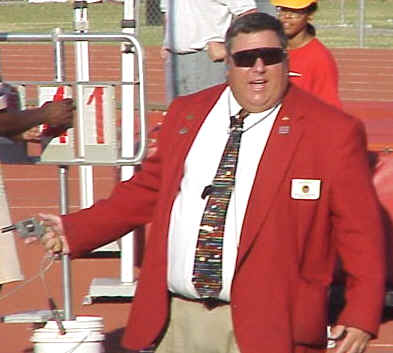 Clyde Volz, Meet Chairman, gives Larry Lienemann (right) a plaque recognizing his service and commitment to improving the lives of young students and athletes.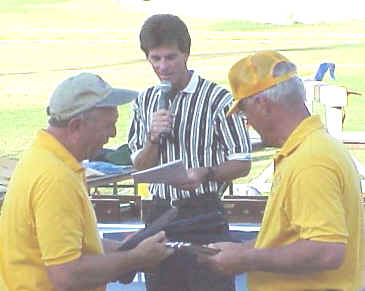 Stacy Dragila, US Women's Pole Vault Champion awarded medals and provided inspiration to women pole vaulters. Stacy stopped by the Great Southwest after setting a world- record in pole vault the day before at the Sky Harbor Invitational when she vaulted 15 feet 1 and ¾ inches. Up to then she shared a record of 15 feet 1 and ½ inches with Emma George of Australia. Now, Stacy is the favorite at the Sydney Games to win the first Olympic gold medal in the women's pole vault
Special Guests are introduced to the crowd: Chris Lester, National Scholastic Sports Foundation; Tom Lingel, Golden West Invitational; and our very own John Dye, publisher of DyeStat.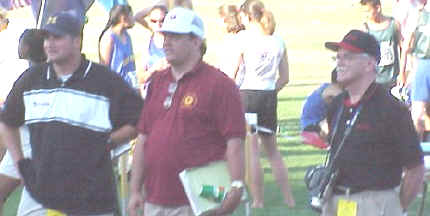 MEET ADMINISTRATORS
Meet Chairman Clyde Volz and Daughter, Kellie Siegel.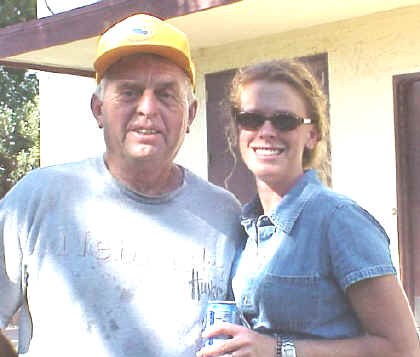 Nourishment for the Officials. Shelley Rosas, Publicity/Sponsor Chairman, (yellow shirt) helps with everything.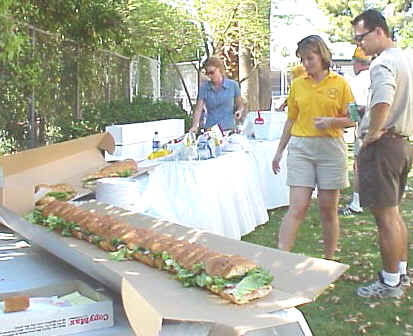 Return to Great Southwest Part 1
Return to Great Southwest Classic page