May 27, 2000 at Tempe AZ
DONNA ON THE SIDE at the
Great Southwest Classic
Part 1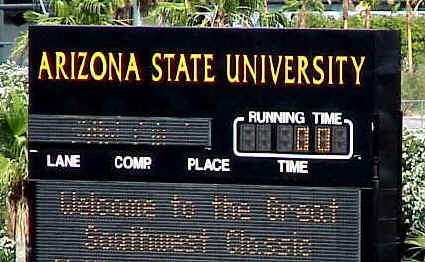 by Donna Dye
The Great Southwest Track and Field Classic takes place in the Grand Canyon State, in Tempe, Arizona, on the campus of Arizona State University. Picture Disc 3 -15. What a great place for track athletes-to dream the dream of a college track career. But how do they do it in this heat, I thought? As an easterner now from Maryland and formerly from Detroit and Chicago, I marvel at how these kids perform in the middle of the desert. Some told me while it is hot here, it is a "dry" heat! Others told me it helps when you're born here. Drinking lots of water is a must. Starting the meet at 4:30p.m. also helps. Well, O.K. but somehow my face got sunburned in late afternoon even though I wore a 48 rated sunscreen! My hat is off to all of them.
Track fans have a different kind of thirst anyway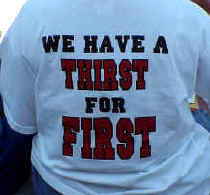 THE SCENERY
I have a love for gardening so I'm always looking at flora wherever I go. Tempe provided lots to look at: Banyon, Olive and Palm trees line streets and pools. Disc 3-9 Home front gardens can be grass (must be transplanted easterners) or stones and pebbles dotted with specimen plantings of yucca, Agave, and others things I couldn't identify. All along the freeways, cactus stand tall! But the best of the vegetation for me were the bougainvillea that was plentiful. Desert yes! But there is plenty of color and beauty:
Yucca, stone & cactus garden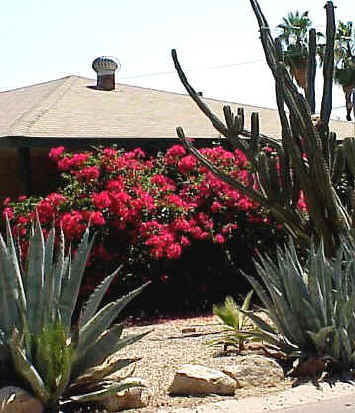 All cactus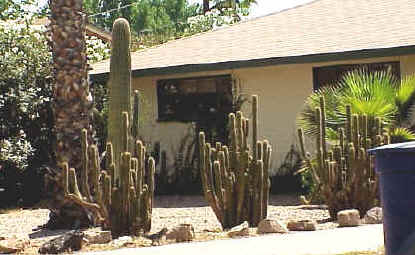 Bougainvillea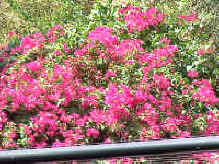 THE SCENE
Meet day was a clear and beautiful day with a high temperature of 103 and a low of 78.
The track facility at Sun Angel Stadium is first rate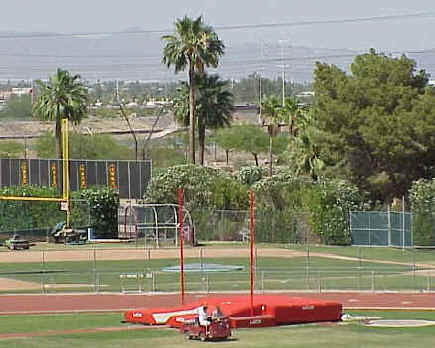 Shaved ice stand is popular aid to keeping cool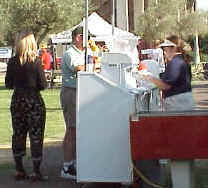 PARENTS & FANS
Dotsy Tierny and friends came to watch and cheer on Robin Tierny. Robin, a junior from Cibola High, Yuma AZ, helped Arizona win the 4x800. Her split was 2.16. Robin is a poised young lady. Good Luck to you next year.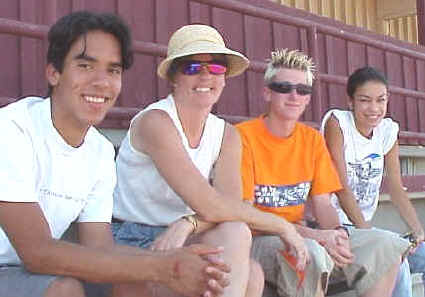 The Lispeth Nutt Family. Lispeth, a junior from North Canyon AZ finished 8th in the 3200.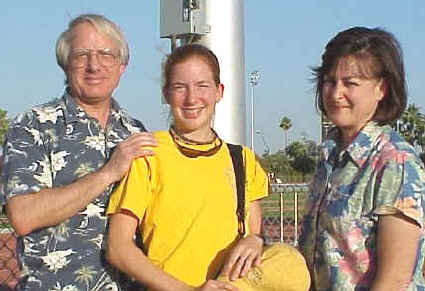 Candy and Robert Argo, from Nevada. Candy proudly wears Tracy Argo's Triple Jump Gold Medal. After all, parents play a part too! These are delightful people who take being track parents seriously. Candy patrols the sidelines to watch for tips to pass on to Tracy.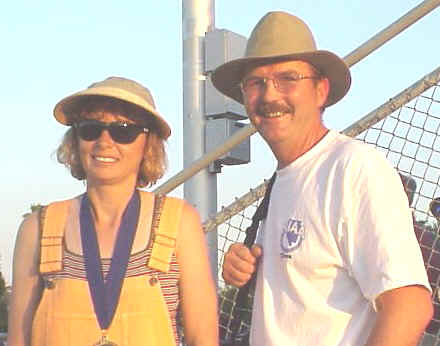 Return to Great Southwest Classic page