2008 Foot Locker -

Finals

Prior Years

12/13/08 at Balboa Park, San Diego CA
Foot Locker Champs 1979-2007: Boys - Girls



DyeStat Coverage Since 1997



2007 -

Ashley Brasovan FL and Mike Fout IN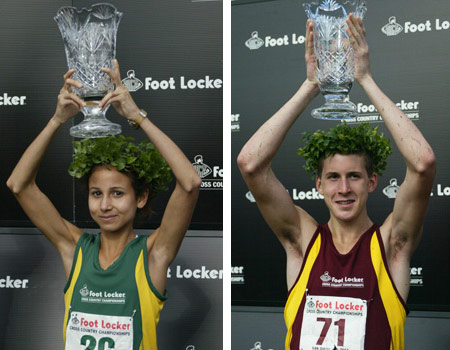 photos by John Nepolitan

VIDEO: Boys Race

|

Girls Race

- interviews:

Mike Fout

|

Ashley Brasovan

|





Early patience pays off for Brasovan and Fout



by Dave Devine



On a day when pre-dawn rains sullied the rolling cross country course at San Diego's Balboa Park, two unlikely candidates emerged from behind a pair of ambitious early paces to win the boys and girls Foot Locker National Championship races.

Flitting across a slick, mud-spattered course, Florida junior Ashley Brasovan broke from a five-runner chase pack to catch early leader and pre-race favorite Jordan Hasay as the two ascended a steep climb for the second time. Brasovan then blistered the downhill to gap Hasay and pull clear for an 8-second win (17:20) over defending Foot Locker champion Kathy Kroeger, who rallied past Hasay for second. Hasay (17:31) hung on gamely for third, fronting NE champ Neely Spence (4th -17:35) and MW champ Claire Durkin (5th- 17:44).

Boys' champion Mike Fout of Indiana followed a similar tack for his victory, dogging Luke Puskedra UT and Kevin Williams CO through blazing opening splits of 2:10 and 4:28, to come from off the pace for a 14:50 win. Despite his status as the Midwest regional champion, Fout's triumph nonetheless upended pre-race formcharts which installed California's German Fernandez and Illinois' Chris Derrick as co-favorites entering the weekend. Derrick, seemingly out of the race at the two-mile point, surged powerfully from sixth to snag the runner-up slot (14:57) and complete a 1-2 Midwest sweep which mirrored that region's qualifying race. Fernandez pushed in for third (15:09), with South champ Colby Lowe fourth (15:12) and the never-fully-faded Puskedra claiming fifth (15:15).



2006 -

Kathy Kroeger and Chad Hall



| | |
| --- | --- |
| photos by John Dye | |
2005
Air Jordan and AJ's Nation
With devastating mid-race moves that destroyed their competition,
Jordan Hasay and AJ Acosta made it a California sweep




photos by John Dye

Girls - Freshman Jordan Hasay CA duplicated her West region blitz of a week earlier and ran away from everyone in the last mile to win by 14 seconds in 17:04, 8th fastest ever at Balboa Park. Hasay is the second freshman ever to win Foot Locker (Erin Davis 1993). Marie Lawrence NV 17:19 was second for the third straight year. Defending champ Aislinn Ryan NY 17:34 was third after setting the early pace, and Megan O'Reilly WA 17:36 was fourth.


Boys

-

With his AJ Nation crowd cheering every step,A.J. Acosta

from nearby Oceanside won in 15:01.01, the first San Diego winner since Marc Davis in 1986. Acosta gapped the field late in the second mile, but had to withstand a furious stretch run by

Michael Coe

CA 15:02. Also closing fast were

Ryan Craven

IL 15:12 and

Kenny KlotzOR 15:13.
Double Surprise! Aislinn Ryan and Ken Cormier fool the experts.
2003 - Midwest region rules with sweep of all four championships, boys and girls, team and individual. Matt Withrow IL runs down Galen Rupp OR and Shadrack Kiptoo NM in the boys. Katelyn Kaltenbach CO copies that to beat freshman Marie Lawrence NV. The meet was enriched by the presence of the four US high school boys who have run a sub-4 minute mile.
2002

The Rocket and The Zephyr! - Chris (the Rocket) Solinsky WI and Zoe (the Zephyr) Nelson MT dominate with powerful surges in the third mile in the return to Balboa Park, San Diego after several years at Disney World in Florida.

2001 - Tim Moore MI edges Bobby Lockhart VA in closest boys final ever, with future champion Chris Solinsky WI third; Amber Trotter CA romps by 40 seconds in one of the most lopsided finals ever.
2000 - Dathan Ritzenhein MI leaves Alan Webb and Ryan Hall in the Disney dust to become the fifth repeat winner of Foot Locker. Sara Bei CA rallies past Anita Siraki at the wire in a triumphant return to the finals that she first made as a freshman..
1999 - Dathan Ritzenhein CO gets his first title; Vicki Chang HI sweeps to victory after Felicia Guliford falters in the last 200 meters.

1998 - Erin Sullivan VT repeats, Jorge Torres IL wins boys race in his fourth try.
1997 - New England sweeps with Abdirizak Mohamud MA and Erin Sullivan VT.