USATF Cross Country Jr Nationals

Flatirons Golf Course, Boulder CO

Saturday, February 10th 2007

DyeStat on site - Rich Gonzalez, Marc Davis, and John Nepolitan
The Casualties of Cross-Country War

Former Team USA members, FootLocker champs among those derailed from Kenya
Story and Photos By Rich Gonzalez, DyeStatCal/DyeStat
BOULDER, CO. -- Jordan Hasay clearly redeemed herself while Elliott Heath remarkably established himself. Many others, however, were merely left to question themselves.
With the snow, the cold, the mud, the altitude and the competition, Saturday's USATF Cross-Country Junior Nationals clearly were not for the faint of heart. Neither were they for the side-stitch plagued, the leg weary, the bronchitis-challenged nor the shoe mangled either. The final tally of 12 qualifiers included eight collegians, three high schoolers and one high school-age home-schooled athlete.
"This is the worst feeling ever," muttered University of Oregon frosh A.J. Acosta moments after dropping out roughly 4,200-meters into the 8,000-meter Junior men's challenge. Acosta, the former FootLocker national cross-country champion and Juniors 1500-meter champion in track and field, was rated a prime challenger for the win, but cited severe side-stitch problems in forcing him to drop out just past the race's midpoint. He placed 9th in last year's Junior Nationals race at Van Cortlandt Park in New York, missing that world-qualifying competition to Japan by three spots.
Acosta wasn't alone among high-profile entries experiencing trouble along Boulder's Flatirons Golf Course challenge over the weekend. Previous Team USA cross-country members Marie Lawrence and Kauren Tarver and two-time FootLocker nationals qualifier Brian Rhodes-Devey also did not advance.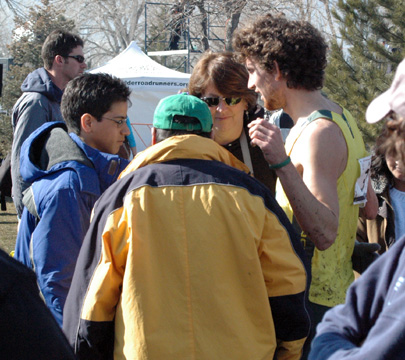 Oregon frosh AJ Acosta (right) with brother Liam and parents David and Susan.
Acosta's DNF was perhaps the second-most surprising development in the race (nothing was going to top Minnesota's Elliot Heath emerging to snag the race title), as all indications were he was set for a big race. But when Acosta peeled himself away from the chase pack and called it a day, several onlookers pointed in his direction as he slowly walked just outside the crowd-restraint barriers, eyes fixed downward.
Acosta voiced both frustration and dejection on the way back toward the start area, stating he felt "horrible and (ticked)" about having to drop out. Later, he told his father David that he felt he himself needed to "grow some (courage)" before his next big race.
Lawrence, the four-time Foot Locker nationals qualifier from Reno High in Nevada, was not quite as un-nerved by her showing despite finishing 11th (22:56) after placing fourth and making the international team in 2006. She confirmed what we'd learned in midweek that a bronchitis condition was ailing her recently.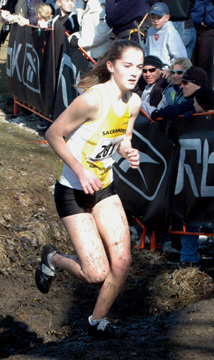 Nevada's Marie Lawrence.
When asked if the condition was getting any better, Lawrence smiled, nodded in the affirmative and said the worst part seemed behind her. Asked if and when she felt the bronchitis problems during the race, Lawrence said she definitely didn't feel sharp during the morning and "knew after the first 50 meters" of the race that her body wasn't prepared for a great effort.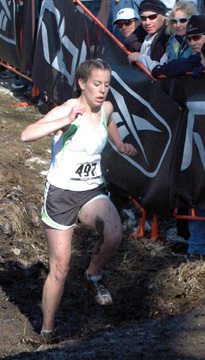 California's Kauren Tarver
Tarver, the easy-going junior from Phelan, CA (Serrano HS) placed 13th (22:59) after being in the Top 10 early on. Relatives said afterward she just "didn't quite gave it today" as she was off in the distance, snaping away pictures from the Junior men's race.
Rhodes-Devey, the colorful (and orange-haired) personality from New York, was forced to withdraw from the race somewhere near its midpoint, later citing an entanglement with another runner that led to a painful foot injury and a thrashed racing shoe.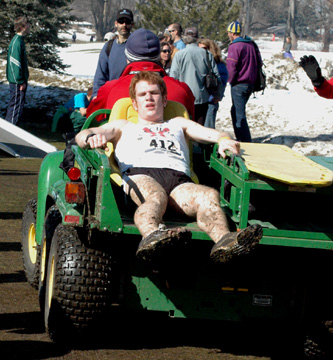 New York's Brian Rhodes-Devey
Among the most indelible images from the weekend was seeing a solemn "BRD", who is not competing for his high school during the indoor season (with his outdoor status still unresolved), being hauled away on the flatbed of an all-terrain vehicle. Rhodes-Devey later shared that x-rays proved negative for fractures.
Three gems from the University of Oregon's stellar 2006 recruiting class also had mixed results. While Kenny Klotz produced a sensational effort to qualify for the World Junior Championships in second (26:18), the previously mentioned Acosta dropped out and fellow frosh Isaac Stoutenburgh (8th last year as top returnee for 2007) finished 14th in 26:51.
Ducks assistant coach Andy Powell cited Stoutenburgh's showing as a bit of a downer and expressed concern in Acosta's unfortunate showing, but was beaming by Klotz's bounce-back effort. Kenny finished a disappointing 186th at the NCAA Cross-Country Championships after finishing a superb 19th at the West Regional two weeks prior.
Other leading collegians experiencing setbacks were Oklahoma's Jon Grey (44th at the NCAA Midwest Regional), 13th here in 26:47; Texas A&M's Joseph Sauvageua (55th at the NCAA South Central Regional), 24th in 27:24; and Villanova's Daniel Lewis (50th at the NCAA Mid-Atlantic Regional), 26th in 27:27.