Matthew Centrowitz (MD) 8:41.55 US #3 All-Time 2 Mile! Followed by three top US times: Craig Forys (NJ) US#2 in 8:44.53 - Elliott Heath (MN) US#3 8:46.12 - Evan Jager (IL) US#4 8:47.59

photos by John Dye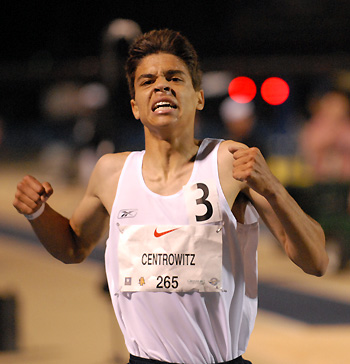 Greensboro, NC - The night air was cool but electric as the field for the Nike Outdoor Nationals boys' two mile took the track. Even though the hour was late, even though the crowd was still buzzing from a scintillating boys' 4x800 that saw 6 teams finish between 7:40 and 7:42, even though the girls' two-mile race had moments earlier come down to a stretch drive between senior Ashley Higginson and junior Neely Spence, this was different. This was a clash of titans, the #1 boys' miler in the country facing the #1 boys' two-miler.
Of course it was far more than that—the field was stacked with an unprecedented wealth of talent—but in the end it became what everyone hoped for: Colts Neck NJ senior Craig Forys versus Broadneck MD senior Matt Centrowitz, head-to-head with a lap to go. Rarely does an event surrounded by this much anticipation deliver, but less than nine minutes after it had begun, the boys' two-mile had become the sort of race which leaves seasoned track experts and sober officials giddy on the infield, running back and forth to display their stop watches in disbelief.
When it was all over, announcer Ian Brooks corralled Matt Centrowitz for a post race interview in front of an appreciative grandstand and posed an open-ended, finish-this-thought sort of question:
"The plan for today..." Brooks prompted.
"...was to win," Centrowitz said simply.
That's exactly what he did. (left, at the finish)
Covering an ambitious move by Forys with two laps to go, the smooth-striding Centrowitz rode the shoulder of his rival until the final turn, where he shifted into a gear Forys couldn't answer and ripped down the homestretch of a 58.2 closing quarter straight into the record books.
"Today," Centrowitz said later, "I wanted to make sure that when I made that move, no one was coming back on me."
No one did. His winning time of 8:41.55 equals the #3 US high school boys' time ever, tying him with Steve Prefontaine, leading 10 others under 9-minutes, and turning the race into an instant classic. Forys crossed only strides behind, having paid for his early gambit but still coming home in 8:44.53. Elliot Heath slipped past Evan Jager for third, 8:46.12 to 8:47.59.
Utah's Luke Puskedra, as many expected, pushed the early pace, dragging the field through splits of 63, 2:10.6, 3:17.9 and 4:25.7. The key actors were never far from the front, with Centrowitz, Forys and Jager clearly marking one another to make sure no one sprung an unexpected move. After a 67.4 fifth lap brought the field past in 5:33, the real racing began. Jager surged past Puskedra, with Centrowitz and Forys both covering and the pack hanging close. Jager delivered another 67 (6:40) before a restless Forys bolted on the curve and blew the race open.
| | | |
| --- | --- | --- |
| Luke Puskedra led for half the race | Evan Jager took over on lap 5 | Forys moved with 2 laps to go and Centrowitz was the only one to go with him |
| | | |
From there it became a battle for the ages, with Forys leading Centrowitz through a sizzling 63-second penultimate lap (7:43.1) and setting up the final drive.
"I was hoping that my move on the seventh lap would be enough to make him question himself and fall off a little bit," Forys said later. "Enough so that I could hold on, but he's a tough runner."
Down the backstretch they flew, with Centrowitz shadowing Forys into the final turn and then unleashing a devastating dealbreaker that drew an audible gasp from the crowd.
"I tried switching gears to fight him off," Forys said, "so he would have to stay wide, but my gear wasn't enough. It's a credit to him."
The meet announcer was hollering out the time as Centrowitz streamed home, his face twisted between a grimace and a grin: Eight thirty-seven! Eight thirty-eight! Eight thirty-nine...
8:41.55.
A twenty second PR. A meet record. The #1 time in the country. Equal to the #3 time ever. The fastest American schoolboy since 1979.
"I knew it was going to hurt," Centrowitz said afterwards, "but going into the race I also knew I wanted it bad, so whatever hurt came, I just tried to push through. It was going to be a dogfight until the end. I know I'm going to leave this track and go, Wow, I can't believe I just did that."
By SteveU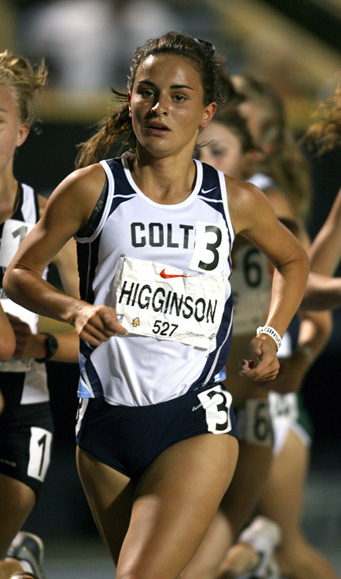 As for Higginson, her calling card as she's become one of the nation's best distance runners hasn't really been a devastating closing kick, but that's exactly what she delivered Friday night. In fact, it was pretty similar to what Centrowitz did to Forys minutes later, though Ashley surely would have liked those results reversed for her teammate. But for her progress, the Colts Neck sr, NSIC 2-mile, and NTN champ must surely be thankful for all of 800s and 1600s she got her coach to let her run all season.

"Oh yeah," she said with a laugh as to whether the shorter races – she ran a 4:47 PR in her NJ Group race – have helped. "I yell at my coach all the time to let me run those."

But it was probably Ashley's mental growth as an athlete that enabled her to make it through a strange race Saturday night. While this wasn't one of the most super talented NON girls 2M fields ever, there was certainly the potential for something like a 10:12, which might have included at least a 5:05 opener. Higginson's namesake and NIN 2-mile champ Ashley Brasovan took the lead right away with a 75.8 opener, but after they went by in 2:33, the pace went surprisingly downhill.

A 79 took them to 3:52.7, then it was 79.2 (5:11.9), 80.3 (6:32.2), and 81.6 (7:53.8). Fans waited for Brasovan to launch the same kind of long, withering drive that won her NIN, but it never came. Meanwhile, she had Higginson, Neely Spence PA, Emily Sisson NE, and Kristin McGlynn CO for company and no one would take command.

But finally their patience wore out and they passed 880 to go four abreast. It was Spence, with 4:50 speed of her own, who really surged to break it open and with 660 left, the race was really on – with Higginson closely in tow. They ran the penultimate lap in 72-high, and Spence kept pushing. It was too long and too hard, though, and Higginson began closing with 200 to go. Her last half lap of 35 brought her home in a very solid (considering the early pace) 10:17.44, with Spence coming through in a big PR 10:20.05. Mary Kate Champagne NY was an impressive 3rd 10:25.79, Brasovan 4th 10:27.09, McGlynn 10:28.11 5th, and 5k runner-up Lara Crofford PA 6th 10:28.67.

"I expected it to go fast, but I was able to get focused on a tactical race," said Higginson. "I just focused on who was behind me and in front of me and not on the time. My coach if I ready to go with 800 to go, or 400 to go, or 200 to go, it would make the difference between winning and losing. A few times when I could have went, I could tell it would have made the difference in me losing. This race forced me to think on my feet, which was good."

Even though her race has just ended, Ashley was able to reflect, as her fine prep career and breakout senior season came to a close. "It's amazing to see from my freshman year until now, how my mindset has changed and how my passion has changed. I would have struggled in the past in this type of a race; I would panic if I saw a Foot Locker champion next to me. But with experience comes maturity."