Schedule
Meet Info
RESULTS
2007 Meet Results
Wind, Great Competition and a Few Gems





Most outstanding awards to Roman Holmes and Taylor Baird



Lead Story By SteveU

It started as a gentle breeze in the early morning shadows as the 3200 runners were warming up. It turned fierce, with occasional blasts that fought the forward momentum of all those that took to the home stretch, long jump, or pole vault runways. The wind conditions at Littleton Stadium were no doubt the talk of the day during the 4th Annual Nike Littleton Invitational Saturday.

That made Roman Holmes' performances all the more amazing ... (FULL STORY HERE)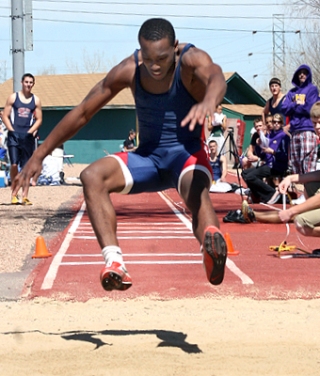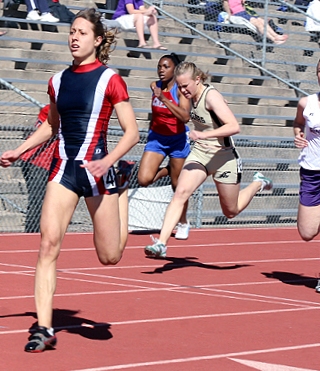 Roman Holmes and Taylor Baird - Photos by Todd and Stephanie Abbotts
Highlights
Super double for Cherry Creek sr

Roman Holmes

, as he hits

US#1

24-5 LJ into 1.9 headwind and big PR 47-03 TJ (-0.8) (4/21 note: Roman's long jump was corrected to US#1)
Heritage sr

Taylor Baird

crosses the finish line first four times - anchoring winning 49.31 and 1:43.42 (meet record) 4x1 and 4x2 relays, and winning 100 and 200 in 12.49 and 26.55 (strong headwinds)

Newburgh Academy

NY comes in and works their relay magic ... They win 4x800 thriller in 7:54.12, beating Littleton CO's 7:56.51; take an easy 3:36.88 1600 sprint medley; then rip to a dominant 3:19.81 4x400 win
Newburgh's

Akinto Boone

, along with anchoring 4x800 (1:53+) and 4x400 relay wins, takes 400 in meet record 47.94
Cherry Creek sr

Charles White

, racing a low-key (for him) 800 in between Arcadia and Penn Relays miles, takes 800 with last 100 sprint in 1:57.55
Rock Canyon's Erik Sutterfield 15-02 meet record PV
George Washington's Trishawn Battiste takes 800 in 2:20.18, then anchors winning 4:04.45 4x400, coming from behind.
Meet record in girls LJ and TJ: 18-01.50 LJ for Ft. Collins' Emmalie Pfankuch; 37-10 TJ for George Washington's Alexandria White
Mullen's Laura Palmere tops Rocky Mountain's Ashely Lester, 58.40-59.01 in 400. Palmere also 2nd in 100
Throws double for Poudre's Becca Lindquist (41-11.75 SP / 119-07 DT)
Dakota Ridge sisters Natosha and Alexa Rogers 1-2 in 1600 - 5:21.54-5:22.64
Greeley sr Kendra Gerk easy 11:14.66 win in 3200 as she continues comeback from injury
Golden CO sprint standout Joe Morris was DQ'd for uniform violation in prelims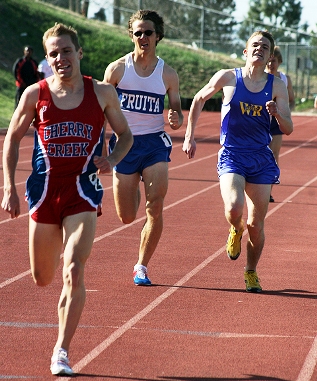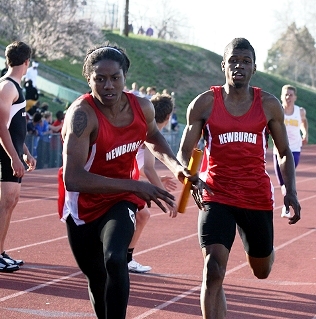 Charles White winning the 800 and the final handoff in Newburgh's winning 4x800 - Photos by Todd and Stephanie Abbotts



Winners List

- Final


Girls Field




LJ - Emmalie Pfankuch, Ft Collins, 18-01.50
TJ - Alexandria White, Geo. Washington, 37-10
HJ - Allison Forrester, Rock Canyon, 5-02
PV - Lauren Hoal, Sterling, 10-00
SP - Becca Lindquist, Poudre, 41-11.75
DT - Becca Lindquist, Poudre, 119-07
JT - Jillian Quintana, Littleton, 106-00

Boys Field




LJ - Ramon Holmes, Cherry Creek 24-05
TJ - Ramon Holmes, Cherry Creek, 47-03
HJ - John Gamble, Pomona, 6-03
PV - Erik Sutterfield, Rock Canyon, meet record 15-02
SP - Kyle Major, Heritage, 54-04
DT - Cole Carveth, Pomona, 160-11
JT - John Mai, Rocky Mountain, 128-09

Girls Relays




4x1 - Heritage, 49.31
4x2 - Heritage, meet record 1:43.42
4x4 - George Washington, 4:04.45
4x8 - Chapparal, 9:43.66
DMR - Chaparral 13:40.86
800 SMR - Loveland 1:51.57

Boys Relays




4x1 - George Washington, 42.77
4x2 - Loveland, 1:29.68
4x4 - Newburgh NY 3:19.81
4x8 - Newburgh NY, meet record 7:54.12
DMR - Littleton 11:04.06
1600 SMR - Newburgh NY 3:36.88

Girls Running




100 - Taylor Baird, Heritage, 12.49
200 - Taylor Baird, Heritage, 26.55
400 - Laure Palmere, Mullen, 58.40
800 - Trishawn Battiste, G. Washington, 2:20.18
1600 - Natasha Rogers, Dakota Ridge, 5:21.54
3200 - Kendra Gerk, Greeley, 11:15
100H - Madison Riggins, Mullin, 15.45
300H - Brianne Beamer, Mountain View, 46.94

Boys Running




100 - Quinton Dodson, George Washington, 11.30
200 - Mike McPherson, Chaparral, 22.99
400 - Akinto Boone, Newburgh NY, meet record 47.94
800 - Charles White, Cherry Creek, 1:57.55
1600 - Dart Schwaderer, Wheat Ridge, 4:29.72
3200 - Matthew Bell, George Washington, 9:46.10
100H - Anthreus Fayne, Cherry Creek, 15.09
300H - Tyler Parry, Rocky Mountain, 40.81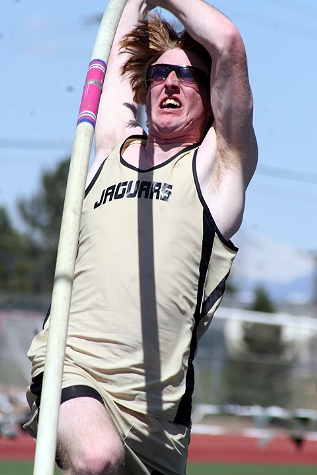 Pole vault winner Erik Sutterfield. Photo by Todd Abbotts

======================================



Top Entries



NSIC and Arcadia mile champ

Charles White

, Cherry Creek, in the 800 (1:54.00 seed)
NIN 60 champ

Joe Morris

, Golden, in the 100 (10.50)

Boys 4x800

: Littleton CO vs. Newburgh NY in a showdown and rematch from '07 in the 4x800, both entered sub 8:00.00!

Boys 4x400

: Littleton CO vs Newburgh NY (both entered under 3:19.00) and George Washington in the 4x400!
More top individual entries
AJ Whitaker, George Washington, 100/200 21.50
Kyle Macintosh, Littleton, 300H 38.65
Roman Holmes, Cherry Creek, LJ 23'10
Chase Cooper, Smoky Hill, PV 16-6
Akinto Boone, Newburg NY, 400 47.50
Will Cernanec, Littleton, 1600 4:20.00
Joe Harris, George Washington, TJ 47'11"
Camille Logan, Littleton, 3200 10:55
Deven Hamlet, George Washington, 100 12.00
Laura Palmere, Mullen, 100/200/400 12.10/25.00/57.50
Alexa and Natasha Rodgers, Dakota Ridge, 1600 (both 5:10.00)
Emmalie Pfankuch, Ft Collins, LJ 18'2
More top relays
Newburgh NY, Littleton and George Washington boys in the 4x200!
Newburgh NY, George Washington and Heritage and Cherry Creek boys in the 4x100!
Rocky Mountain, Chaparral girls entered under 9:45.00 in the 4x800!
Rocky Mountain, George Washington girls in the 4x400!
Heritage, Thompson Valley girls in the 4x200!
Heritage, George Washington girls in the 4x100!