4th Annual Littleton Invitational



Littleton Public Schools Stadium, Littleton, Colorado

April 19, 2008
Wind, Great Competition and a Few Gems
Most outstanding awards to Roman Holmes and Taylor Baird
By SteveU,
Photos by Todd and Stephanie Abbotts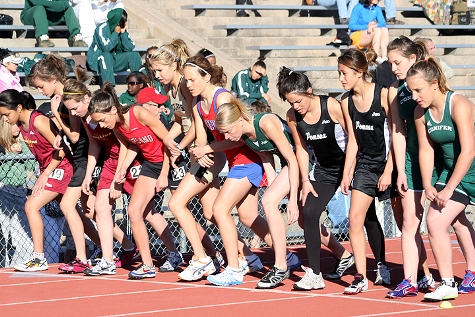 The girls 3200 starts off the meet at 8 a.m., before the wind really kicked up.


It started as a gentle breeze in the early morning shadows as the 3200 runners were warming up. It turned fierce, with occasional blasts that fought the forward momentum of all those that took to the home stretch, long jump, or pole vault runways. The wind conditions at Littleton Stadium were no doubt the talk of the day during the 4th Annual Nike Littleton Invitational Saturday.

That made Roman Holmes' performances all the more amazing. On his 2nd attempt in the long jump prelims, contested in the morning before things really got gusty, the Cherry Creek senior exploded off the board and landed 24 feet, 5.5 inches beyond it, the 2nd best legal jump in the US this year. Amazingly, it was into a 1.9 headwind. Holmes, by his own admission, is far from the triple jumper that he is the long jumper. Of course, he said that prior to the winning 47-03 that improved his PR more than 2.5 feet, set a second meet record, and completed a double that earned him the boys' Most Outstanding Athlete award.

Meanwhile, Taylor Baird found herself running into that straightaway headwind four times, each time holding on to or fighting for the lead in an individual event or a relay with her Heritage teammates, each time fighting stronger and stronger blasts. But whether it was the 4x100 or 4x200 relays, or the invitational 100 and 200, she always crossed the finish line first. And that made her a clear choice for the girls Most Outstanding Athlete honors.

Baird, though, like most athletes Saturday, found great marks hard to come by in the wind. Times under 11.5 or 12.5 seconds in the boys and girls 100s, or under 23 or 26 in the 200, were few or none. PRs were almost non-existent, especially in the short sprints. Still, there were meet records here and there – especially from the visitors from New York. Akinto Boone was nearly as frequent a winner as Baird, leading his Newburgh Academy NY teammates to a meet record 4x800 (7:54.12) in the morning and a dominant 4x400 (3:19.81, winning by 5+ seconds) in the evening. In between, he slashed his own meet record in the 400, dipping under 48 with a 47.94 that triumphed by more than a second.

Other meet records came from the Heritage girls in the 4x200 (1:43.42), Rock Canyon's Erik Sutterfield in the pole vault (15-02), Poudre's Becca Lindquist in the shot (41-11.75 and also won discus), Fort Collins' Emmalie Pfankuch in the long jump (18-01.50), and George Washington's Alexandria White in the triple jump (37-10).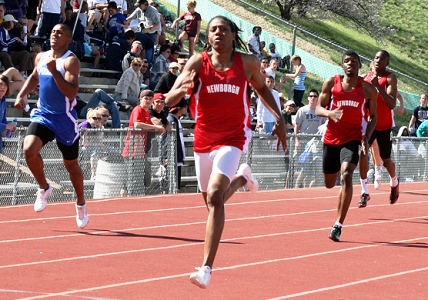 The 2nd of Akinto Boone's 3 wins for Newburgh was the 400.

Fans also saw an easy 160-11 win for Colorado discus leader Cole Carveth, a 1600 1-2 from Dakota Ridge sisters Natosha and Alexa Rogers, and two impressive come from behind wins from George Washington's Trishawn Battiste in the 800 (where she regained an early lead) and the 4x400 (where her final surge in the last 100 of the anchor won for her team).

The meet's other biggest names, besides Holmes and Boone, had mixed results. Cherry Creek senior Charles White, bridging the gap between his elite mile races at Arcadia and the Penn Relays, kicked to an 800 win in 1:57.55. But Golden senior Joe Morris, the NIN 60 champ, was DQ'd in his prelim for a uniform violation – one of several handed down at the meet.

The crowd also witnessed the expected tight team battle on the boys side, with the host Littleton Lions finally prevailing over Newburgh on the next-to-last relay, and a victory by Chaparral over GW on the girls side.

In the end, as the sun disappeared behind the stadium and everyone could escape the wind to the relative calm of their cars or busses, Littleton Coach and Meet Director Brian Kula and Newburgh Coach Malcolm Burks exchanged goodbyes and reflected on the afternoon's competition. Coach Burks would have liked some faster times in some events for his kids, but his reasons for venturing to Colorado go beyond seeking PRs.

"Just being here and being in this atmosphere is the great thing," he said. "Everyone – the fans, the school officials, even the other athletes – are very friendly and supportive of us. There's a lot of good sportsmanship on display here."

"It was a successful day and we had some great performances," said Coach Kula, "But most of all, it a great atmosphere of competition, especially with us going back and forth with Newburgh all day."

It was almost enough to make you forget the wind.


Littleton Home Page