Meet Sites
MSU - Playmakers

Results
Boys - Girls

Preview

Race Info

Team Entries

Individual Entries

Course Map

Parking Map

DyeStat Prior Years
2007
2006
2005


Big win for Megan Goethals; narrow victory for Saline girls;
triumphant day for Saginaw Valley Assn. boys powers



Highlights - Boys Results - Girls Results


| | |
| --- | --- |
| | Megan Goethals was part of a pack behind Gabrielle Anzalone early (above), but won by 17 seconds in the end (left). Photos by Davey, runmichigan.com |
Highlights
D1 MI#4 Saline

had just the right combination of strength at the top and depth to win the strong, deep Nike Elite girls field, scoring 134 to D1 MI#5 Rockford's 136. In their wake were left Michigan D1's top two and Midwest-ranked teams, MW#6 Traverse City Central (164) and MW#7 Rochester Adams (178, which led through 3 runners)
Talented but with potential previously unfulfilled, Rochester standout

Megan Goethals

showed the effects of a healthy summer of training by pulling away in the final mile for outstanding 17:39 victory. Grand Blanc super soph Gabrielle Anzalone was only other under 18:00 at 17:56.
It was an unexpected banner day for the Saginaw Valley conference in the Nike Elite boys race, as the top two teams and individual 1st and 3rd came from that league. First, it was Midland H.H. Dow sr

Stephen Walker

using a big kick in the final 200 to beat Strongsville OH jr Colby Alexander, 15:31 to 15:37 ...
... Then

D1 MI#4 Saginaw Heritage

, led by Travis Borchard in 3rd, won in all five spots to score just 89 and win by 42. Conference rival D1 MI#7 Bay City Western was a decisive 2nd in 131, 33 up on Michigan's top D1-ranked team, Saline.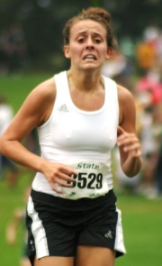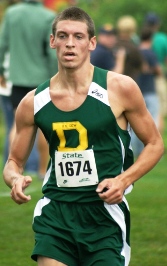 From left: Green race winner Audrey Huth, Nike Elite boys winner Stephen Walker, and White race winner (right of pic) Taylor Pougue. Photos by Davey, runmichigan.com